Two Winners. Two Builds. Enter Weekly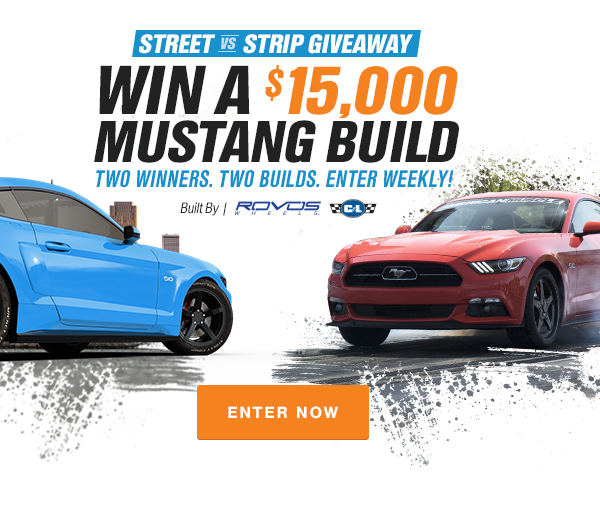 American Muscle Sweepstakes
Always seeking to up the ante for awesome pony car builds and giveaways, AmericanMuscle has announced a new Mustang contest in April 2018. Fresh off the heels of a 2018 Spec 3 RTR Mustang giveaway, the Pennsylvania-based performance auto parts company has opened weekly entries for a "Street vs. Strip" themed battle. Partnering with Rovos Wheels and C&L Performance, AmericanMuscle will award two purpose-built Grand-prize packages to two individual winners with the respective street and drag strip themes valued at each (+$5k in transport and incidentals).
The team at AmericanMuscle has had their collective fingers on the pulse of the Mustang aftermarket for a long time. With the 10th Anniversary of the annual AmericanMuscle Mustang Show just around the corner on June 6th at Maple Grove Raceway; this giveaway taps into the decade plus of consumer feedback and knowledge that has been built on and off the street. With that industry expertise, AmericanMuscle has partnered with the great product innovators at Rovos and C&L to come up with the following packages:
Two Grand Prize winners will receive $15,000.00

each

in parts from americanmuscle.com (+$5k in transport and incidentals).
The "Street" package is built by Rovos Wheels with $15k in suspension, wheels & tires, exhaust, drivetrain, engine/performance, lighting, exterior styling, and interior styling mods.
The "Strip" package is built by C&L with $15k in forced induction, wheels & tires, exhaust, drivetrain, and suspension mods.
Eligible applicants can visit the giveaway page on AmericanMuscle right now until August 9th and enter for their chance to win on a weekly basis. All the contest rules and details can also be found on the website. The dedicated entry page is https://www.americanmuscle.com/mustang-street-strip-mega-sweepstakes.html.
About AmericanMuscle
Starting out in 2003, AmericanMuscle quickly rose to be one of the leading aftermarket Mustang parts providers in the business. Catering to the needs of late-model Mustang owners and enthusiasts, AmericanMuscle provides the most desirable parts at the best prices. Located just outside of Philadelphia, AmericanMuscle is dedicated to offering the Mustang community with the highest quality of parts and service. Please visit http://www.AmericanMuscle.com for more information.