Mazda Road to Indy Returns to Action at Barber Motorsports Park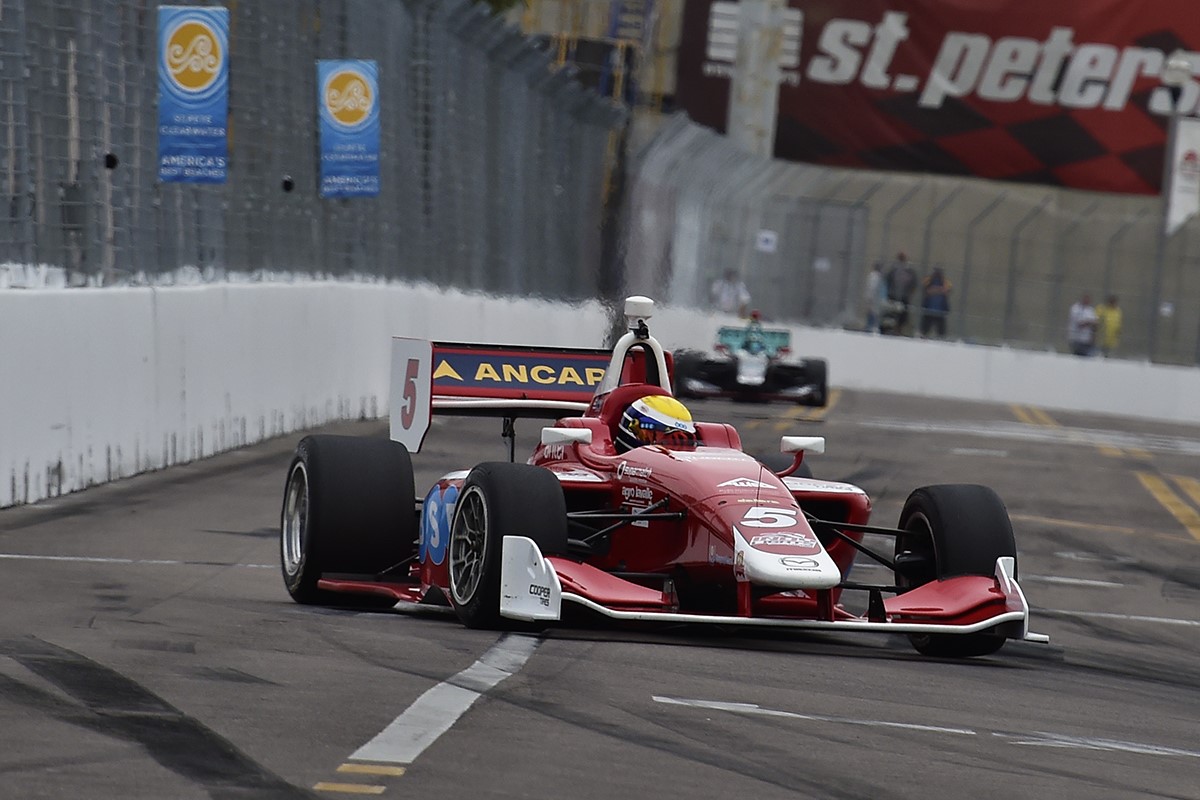 Urrutia
The top two rungs on the Mazda Road to Indy Presented by Cooper Tires open-wheel development ladder will end a one-month hiatus this weekend when they return to action at Barber Motorsports Park in Leeds, Ala. The scenic and challenging 2.3-mile, 17-turn road course will play host to a pair of races each for Indy Lights Presented by Cooper Tires and the Pro Mazda Championship Presented by Cooper Tires in support of the Verizon IndyCar Series headline event.
Urrutia Seeks to Extend Indy Lights Points Advantage
The fact that three of the top five Indy Lights drivers from 2017, including series champion Kyle Kaiser, have joined the entire Carlin team in graduating to the Verizon IndyCar Series this season has left a slim but quality field of Dallara-Mazda IL-15s for this weekend's Mazda Grand Prix of Alabama Presented by Cooper Tires.
Every entrant has solid credentials, with four of the eight nominated drivers having previously earned race wins at Barber Motorsports Park.
Second-generation Indy Lights racer Colton Herta and two-time series runner-up Santiago "Santi" Urrutia shared the victories last year and have every intention of repeating that form this weekend. The pair encountered rather disparate fortunes during the first two races of the season last month on the streets of St. Petersburg, Fla. Urrutia, 21, from Uruguay, overcame a couple of mediocre qualifying sessions for Belardi Auto Racing by rising to second place in the opening race and then profited from various dramas in Race Two to claim an emphatic victory.
By contrast, Herta started out well enough for Andretti Steinbrenner Racing by qualifying and finishing third on Saturday. He looked to be in good shape the following day, too, after qualifying on the front row of the grid, only to make a mistake and crash out.
At least he fared better than Belardi Auto Racing's Aaron Telitz. After beginning and ending his rookie campaign in 2017 with race wins, the Wisconsin native maintained the form he had displayed in winter testing by qualifying on pole position for Race One. That was the good news.
The bad news came in the second qualifying session when a slight mistake ended up with serious consequences. The damage to his car caused by clipping one of the omnipresent walls could not be repaired in time for the first race, which meant he was obliged to watch from the sidelines. Even worse, after switching to a loaned backup car for Sunday's race, the 2016 Pro Mazda champion was caught up in another incident on the opening lap and again failed to finish.
Mexican rookie Patricio "Pato" O'Ward took full advantage of Telitz's misfortune as he sped to a clear victory for Andretti Autosport. The 18-year-old looked set to repeat on Sunday until a lapse of concentration caused him to run into an escape road. He recovered to finish a disappointed seventh.
Consequently, Urrutia now holds an eight-point advantage over O'Ward in the quest for a scholarship prize valued at $1 million which will guarantee entry into three Verizon IndyCar Series races in 2019, including the 103rd Indianapolis 500.
Brazilian Victor Franzoni, who stepped up to Indy Lights with Juncos Racing after winning last year's Pro Mazda crown, drove to a pair of steady fourth-place finishes in Florida. He will be joined in a second Juncos Racing Dallara-Mazda IL-15 by another Mexican rookie, Alfonso Celis, who will be making his Indy Lights debut. Celis, from Mexico City, has been racing in Europe for the past five years, finishing third in last year's Formula V8 3.5 Series and also serving as a test driver for the Sahara Force India F1 Team.
Ryan Norman, from Aurora, Ohio, who secured his first podium finish at St. Petersburg, and Canadian Dalton Kellett will complete the field for Andretti Autosport.
After a 45-minute practice session at 12:15 pm CDT on Friday, April 20, the Indy Lights field will qualify at 9:05 a.m. on Saturday, followed by Race One at 1:50 p.m. Qualifying for Race Two will take place at 8:00 a.m. on Sunday with the green flag set for 12:00 noon, immediately prior to the IndyCar Grand Prix of Alabama.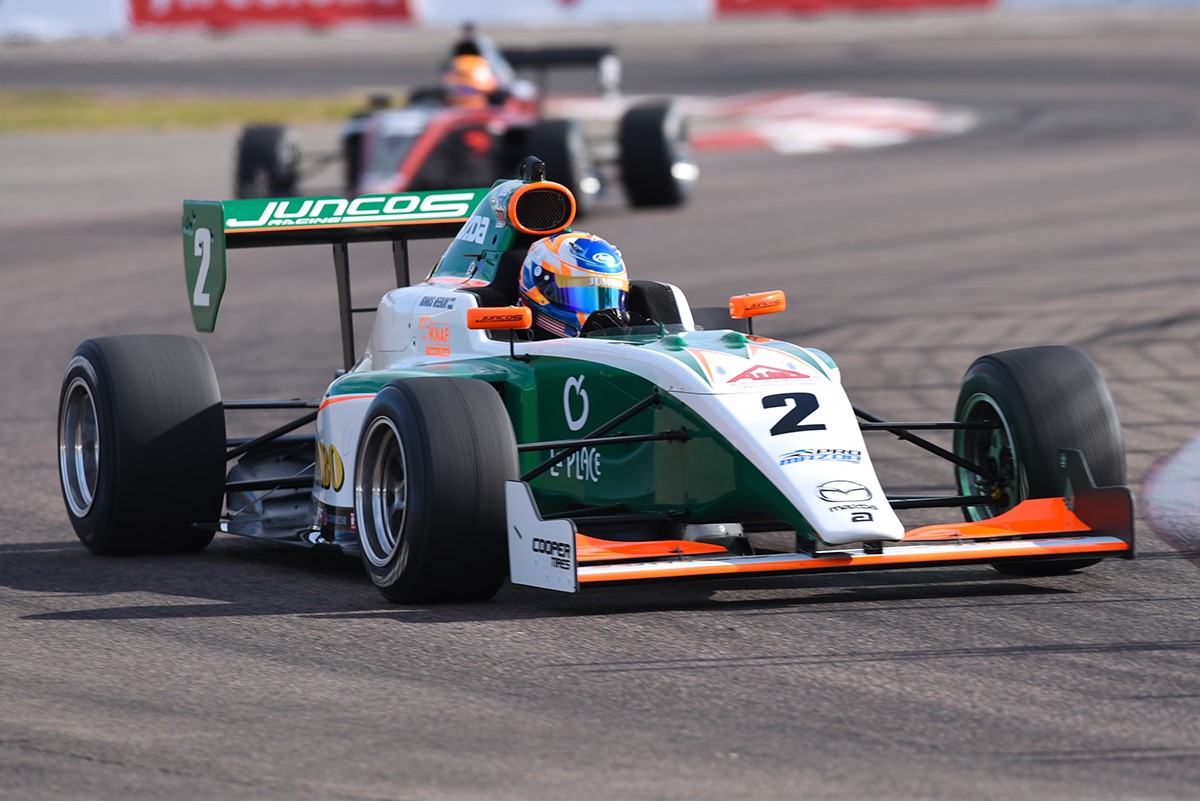 VeeKay
Dutchman VeeKay Heads Pro Mazda Field After First Two Rounds
Formula 1 driver Jos Verstappen isn't the only young Dutchman making waves in the world of auto racing. In North America, Rinus VeeKay has been garnering headlines of his own.
The 17-year-old from Hoofddorp, Netherlands, finished a close second last year in his rookie season of competition in the Cooper Tires USF2000 Championship Powered by Mazda, and has carried that momentum to a new level in 2018 by stepping up to Pro Mazda and winning both opening rounds last month in St. Petersburg, Fla. VeeKay drives for Juncos Racing, which guided Victor Franzoni to the 2017 championship.
Fellow rookies and USF2000 graduates Parker Thompson and David Malukas were among others to impress in Florida. The duo shared second-place finishes for a pair of teams new to Pro Mazda, Exclusive Autosport and BN Racing. Thompson, from Red Deer, Alb., Canada, who actually led most of the first race until being overtaken by VeeKay, has enjoyed previous success at Barber Motorsports Park, winning both USF2000 races in 2016.
Brazilian Carlos Cunha proved to be best of the Pro Mazda "veterans" in the opening two races, claiming a fourth and a third aboard a second Juncos Racing entry.
Others to shine included 2017 USF2000 champion Oliver Askew, from Jupiter, Fla., who gathered a pair of top-six finishes for Cape Motorsports after qualifying on pole for the opener, and 16-year-old Sting Ray Robb, from Payette, Idaho, who also finished among the top six on both days for Team Pelfrey. Robb also marked himself as a young man to watch by posting a new race lap record.
Another teenager, Robert Megennis, from New York, N.Y., began his rookie season in Pro Mazda with a third-place finish, while another new team, Italian-based RP Motorsport Racing, impressed with Englishman Harrison Scott, who dominated last year's EuroFormula Open Championship, and Italian teammate Lodovico Laurini.
Kory Enders, from Sugar Land, Texas, is undertaking a full season in USF2000 but will take advantage of an otherwise free weekend to gain some more experience and make his Pro Mazda debut with DEForce Racing.
The spectacular new Tatuus-Mazda PM-18 decimated the old track records in St. Petersburg and, weather permitting, is expected to similarly obliterate the marks established in 2014 by rising Verizon IndyCar Series talent Spencer Pigot.
The Pro Mazda Grand Prix of Alabama Presented by Cooper Tires will commence with a 75-minute test session on Thursday, followed by a 30-minute practice session at 8:45 a.m. CDT on Friday, April 20, and the first of two qualifying sessions at 2:15 p.m. Another qualifying session at 8:30 a.m. on Saturday will set the grid for Race Two. The pair of 45-minute races are scheduled to start at 12:50 p.m. on Saturday and 9:45 a.m. on Sunday.
Coverage can be found on a series of platforms including Road to Indy TV, the Road to Indy TV App and dedicated broadcast channels on demand via Apple TV, Amazon Fire and Roku and, most recently, the Xbox One Official App as well as live streaming and live timing on the series' respective websites and indycar.com. Indy Lights is also featured on the Advance Auto Parts INDYCAR Radio Network broadcasts on Sirius 214, XM 209, IndyCar.com, indycarradio.com and on the INDYCAR Mobile app.
NBCSN will air Sunday's Indy Lights race on Monday, April 23, following the NHL Playoffs.