Italy's Daniel Mancinelli Scores 1st PWC win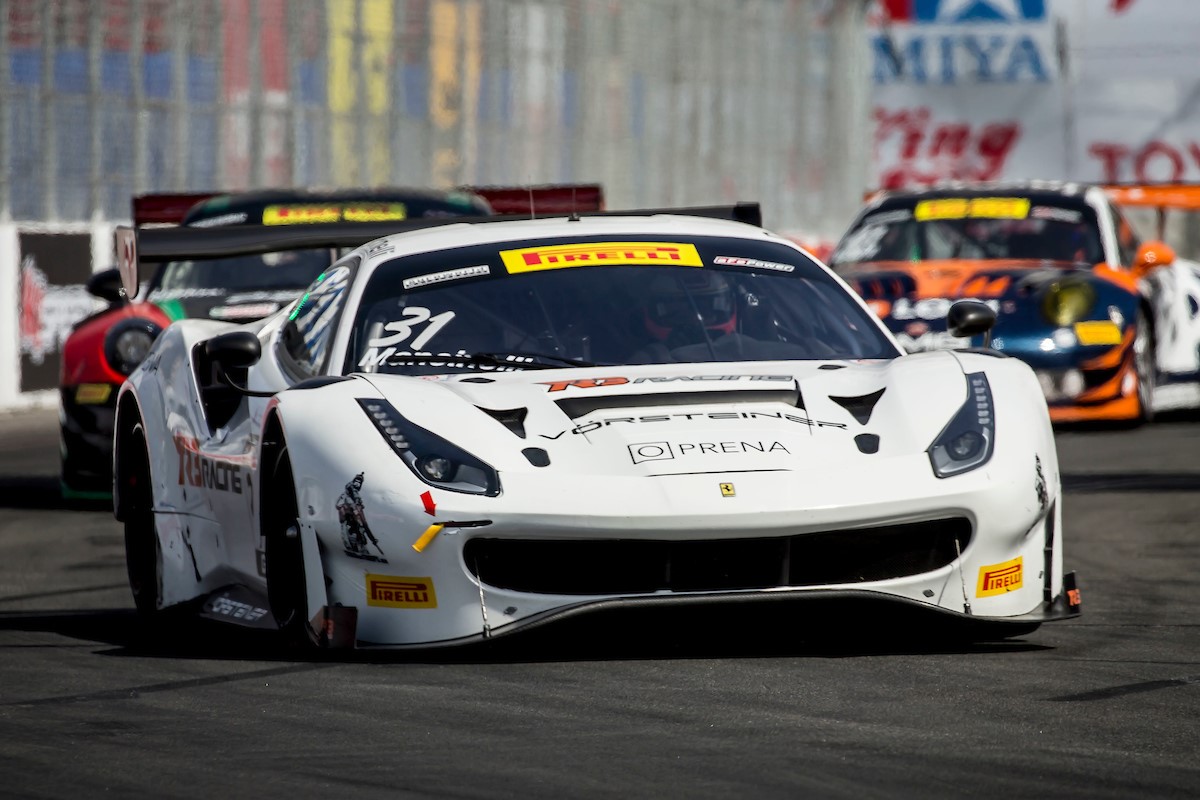 Daniel Mancinelli
Italy's Daniel Mancinelli won a spirited battle with Finland's Toni Vilander Sunday in a battle of Ferrari 488 GT3 sports car drivers to score his first Pirelli World Challenge GT Sprint race at the 44th Annual Toyota Grand Prix of Long Beach.
Mancinelli, a three-time PWC GT SprintX winner in 2017, drove his No. 31 TR3 Racing Ferrari 488 GT3 machine past Vilander, in the No. 61 RFerri Motorsports Ferrari 488 GT3, in turn one on lap 27 of the 50-minute GT Sprint Round 3 contest and posted his first GT Sprint race win Sunday.
Mancinelli pressured early leader Vilander from the start and slid inside of the factory Ferrari racer with about six minutes left in the race.
Vilander, the pole winner, looked to be in command of the race before a full course caution period came out on lap six when Mike Sullivan hit the backstraight wall after contact with Alec Udell. With eight laps of the yellow flag period, Mancinelli was able to close in on Vilander for the lap 15 restart.
Each lap Mancinelli would close his gap on Vilander before his braking maneuver in turn one on lap 27 for the lead. At the checkered flag, the two Ferrari drivers were separated by 2.179 seconds at the 1.968-mile, 11-turn temporary street circuit.
Third at the finish of the 32-lap event was two-time Long Beach winner Alvaro Parente of Portugal in the No. 9 K-PAX Racing Bentley Continental GT3 followed by GT overall point leader Scott Hargrove of Canada in the No. 96 Pfaff Motorsports Porsche 911 GT3 R; Yuki Harata of Japan, in the No. 55 Dream Racing Motorsport Lamborghini Huracan GT3; Martin Fuentes of Mexico, in the No. 07 Hublot/Squadra Corse Garage Italia Ferrari 488 GT3, and 17-year-old Parker Chase of New Braunfels, Tex., in the No. 19 TruSpeed Autosport Audi R8 LMS.
The top-eight finishers in Sunday's Pirelli World Challenge GT Sprint event were from eight different countries – Italy, Finland, Portugal, Canada, Japan, Mexico, United States and Australia (David Calvert-Jones).
Harata battled Fuentes through the race for the GTA honors in the young Japanese driver's first Long Beach race. Harata defeated Fuentes by just 0.163 seconds at the finish line, while Chase, also in his Long Beach debut, rounded out the GTA podium Sunday.
In another exciting contest for the GT4 Invitational category, young Paul Holton of Orlando, Fla., in the No. 78 Compass360 Racing McLaren 570S, held off the challenge of 18-year-old Harry Gottsacker of New Braunfels, Tex., in the No. 69 Racers Edge Motorsports SIN 1 GT4, and veteran Spencer Pumpelly of Atlanta, Ga., in the No. 66 TRG Porsche Cayman GT4 Clubsport MR sports car.
Local driver Bob Michaelian of Seal Beach, Calif., scored the GT4 Am class honors in the No. 45 Racers Edge Motorsports SIN 1 GT4 over former AMA motocross champion Jeff Ward of Newport Beach, Calif., in the No. 7 Black Swan Racing Porsche Cayman GT4 Clubsport MR.
"I knew that Toni would have a good race pace today with his Ferrari," said Mancinelli. "I was able to close in on him after the yellow flag period. I felt I was quicker than Toni in several spots, but I had to work hard to get close enough to make the pass. I made the move for the lead after I got some good momentum into turn one. Toni left a little opening for me and I had to take it. From there, I managed the car to the finish. It is a great win for Ferrari and TR3 Racing."
"I like this track a lot and we had good pace today," said Vilander. "In qualifying, I was able to push very hard for the pole on Saturday. Today, Daniel was stronger today in the braking zones in turn one and turn 11. After the safety car period, I struggled a bit with the tires and the grip in general. Daniel was willing to take more risks today. This was a great day for Ferrari and Ferrari has invested a lot in racing in America. Finishing 1-2 for Ferrari at Long Beach is important for Ferrari. We'll move onto VIR (VIRginia International Raceway on April 27-29) and look for another win."
"It feels very good to be on the podium again at Long Beach, especially after the start we had at St. Petersburg with the crash," said Parente. "We were fortunate today that some of the faster cars in front of me had misfortune too. We knew our pace here would be difficult here and it wasn't what we wanted. But I'm looking forward to the next few races with the Bentley. But we must finish the race and we did that to take third. This is a great event and I have been on the podium three years in row. I love the layout of the track at Long Beach. The event is just sensational."
"I lost both mirrors and I had no information," said Harata, the 2017 PWC GT Cup series champion. "I didn't know where I was. The team kept telling me to go because I had a good pace. My last race was kind of a mess, so I'm happy for this one. I finished off my tires and I was all over the place. This is my first GTA win, and my first race in Long Beach. The weekend was incredible for me and the team."
"The race wasn't as straight-forward as we thought," said Holton, the 2017 PWC Touring Car series champion. "We had the yellow flag and then Harry (Gottsacker) caught up to us. When he caught up to us, the pace got a lot faster than I thought it was going to be. We were really close to the pole times then. It was a lot of fun with a lot of traffic coming through. Harry and Spencer (Pumpelly) did a really good job of keeping me honest out there. That's what's cool about this place you can qualify in the morning and then go to the beach and surf in the afternoon. So, I had a really fun afternoon Saturday and today (Sunday) is even better."
The next Pirelli World Challenge race weekend takes place at the picturesque VIRginia International Raceway in Alton, Va., on April 27-29 with GT SprintX, GTS SprintX and Touring Car classes.
The Round 3 GT/GTA/GT4 Invitational event from the streets of Long Beach will be televised on CBS Sports Network next Sunday (April 22) at 3:00 p.m. EDT.
Results
Pos PIC Class Name Hometown Car Laps Status Race Time Gap
1 1 Pro Daniel MANCINELLI Fabriano Italy ITA Ferrari 488 GT3 32 Running 50:17.710
2 2 Pro Toni VILANDER Kankaanpää Finland FIN Ferrari 488 GT3 32 Running 50:19.889 2.179
3 3 Pro Alvaro PARENTE Porto PORT Bentley Continental GT3 32 Running 50:34.164 16.454
4 4 Pro Scott HARGROVE Tsawwassen BC CAN Porsche 911 GT3 R (991) 32 Running 50:38.635 20.925
5 1 Am Yuki HARATA Narita JP JPN Lamborghini Huracan GT3 32 Running 50:44.712 27.002
6 2 Am Martin FUENTES Mexico City MX Ferrari 488 GT3 32 Running 50:44.875 27.165
7 3 Am Parker CHASE New Braunfels TX USA Audi R8 LMS 32 Running 50:48.648 30.938
8 4 Am David CALVERT-JONES Melbourne AUS Porsche 911 GT3 R (991) 32 Running 50:51.352 33.642
9 5 Am Tim PAPPAS Boston MA USA Porsche 911 GT3 R (991) 32 Running 50:52.369 34.659
10 6 Am Rodrigo BAPTISTA São Paulo Brazil BRA Bentley Continental GT3 32 Running 50:52.983 35.273
11 5 Pro Michael CHRISTENSEN Karlslunde DK DNK Porsche 911 GT3 R 32 Running 51:06.301 48.591
12 6 Pro Rocky MORAN Ladera Ranch CA USA Audi R8 LMS 31 Running 50:31.013 1 LAP
13 7 Pro Alec UDELL Woodlands TX USA Porsche 911 GT3 R (991) 31 Running 50:54.001 1 LAP
14 1 GT4 Inv Paul HOLTON Tallahasse FL USA McLaren 570S GT4 31 Running 51:06.558 1 LAP
15 2 GT4 Inv Harry GOTTSACKER New Braunfels TX USA SIN R1 31 Running 51:07.684 1 LAP
16 3 GT4 Inv Spencer PUMPELLY Atlanta GA USA Porsche Cayman GT4 CS-MR 31 Running 51:08.785 1 LAP
17 1 GT4A Inv Bob MICHAELIAN Seal Beach CA USA SIN R1 31 Running 51:47.077 1 LAP
18 2 GT4A Inv Jeff WARD San Juan Capistrano CA USA Porsche Cayman GT4 CS-MR 30 Running 50:19.828 2 LAPS
19 3 GT4A Inv George KURTZ Paradise Valley AZ USA Audi R8 LMS GT4 30 Running 50:49.116 2 LAPS
20 8 Pro Daniel MORAD Toronto ON CAN Mercedes-AMG GT3 26 Running 50:44.303 6 LAPS
21 4 GT4A Inv Mike SULLIVAN Manhattan Beach CA USA Porsche Cayman GT4 CS-MR 6 Not Running 9:22.217 26 LAPS