Overheard in Long Beach – Saturday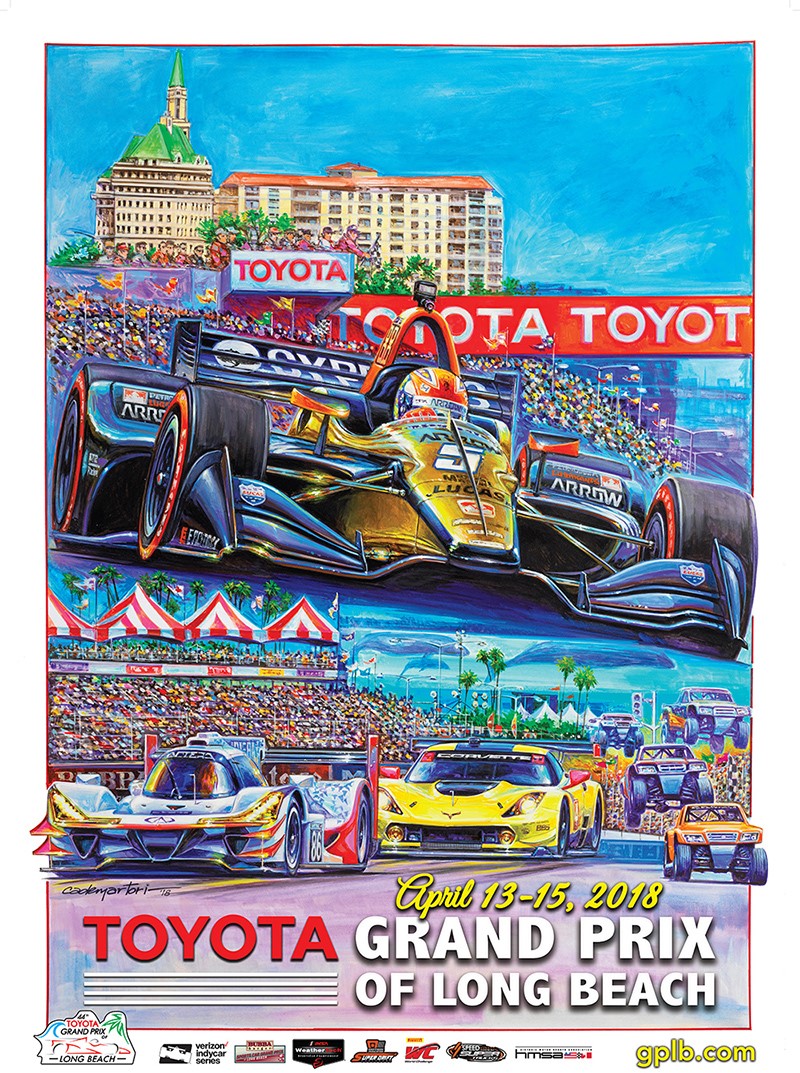 Toyota GP of Long Beach
So what's the word in the IndyCar paddock this weekend at Long Beach. We put our ear to the ground to dig out the key drivers this weekend.
Still no 3rd Manufacturer
Word in the paddock is that the IndyCar engine manufacturers had hoped to have the new engine specs for 2021 nailed down by now, but no word from IndyCar. It is assumed that IndyCar still has not signed a 3rd manufacturer so they are delaying the decision as much as possible.
We also hear there is some consideration being given to a KERS system since all passenger cars will be electric within 8 to 10 years and they all use regenerative brakes to store energy in a battery to later be used to propel the car.
While this would work well for street and road circuits that have heavy braking, on the ovals the only regenerative braking is coming into the pits, so the amount of energy stored would only be enough for limited push-to-pass seconds on the ovals. Hence strategy of when to use it would be important.
The KERS system would raise costs, but they could be 'spec' to limit the cost and of course KERS would not ruin the sound of the cars whatsoever.
Other than that we do not expect major changes to the engine architecture except possibly a bit more displacement to give the drivers more HP and Torque.
Too many drivers, not enough engines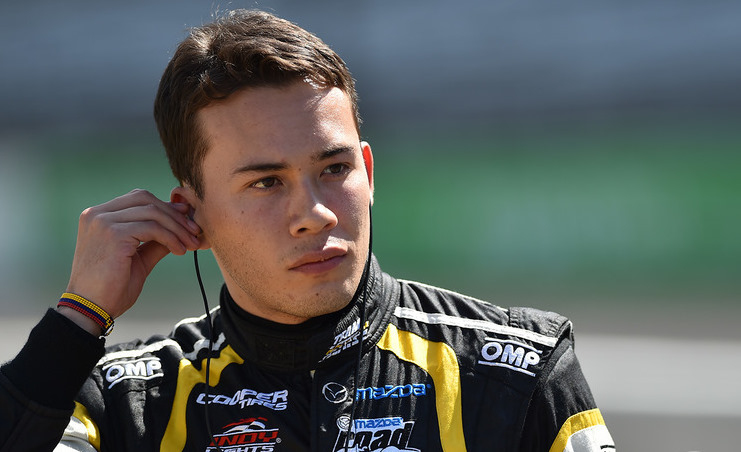 Juan Piedrahita
Juan Piedrahita is a Colombian racing driver who has funding in place to run the Indy 500 but with 35 entries already, engines, or lack thereof, is an issue. Honda is already committed to 19 of the 35 engines and Chevy 16. Could Honda do 20 engines? Chip Ganassi-Honda only has two entries for the 500. The teams has the capacity but will Honda say yes?
Honda used to supply the entire 33-car field but that was before the days of competition with Chevy.
For now he is driving the IndyCar 2-seater waiting to hear if the 500 ride materializes.
Born in Bogota, Colombia, Piedrahita began his driving career at age of 7 karting in Mexico. Piedrahita transitioned to auto racing in 2009 competing in the LATAM Challenge Series where he gained 2 podiums, finished 7th in overall points and 2nd in the rookie standings.
In 2010 Piedrahita competed in Star Mazda Championship for Team Apex where he competed in eight of the thirteen races and collected one top 5 and four top 10 finish.[2] In 2011 he is competing in the U.S. F2000 National Championship for JDC Motorsports as part of the Road to Indy. Piedrahita finished seventh in the championship, capturing two podium finishes at the series' two oval races at Lucas Oil Raceway at Indianapolis and the Milwaukee Mile.
For the 2012 season, Piedrahita returned to Star Mazda full-time staying with the JDC Motorsports team.[4] He finished seventh in points and captured a career-best second-place finish in race two in Toronto. He returned for another season in the series, now called Pro Mazda, in 2013, again with JDC. Piedrahita fell to ninth in points, suffering six DNF's, but did capture a second-place finish at the Milwaukee Mile and four third-place finishes.
In 2014, Piedrahita moved up to Indy to Indy Lights, signing with defending series champion team Schmidt Peterson Motorsports.
More sliding, better show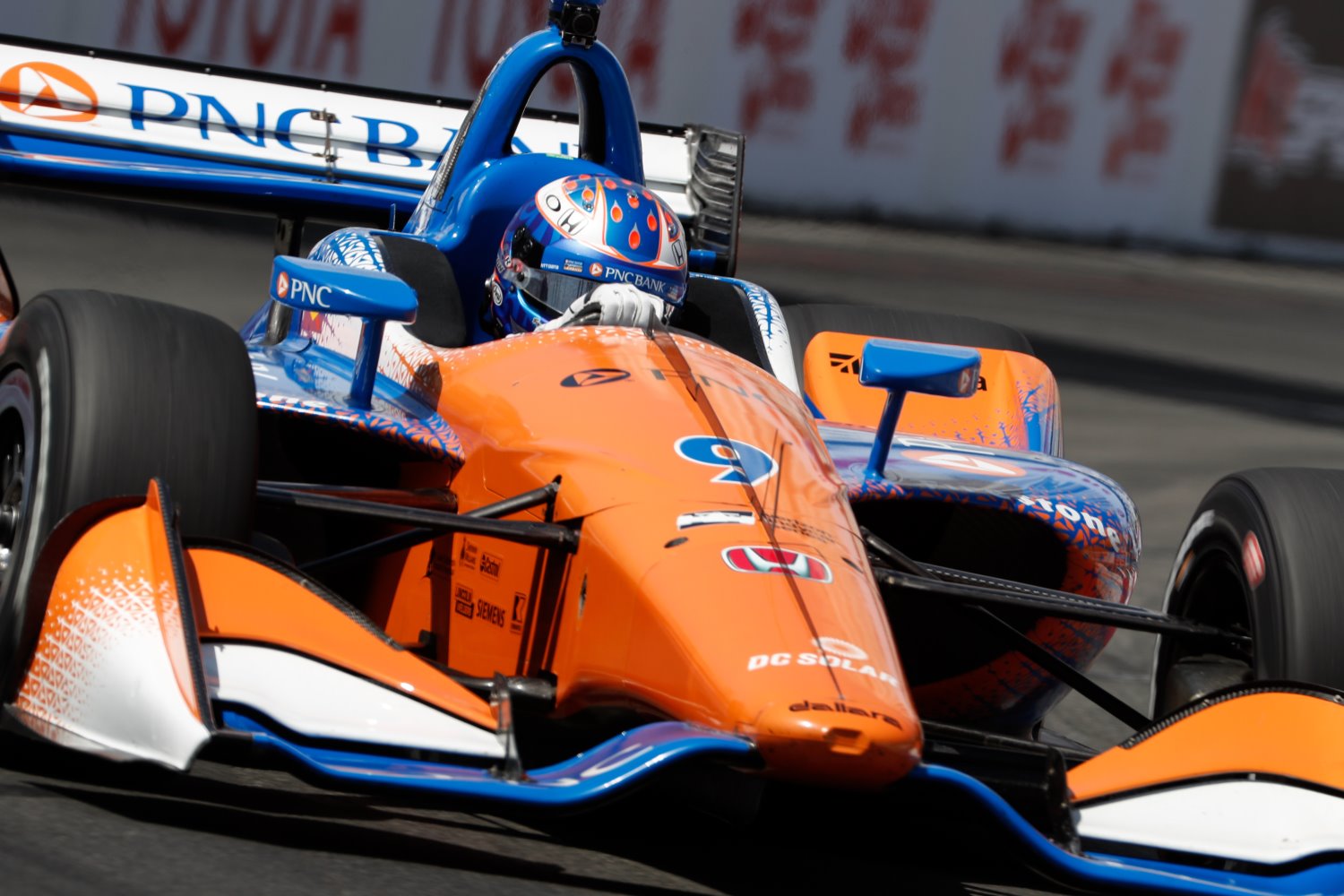 Scott Dixon
With the lower downforce the cars are sliding more and we saw several drivers in four-wheel power slides exiting a corner. Does that mean we're going to see more tire wear in the race?
"Yeah, I think they'll definitely go off, and we saw that in St. Pete," said Rossi.
"I think it was not as bad as we expected in St. Pete, but there was definitely a falloff. That's going to be something that we have to think about, no doubt about it.
"You can have an aggressive car that's fast and uses tires, or you can kind of go the other way, so it's finding that line because obviously you don't want to protect them too much that you don't get the performance out of them. It's something that we'll all have to figure out overnight and kind of try a few things in the warmup and then see what works and what doesn't."
Graham Rahal added, "But I can tell you the fans will be on for an amazing show. The race was good here last year, and now with this car and the tire degradation that we're talking about, I think it's going to be a pretty awesome show."
Rossi gaps them on the fine line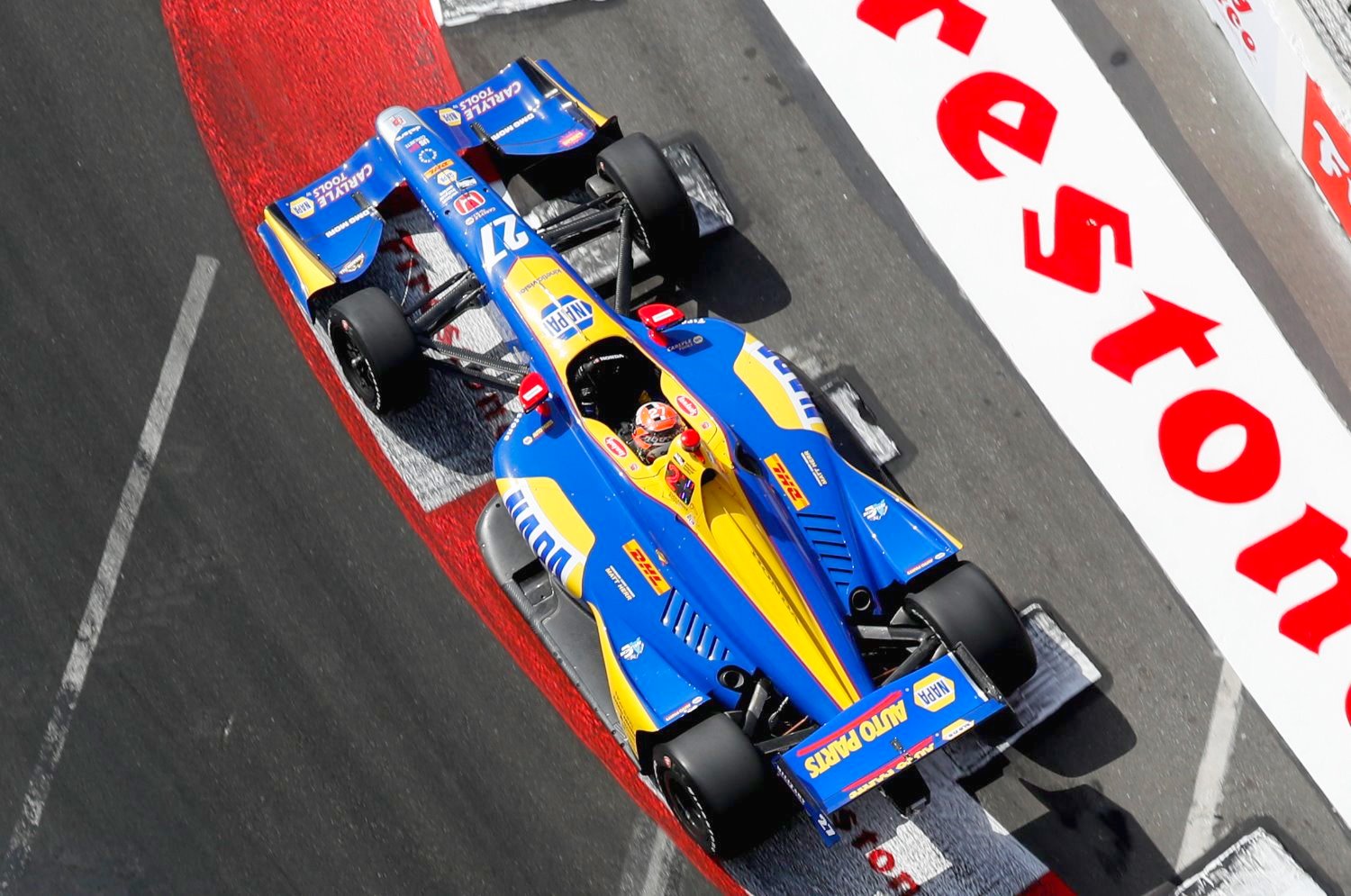 Can Rossi repeat his dominance on race day?
Rossi has almost four-tenths on the rest of the field. Traditionally this grid has been covered by about a second for the first 10. Was Rossi surprised he had that much of a gap?
"I don't really look at a gap," said Rossi.
"That's sort of irrelevant to us. We're just looking to be in the front, and whether that's by a hundredth or three-tenths, it doesn't really matter.
"There's no doubt we have been strong. Ryan has been right there with me and Josef at times and Will at times, so you know, it's just kind of about who gets it right on that lap, and I think that's where you see the big deltas come from.
"It's not that we're just that much quicker than anyone else, it's just such a fine window to get the perfect lap, if you will, and it's just as fine of a window to fall out of the setup a little bit, and there's a big time penalty for that because as we go back to the lesser downforce, you're sliding a little bit more, so you're a little bit off, it compounds through the corner."
Taking nothing for granted
"We have a big day ahead of us tomorrow, and like I said before, there's a huge amount of work. None of these 23 guys are going to be easy to beat, and we've all seen how easy it is to not win an INDYCAR race," said Rossi.
"We need to definitely bring our A game tomorrow and do our homework overnight and make sure we have a good warmup, and we've talked about the tire life and make sure we're looking after them in that sense, and hopefully we can get a good start and just execute what we need to do, not have any dramas in pit lane, and hopefully bring home a win."
Mark C. reporting live from Long Beach