Vilander Takes Ferrari to Pirelli World Challenge GT Pole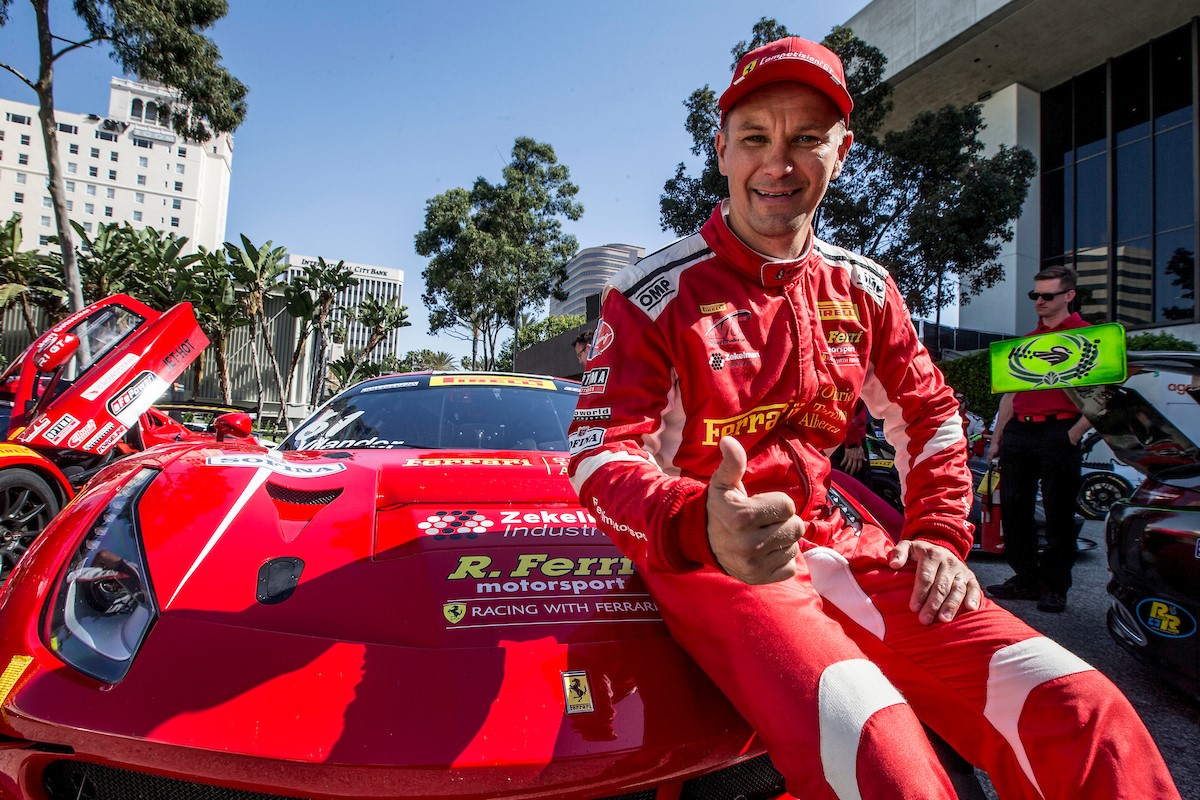 Toni Vilander
Veteran Toni Vilander of Finland broke the Pirelli World Challenge GT track record Saturday in PWC GT qualifying with his No. 61 R. Ferri Motorsports Ferrari 488 GT3 at the 44th annual Toyota Grand Prix of Long Beach.
All results are provisional pending technical inspection and stewards' review.
Vilander, the two-time 24 Hours of LeMans winner, shattered the old GT mark of one minute, 18.883 seconds (89.84 miles per hour) set last year by Alvaro Parente in the No. 9 K-PAX Racing McLaren 650S with a stellar lap of 1:18.436 (90.35 m.p.h.) at the 1.968-mile, 11-turn temporary street circuit along the Long Beach harbor.
The top five GT qualifiers Saturday were quicker than the previous GT track record of Parente.
Japan's Yuki Harata also set a new Long Beach GTA track record with a time 1:19.157 (89.53 m.p.h.), easily besting the 2016 record of Martin Fuentes at 1:19.842 (88.74 m.p.h.). Harata, the 2017 GT Cup series champion, set the mark in the No. 55 Dream Racing Motorsport Lamborghini Huracan GT3 sports car.
"It was quite a difficult session," said Vilander. "But the team (R. Ferri Motorsports) did a great job preparing the car for qualifying. On the main straight, I was trying to look for the big screen, so I could see if I was in the top three. The grip level changed a little bit during the session, so I just needed to keep hammering down and do those laps, lap after lap. Suddenly, I felt that it all came down to me and I wanted to close the lap. The first part of the lap was a few risks and the last part of the lap was taking it home. It was a pretty good balance with the car. But on these street circuits, you just have to go for it, building that speed from first practice to second practice and into qualifying. We enjoyed today (Saturday) and Sunday is another hard fight in the race."
Taking the second position in GT qualifying was Daniel Morad of Toronto, Ont., Canada, in the No. 2 CRP Racing/DeVilbiss Mercedes-AMG GT3 sports car with a 1:18.642 (90.11 m.p.h.) followed by Daniel Mancinelli of Italy in the No. 31 TR3 Racing Ferrari 488 GT3 at 1:18.694 (90.05 m.p.h.), young Clemson University student Alec Udell of The Woodlands, Tex., in the LOCI/HKG Racing/GMG Racing Porsche 911 GT3 R at 1:18.713 (90.03 m.p.h.) and Denmark's Michael Christensen in the No. 24 Alegra Motorsports Porsche 911 GT3 R at 1:18.741 (90.00 m.p.h.).
The international field of the Pirelli World Challenge GT lineup showed just one American driver (Udell) in the top-ten in Saturday's qualifying.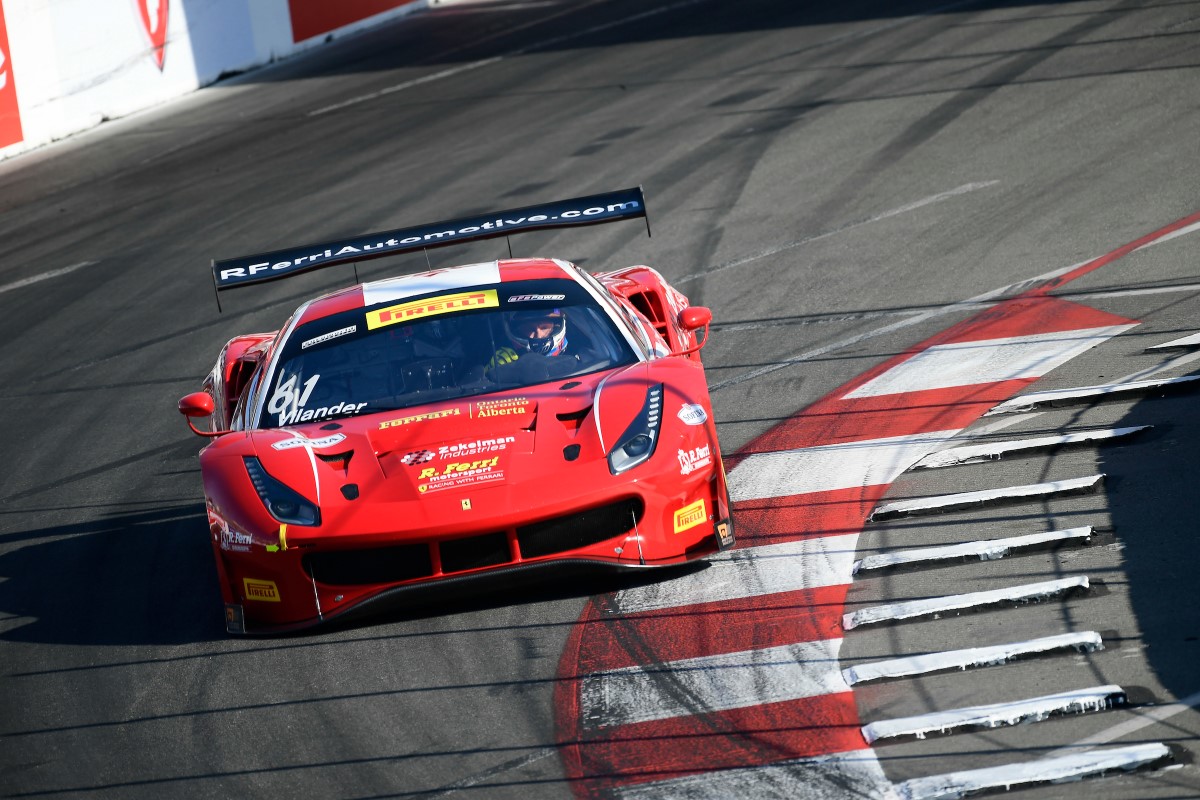 Toni Vilander's Ferrari
"It was my first time at Long Beach and the second time in a street circuit," said Harata, the 24-year-old driver after winning his first GTA pole position. "I worked a lot on this in a simulator, but I did spin one time. Thankfully, I didn't hit the wall. The car was really good with the setup, so I could push hard. I'm happy with the result and looking forward to the race Sunday. The simulator really helps a lot. Here (at Long Beach) it's all about the qualifying position because it's hard to overtake once you start the race. I'm very happy to start in the front."
Young Paul Holton of Orlando, Fla., the 2017 PWC TC champion, captured the GT4 Invitational pole Saturday in the No. 78 Compass360 Racing McLaren 570S with a 1.25.930 (82.47 m.p.h.) over Spencer Pumpelly of Atlanta, Ga., in the No. 66 TRG Porsche Cayman GT4 Clubsport MR at 1:26.418 (82.00 m.p.h.).
In the GT4 Invitational category, local driver Bob Michaelian of Seal Beach, Calif., was the quickest racer in the No. 45 Racers Edge Motorsports SIN R1 GT4 at 1:26.692 (81.74 m.p.h.) followed by seven-time AMA motocross champion Jeff Ward of Newport Beach, Calif., in the No. 7 Black Swan Racing Porsche Cayman GT4 Clubsport MR at 1:27 295 (81.18 m.p.h.).
The Pirelli World Challenge 21-car field is scheduled for the 50-minute PWC GT/GTA/GT4 feature Sunday at 10 a.m. PDT. The race will be live streamed for free on Sunday on www.world-challenge.com.
Results
| | | | | | | |
| --- | --- | --- | --- | --- | --- | --- |
| Pos | PIC | Class | Name | Hometown | Car | Time |
| 1 | 1 | Pro | Toni VILANDER | Kankaanpaa | Ferrari 488 GT3 | 1:18.436 |
| 2 | 2 | Pro | Daniel MORAD | Toronto | Mercedes-AMG GT3 | 1:18.642 |
| 3 | 3 | Pro | Daniel MANCINELLI | Fabriano | Ferrari 488 GT3 | 1:18.694 |
| 4 | 4 | Pro | Alec UDELL | Woodlands | Porsche 911 GT3 R (991) | 1:18.713 |
| 5 | 5 | Pro | Michael CHRISTENSEN | Karlslunde | Porsche 911 GT3 R | 1:18.741 |
| 6 | 6 | Pro | Scott HARGROVE | Tsawwassen | Porsche 911 GT3 R (991) | 1:19.066 |
| 7 | 1 | Am | Yuki HARATA | Narita | Lamborghini Huracan GT3 | 1:19.157 |
| 8 | 2 | Am | Martin FUENTES | Mexico City | Ferrari 488 GT3 | 1:19.183 |
| 9 | 7 | Pro | Alvaro PARENTE | Porto | Bentley Continental GT3 | 1:19.416 |
| 10 | 3 | Am | Rodrigo BAPTISTA | São Paulo | Bentley Continental GT3 | 1:19.608 |
| 11 | 8 | Pro | Rocky MORAN | Ladera Ranch | Audi R8 LMS | 1:20.024 |
| 12 | 4 | Am | Parker CHASE | New Braunfels | Audi R8 LMS | 1:20.025 |
| 13 | 5 | Am | David CALVERT-JONES | Melbourne | Porsche 911 GT3 R (991) | 1:20.286 |
| 14 | 6 | Am | Tim PAPPAS | Boston | Porsche 911 GT3 R (991) | 1:20.653 |
| 15 | 1 | GTS Inv | Paul HOLTON | Tallahasse | McLaren 570S GT4 | 1:25.930 |
| 16 | 2 | GTS Inv | Spencer PUMPELLY | Atlanta | Porsche Cayman GT4 CS-MR | 1:26.418 |
| 17 | 1 | GTSA Inv | Bob MICHAELIAN | Seal Beach | SIN R1 | 1:26.692 |
| 18 | 2 | GTSA Inv | Jeff WARD | San Juan Capistrano | Porsche Cayman GT4 CS-MR | 1:27.295 |
| 19 | 3 | GTSA Inv | George KURTZ | Paradise Valley | Audi R8 LMS GT4 | 1:28.436 |
| 20 | 4 | GTSA Inv | Mike SULLIVAN | Manhattan Beach | Porsche Cayman GT4 CS-MR | 1:31.049 |