Vettel leads Ferrari 1-2 in final Chinese GP practice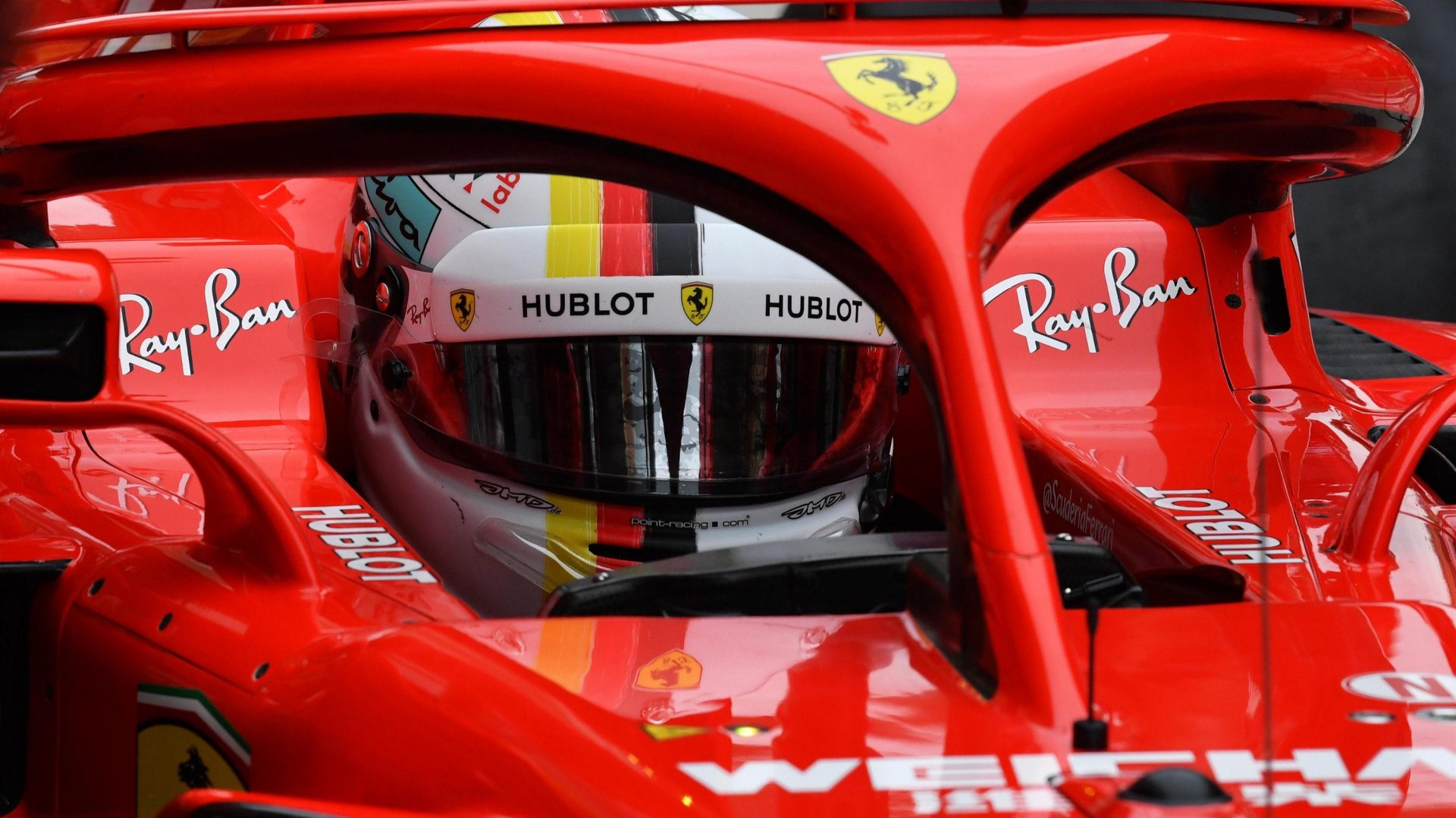 Sebastian Vettel has the bit between his teeth.
After dominating this race for years, Mercedes appeared to have no answer to the pace of Sebastian Vettel and Kimi Raikkonen, as the Italian cars dominated the final hour of practice around the Shanghai International Circuit.
For the Silver Arrows, Valtteri Bottas was third, seven-tenths off Vettel's pace, and Lewis Hamilton a further quarter of a second back in fifth after more than one off-track moment and a spin in dramatic fashion after getting too wide on wet artificial grass at Turn 10.
Max Verstappen split the Mercedes for Red Bull but he complained of power issues at full song. Red Bull also suffered serious disappointment for teammate Daniel Ricciardo. His session started late because of a gearbox issue then ended with the Australian pulling over after just four laps with a suspected turbo failure – flames belching at the back of the car.
Not unlike Friday's sessions, conditions were dry, gusty, cool and overcast. But again grip was at a premium, particularly for those – like Hamilton – who put a wheel wide at Turn 10, where the artificial grass was still holding lots of water from overnight rain.
With just two hours before qualifying, Red Bull will be in a race against time to get Ricciardo's car ready – and Mercedes will be looking for ways to find half a second on Ferrari ahead of the crucial fight for pole…
FP3 Results
| | | | | | |
| --- | --- | --- | --- | --- | --- |
| POS | DRIVER | CAR | TIME | GAP | LAPS |
| 1 | Sebastian Vettel | Ferrari | 1m33.018s | 0.000s | 14 |
| 2 | Kimi Raikkonen | Ferrari | 1m33.469s | 0.451s | 21 |
| 3 | Valtteri Bottas | Mercedes | 1m33.761s | 0.743s | 16 |
| 4 | Max Verstappen | Red Bull/Renault | 1m33.969s | 0.951s | 14 |
| 5 | Lewis Hamilton | Mercedes | 1m34.057s | 1.039s | 14 |
| 6 | Kevin Magnussen | Haas/Ferrari | 1m34.329s | 1.311s | 25 |
| 7 | Sergio Perez | Force India/Mercedes | 1m34.445s | 1.427s | 14 |
| 8 | Esteban Ocon | Force India/Mercedes | 1m34.456s | 1.438s | 16 |
| 9 | Carlos Sainz | Renault | 1m34.582s | 1.564s | 20 |
| 10 | Sergey Sirotkin | Williams/Mercedes | 1m34.741s | 1.723s | 13 |
| 11 | Nico Hulkenberg | Renault | 1m34.841s | 1.823s | 16 |
| 12 | Fernando Alonso | McLaren/Renault | 1m34.851s | 1.833s | 13 |
| 13 | Stoffel Vandoorne | McLaren/Renault | 1m34.977s | 1.959s | 16 |
| 14 | Brendon Hartley | Toro Rosso/Honda | 1m34.991s | 1.973s | 20 |
| 15 | Daniel Ricciardo | Red Bull/Renault | 1m35.061s | 2.043s | 4 |
| 16 | Pierre Gasly | Toro Rosso/Honda | 1m35.079s | 2.061s | 16 |
| 17 | Lance Stroll | Williams/Mercedes | 1m35.375s | 2.357s | 16 |
| 18 | Charles Leclerc | Sauber/Ferrari | 1m35.497s | 2.479s | 14 |
| 19 | Marcus Ericsson | Sauber/Ferrari | 1m35.679s | 2.661s | 13 |
| 20 | Romain Grosjean | Haas/Ferrari | 1m35.756s | 2.738s | 6 |