Friday afternoon update from Long Beach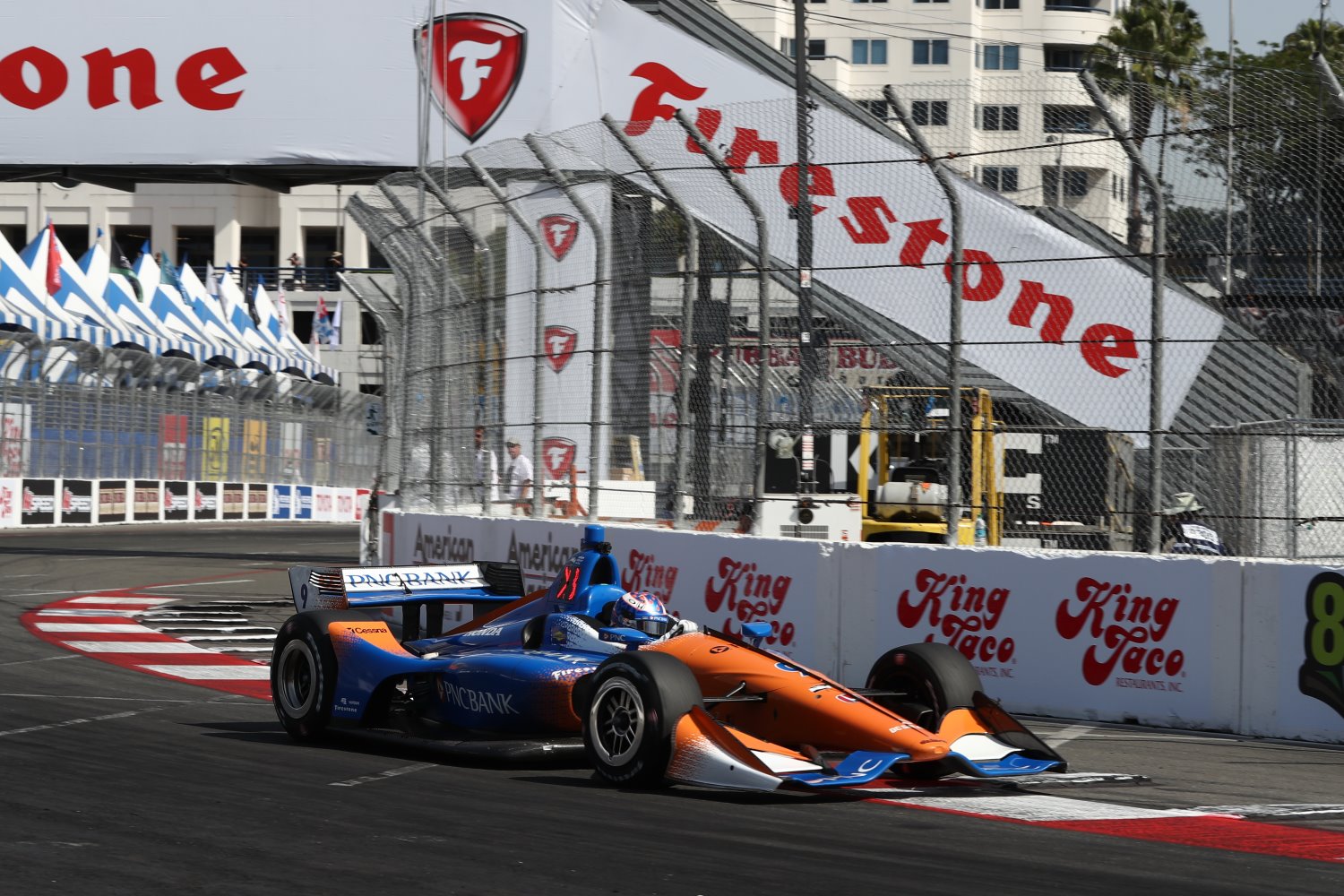 Scott Dixon fastest overall Friday
Friday afternoon the temperatures really came up, the track surface got hot and the practice times for the IndyCars were slightly slower than the cooler morning session.
Word is that Honda is going all out to win the race this weekend and have brought some extra upgrades. Rumor has it that Honda's global CEO, Takahiro Hachigo, will be here to celebrate HPD's 25th anniversary and a win for Honda will make Hachigo quite happy.
Fuel Mileage
Whereas this race used to almost always be a 3-stopper with the new lower drag bodywork on the cars, this year's race should just be a 2-stopper.
Graham Rahal agrees that the cars are making great mileage. "You look at Phoenix from a strategy standpoint, last year if you were going to do on three you had to hit specific numbers, and most guys couldn't hit it. This year you could pit on lap 20 and make it on two. The fuel economy in this car has just increased that much.
"There is no doubt this race is, no problem, a two stopper, whereas last year I did a two, Dixie [Dixon] bailed off of a two and lost him the race, but guys were kind of split two, three, whatever. There's no doubt that this year in my book from what I've seen, it's a two. What I love about that and what I think the fans are going to love about that is — as long as I've been racing here, it's a fuel race.
"I mean, I remember in the Champ Car days, we'd be clutching and coasting into Turn 1 on the first lap, that's how bad it was. Finally we're getting to a point where we can all go race, which is going to be, I think, a lot more fun for everybody, because while a fuel strategy race is boring for fans to watch, it's even more boring to drive, so I'm hopeful that those days are done."
Newgarden taken to school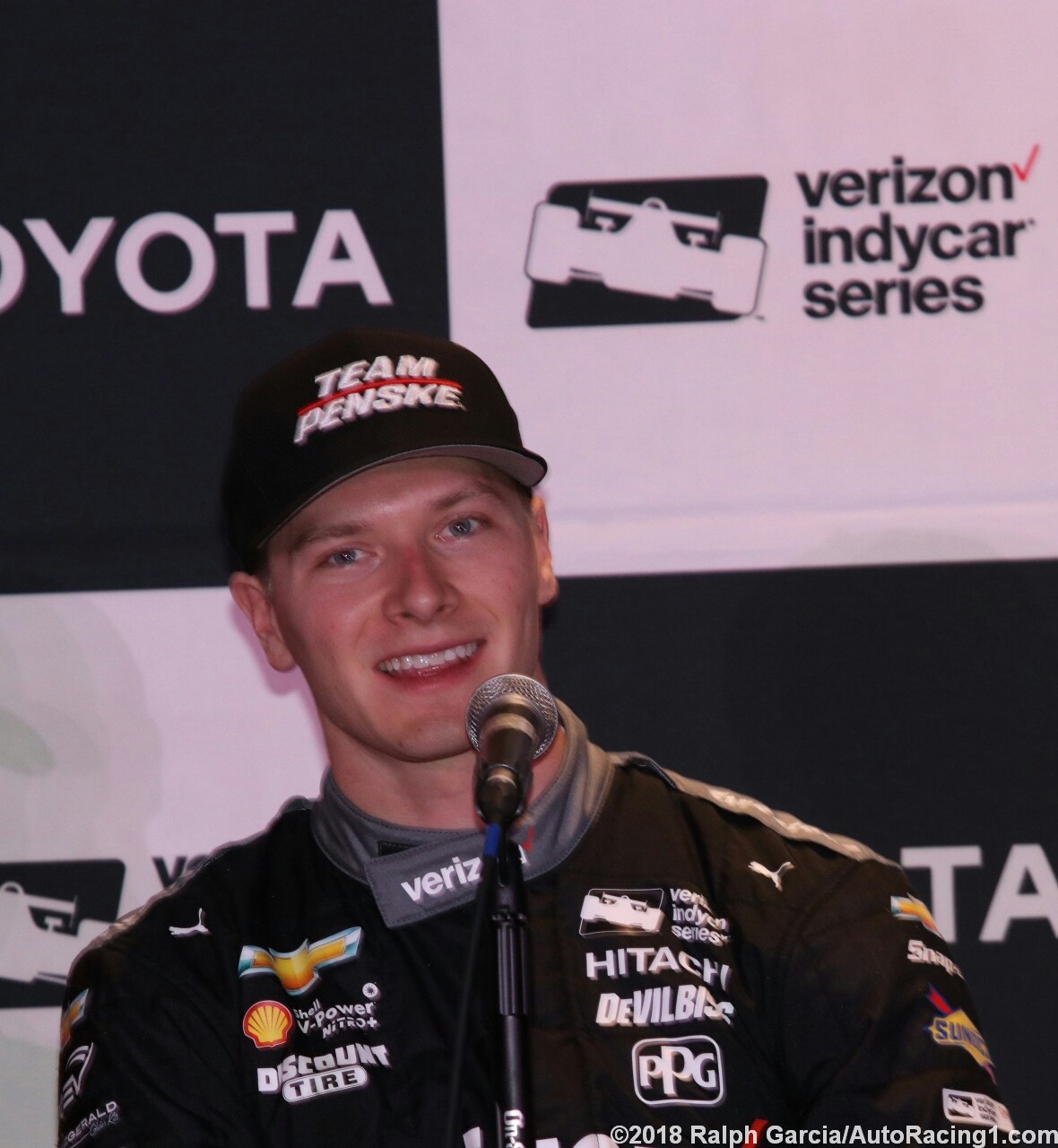 Josef Newgarden
Recall 2012 when Josef Newgarden started on the front row with Dario and made a very bold move in Turn 1 and Franchitti forced him into the wall
Newgarden was asked if he learned anything from that experience.
"That's a great question. You know what I would say to that? The number one thing I learned there was do not try and pass Dario Franchitti as a [dumb-ass rookie]
"It was my inexperience and not knowing that was a bad decision. The more you drive, the more you get to learn your competition, the more you know what to do and what not to do around certain people, and obviously that was a bad decision against Dario. He obviously didn't look at it very well, and you saw what happened. If I learned anything, it's that, know your competition.
"I got alongside him and gave him the inside lane, but I got touched on the exit and went right to the wall," Newgarden said. "If he was braking alongside of me, I would have just given him the lane and tucked right in."
The damage sustained to the Sarah Fisher Hartman Racing Dallara/Honda/Firestone car that day was too substantial for Newgarden to continue.
"It was a difficult day for us, and I felt really bad for the SFHR crew," Newgarden said.
More Power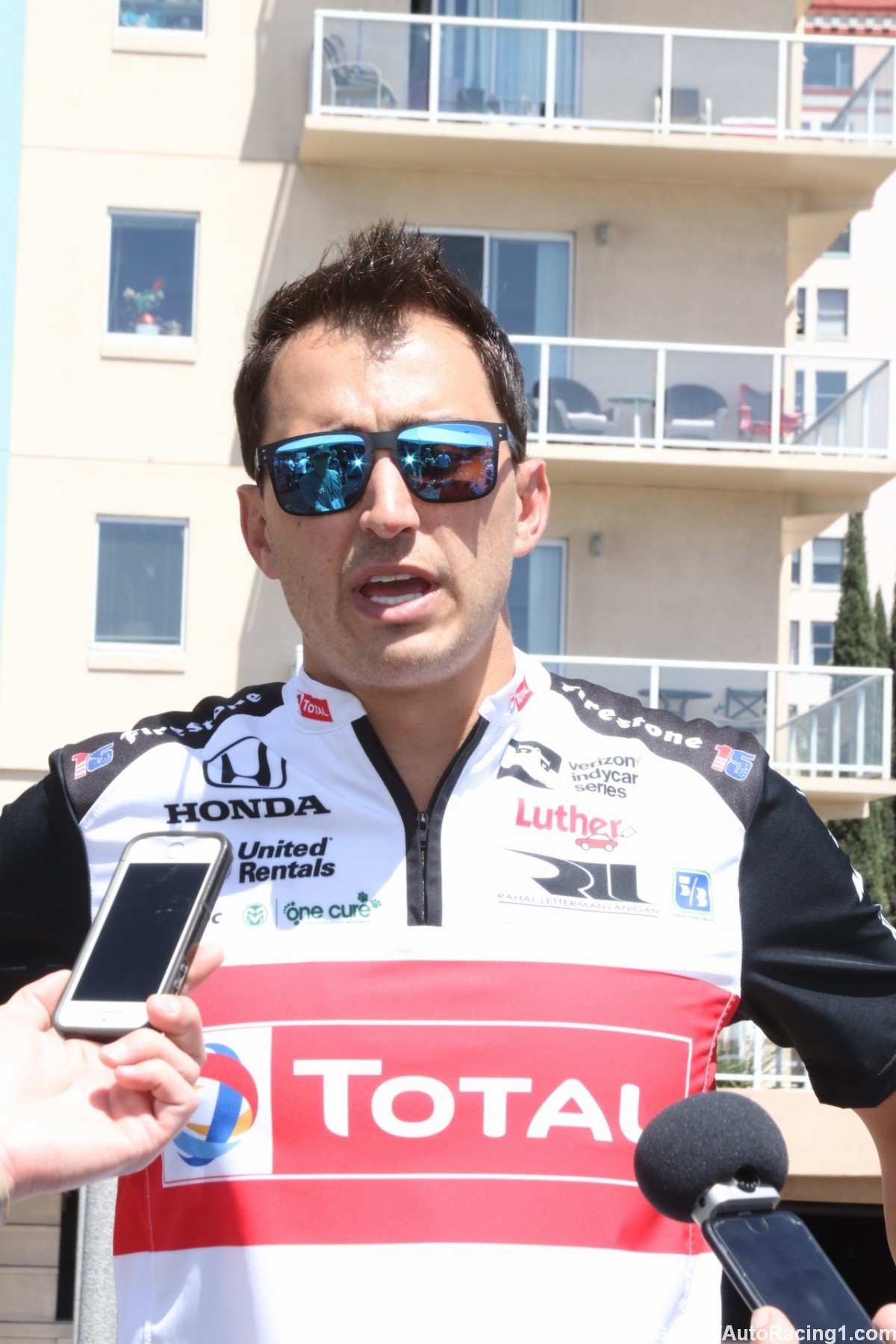 Rahal has backing from Total this weekend
There's a lot of talk of the new engine in 2021, the drivers want more power.
What's that going to do for the racing besides making the speeds higher, which the fans probably can't perceive visually?
What's that going to do for the racing?
We asked Graham Rahal whether he was in favor of it or is it a waste of money?
"You know, at the end of the day, what I'm in favor of is trying to find a way for this to continue to be even more relative to the streetcar of today because ultimately the lifeblood and the success of this sport I think relies heavily on that, and motorsports in general, right. And so probably increasing the displacement a little bit, getting a little bit more power out of it, I'm always — that's always going to be a positive to me.
"All of us love more power, so that's a good thing. But with that comes other stuff. Obviously if you have more power, then the tire needs to change. If you have more power, then — I'm never one for driver aids, so I don't think it should have traction control and power steering and everything else like some guys have lobbied for, but there's a lot of elements that go along with that. So for me I would love to have that.
"And more power, power equals noise. That's the truth. You'd better believe I remember what it was like as a kid to stand right back there and listen to the cars go roaring under the tunnels. I'd love for the kids of today to hear the same and to fall in love with those same noises. I think ultimately for the spectacle of it, it would definitely be a good thing."
Rahal wants family name on record books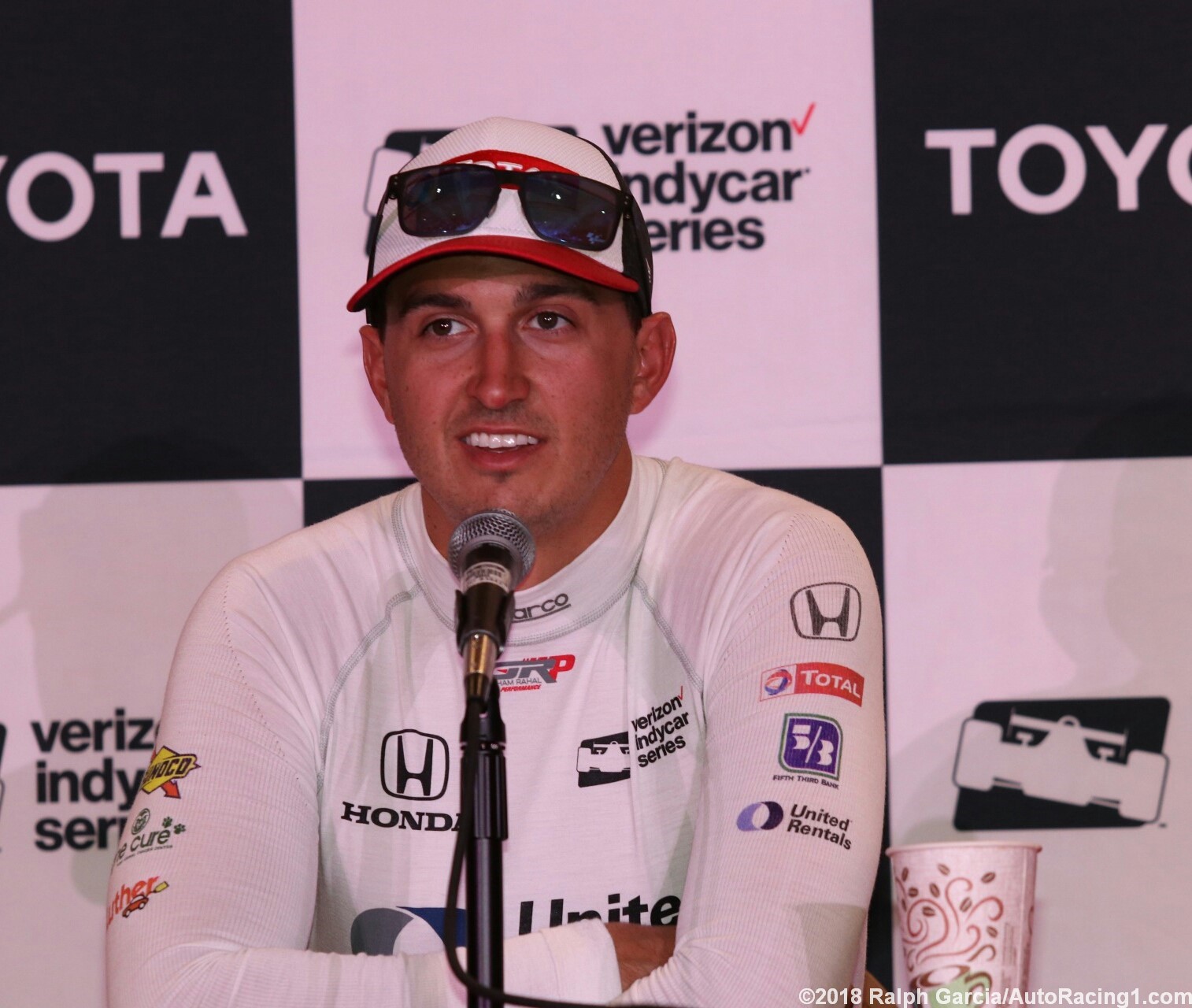 Rahal wants a Long Beach trophy
The heritage and the history of the Long Beach Grand Prix is huge.
"You know, it's definitely a big event, 44 years running. Had tremendous success here as far as an event, and I think from an IndyCar perspective, it's one of the big ones that — really you look at Indianapolis is never going to be able to be beaten by any motorsport race, but closely behind, this event is a huge deal.
"When you look at what all is going on in Southern California all the time and yet there's a lot to contend with. It's not like May in Indianapolis where Indy is it. Here you've got a lot of stuff going on all the time, yet you've got a couple hundred thousand people turn out to this. It is a huge event, and that can't be understated. I've enjoyed being a part of it. I've enjoyed growing up around it, seeing it. I just hope somehow this weekend we can get a Rahal to finally win this thing.
"It's one of my favorites, there's no doubt about that, and I think all of you guys would probably say the same. It's just an enjoyable place to come, enjoyable place to race, and the people out here get it, they love it, they have fun with it, and like I said, hopefully we can win this thing this weekend. It would mean a lot to me."
The Byrd Family and the No. 33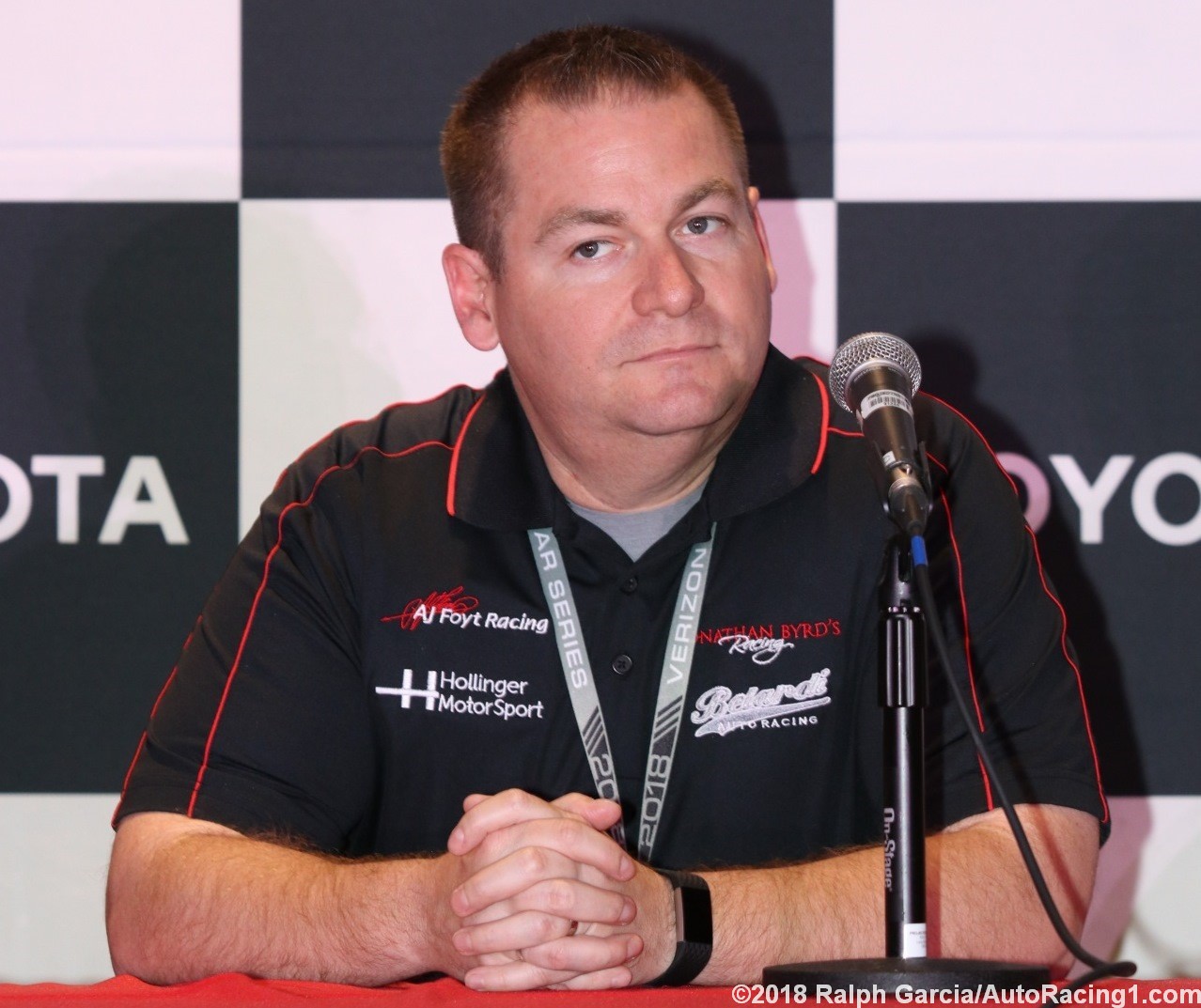 David Byrd
David Byrd announced his family business was backing a driver in the Indy 500 for the 33rd time, dating back to his father's days. This year they are backing James Davison and the car will be No. 33.
Do they do it for company PR or because they just love racing.?
"Yes, both. You know, it's like all of us would say, it's a bit of a sickness. Once it's in the bloodstream you can't get it out. There's no cure for it. So it's good for our business. It always has been. So that's one reason to carry it on. But absolutely love it. Like I said, my life — my year, my calendar revolves around Indy, but not just Indy, but we are in other motorsports programs, as well. We're running Chris Windom with Brian and the Freedom 100 to kind of take a step we haven't done before."
Steve Moore will be Team Manager on the car and Kyle Brannan will be engineering the car.
Will they make the race?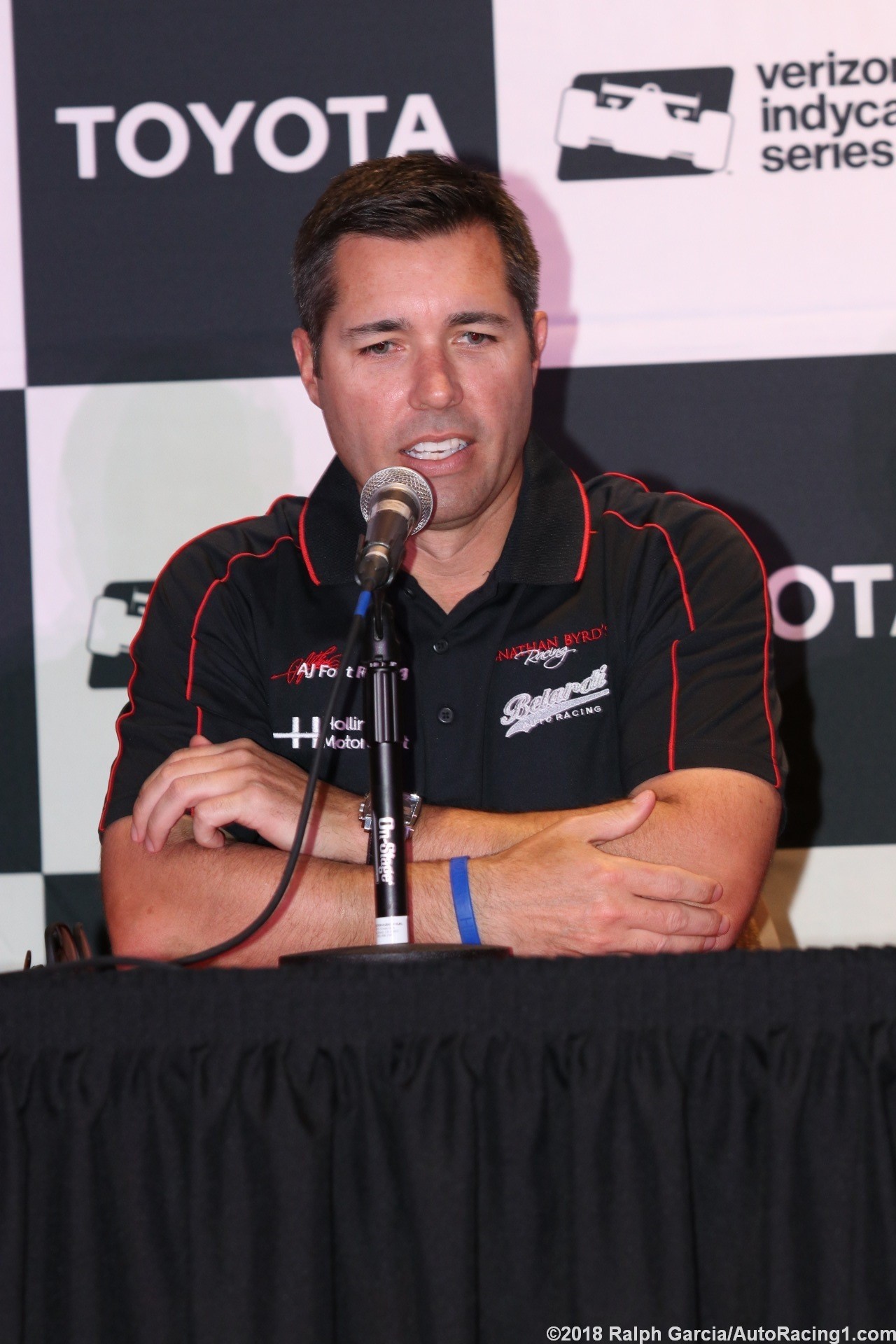 Larry Foyt
With the Indy 500 car count now at 35, is there any hesitance to take on a one-off program because two people are going to go home?
Larry Foyt responded, "Well, I was going to say, it's really — there's been a lot of talk, and that's great for the strength of the sport right now and the speedway that we're back to having some bumping. I just hope we're not a part of it or having to deal with the stress.
"I remember a few years ago that's a very stressful situation, but when you look at the history, that's a big part of Indianapolis, that pure emotion that you see on bump day from people is unbelievable.
"We're just doing everything we can. This entry will definitely be working engineering-wise with our other cars, and so that's something that we think will help both sides to give us competitive cars all the way around. At the end of the day, you never know what's going to happen, and when that day comes, you just hope you've done everything to not be a part of it.
"It's something in the back of your mind, of course, but we're just trying to do everything on the competition side to make sure we don't have to worry about that and we're thinking about Fast Nine and not bumping."
How did an Australian come to love the 500?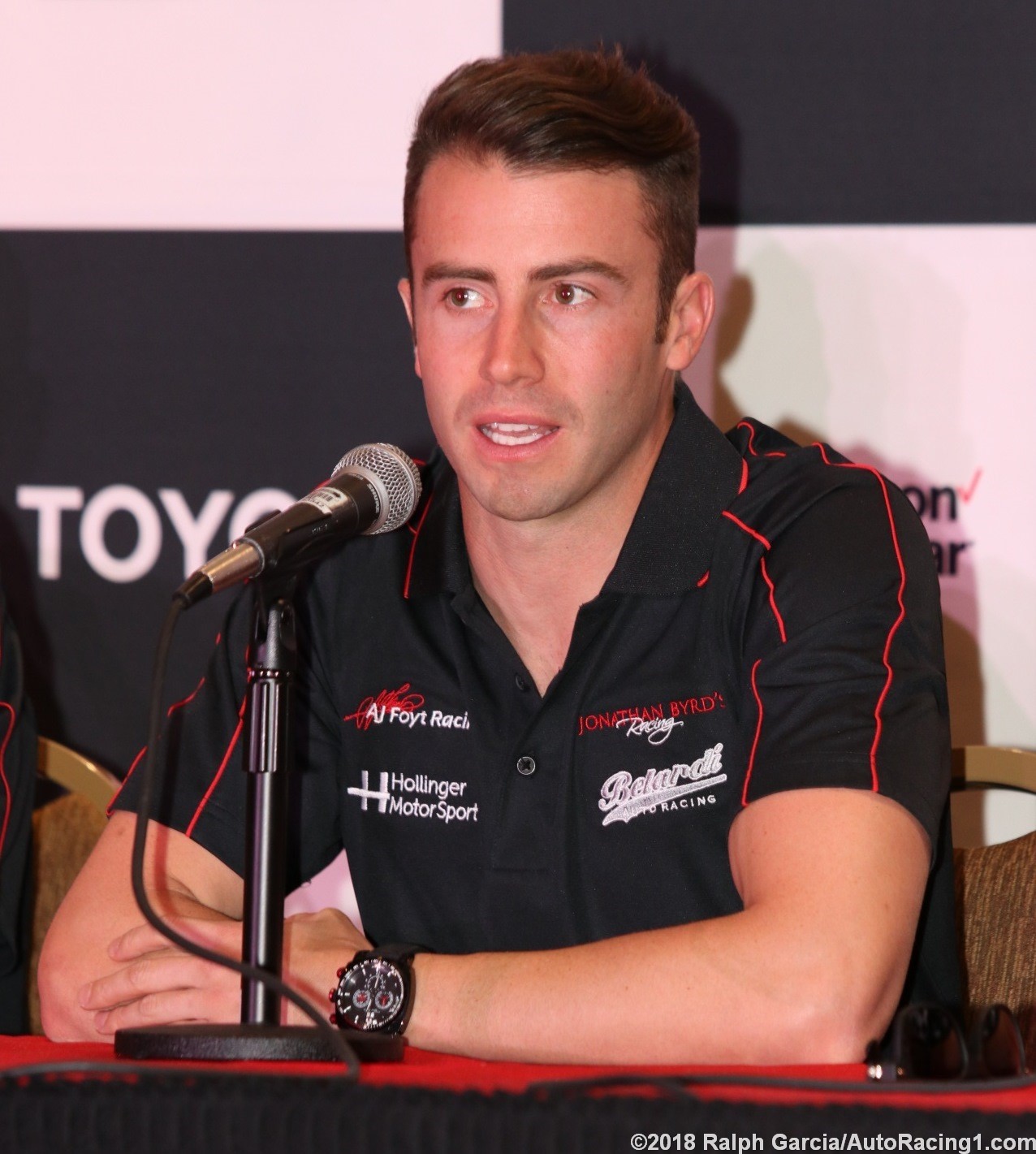 James Davison
We guess you would say Davison has had day jobs, but he keep coming back to Indianapolis. It's been his one race a year in this series, but you keep fighting back for more at Indianapolis. What drives that?
"Well, I guess it really started growing up going to the IndyCar race at Surfers Paradise in the late '90s with my father and got a feel for IndyCar and the Americana and just loved it.
"I remember growing up also having the history of the Indianapolis 500 from 1911 to '94 book with Carl Fisher on the front cover of it sitting on the coffee table in front of the TV as a kid. So yeah, the Indy 500 has always been my passion. I think a number of drivers in the series have focused on Formula 1 and then things haven't worked out, and then, all right, we'll become an IndyCar driver now.
"But for me, no, I've always dedicated my entire career to the United States and being an IndyCar driver. Obviously it's very difficult to become a full-time driver.
"There's only so many opportunities. You've got to catch the right break. I didn't quite catch those. When you look at my year that I did Indy Lights who moved up and so on, and so the Indy 500 is that one race that you're able to gain supporters much easier than the others. I think that's a known fact. The Indy 500 is, what, two thirds of the series' real exposure just in that one event.
"And of course it's the greatest race in the world. It's the greatest spectacle in racing. You watch the restarts on TV, it gives you goosebumps. I mean, it's just such an amazing spectacle. The history of the event is just amazing. And yeah, I just have a massive passion for it. Trying to win the race is my life goal, so yeah, hopefully that kind of answers your question a little bit."
Mark C. reporting from Long Beach