Rossi tops IndyCar practice 2 in Long Beach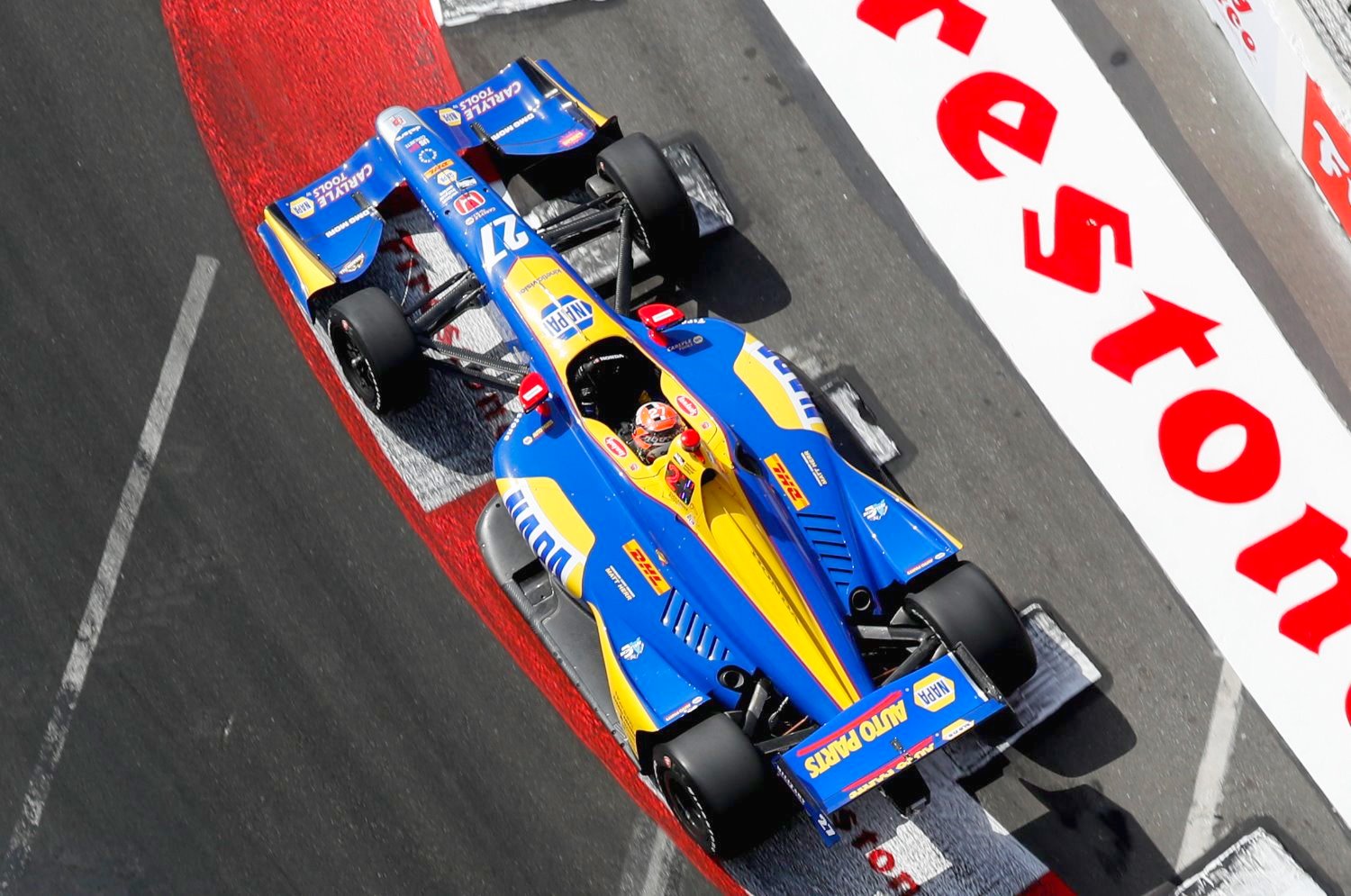 Alexander Rossi fastest in hot greasy conditions
Alexander Rossi led an Andretti Autosport 1-2 in the hotter and slower 2nd practice session in the Toyota Grand Prix of Long Beach. Rossi's time of 1m08.557s on a greasy track was enough to top his Andretti Honda teammate by 0.15sec.
Josef Newgarden, who had to sit out the final 10 minutes for missing a driver weigh-in, was third quick at 1m08.931sec. They were the only drivers to crack the 1m08s bracket.
Takuma Sato was 4th quick but he plastered the first turn wall at the end of the session and brought out the red flag. His Rahal crew has a lot of overnight repairs to do.
Scott Dixon rounded out the top-5 in the #9 Ganassi Honda.
Unlike previous years, tomorrow there will be a 2-hour IMSA race prior to qualifying. The IMSA cars use totally different rubber and the drivers are concerned about how their cars will handle on a hot greasy track after 2-hours of different rubber are put down on the track. Whoever guesses the setup right will sit on pole.
Many drivers, Dixon included, were surprised that lap times in the second session were slower overall, even though each team ran a set of the softer Firestone alternate tires.
"This afternoon was definitely a bit of a different story; really struggled with front grip," said Dixon, the four-time Verizon IndyCar Series champion whose 41 career wins rank fourth on the all-time list. "It seemed like the temperature really affected our car.
"There were a couple others that went quite fast in that session on the red (alternate) tires, and I actually had to do almost a long run on my reds to get them to work. I think I did my quickest time on Lap 7 or 8 (of the stint). It was kind of an interesting session for us, but I think the car is kind of there. It's just going to take a little bit to get it right."
A final 45-minute practice prior to qualifying starts at 1:45 p.m. ET Saturday and streams live on RaceControl.IndyCar.com. The battle for the Verizon P1 Award, featuring three rounds of progressive knockout qualifications, begins at 6:30 p.m. and airs live on NBCSN.
Live coverage of the 85-lap race commences at 4 p.m. ET Sunday on NBCSN and the Advance Auto Parts INDYCAR Radio Network.
Quotes
MATHEUS "MATT" LEIST (No. 4 ABC Supply AJ Foyt Racing Chevrolet): "The car was different to drive, we were having some problems in the turning in mid-corner, but it was also my first day here, learning the track and everything. Tomorrow is a new day, we can only move forward from here. Hopefully, we will have a great car tomorrow, we'll keep working hard and hope to have a great weekend."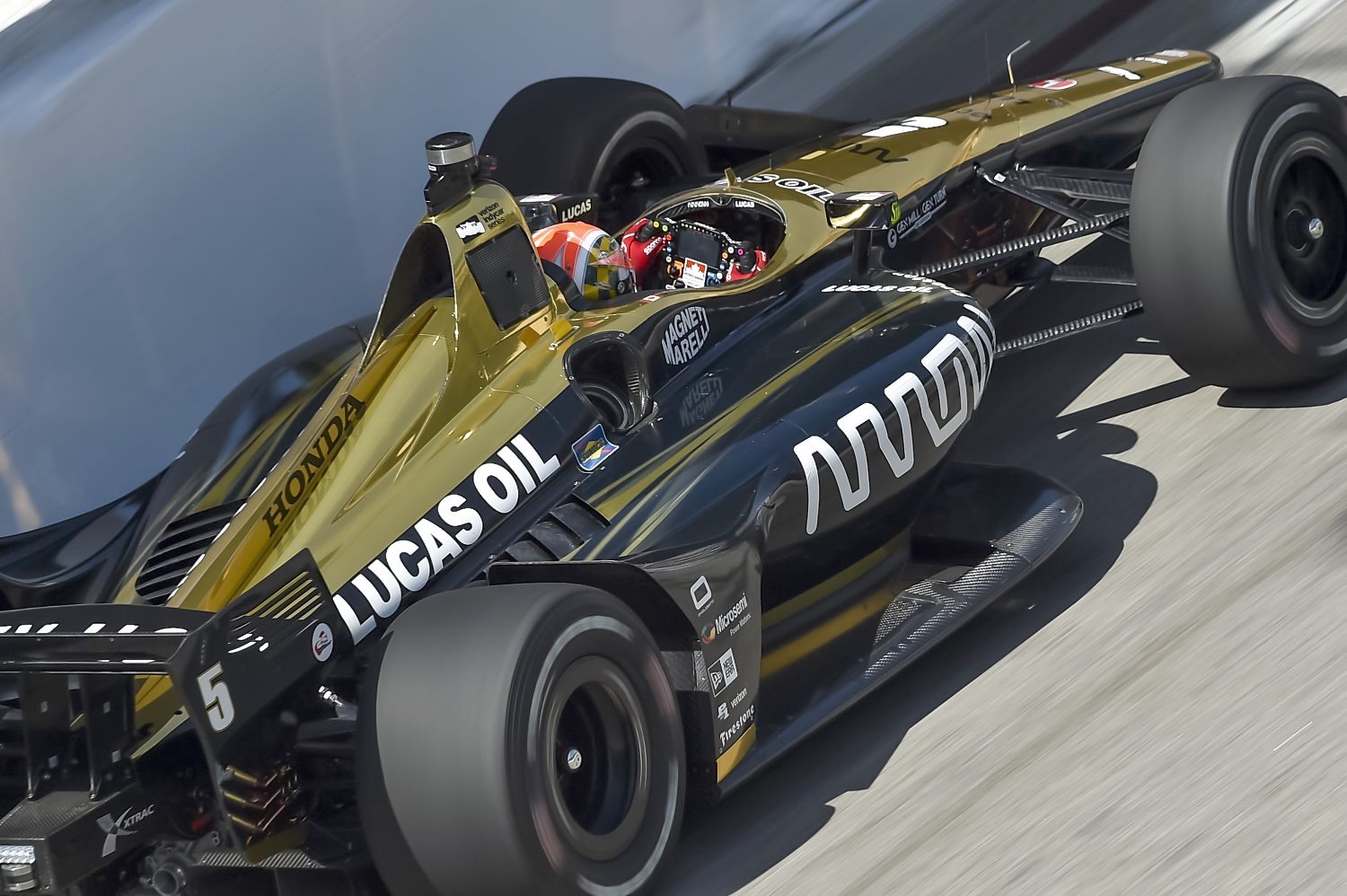 Hinchcliffe
JAMES HINCHCLIFFE (No. 5 Arrow Electronics SPM Honda, 2017 Toyota Grand Prix of Long Beach winner): "It was an up-and-down day. There was a really big change on the track for us from Practice 1 to Practice 2, so we struggled a lot with the car balance this afternoon. It was also really busy out there. It's not that long of a track; 24 cars all trying to get those runs on reds (Firestone alternate tires) at the end. We only really did one lap, and I'm not sure if we got the best out of it. We'll see what we have tomorrow. We definitely have a lot to think about overnight, but this Arrow Electronics and entire Schmidt Peterson Motorsports team has done a great job so far this season of putting it together when it counts, and hopefully, we can keep that up."
ROBERT WICKENS (No. 6 Lucas Oil SPM Honda): "Not the best day for us. It's still early in the weekend, and we have a lot of hard work ahead of us. From what I remember of St. Pete, we also weren't that strong through free practice, but we came out good in the end. We're just going to do look over everything tonight, make some level-headed decisions, and hopefully, we can get the Lucas Oil car up front tomorrow."
SCOTT DIXON (No. 9 PNC Bank Chip Ganassi Racing Honda): "We sat around a lot in the first session and then went out, and things started to move really fast. The PNC Bank car was fast right out of the box. We went out and were quick in our first run, then improved upon that in the second run. It's a big weekend for Honda here, so we'll try to get the most out of it for them and for the team. The cars are so fun to drive though. The track is really awesome without the added downforce too. The braking zones are a bit bigger and the power down is impressive especially out of the hairpin corner. I think come around Lap 20, drivers are going to be screaming for new tires around here. It's great to be back here overall, though. Great cars, great atmosphere and being out there pounding around the Long Beach city streets."
ED JONES (No. 10 NTT DATA Chip Ganassi Racing Honda): "Obviously not the start to the weekend we wanted with the NTT DATA car. We went one direction this morning and then took another direction toward what Scott (Dixon) and the No. 9 team were doing. We have some work to do tonight, but I'm confident we can make the right changes and be up there closer to the front tomorrow."
TONY KANAAN (No. 14 ABC Supply AJ Foyt Racing Chevrolet): "Decent day…trying to find the right setup. This morning was a little bit better than this afternoon. We tried a couple different things – a big swing just to see. Friday we have two free sessions so we're learning for tomorrow. We have a lot of work to do, but we're still up there. We just have to keep working to improve a little bit more. All in all, it was a trouble-free day, which is quite good."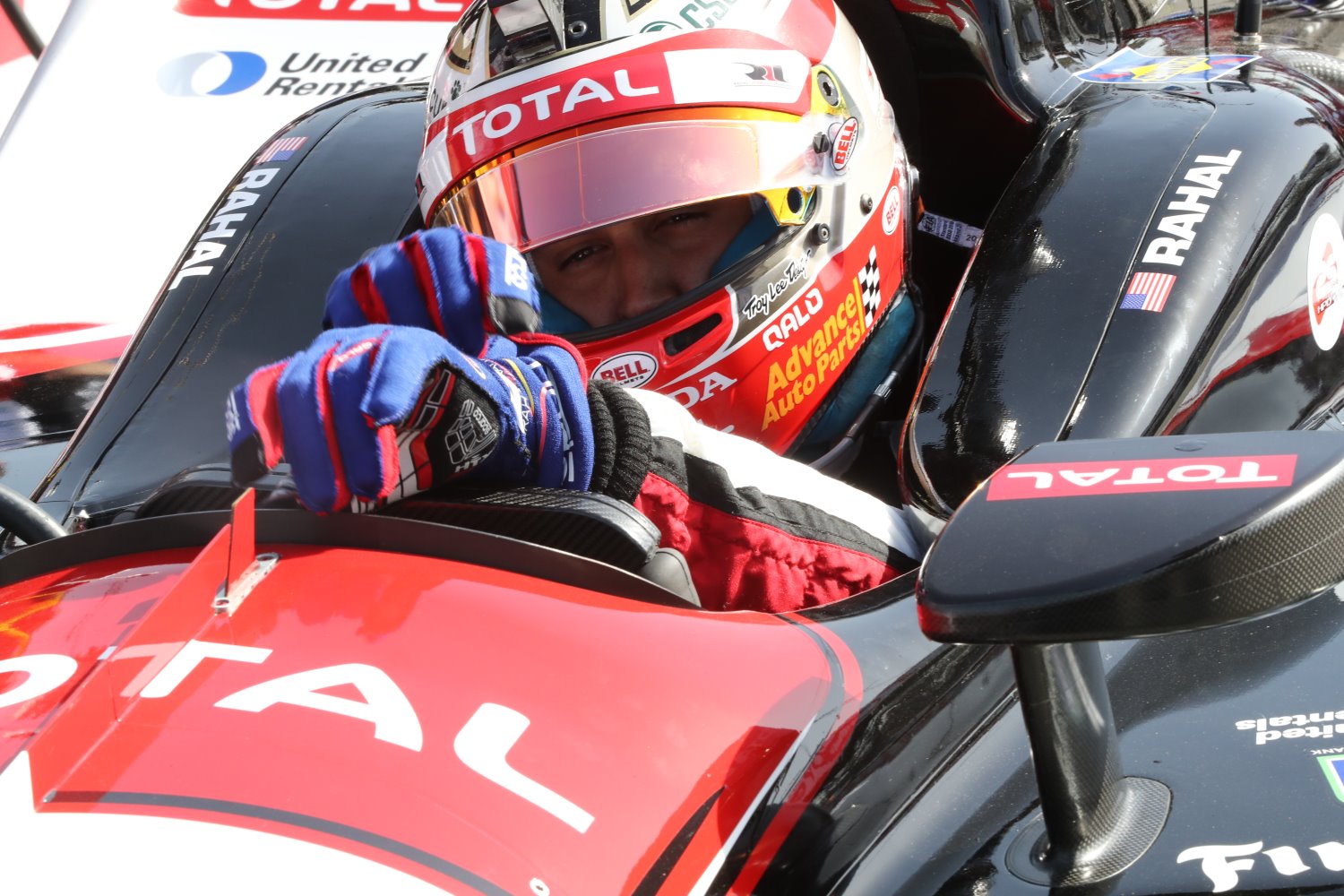 Graham Rahal
GRAHAM RAHAL (No. 15 Total Honda): "It was an OK day. I think the Total Honda was good right off the bat on blacks (Firestone primary tires) comparatively. When we went to reds (Firestone alternate tires), I think we lost the handling a little bit. We also had a really poor out lap. We were trying to get a big gap (on track ahead). We went out too early, and I didn't even get to get any temperature in them, and I think the reds are only spectacular on one lap and we just missed it. Unfortunately, that was that. Saturday is a new day, so hopefully we can improve the Total Honda slightly and go from there. We have some work to do to catch some of the guys up front, but overall it was a good day. The car is not bad, but it's not quite good enough. We will keep working away to try our best to get a car capable of winning here. It was a textbook Long Beach Grand Prix day; great weather and a great crowd."
SEBASTIEN BOURDAIS (No. 18 Team SealMaster Honda): "It was an interesting day overall for the Team SealMaster Honda No. 18. We are not exactly there yet, but I don't know that anybody is really happy with their car. This afternoon the track temp was very high…115, 116 range, so this place, like most others, tends to be quite greasy when it gets that hot. I had one good lap going, which got a yellow flag, and that was that. I'm not exactly sure where we sit because I definitely didn't get a good lap on the board. I think on a one-lap performance the car doesn't seem too bad, but it seems to degrade pretty fast. We will take a look at the data and see what we want to do for tomorrow, but it is not easy. We have to keep searching."
ZACHARY CLAMAN DE MELO (No. 19 The Paysafe Car Honda): (About his thoughts on the track) "It's a really fun track. I'm really enjoying myself but I need to keep working on getting better. It's a difficult track and I think most of the rookies are struggling with it from what I saw of the lap times." (About his day): "It was a tough day and there's some work to do, but we have another practice session tomorrow before qualifying and we're going to use it to keep learning as much as possible."
JORDAN KING (No. 20 Ed Carpenter Racing Fuzzy's Vodka Chevrolet): "There's definitely potential with our Preferred Freezer Services Chevy this weekend. We had an issue with the gearbox in the second practice that kind of prevented us from getting many laps. We then put a backup stack in that wasn't optimum for what we were trying to do. That cost us a little bit, but we made good process with the balance of the car from Practice 1 to Practice 2. Hopefully we can make a similar step tomorrow."
SPENCER PIGOT (No. 21 Preferred Freezer Service Chevrolet): "It was good to learn the circuit and get into it. There's still quite a ways to go on my side and sorting the car out. Unfortunately, we couldn't get a run on reds (Firestone alternate tires), so it's still a bit of an unknown going into qualifying. It's a bit annoying, it would have been nice to be able to learn a little bit more about the reds. Then again, we had the same thing happen in St. Pete and that worked out alright."
CHARLIE KIMBALL (No. 23 Tresiba Chevrolet): "We worked through a lot of changes today. Max (Chilton) was pretty good this morning, so we went more his direction with the No. 23 Tresiba Chevrolet. We had a couple of issues in the first practice, but we got those cleaned up for the second practice and introduced a few new issues in the second practice that we'll need fix overnight. We had a yellow flag on what was going to be my best lap early in the second session. We can learn from what we did today and get everything ready to go for qualifying tomorrow. I think the conditions tomorrow are going to be pretty similar to today and then cooler on race day, so we'll just have to adjust best as we can and move forward from there."
ZACH VEACH (No. 26 Group One Thousand One Honda): "Overall, I think it was a good first day here. Phoenix went better than St. Pete and so far, this weekend has been going better than Phoenix. So just one step at a time. I think we definitely have the speed to transfer tomorrow to the fast 12, and maybe even a chance to get to our first Firestone Fast 6. The Andretti cars are pretty quick – (Alexander) Rossi and (Ryan) Hunter-Reay are showing that – I have a little bit of learning to do tonight, but I'm excited to show what we can do tomorrow."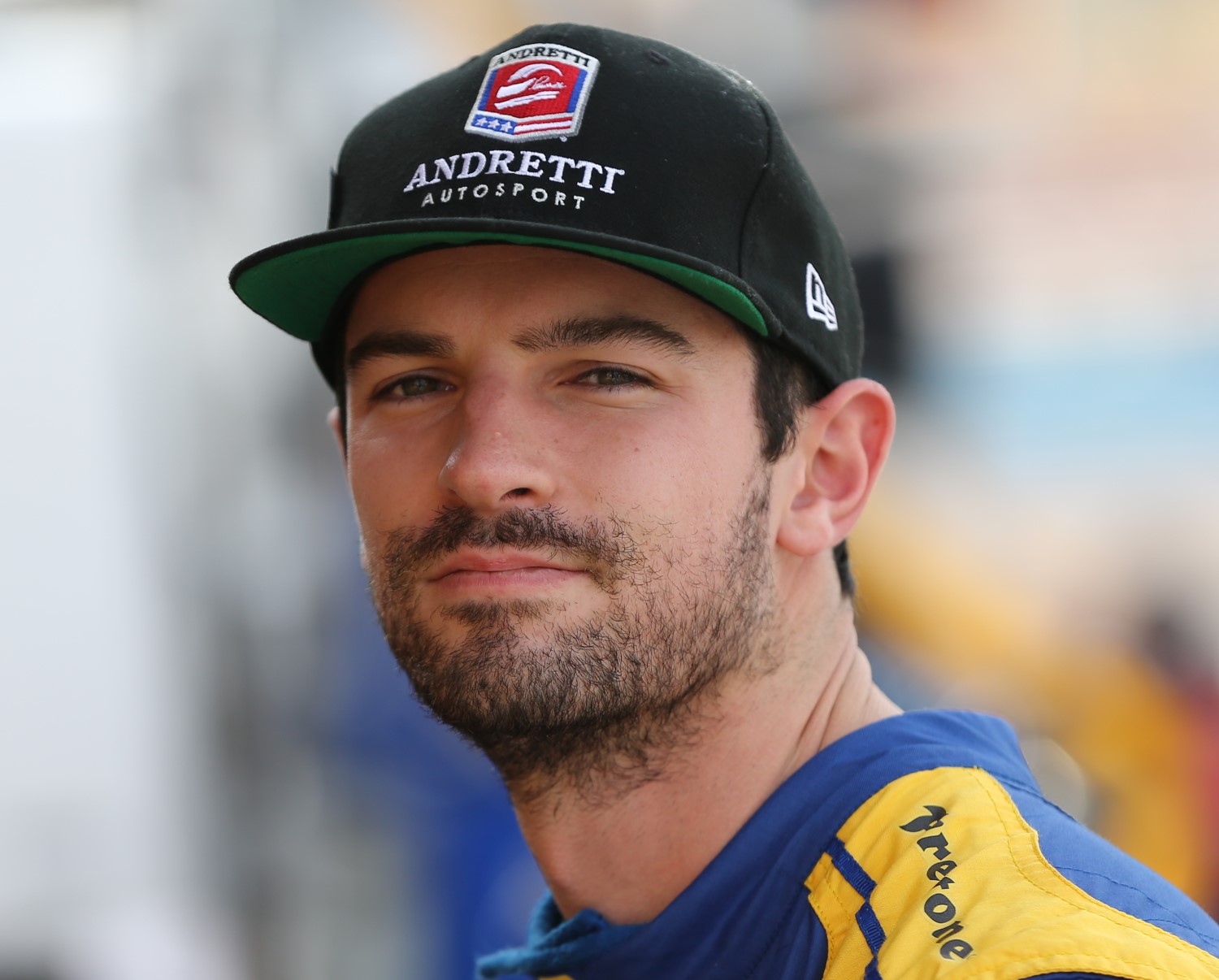 Rossi quietly confident
ALEXANDER ROSSI (No. 27 NAPA AUTO PARTS Honda): "It was good to be P1 in Practice 2, it's where you want to end the day on Friday. To have two team cars 1-2 is pretty awesome. We have a lot of motivation after last year to come back and really be strong here this year. We have a lot of work ahead of us still, and hopefully we can continue that over the next two days. Our main focus right now is trying to win Long Beach and get redemption on last year."
RYAN HUNTER-REAY (No. 28 DHL Honda): "Without a doubt this is one of my favorite races – love the place, love the layout, love everything about it. The fans, the energy, the atmosphere here are all great. We've had some great cars here, I've been very fortunate to be behind the wheel of some very fast race cars here – last year being one of them. We were closing on (James Hinchcliffe), right up on his gearbox, when the car shut off for some reason – an electrical issue. We feel like we have some unfinished business here, and I think today was a pretty good start at finishing that. We are going to need to find a gap between the cooler track temps and when it heated up. It became quite a bit more difficult to get the lap time out of the car, so we have a bit of a challenge there, but it seems like everybody has their work set out for them."
TAKUMA SATO (No. 30 Mi-Jack / Panasonic Honda): "We made good progress today. It was a productive day until the end of the session. We have more work to do because the lap time is not representative of what we feel we can get out of it. We made good progress from the first session and hopefully we will continue that tomorrow."
KYLE KAISER (No. 32 Juncos Racing Chevrolet): "I'd say we made an improvement from the first session into the second session. I'm really happy with the team and we are working well together. We are trying a lot of different stuff and with the lack of testing we have had its hard to pinpoint how to make the car better. We are having to experiment a lot, which has put us a little bit behind the rest of the field. All and all, they are doing a great job. I feel like there is a lot to learn from this. I am looking forward tomorrow. I think we are going to make some changes and try something different for the next session and hope we can find some more speed before qualifying."
MAX CHILTON (No. 59 Gallagher Chevrolet): "It's great to be back in Long Beach. I love this track, really any street course in general. We've been trying to build on a car setup without changing anything too fundamental and just get laps under our belts. We've learned that the reds (Firestone alternate tires) aren't that strong around here, which I think everyone is seeing. We just need to take a look at the car tonight and make it better overnight for qualifying tomorrow."
GABBY CHAVES (No. 88 Harding Group Chevrolet): "It has been a trying day so far. We have had to deal with some issues that were kind of like a curve ball being thrown at us and put us behind where we wanted to be. It has been frustrating, but I think we can utilize this afternoon to analyze what we need to do to improve and be where we should be from where we left off at St. Pete and take it from there. I'm looking forward to getting back on track tomorrow."
MARCO ANDRETTI (No. 98 U.S. Concrete / Curb Honda): "It was a difficult day to say the least. We're definitely dealing with a mechanical issue – I am convinced I have a carry-over issue that has not yet been identified from Phoenix. We've tried some different things out, but unfortunately haven't found a solution yet. Once we pinpoint what exactly is going on, I know we'll have a fast car. Our teammates are proving we have the setup, so we really just need to fix the issue. We really want to give this U.S. Concrete car a good run."
Results Practice 2
| | | | | | | | | |
| --- | --- | --- | --- | --- | --- | --- | --- | --- |
| Pos | No | Name | FTime | Diff | Gap | FSpeed | Engine | Team |
| 1 | 27 | Alexander Rossi | 1:08.557 | –.—- | –.—- | 103.342 | Honda | Andretti Autosport |
| 2 | 28 | Ryan Hunter-Reay | 1:08.708 | 0.1516 | 0.1516 | 103.114 | Honda | Andretti Autosport |
| 3 | 1 | Josef Newgarden | 1:08.931 | 0.3740 | 0.2224 | 102.781 | Chevy | Team Penske |
| 4 | 30 | Takuma Sato | 1:09.054 | 0.4977 | 0.1237 | 102.597 | Honda | Rahal Letterman Lanigan Racing |
| 5 | 9 | Scott Dixon | 1:09.105 | 0.5482 | 0.0505 | 102.522 | Honda | Chip Ganassi Racing Teams |
| 6 | 12 | Will Power | 1:09.195 | 0.6386 | 0.0904 | 102.388 | Chevy | Team Penske |
| 7 | 5 | James Hinchcliffe | 1:09.269 | 0.7120 | 0.0734 | 102.280 | Honda | Schmidt Peterson Motorsports |
| 8 | 15 | Graham Rahal | 1:09.273 | 0.7161 | 0.0041 | 102.274 | Honda | Rahal Letterman Lanigan Racing |
| 9 | 18 | Sebastien Bourdais | 1:09.355 | 0.7985 | 0.0824 | 102.152 | Honda | Dale Coyne Racing |
| 10 | 22 | Simon Pagenaud | 1:09.369 | 0.8120 | 0.0135 | 102.133 | Chevy | Team Penske |
| 11 | 21 | Spencer Pigot | 1:09.461 | 0.9041 | 0.0921 | 101.997 | Chevy | Ed Carpenter Racing |
| 12 | 14 | Tony Kanaan | 1:09.577 | 1.0203 | 0.1162 | 101.827 | Chevy | AJ Foyt Enterprises |
| 13 | 26 | Zach Veach | 1:09.690 | 1.1335 | 0.1132 | 101.661 | Honda | Andretti Autosport |
| 14 | 6 | Robert Wickens | 1:09.724 | 1.1675 | 0.0340 | 101.612 | Honda | Schmidt Peterson Motorsports |
| 15 | 98 | Marco Andretti | 1:09.817 | 1.2599 | 0.0924 | 101.477 | Honda | Andretti Herta Autosport |
| 16 | 60 | Jack Harvey | 1:09.843 | 1.2866 | 0.0267 | 101.439 | Honda | Meyer Shank Racing |
| 17 | 59 | Max Chilton | 1:09.844 | 1.2877 | 0.0011 | 101.437 | Chevy | Carlin |
| 18 | 20 | Jordan King | 1:09.907 | 1.3502 | 0.0625 | 101.346 | Chevy | Ed Carpenter Racing |
| 19 | 10 | Ed Jones | 1:10.062 | 1.5049 | 0.1547 | 101.122 | Honda | Chip Ganassi Racing Teams |
| 20 | 23 | Charlie Kimball | 1:10.169 | 1.6127 | 0.1078 | 100.967 | Chevy | Carlin |
| 21 | 32 | Kyle Kaiser | 1:10.321 | 1.7639 | 0.1512 | 100.750 | Chevy | Juncos Racing |
| 22 | 4 | Matheus Leist | 1:10.508 | 1.9509 | 0.1870 | 100.483 | Chevy | AJ Foyt Enterprises |
| 23 | 19 | Zachary Claman De Melo | 1:10.544 | 1.9875 | 0.0366 | 100.431 | Honda | Dale Coyne Racing |
| 24 | 88 | Gabby Chaves | 1:10.827 | 2.2702 | 0.2827 | 100.030 | Chevy | Harding Racing |
Combined Times
| | | | | | | | |
| --- | --- | --- | --- | --- | --- | --- | --- |
| Rank | Car | Driver Name | Engine | Session | Time | Speed | Laps |
| 1 | 9 | Dixon, Scott | Honda | Practice 1 | 01:08.4112 | 103.562 | 33 |
| 2 | 28 | Hunter-Reay, Ryan | Honda | Practice 1 | 01:08.4285 | 103.536 | 29 |
| 3 | 27 | Rossi, Alexander | Honda | Practice 2 | 01:08.5567 | 103.342 | 30 |
| 4 | 22 | Pagenaud, Simon | Chevy | Practice 1 | 01:08.7790 | 103.008 | 42 |
| 5 | 5 | Hinchcliffe, James | Honda | Practice 1 | 01:08.9133 | 102.807 | 29 |
| 6 | 30 | Sato, Takuma | Honda | Practice 1 | 01:08.9295 | 102.783 | 32 |
| 7 | 1 | Newgarden, Josef | Chevy | Practice 2 | 01:08.9307 | 102.781 | 26 |
| 8 | 12 | Power, Will | Chevy | Practice 1 | 01:08.9481 | 102.756 | 38 |
| 9 | 14 | Kanaan, Tony | Chevy | Practice 1 | 01:08.9675 | 102.727 | 31 |
| 10 | 18 | Bourdais, Sebastien | Honda | Practice 1 | 01:09.1270 | 102.490 | 31 |
| 11 | 15 | Rahal, Graham | Honda | Practice 1 | 01:09.2349 | 102.330 | 37 |
| 12 | 21 | Pigot, Spencer | Chevy | Practice 1 | 01:09.2572 | 102.297 | 21 |
| 13 | 26 | Veach, Zach (R) | Honda | Practice 1 | 01:09.2766 | 102.268 | 29 |
| 14 | 6 | Wickens, Robert (R) | Honda | Practice 1 | 01:09.2807 | 102.262 | 34 |
| 15 | 20 | King, Jordan (R) | Chevy | Practice 1 | 01:09.3598 | 102.146 | 31 |
| 16 | 60 | Harvey, Jack (R) | Honda | Practice 1 | 01:09.6034 | 101.788 | 27 |
| 17 | 10 | Jones, Ed | Honda | Practice 1 | 01:09.6060 | 101.784 | 37 |
| 18 | 59 | Chilton, Max | Chevy | Practice 1 | 01:09.6271 | 101.753 | 36 |
| 19 | 19 | Claman De Melo, Zachary (R) | Honda | Practice 1 | 01:09.7486 | 101.576 | 35 |
| 20 | 98 | Andretti, Marco | Honda | Practice 1 | 01:09.7632 | 101.555 | 29 |
| 21 | 88 | Chaves, Gabby | Chevy | Practice 1 | 01:09.8182 | 101.475 | 25 |
| 22 | 23 | Kimball, Charlie | Chevy | Practice 1 | 01:10.0010 | 101.210 | 35 |
| 23 | 4 | Leist, Matheus (R) | Chevy | Practice 1 | 01:10.1979 | 100.926 | 35 |
| 24 | 32 | Kaiser, Kyle (R) | Chevy | Practice 2 | 01:10.3206 | 100.750 | 39 |