Latest F1 news in brief – Friday
Hamilton says he is sorry to Verstappen

Hamilton says sorry after Verstappen insult

Raikkonen hits back at praise about physical condition
Alonso denies wanting Ferrari, Mercedes switch
Marko right about Renault needing to improve – Sainz
Ricciardo criticizes Bottas after Bahrain
Marko: The McLaren cannot be as great as they claim
Hamilton says sorry after Verstappen insult
(GMM) Lewis Hamilton moved to end the tension with Max Verstappen ahead of the Chinese grand prix.
Days ago in Bahrain, the Mercedes driver called his Dutch rival a "d******d" following their clash.
So during an autograph session in Shanghai on Thursday, Hamilton was seen extending a handshake to the Red Bull driver.
"I said 'Look, I'm sorry about the last race'," Hamilton revealed.
"It's good to show respect, especially as I'm the older driver. I felt it was important that I went to him," the reigning world champion added.
Earlier, 20-year-old Verstappen said Hamilton had insulted him because he is younger.
"It's quite easy and simple to blame the younger driver," he said.
"I don't think I did anything wrong — I was just trying to overtake a car."
Hamilton, Verstappen and others have played down the whole affair, pointing the finger at the media for blowing it up.
But Hamilton admitted that he was wrong to forget the cameras were rolling.
"I actually think it's fine when you see emotion in sport," he said. "If you watch hockey, you don't mind when they fight — it's cool. Even Nascar.
"But if we had something like that here, Jeez, your career would probably be over."
Raikkonen hits back at praise about physical condition
Kimi Raikkonen
(GMM) Kimi Raikkonen has dismissed team boss Maurizio Arrivabene's statement that the Finnish driver is in better physical shape in 2018.
Some have observed that the 2007 world champion appears slimmer and fitter this year, coinciding with his better performance at the wheel of his Ferrari.
"I'm pretty pleased with Kimi's performance," team boss Arrivabene is quoted by Finnish media in China.
"He's in good physical condition now, which is very important for him. He drives well, he's in very good shape and focused on his work," he added.
But when told that Arrivabene and others have noticed Raikkonen's better condition, the 38-year-old was not impressed.
"How do people measure fitness? By looking?" Raikkonen wondered.
"In my opinion it's a pretty questionable way to go about measuring fitness," he said.
"I have not done too many fitness tests, or especially ones that the team knows about. The comments are a bit strange. I've never had any problem with my condition," Raikkonen added.
Alonso denies wanting Ferrari, Mercedes switch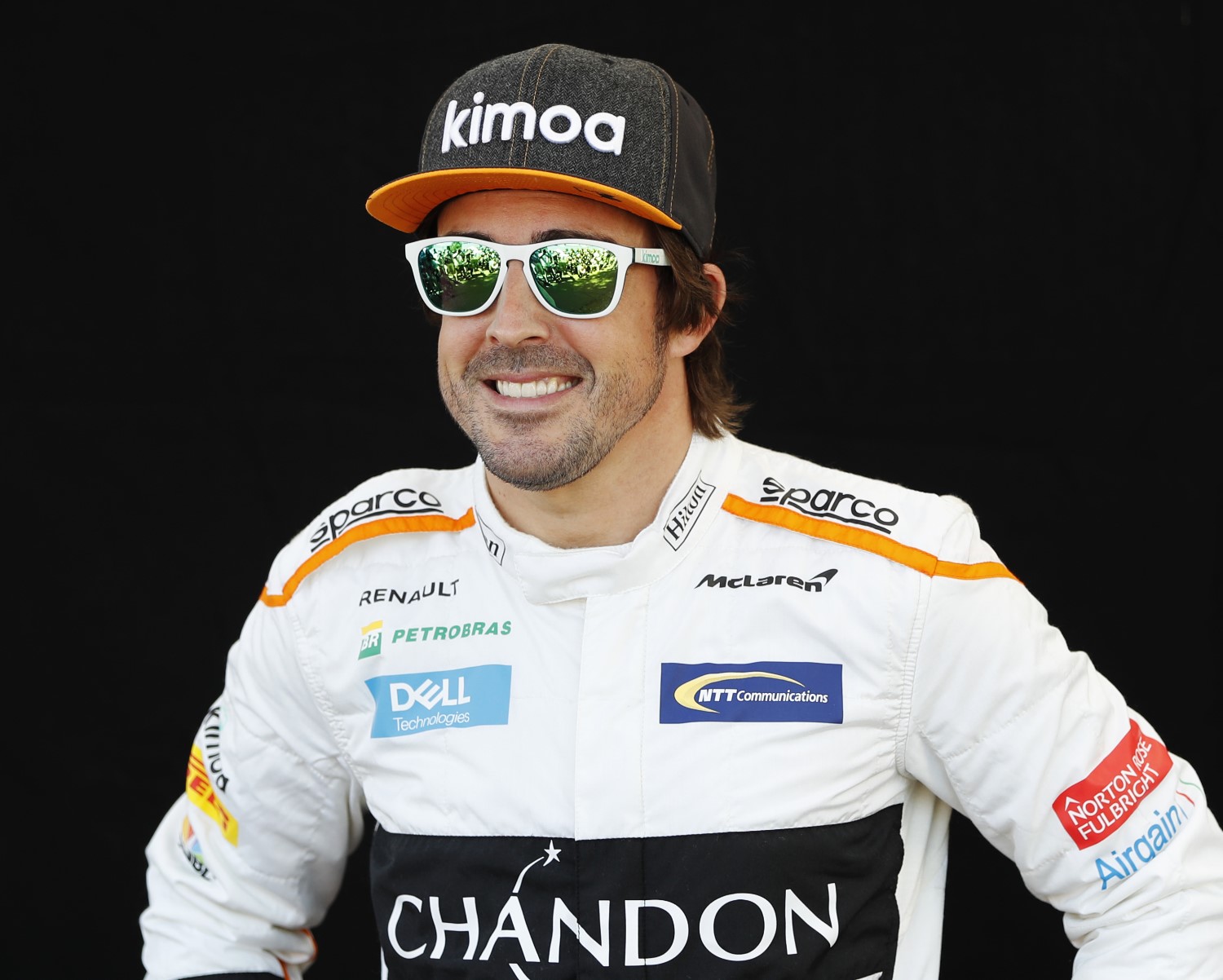 Alonso happy at McLaren?
(GMM) Fernando Alonso has played down suggestions McLaren is still not out of crisis even after dumping Honda.
After blaming its woeful performance between 2015 and 2017 on the now departed Honda, McLaren now is behind newly Honda-powered Toro Rosso and still notably slow on the straights.
And Alonso's management supremo, Flavio Briatore, said on Italian radio this week that he would like to see the Spaniard in a Ferrari or a Mercedes.
"Flavio wants the best for me in terms of results," Alonso told AS newspaper. "In the last two or three years there were three teams ahead of the others so I understand his comments.
"But I'm happy where I am now," he insisted. "I think there are many things that we will change and we will become more competitive. So I think that in the next couple of months, the place to be is McLaren.
"That is the message for our fans and the people who support us."
Alonso said those who thought moving from Honda to Renault would be the magic bullet for McLaren were deluding themselves.
"Some of the expectations were unrealistic," he said.
"I don't know how we can conjure marvelous things when the rules are stable.
"For me, dreams do not count, facts do. And if you look at them in peace, I realize: we had a good start to the season."
As for why McLaren is still so slow on the straight even after dumping Honda, Alonso answered: "We need to understand why.
"We have a Renault power unit, as other teams do. Perhaps the difference is due to the settings or the design of the car, but I'm sure that in the next few races we will find a solution."
Marko right about Renault needing to improve – Sainz
(GMM) Carlos Sainz has admitted the works Renault team needs to improve.
The French outfit went into the winter season looking the most likely to trail immediately behind the top three teams.
However, Haas and even Sainz's former team Toro Rosso have looked faster.
It has moved Dr Helmut Marko to note that some teams targeted Red Bull before the season, but are now struggling even to match the junior team Toro Rosso.
Sainz, who is still in the Red Bull driver program, told AS newspaper: "Helmut is someone who says things very directly and very clearly and when he is right, he is right.
"Right now we do need to improve — I said it in Bahrain," the Spaniard said ahead of the Chinese grand prix.
"I was not comfortable with the car, we lacked grip on the rear in the slow corners, at the front in the fast corners, and with that balance it's very difficult to lead the middle of the grid."
But Sainz said he is sure the bigger midfield teams like Renault and McLaren should be able to out-develop smaller outfits that currently look better.
"I think, and it's at least the objective that we have, that there are teams like Renault and McLaren that should take bigger steps than the others.
"We know that some like Toro Rosso took a very big step, but we hope over the whole year to make an even bigger step. That's the goal of a factory team like Renault with aspirations to become world champion in a couple of years," Sainz added.
Ricciardo criticizes Bottas after Bahrain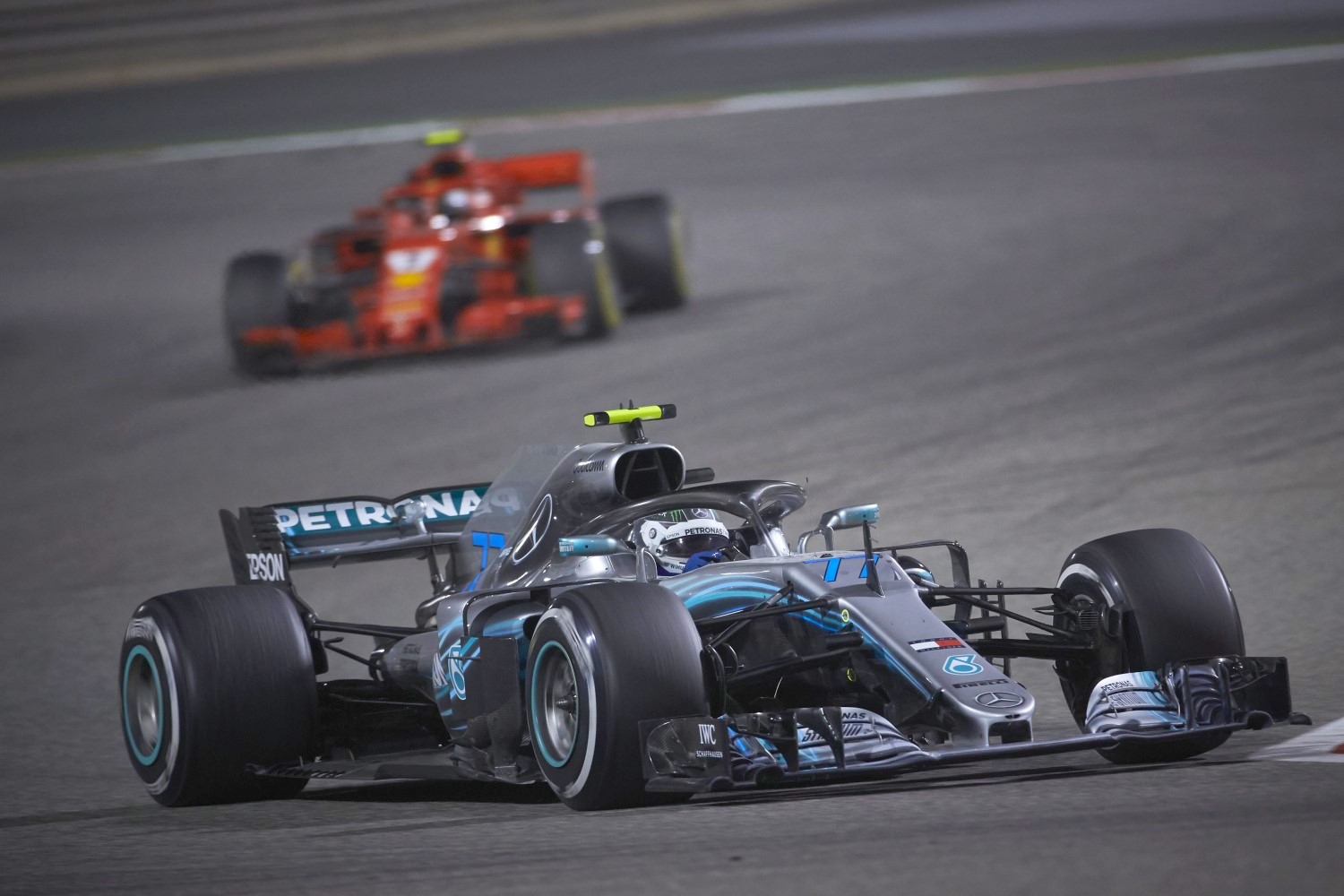 Bottas under fire for not having killer instinct
(GMM) Daniel Ricciardo may be staking a claim on the seat alongside Lewis Hamilton at Mercedes for 2019.
The Australian is on the market and not yet committing to a new Red Bull deal.
So it's notable that he was among those who criticized Hamilton's current teammate Valtteri Bottas for not mounting a tougher challenge to win in Bahrain a week ago.
Ricciardo told reporters in China that he caught the end of the Bahrain grand prix on his hotel television after retiring from the race.
"I didn't care if Seb or Valtteri won," he said. "But when I watch a race, I hope something exciting happens.
"So I was saying 'Go, go, go!' to Valtteri. Attack him! That's what the fans want to see. But it didn't happen," Ricciardo is quoted by Auto Motor und Sport.
"I wouldn't have been happy with second. Especially if the win is within reach like that. It's not in me," he added.
When asked about that sort of criticism of his Bahrain tactics, Bottas said it doesn't bother him.
"It's not hard for me to handle," said the Finn. "I don't care about comments from the outside.
"I've analyzed everything and if I was in the same situation again, I wouldn't have done anything else. That's why I can live with it and people can say what they want."
Marko: The McLaren cannot be as great as they claim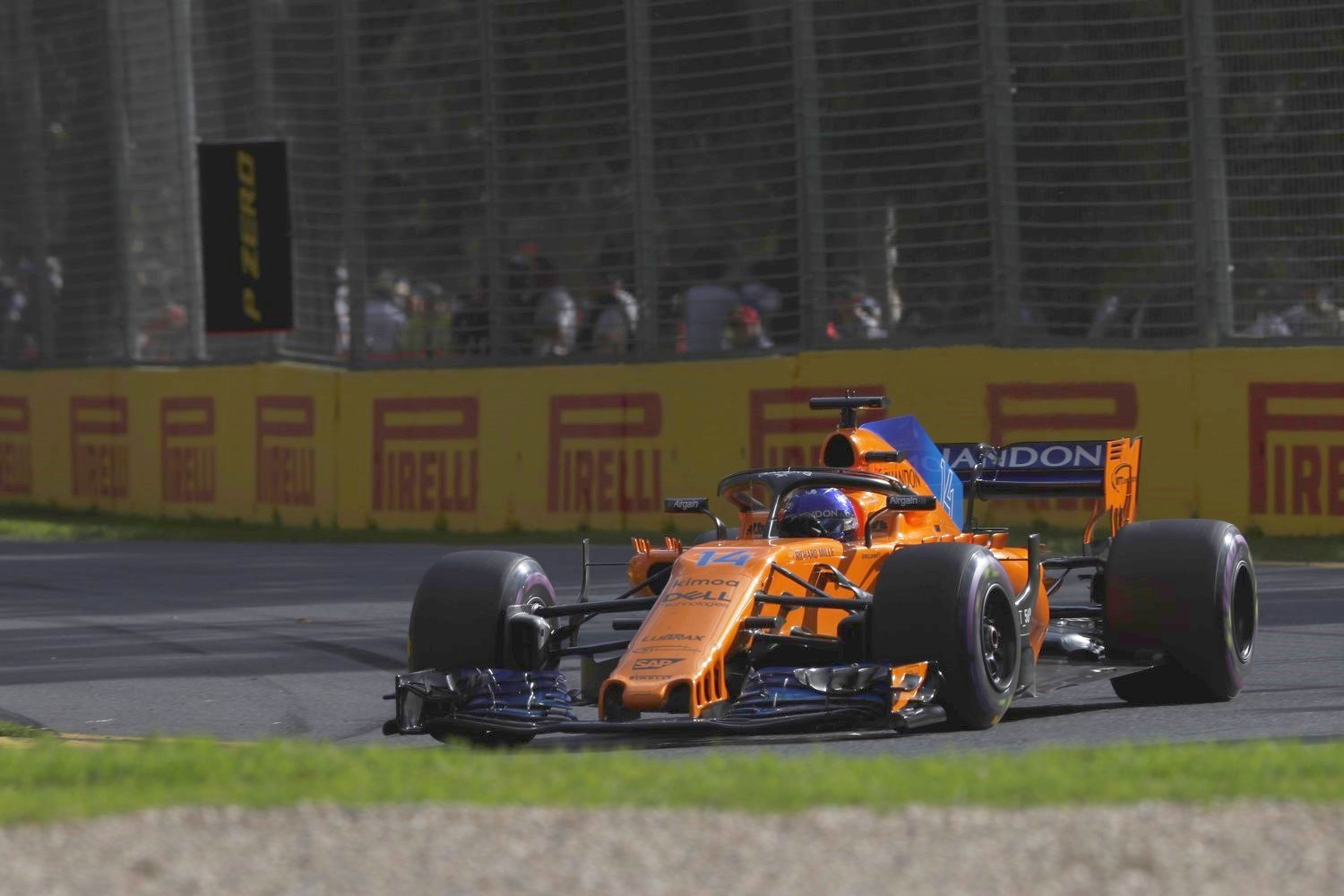 Alonso in the McLaren
Last year McLaren convinced themselves and anyone who would listen that their chassis was the best on the grid, according to them only their below-par Honda engines prevented a higher level of performance and as a 'remedy' the team's management decided to ditch the Japanese manufacturer for customer Renault power.
As the solo Honda-powered team it was impossible to verify McLaren's claims which they concocted from GPS data captured at races last year.
This season they have Red Bull and Renault teams as benchmarks to compare themselves to and right now what we see does not compute with McLaren's claims and expectations. After all this is the team that brazenly declared they were targeting the energy drinks outfit this season.
Red Bull's Helmut Marko has seized on the opportunity to take a stab at the plight of the Woking outfit, claiming they are slowest of the Renault powered brigade and he believes they erred in their decision to ditch Honda.
Marko told Auto Motor und Sport in Shanghai, "Mister Alonso said he wanted to attack and be on the same level as Red Bull, but he is behind our Toro Rosso."
"The McLaren cannot be as great as they claim and now it is made clear that it was not just the Honda engine that made them slow – they are still slowest on the straight and this time with Renault power."
The Red Bull organization are emerging as the biggest winners in the engine musical chairs which saw McLaren bin Honda, while Toro Rosso were happy to get rid of Renault and bolt on the Japanese power units to their cars instead.
Increasingly, in the light of testing and the first two races, the consensus in the paddock is that McLaren's management made a colossal mistake in their desperation to be competitive again.
If anything, Honda have the resources to make things right and, perhaps more importantly, senior management is intent on redemption at almost any cost to save face after the McLaren partnership debacle in which the Japanese giant was on the wrong end of non-stop criticism, with the critic in chief being McLaren star Fernando Alonso.
There is also the no small matter of the substantial millions in funding that McLaren will no longer receive from Honda. Perhaps another year of patience may have indeed heralded another golden era for McLaren…
Red Bull management are now betting on the Japanese manufacturer upping their game and become serious challengers to Mercedes and Ferrari, at which point they will be able to terminate their fractious association with Renault and ultimately also acquire Honda power for their senior team.
Needless to say, Marko was smiling broadly when Pierre Gasly finished fourth at the Bahrain Grand Prix, beating both McLaren's, and securing the best result for Honda since their return to the sport in 2015 – this in only the second race of their partnership with Toro Rosso.
"[McLaren] not only lost a Formula 1 engine that is getting better and better with every outing, they also gave up a lot of money that was going their way for using it," explained Marko.
Only time will tell who made the right call, meanwhile, for neutrals among F1 fans the McLaren versus Toro Rosso saga is an enthralling sideshow that will run throughout this season (maybe longer!) while for McLaren fans the pain remains. grandprix247