Latest F1 news in brief – Thursday
Marko says the McLaren is still slow on the straight with the Renault engine. McLaren has to run more downforce to make up for their inferior chassis, so they are slow down the straight.

Axing Honda was McLaren mistake – Marko

Hakkinen backs pitstop incident investigation
Vettel in China with fresh confidence and haircut
No extra Friday sessions for Kubica – Lowe
Wolff names Sainz Jr. as Mercedes candidate
Why Are Williams so slow? Paddy Lowe can't design a car
Tost targeting double points late season
Shanghai: Traffic, smog and charm
Axing Honda was McLaren mistake – Marko
(GMM) Dr Helmut Marko says McLaren's 2018 car is obviously "not great".
The British team went into Bahrain targeting the top three teams, but was ultimately outpaced even by the newly Honda-powered Red Bull junior team Toro Rosso.
"Mr. Alonso wanted to attack Red Bull but he was behind the Toro Rosso," Marko is quoted by Auto Motor und Sport.
"The McLaren cannot be that great and it was not just the Honda engine that made them slow — they are still last on the straight with the Renault," he added.
So Marko, whose Red Bull outfit is considering switching from Renault to Honda for 2019, joins those who think McLaren made a strategic error late last year.
"They not only lost an engine that is getting better and better, they also gave up a lot of money," he said.
Given that they share a Renault engine, the rivalry between McLaren and Red Bull this year is obvious.
McLaren driver Stoffel Vandoorne told France's Auto Hebdo: "No matter what engine you have in the car, you're always under pressure in formula one.
"We have clearly identified Red Bull as a reference point so it makes sense to be compared with them.
"But we are only at the beginning of the season, so we have to wait a bit for the arrival of new parts to see exactly where we are in the hierarchy," the Belgian added.
Hakkinen backs pitstop incident investigation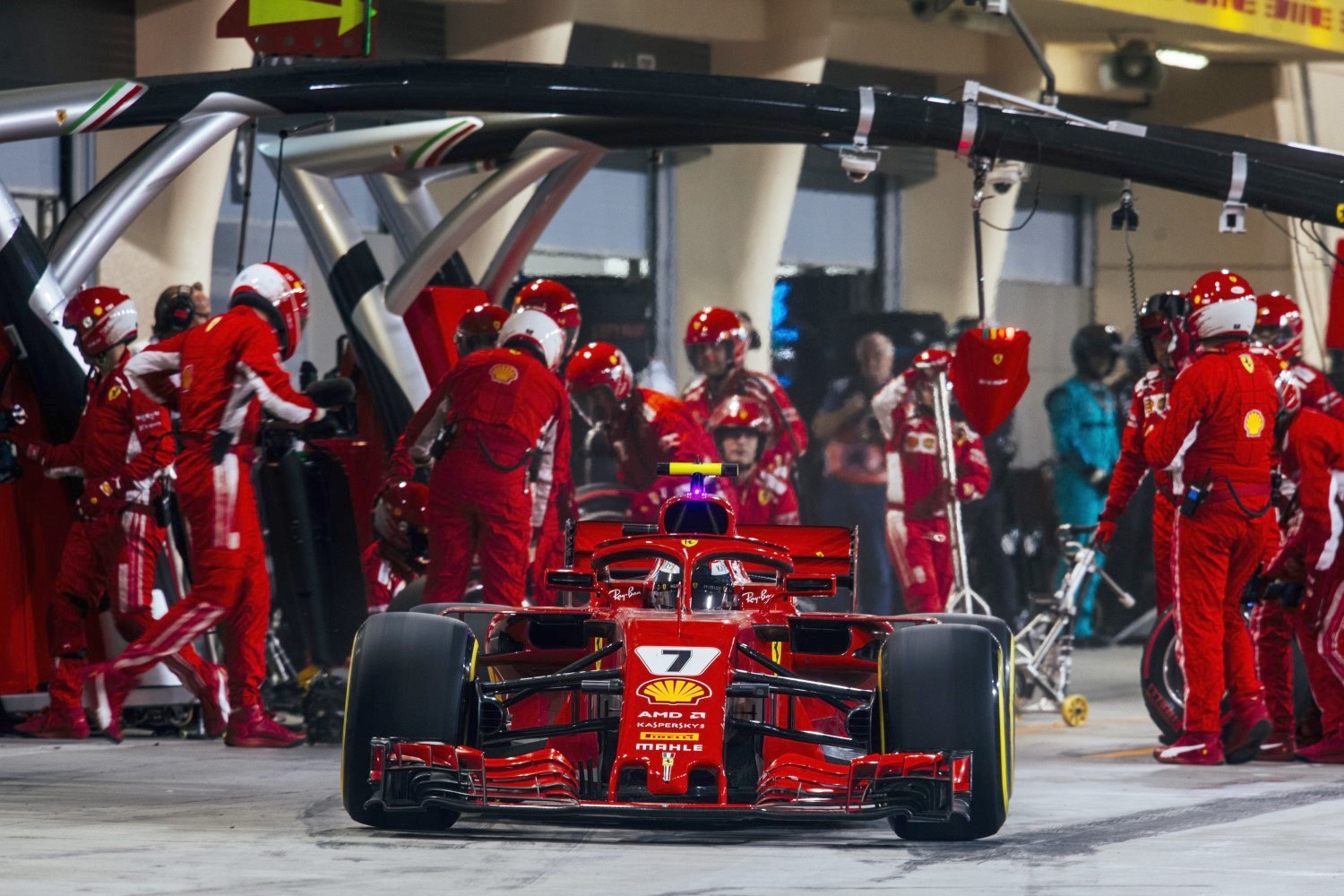 Raikkonen leaving pits in Bahrain
(GMM) Mika Hakkinen has backed the investigation into the sort of pitstop incidents seen so far in 2018.
In Australia, both Haas cars were released from the pits with loose wheels, and in Bahrain a Ferrari mechanic's leg was badly broken in a sickening incident.
Hakkinen, the 1998 and 1999 world champion, said the speed of the sub-3 second pitstops seen today means the risks are high.
"No one should underestimate the challenge faced by the pit crew mechanics," the Finn told his Unibet column.
Hakkinen said F1 has changed since his day, with automatic 'traffic light' systems now in the place of the traditional 'lollipop man'.
"Considering how important safety is in F1, including the introduction of the Halo this year, it is important for the teams and the FIA to look again at the pitstops," he said.
Following Bahrain, top official Charlie Whiting has said the FIA will look closely into the recent incidents.
Hakkinen said of pitstops: "They are a really important part of the spectacle, so I would not want to see that disappear, but maybe the time has come to consider whether the automated systems are the right way to go.
"When you have people's lives at stake, maybe humans should be making the final decision."
Vettel in China with fresh confidence and haircut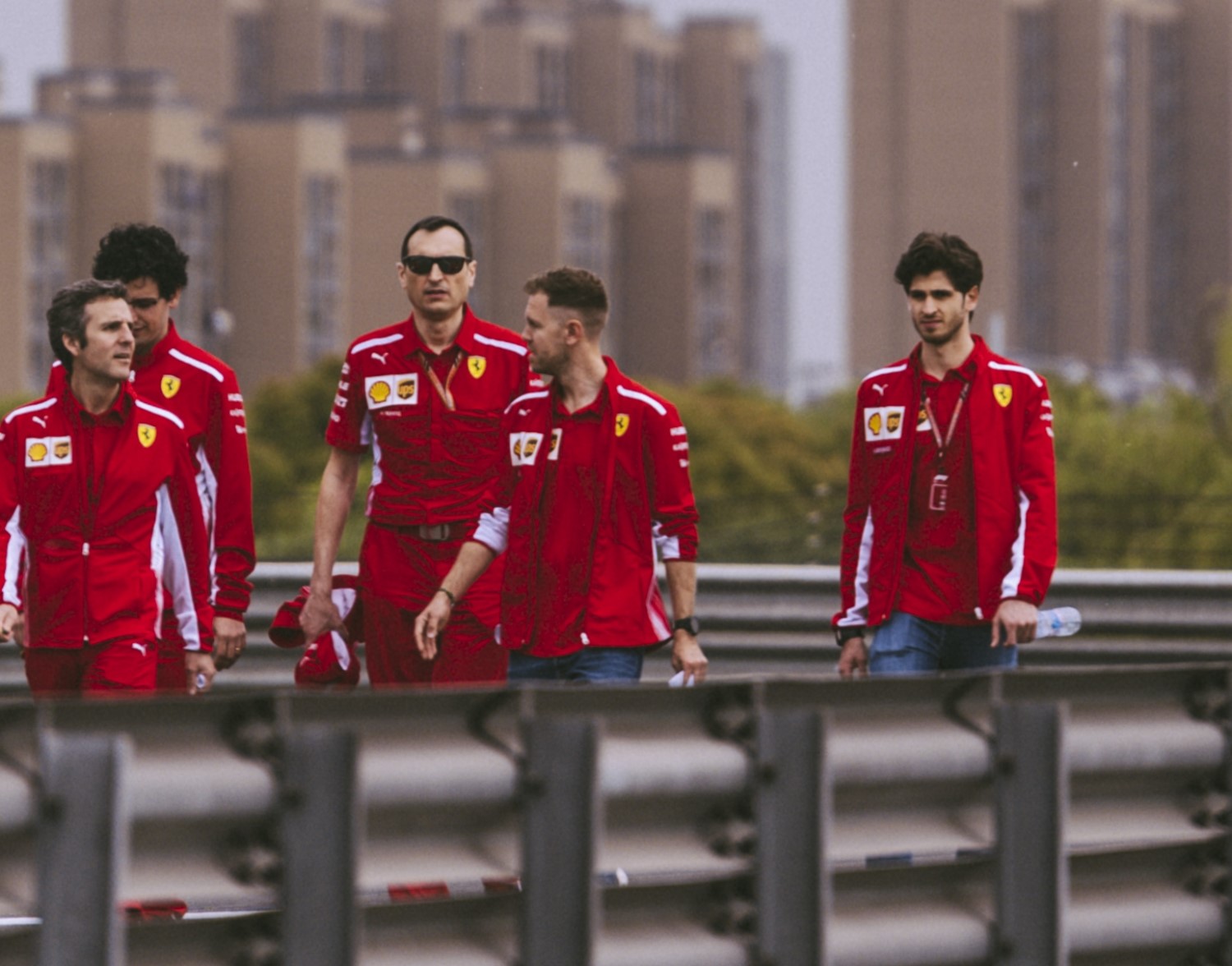 Vettel sporting shorter haircut on track walk with Ferrari crew in Shanghai
(GMM) Sebastian Vettel has arrived in China with more confidence about winning the 2018 world championship.
While Mercedes may still have the ultimate edge in terms of pace, the Ferrari driver has won both races so far.
Lewis Hamilton admits he is worried.
"There are good things to come but I am 17 points behind now. I cannot afford to lose any more points to Sebastian," said the Mercedes driver.
Vettel said in Australia that he is struggling personally with the handling of the new Ferrari, but he seemed much happier in Bahrain.
"I had more confidence in the car, a better feel," he admitted.
"Shanghai is completely different, quite a bit cooler, but if we do like Bahrain and find the sweet spot, I'm pretty confident we can do well."
Vettel is also a notably superstitious man, and so it's interesting that he has touched down in China with his bizarre undercut hairstyle having been freshly re-done.
Not since 1982 has the winner of the opening two grands prix of a season not gone on to be champion.
"I don't believe in all those things," Vettel said. "Sometimes they work for you, sometimes against.
"We have a very, very long season ahead of us. It's clear that we need to improve. I think the three top teams and six drivers are very, very close to each other.
"Even if the first two races went amazingly for us, for others maybe not so much, there's still a long, long way and a lot of things that can happen," he added.
No extra Friday sessions for Kubica – Lowe
Kubica might not want to drive the slug Lowe designed. Could be career-ending
(GMM) Paddy Lowe has admitted Williams' young driver lineup is a challenge amid the team's big current problems.
The once-great British team's technical boss said even Williams engineers were caught by surprise by the extent of the 2018 car's issues early this year.
"Everyone in the field has their problems, but we have bigger ones," he is quoted by Auto Motor und Sport.
Deputy boss Claire Williams said the car has three main issues, but declined to name them.
"We don't really like airing our dirty linen in public at Williams," she said.
But one of them may be drivers. Already with 19-year-old pay-driver Lance Stroll at the team, Williams was criticized for pairing him with rookie Sergey Sirotkin.
"Having two young drivers doesn't make the task easier when the car doesn't work," Lowe admitted.
Former F1 driver Timo Glock agrees that Williams' drivers are an issue.
"They may be fast, but it's also important to develop a car in the right direction," he told Speed Week.
"They had big problems all weekend in Bahrain and didn't get on top of them at all. They lack experience," Glock added.
One option might be to oust one of them in favor of the experienced Robert Kubica, or at least give the Polish reserve driver more Friday practice outings than are already scheduled.
Lowe doesn't think so.
"Then we would be taking away important track time for Sergey. But he needs every kilometer," he said.
Lowe said the important thing now is for Williams to not panic.
"It would be wrong to become depressed," he insisted. "Only if we work purposefully can we reverse the trend."
Wolff names Sainz Jr. as Mercedes candidate
Sainz Jr under contract with Red Bull
(GMM) Toto Wolff has named more candidates as speculation about the Mercedes driver lineup of the future ramps up.
Currently, both Lewis Hamilton and Valtteri Bottas' contracts expire at the end of the season.
Mercedes wants Hamilton to stay, but the British driver appears to be playing hardball with conditions including contract length and price.
Daniel Ricciardo has been linked with the seat, but more names are now emerging — including Mercedes junior Esteban Ocon and Renault driver Carlos Sainz.
"We want Hamilton to stay with us until 2030," team boss Wolff is quoted by El Mundo Deportivo.
"But in formula one everything is possible and I don't think you'd find a single driver who doesn't want to become champion with Ferrari. But for now Lewis is with us and I hope at least until 2020," he added.
Wolff referred to Mercedes junior Ocon, who currently drives for Force India, as his "little treasure".
"I've known him for a long time and his progress from year to year is very visible," he said.
"Another excellent driver is Carlos Sainz Jr, and if he shows up well next to Nico Hulkenberg then all of the teams will be interested in him," Wolff added.
"We wanted to see Carlos with us and I even met with his father, but they are in the Red Bull program," he said. "But we maintain excellent relations."
Why Are Williams so slow? Paddy Lowe can't design a car
Paddy Lowe rode the coattails of Aldo Costa at Mercedes. Now at Williams Lowe's car design is a slug
With the dawn of the 2014 Hybrid era, Williams shot back to the sharp end, fueled by the dominant Mercedes Power Unit, but since then the team have slowly returned to the midfield, and finally for 2018, the back of the grid.
In an attempt to arrest this backward trend, Williams agreed to let go Bottas to Mercedes in return for Mercedes technical man, Paddy Lowe. Bottas fulfilled a requirement for Mercedes who needed to replace Hamilton's team mate Nico Rosberg after his shock retirement. Thereby, giving Williams a technical director who had a hand in the dominant Mercedes setup.
The 2018 Williams FW41 car is the first fully Lowe design and commenters noted how radically different it was to any previous Williams car. Could Lowe and the car design be the reason why are Williams F1 so bad in 2018? The short; yes.
After two races, Williams are the only team with zero constructors points, and consider they managed to finish 5th last year, it would be safe to say that Lowe's car is a disaster. Australia and Bahrain the car overheated hugely, a result of a mixed aero concept of Ferrari and Mercedes. The Ferrari style radiators and sidepods have not worked well with the Mercedes Power unit cooling requirements and the team have had to flare out the Williams bodywork at the rear to try and extract as much heat as possible.
The Williams management are very angry at the results (or lack of) with Paddy Lowes' FW41, and rather than flying out to China, Paddy has return to Grove in the UK to analyze the data in an effort to arrest the performance drop.
Even Lawrence Stroll, father of Lance, who strongly wanted Lowe to the technical management of the team has many doubts about the technical direction of the team. Rumors have been heard that upper management of Williams are already considering bring Robert Kubica into FP1 for China in an effort to give some reliable data to Lowe back at base.
The next couple of days will be critical for Paddy Lowe and Williams with the Chinese Grand Prix just around the corner. The Judge13
Tost targeting double points late season
Franz Tost
Though not wanting to take anything away from a determined drive, luck played a big part in Pierre Gasly's fourth-place finish last Sunday as team boss Franz Tost is first to admit.
"You know what the fourth place today is? It was also lucky," admitted the Austrian, according to ESPN. "Ricciardo out, Verstappen out, Hamilton had some troubles at the beginning but the race pace was quite good, constant and Pierre did not make any mistakes.
"The pit-stops went well," he added, "that means if these drivers had been in there we could have finished sixth, seventh place without any problems.''
However, with big sister Red Bull keeping a keen eye on the situation before making its decision on an engine supply for 2019, Tost admits that while delighted with the Bahrain result, he is expecting more in the latter stages of the season, though Sunday's result will be hard to match.
"Not a fourth place, but I always said within the first ten races I expect, and later on, this is all about the second half of the season, I expect both cars permanently within the first ten that means we qualify in Q3 and in the race because if our development plan from the power unit side and the chassis side goes in the correct direction then we must be there."
Shanghai: Traffic, Smog and Charm
In the space of a week the scenario changes completely from the rocky desert of Bahrain to the giant metropolis of Shanghai, as Scuderia Ferrari hits China off the back of the victory in Sakhir. The majority of the team came straight here, while a few reached Shanghai after a brief stop in Maranello. Naturally, Francesco Cigarini also went home, after the unfortunate incident during last Sunday's pit stop. He has undergone a successful operation on his left leg and is now convalescing.
Shanghai and Sakhir have probably just one thing in common, namely that they both first appeared on the calendar in the same year, 2004 and both resulted in wins for the Scuderia for Rubens Barrichello and Michael Schumacher respectively. The tracks themselves are completely different, as the one in China puts the front tyres under a lot more strain, leading to understeer. The Shanghai International Circuit, shaped like the Chinese symbol "Shang" which means "to aim high" also boasts one of the longest straights on the calendar, measuring 1200 metres. That means top speed and the use of DRS are both important factors.
In terms of logistics, it's quite a complicated race and not just because it's the second Sunday of racing in a row. The circuit is quite a way out from the city centre, which is where most of the hotels are located and one usually has to factor in an hour in traffic before spotting in the distance, the vast lotus leaf shapes of the grandstand roof at the Hermann Tilke-designed facility. There's never much time, but the city is worth a visit, with its strangely European feel, a result of the Chinese port city having always had an influx of foreign influences.
Then we have the weather: the sky is usually grey, because of the smog, but this weekend, that could be down to rain, which is forecast especially for Friday and Saturday. It's one more variable to consider when looking at tyre choice, which skips one compound, running from white-banded Medium, to yellow Soft and purple Ultrasoft. Ferrari