Mothers Exotic Car Paddock to Feature $40 Million Worth of Cars at LB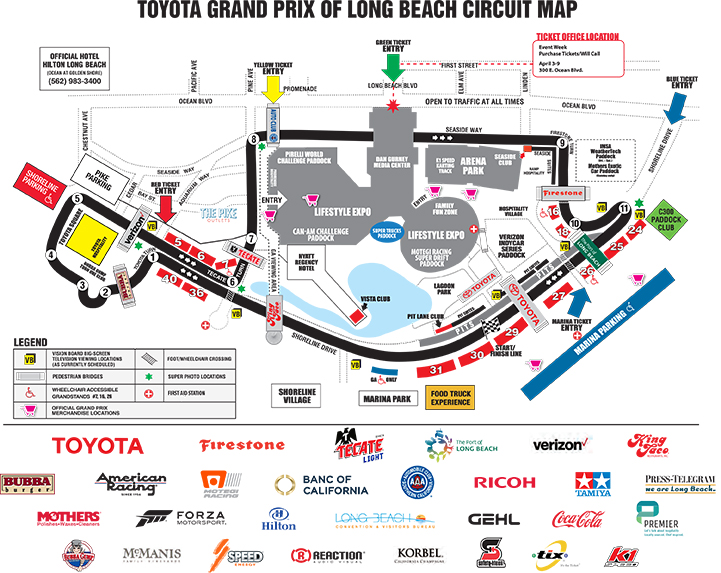 Outside of Turn 9 is the Mothers paddock
Visitors to the Toyota Grand Prix of Long Beach on Sunday, April 15 will have the chance to see 170 cars worth a total of more than $40 million in the Mothers Exotic Car Paddock, the most extensive collection ever brought to the "Roar by the Shore."
Headlining the group are four Agera models – a 2018 "RS1," 2018 "Draken," 2018 "Valhall" and 2015 Blue Carbon each valued at $4 million. Built by Koenigsegg, these supercars are the fastest production cars in the world with 1100+ horsepower. One of these cars set a record for top speed by a production vehicle (277.87 mph); that car will be displayed in the Hagerty booth in the Lifestyle Expo.
In addition, a 2017 Pagani Huayra BC valued at more than $4 million – and one of just 20 in the world – will be in the paddock.
Also featured this year will be a 2015 Porsche 918 ($2 million), a 2017 Ford GT ($1.2 million), three Porsche GT's ($700,000 each), four McLarens ($350-$400,000 each), two Ferrari Dinos, Porsche GT3's and several Lamborghini models including the Aventador, Huracan and Murcielago.
"For over a decade, we've been a proud sponsor of the Toyota Grand Prix of Long Beach and the Mothers Exotic Car Paddock," said Mothers Marketing Director Ken Holland. "Supporting the paddock is an important event for our company. It allows us to bring together a diverse group of rarely seen supercars, their owners and the high-performance fans who appreciate them."
The entire collection of cars will converge on the paddock from three different locations and will parade in from Shoreline Drive between approximately 8:30 and 9:15 a.m. on Sunday. Fans will also get to see these exotic cars take a couple of parade laps on the racetrack at 11:50 a.m., immediately prior to the featured Verizon IndyCar Series race.
The Mothers Exotic Car Paddock is located on the eastern end of the Toyota Grand Prix of Long Beach race circuit, outside of Turn 9. Fans can access the paddock by walking across the Firestone bridge located between Turns 9 and 10. Admission to the paddock is free for Sunday ticket holders.
The 2018 Toyota Grand Prix of Long Beach will feature a wide array of family-friendly activities including the Exotic Car Paddock, Lifestyle Expo and popular Family Fun Zone. On-track Sunday, spectators will see racing from the Verizon IndyCar Series, SPEED Energy Stadium Super Trucks and the powerful sports cars of the Pirelli World Challenge.
Ticket prices for Sunday start at $70 for a General Admission ticket (one junior 12 & under is free with ticketed adult), with a reserved seat ticket costing $90 in the upper rows ($68 for kids 12 & under). Pre-paid parking packages, handicapped seating, Verizon IndyCar Series Paddock access passes, Super Photo tickets and a number of VIP Club packages are also available.
Fans can select and pay for their Grand Prix tickets, parking and paddock passes online at gplb.com. Ticket orders can also be placed by calling the toll-free ticket hotline, (888) 827-7333. A printed ticket brochure that includes a circuit map, ticket prices, order form and other information is also available.
Fans can also follow the Toyota Grand Prix of Long Beach on Facebook at GrandPrixLB, Twitter @ToyotaGPLB, Instagram at ToyotaGPLB and Snapchat at ToyotaGPLB.