Lowndes breaks drought with race victory in Tasmania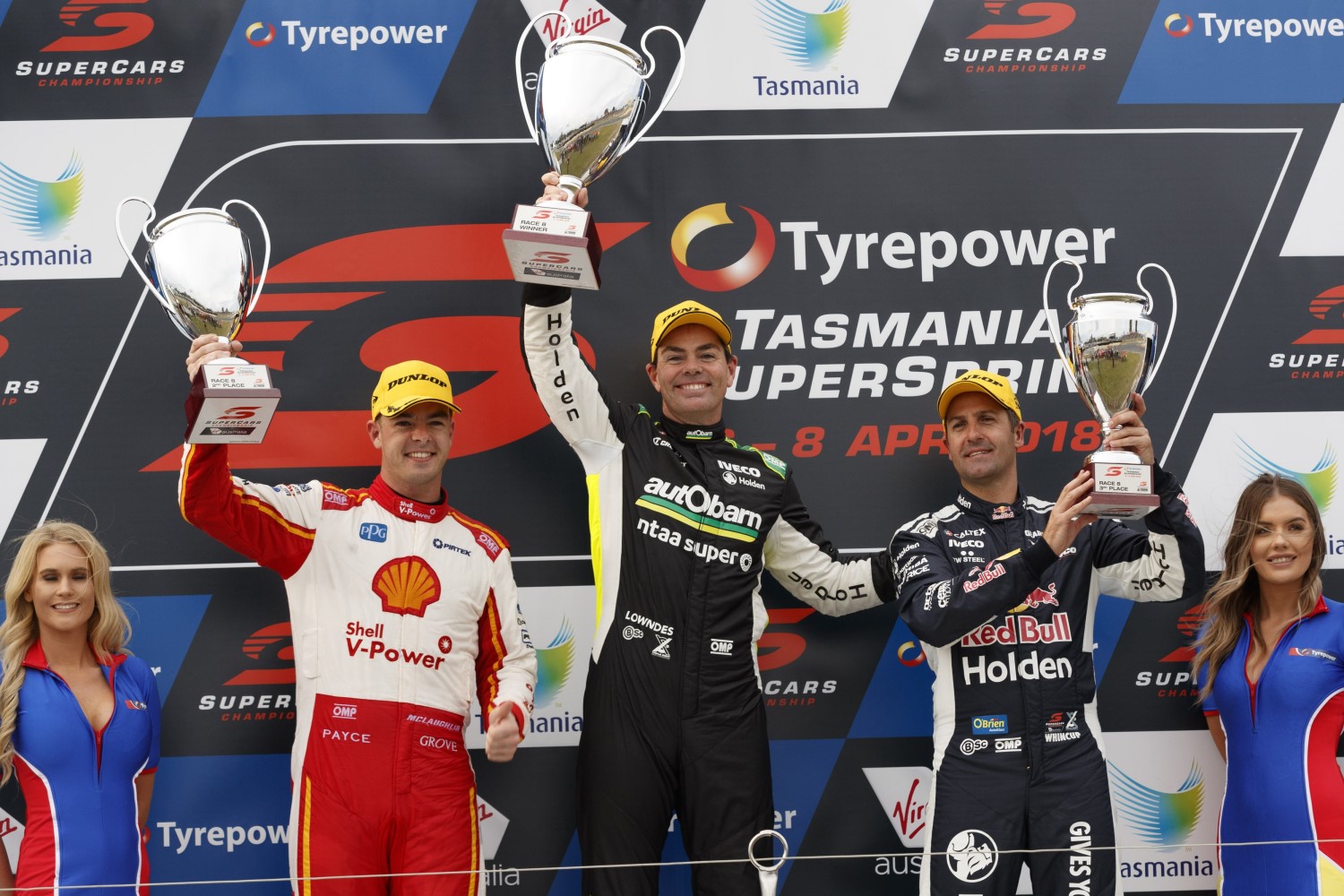 From left McLaughlin, Lowndes and Whincup
One of Supercars all-time greats, Craig Lowndes, has today taken his first Virgin Australia Supercars Championship race victory in nearly two years, recording the 106th win of his career in the second leg of the Tyrepower Tasmania SuperSprint.
Capitalizing on his first ARMOR ALL Pole Award since August 2015 achieved earlier today, Lowndes led the bulk of the 200km race at Symmons Plains to win his first race in 623 days. His most recent before today coming at Queensland Raceway in July, 2016.
Lowndes continued his Tasmanian renaissance at a circuit where his mentor Peter Brock once ruled. The crowd favorite now has ten career wins at Symmons Plains, to remain second for most wins in the Apple Isle only behind yesterday's race winner Jamie Whincup who now has 12 victories on the historic track.
Whincup is the new Championship leader after finishing third today, while Shell V-Power Racing Team's Scott McLaughlin finished second, to move up to equal-second on the points ladder with David Reynolds, just 11 points behind the seven-time champion.
Whincup's Red Bull Holden Racing teammate, Shane van Gisbergen, had throttle issues today and dropped from 2nd on the grid to finish 25th, the disastrous result taking him from the points lead to now sit fifth behind Whincup, McLaughlin, Reynolds and James Courtney.
Earlier today, three-time Supercars champion Lowndes took his Autobarn Lowndes Racing ZB Commodore to a 42nd career pole, and his first since the second race at Queensland Raceway in August 2015, 981 days ago.
"I'm relieved," Lowndes said.
"It's no secret last year was up and down and we've wanted to be more consistent. I said from the start that this car suits me and hopefully we've proven this weekend.
"It's been a long time coming and I can't thank the team enough."
McLaughlin split the Triple Eight ZBs, sporting tape on his left hand as a result of the gearbox shift-cut problems that slowed him on Saturday.
"Congrats to Craig, it's great to see him win," McLaughlin said.
"We're trying our hardest to fly the flag for the Ford fans and a podium today is like a win for us."
While he had to settle for third, Whincup takes the championship lead, leaving Tasmania with an 11-point advantage over McLaughlin.
Van Gisbergen slides to fifth, 40 adrift and one spot ahead of Lowndes.
"Today was all about Lowndesy, what an effort," Whincup said.
"We tripped over him a little bit in the pits and it got a bit hairy with Scotty through Turn 3 on cold tyros, but we kept it all clean.
"I was miles back [in points after Adelaide] and now I'm not, but there's still a lot of water to go under the bridge.
Lowndes revealed improvements to his braking technique played a lead role in his resurgence at a track which features three crucial stops.
"We've been working really hard on getting the ergonomics of my area right," he said. "We've made a few changes, improvements, [and] we've still got a few more things to come, so really, for us, it's only good signs."
Lowndes is now sixth in championship standings as teams begin preparations for the next round of the championship, the WD-40 Phillip Island 500, which will run from 20-22 April at the iconic Phillip Island Circuit.
Results
| | | | | | |
| --- | --- | --- | --- | --- | --- |
| POS | No. | DRIVER | TEAM | TIME | POINTS |
| 1 | 888 | Lowndes | Team Vortex | 1:14:41.146 | 150 |
| 2 | 17 | McLaughlin | Shell V-Power Racing Team | +2.357 | 138 |
| 3 | 1 | Whincup | Red Bull Holden Racing Australia | +3.600 | 129 |
| 4 | 25 | Courtney | Mobil 1 Boost Mobile Racing | +5.599 | 120 |
| 5 | 19 | J. Le Brocq | TEKNO Woodstock Racing | +15.786 | 111 |
| 6 | 2 | S. Pye | Mobil 1 Boost Mobile Racing | +16.510 | 102 |
| 7 | 33 | Tander | Wilson Security Racing GRM | +23.488 | 96 |
| 8 | 9 | Reynolds | Erebus Motorsport | +24.292 | 90 |
| 9 | 8 | Percat | Brad Jones Racing | +24.778 | 84 |
| 10 | 55 | Mostert | Supercheap Auto Racing | +39.382 | 78 |
| 11 | 15 | R. Kelly | Nissan Motorsport | +39.491 | 72 |
| 12 | 5 | Winterbottom | The Bottle-O Racing Team | +39.995 | 69 |
| 13 | 6 | C. Waters | Monster Energy Racing | +40.285 | 54 |
| 14 | 14 | Slade | Brad Jones Racing | +1 Lap | 63 |
| 15 | 99 | A. de Pasquale | Erebus Motorsport | +1 Lap | 60 |
| 16 | 21 | Blanchard | CoolDrive Racing | +1 Lap | 60 |
| 17 | 12 | Coulthard | Shell V-Power Racing Team | +1 Lap | 54 |
| 18 | 34 | J. Golding | Wilson Security Racing GRM | +1 Lap | 54 |
| 19 | 7 | Heimgartner | Nissan Motorsport | +1 Lap | 48 |
| 20 | 35 | T. Hazelwood | Bigmate Racing | +1 Lap | 48 |
| 21 | 78 | S. De Silvestro | Nissan Nismo | +1 Lap | 45 |
| 22 | 230 | Davison | Milwaukee Racing | +1 Lap | 39 |
| 23 | 18 | Holdsworth | Preston Hire Racing | +1 Lap | 36 |
| 24 | 23 | Caruso | Nissan Nismo | +1 Lap | 33 |
| 25 | 97 | Van Gisbergen | Red Bull Holden Racing Australia | +1 Lap | 30 |
| NC | 56 | R. Stanaway | Tickford Racing | +84 Laps | 0 |