Raikkonen on top in final F1 practice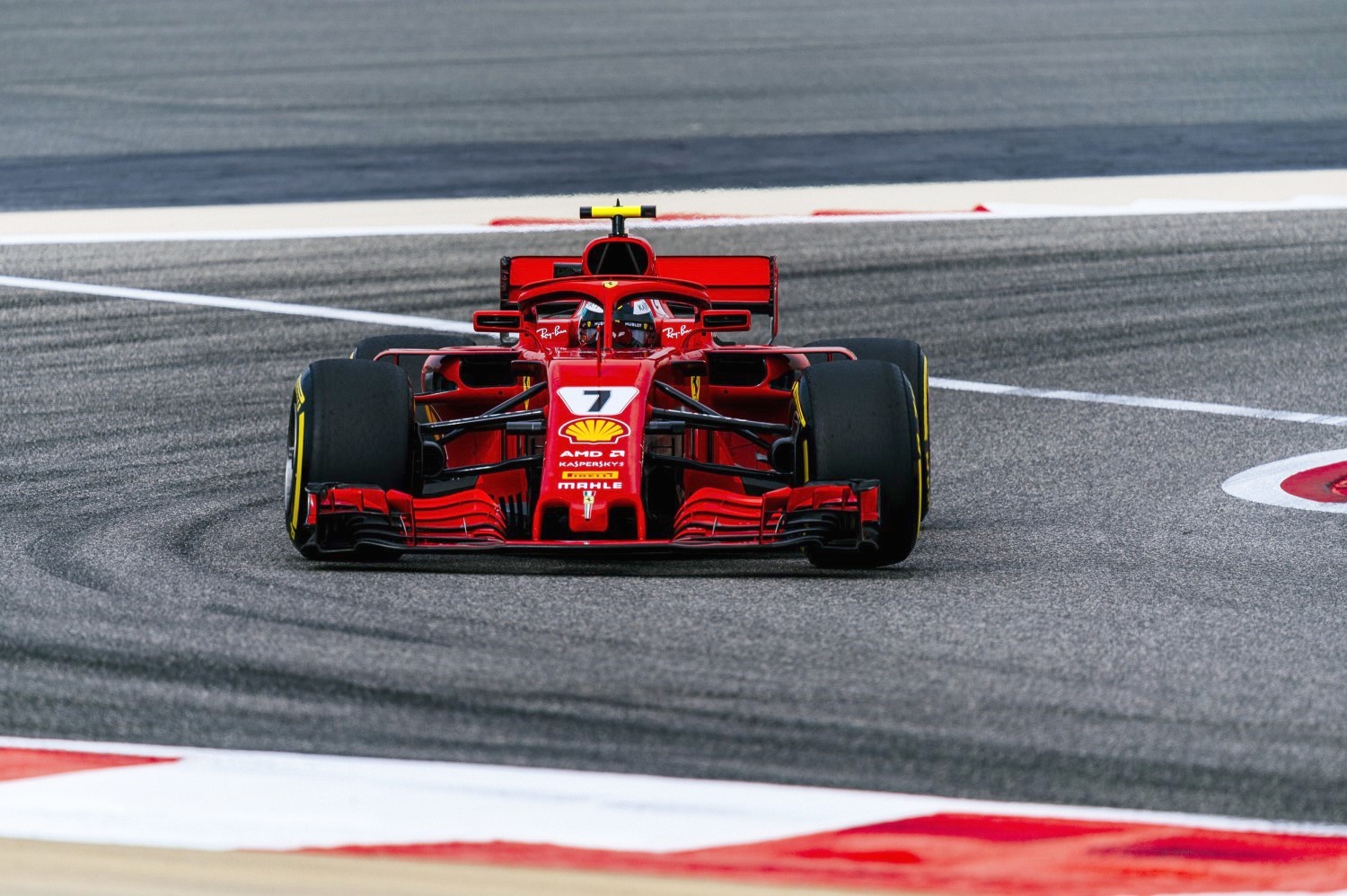 Kimi Raikkonen
While Mercedes continued to sandbag, Kimi Raikkonen turned the fastest lap in final practice for the Bahrain GP Saturday afternoon. His time of 1m29.868s on the supersoft tires, was 1/2 second quicker than the two Red Bulls of Max Verstappen and Daniel Ricciardo.
Lewis Hamilton and Sebastian Vettel rounded out the top-5 8/10ths of a second back, but neither driver was trying for a quick lap in the warm afternoon sun and Vettel was hampered by loose bodywork early in the hour, and then ended his session early complaining of "engine drivability" issues.
Toto Wolff was not worried about Ferrari's speed and said the high engine mode Ferrari were running skewed the ultimate performance.
"They [Ferrari] were in a pretty high-power mode when they were on the lap, so it isn't so worrying, but it was a good lap and what we have seen in Melbourne and again here is that at various stages the teams are very close together, so I can't really judge," he said.
"I think Ferrari and Red Bull could be a threat here – I might be sounding too pessimistic, but it depends on the form of the day: how you have been able to put the set-up together, how the driver has been able to do a good lap, then that can make a difference of two or three-tenths and that makes everything."
Vettel also played down Ferrari's strong pace, suggesting the Prancing Horse had work to do ahead of qualifying and the race.
"It looked like we were a bit quicker than the rest but it depends a bit on the program," said the German. "At this point I wouldn't draw any conclusions.
"We will focus on ourselves and the set up mostly to try and get a bit of a better feel, which at times was good and other times not yet there. There's still some stuff to do."
Perhaps most interesting is the fact the two Hondas of Pierre Gasly and Brendon Hartley made Alonso the meat in their sandwich in 9th thru 11th. Gasly of course has the Honda engine Alonso said was so slow.
Practice 3 Results
| | | | | | | |
| --- | --- | --- | --- | --- | --- | --- |
| Pos | No | Driver | Car | Time | Gap | Laps |
| 1 | 7 | Kimi Raikkonen | Ferrari | 1:29.868 | +0.000s | 15 |
| 2 | 33 | Max Verstappen | Red Bull Racing Tag Heuer | 1:30.393 | +0.525s | 8 |
| 3 | 3 | Daniel Ricciardo | Red Bull Racing Tag Heuer | 1:30.452 | +0.584s | 8 |
| 4 | 44 | Lewis Hamilton | Mercedes | 1:30.691 | +0.823s | 14 |
| 5 | 5 | Sebastian Vettel | Ferrari | 1:30.719 | +0.851s | 8 |
| 6 | 77 | Valtteri Bottas | Mercedes | 1:30.781 | +0.913s | 16 |
| 7 | 27 | Nico Hulkenberg | Renault | 1:31.144 | +1.276s | 11 |
| 8 | 55 | Carlos Sainz | Renault | 1:31.200 | +1.332s | 12 |
| 9 | 10 | Pierre Gasly | Scuderia Toro Rosso Honda | 1:31.438 | +1.570s | 18 |
| 10 | 14 | Fernando Alonso | McLaren Renault | 1:31.445 | +1.577s | 13 |
| 11 | 28 | Brendon Hartley | Scuderia Toro Rosso Honda | 1:31.460 | +1.592s | 18 |
| 12 | 8 | Romain Grosjean | Haas Ferrari | 1:31.513 | +1.645s | 14 |
| 13 | 31 | Esteban Ocon | Force India Mercedes | 1:31.554 | +1.686s | 17 |
| 14 | 11 | Sergio Perez | Force India Mercedes | 1:31.564 | +1.696s | 14 |
| 15 | 20 | Kevin Magnussen | Haas Ferrari | 1:31.737 | +1.869s | 14 |
| 16 | 9 | Marcus Ericsson | Sauber Ferrari | 1:31.859 | +1.991s | 17 |
| 17 | 2 | Stoffel Vandoorne | McLaren Renault | 1:31.860 | +1.992s | 14 |
| 18 | 16 | Charles Leclerc | Sauber Ferrari | 1:32.047 | +2.179s | 19 |
| 19 | 35 | Sergey Sirotkin | Williams Mercedes | 1:32.463 | +2.595s | 11 |
| 20 | 18 | Lance Stroll | Williams Mercedes | 1:32.865 | +2.997s | 12 |