Ferrari not commenting on budget cap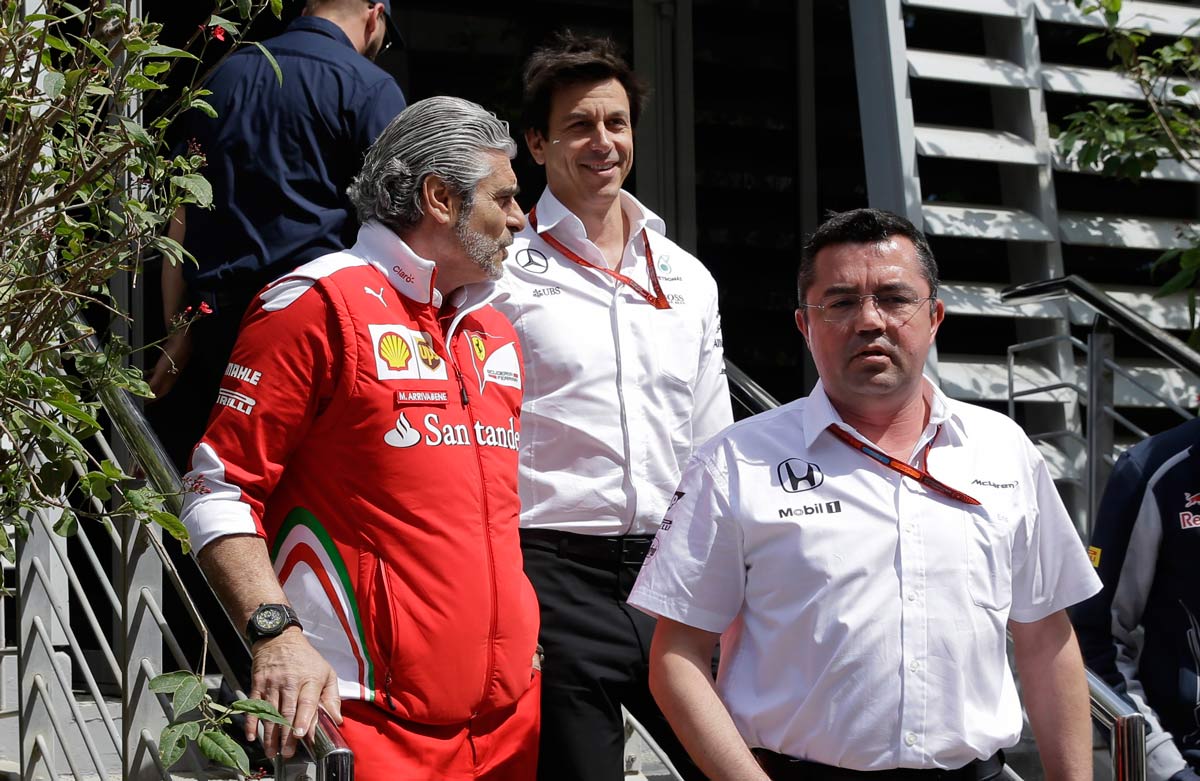 Ferrari's Mauricio Arrivabene (L) leaves the Liberty meeting with Mercedes' Toto Wolff and Eric Boullier
(GMM) Ferrari was silent after Liberty Media announced in Bahrain that it is pressing ahead with new engine rules and a budget cap for 2021.
Earlier, president Sergio Marchionne – who was not present for Friday's key meeting – had warned that changes like those might result in Ferrari quitting the sport.
And amid rumors Liberty's budget ceiling will be $150 million per team, Mercedes team boss Toto Wolff agreed that a number like that would be "unworkable".
Mercedes team chairman Niki Lauda agreed: "It would mean cutting many jobs, which is something we can't do in such a short time."
A Ferrari spokesperson in Bahrain said the Maranello based team has no comment.
Struggling former great Williams, though, welcomed the proposals.
"Not to say that we were on the brink or anywhere close, but with the way the sport is structured today Williams' survival into the medium and long-term was looking pretty bleak," said deputy boss Claire Williams.
"Everything they (Liberty) presented from revenue redistribution to cost caps is absolutely everything that we want to see from 2021 and beyond," she added.
However, Liberty's F1 sporting boss Ross Brawn admitted that what was proposed on Friday was more of a starting point than a fait accompli.
"The teams need to digest it now and then the discussion proper will start," he said in Bahrain.
But Red Bull team boss Christian Horner said time is tight, and he is skeptical Liberty can push through its agenda.
"It's ambitious," he admitted.
"There are lots of big topics – engines, prize fund and budget caps – but the thing is how are going to achieve it?"
The next meeting will take place just after the Chinese grand prix, when the strategy group gets together on April 17. Marchionne is slated to attend.