Whincup climbs championship leaderboard following another win in Tasmania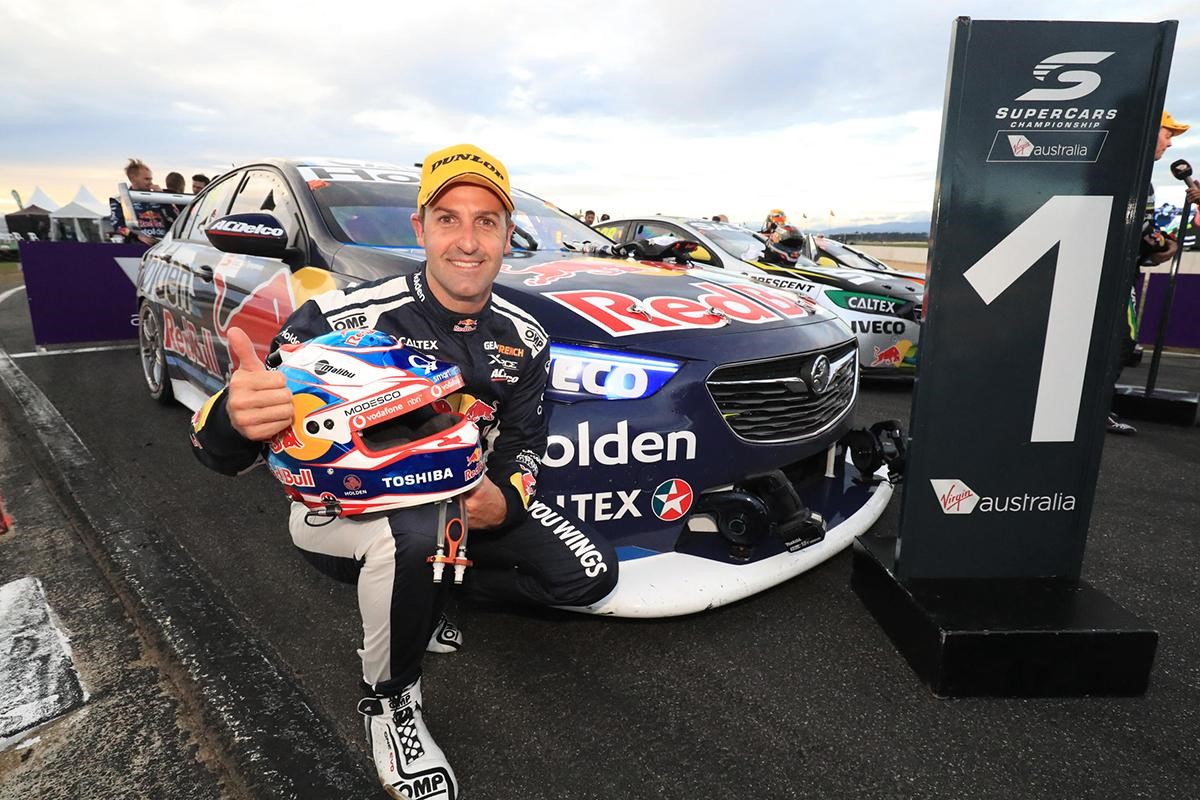 Jamie Whincup
Seven time Supercars Champion Jamie Whincup continues to claw his way back into contention with yet another win at Symmons Plains at the Tyrepower Tasmania SuperSprint in Launceston.
Whincup registered a dozen race wins at the tight Tasmanian circuit, more wins than any other driver in history, to claw back a few more points from Red Bull Holden Racing Team teammate Shane Van Gisbergen in the Championship hunt.
He is now third in the Championship having been in 18th after his first DNF since 2013 in the season-opening Adelaide 500. Van Gisbergen leads Erebus Motorsport's David Reynolds by 31 points.
"The crew gave me an absolute rocket today. It was so fast," Whincup said.
"It was a really intense at the start there, SVG pitted early and I just bolted to try to get track position, came out with a good lead and was able to control it from there.
"Fingers crossed the rain stays away tomorrow, we'll just keep our head down. I'm a long way back, that gearbox that blew up in Adelaide really hurt, so I need every point I can get right now."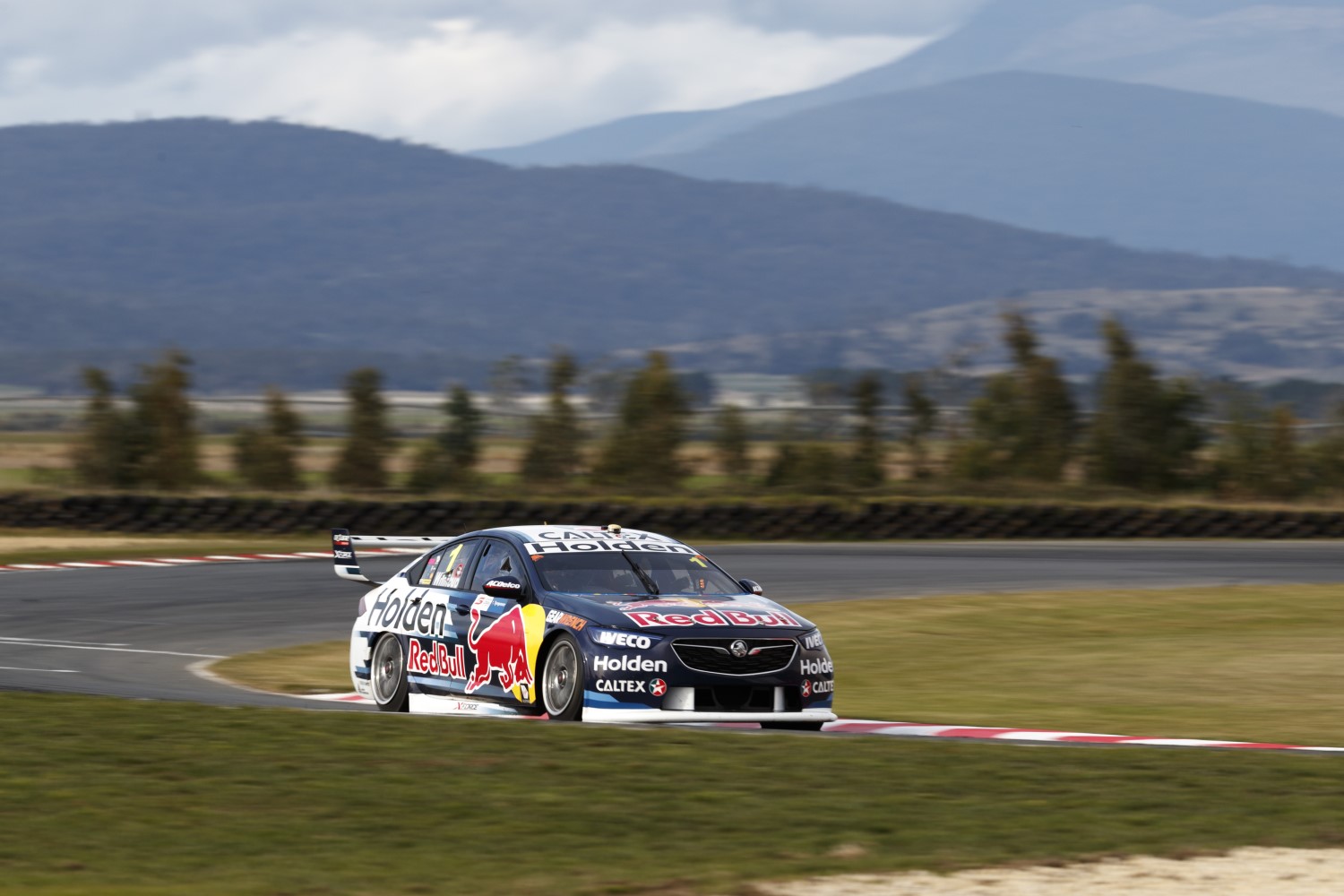 Whincup on a tear
The old firm of Whincup and Craig Lowndes relived the memories of the good old days when they shared the same garage with a 1-2 finish ahead of James Courtney in the resurgent Walkinshaw Andretti United Commodore. Courtney moves up the Championship ladder to fifth.
"It's great," said Lowndes. "Our guys have been working really hard for the last 14 or 15 months. This car suits me, this track suits me, I like this older style of Dunlop tyre, it really suits my style.
"We had a great battle there with Shane in the middle, he was on a warmer tyre, he started to struggle a little then I could see JC and Dave behind. Credit to Jamie and his guys, we chased him down as much as we could but we had to look after our tyros and our car.
"We had a good battle with JC there for a while, but full credit to our team. It's nice to be back."
Van Gisbergen went backwards at a rate of knots in the second half of the race after leading, as did Scott McLaughlin who also fell away the longer the race went while his team-mate Fabian Coulthard was flying, along with Reynolds.
While Lowndes got the best of the start from behind Whincup on the second row he had to yield at turn one, leaving Van Gisbergen to lead. McLaughlin settled into fourth behind Lowndes in the early stages.
Van Gisbergen came in for tyros and fuel after just six laps. McLaughlin came in a lap later to meet Van Gisbergen side by side into turn one and again into the 90-degree hairpin. The Championship leader held his ground, and position.
Whincup and Lowndes came in three laps later with the veteran coming out in front of his younger rival, but he threw it away by going too wide at the hairpin, with Whincup in a comfortable lead, bought by his team in the pits.
Supercheap Auto Racing's Chaz Mostert had already had a bad day before his car caught fire in pit lane, seemingly the result of an on-track crash earlier. His crew scrambled to put the fire out and wheel him back into the pits but the damage proved too much for him to return.
Results
| | | | | |
| --- | --- | --- | --- | --- |
| POS | No. | DRIVER | TEAM | TIME |
| 1 | 1 | Whincup | Red Bull Holden Racing Australia | 44:04.735 |
| 2 | 888 | Lowndes | Team Vortex | +2.346 |
| 3 | 25 | Courtney | Mobil 1 Boost Mobile Racing | +3.587 |
| 4 | 9 | Reynolds | Erebus Motorsport | +4.793 |
| 5 | 12 | Coulthard | Shell V-Power Racing Team | +8.726 |
| 6 | 97 | Van Gisbergen | Red Bull Holden Racing Australia | +14.348 |
| 7 | 14 | Slade | Brad Jones Racing | +14.640 |
| 8 | 2 | S. Pye | Mobil 1 Boost Mobile Racing | +15.023 |
| 9 | 17 | McLaughlin | Shell V-Power Racing Team | +15.820 |
| 10 | 19 | J. Le Brocq | TEKNO Woodstock Racing | +16.378 |
| 11 | 18 | Holdsworth | Preston Hire Racing | +16.553 |
| 12 | 8 | Percat | Brad Jones Racing | +19.631 |
| 13 | 33 | Tander | Wilson Security Racing GRM | +23.866 |
| 14 | 5 | Winterbottom | The Bottle-O Racing Team | +24.100 |
| 15 | 15 | R. Kelly | Nissan Motorsport | +25.753 |
| 16 | 23 | Caruso | Nissan Nismo | +26.055 |
| 17 | 7 | Heimgartner | Nissan Motorsport | +33.438 |
| 18 | 230 | Davison | Milwaukee Racing | +34.424 |
| 19 | 99 | de Pasquale | Erebus Motorsport | +34.927 |
| 20 | 6 | C. Waters | Monster Energy Racing | +39.735 |
| 21 | 21 | Blanchard | CoolDrive Racing | +40.250 |
| 22 | 35 | T. Hazelwood | Bigmate Racing | +42.776 |
| 23 | 78 | S. De Silvestro | Nissan Nismo | +47.069 |
| 24 | 34 | J. Golding | Wilson Security Racing GRM | +48.692 |
| 25 | 56 | R. Stanaway | Tickford Racing | +7 Laps |
| NC | 55 | Mostert | Supercheap Auto Racing | +28 Laps |