2018 IMSA Long Beach Entry List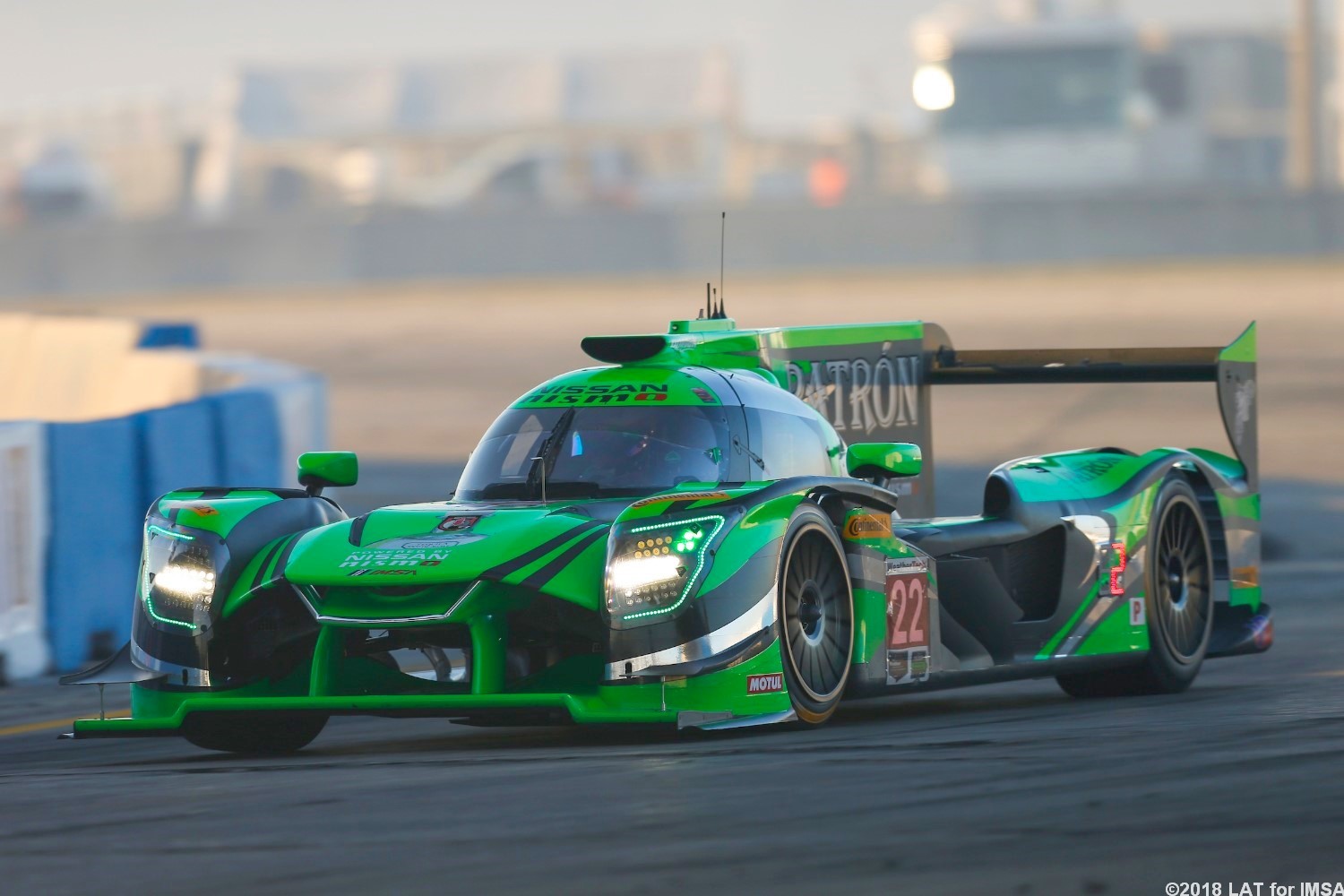 #22 Tequila Patron Nissan
The first sprint race of the IMSA WeatherTech SportsCar Championship is set for next weekend in the Grand Prix at Long Beach, and 22 cars have filed entries for the event.
The 1 hour, 40 minute affair will feature 14 Prototypes and eight GT Le Mans machines.
The IMSA Grand Prix at Long Beach is set to take the green flag at 2:15 on Saturday, April 14 and will air on Fox.
| | | | | | |
| --- | --- | --- | --- | --- | --- |
| Class | No. | Drivers | Team | Sponsor | Car |
| DPi | 2 | Scott Sharp(P) Ryan Dalziel(G) | Tequila Patron ESM | Tequila Patron | Nissan DPi |
| DPi | 5 | Filipe Albuquerque(P) Joao Barbosa(P) | Mustang Sampling Racing | Mustang Sampling | Cadillac DPi |
| DPi | 6 | Dane Cameron(G) Juan Pablo Montoya(P) | Acura Team Penske | | Acura DPi |
| DPi | 7 | Helio Castroneves(P) Ricky Taylor(G) | Acura Team Penske | | Acura DPi |
| DPi | 10 | Renger Van Der Zande(G) Jordan Taylor(P) | Konica Minolta Cadillac DPi-V.R | Konica Minolta Business Solutions | Cadillac DPi |
| DPi | 22 | Johannes van Overbeek(G) Pipo Derani(G) | Tequila Patron ESM | Tequila Patron | Nissan DPi |
| DPi | 31 | Felipe Nasr(P) Eric Curran(G) | Whelen Engineering Racing | Whelen Engineering | Cadillac DPi |
| LMP2 | 38 | James French(S) Kyle Masson(S) | Performance Tech Motorsports | Centinel Spine / Masson Spine Institute | ORECA LMP2 |
| LMP2 | 52 | Sebastian Saavedra(G) Gustavo Yacaman(G) | AFS/PR1 Mathiasen Motorsports | AFS / Coexito | Ligier LMP2 |
| LMP2 | 54 | Jonathan Bennett(S) Colin Braun(G) | CORE autosport | Flexbox / Composite Resources | ORECA LMP2 |
| DPi | 55 | Jonathan Bomarito(P) Harry Tincknell(P) | Mazda Team Joest | Mazda | Mazda DPi |
| DPi | 77 | Oliver Jarvis(P) Tristan Nunez(G) | Mazda Team Joest | Mazda / Castrol | Mazda DPi |
| LMP2 | 85 | Simon Trummer(G) Robert Alon(S) | JDC-Miller Motorsports | PSC Security / Hi-Tide Boat Lifts | ORECA LMP2 |
| LMP2 | 99 | Stephen Simpson(S) Misha Goikhberg(S) | JDC-Miller Motorsports | Gainsco Auto Insurance | ORECA LMP2 |
| GTLM | 3 | Jan Magnussen(P) Antonio Garcia(P) | Corvette Racing | | Corvette C7.R |
| GTLM | 4 | Oliver Gavin(P) Tommy Milner(P) | Corvette Racing | | Corvette C7.R |
| GTLM | 24 | Jesse Krohn(G) John Edwards(P) | BMW Team RLL | BMW of North America | BMW M8 GTE |
| GTLM | 25 | Alexander Sims(P) Connor De Phillippi(G) | BMW Team RLL | BMW of North America | BMW M8 GTE |
| GTLM | 66 | Joey Hand(P) Dirk Mueller(P) | Ford Chip Ganassi Racing | Ford | Ford GT |
| GTLM | 67 | Ryan Briscoe(P) Richard Westbrook(P) | Ford Chip Ganassi Racing | Ford | Ford GT |
| GTLM | 911 | Patrick Pilet(P) Nick Tandy(P) | Porsche GT Team | | Porsche 911 RSR |
| GTLM | 912 | Earl Bamber(P) Laurens Vanthoor(P) | Porsche GT Team | | Porsche 911 RSR |