SunnyD Returns to the Track at Texas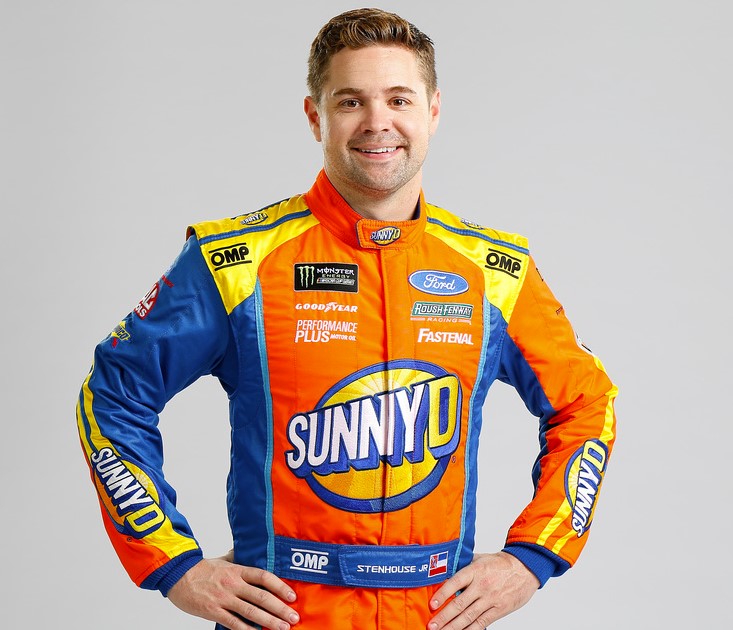 Stenhouse in his SunnyD jump suit
Iconic brand and thirst quenching favorite SunnyD will make its 2018 debut this weekend as the primary partner on Ricky Stenhouse Jr.'s No. 17 Ford Fusion for the NASCAR Cup Series race at Texas Motor Speedway. SunnyD will be featured on Stenhouse's Ford the following week at Bristol Motor Speedway, and will also serve as the primary partner on Roush Fenway's famed No. 60 NASCAR Xfinity Series Ford when racing phenom Ty Majeksi makes his Bristol debut.
"We can't wait to see those SunnyD colors back on the car at Texas and Bristol," said Stenhouse. "It's always the best looking car on the race track and we have so much fun teaming up with those guys. Texas and Bristol have been great tracks for us and hopefully we will be cooling off in victory lane with a cold SunnyD during the next couple of weeks."
Roush Fenway and SunnyD will team up over the next two weeks to provide fans with unique behind the scenes looks, giveaways and other original content as SunnyD takes over the weekend at Bristol.
In addition to on-track success, Roush Fenway and SunnyD have teamed together in several unique social programs and promotions. Last season's 'Race with Ricky Sweepstakes', which offered fans a once in a lifetime opportunity to race against Stenhouse, received over a half a million entries and was recognized with a prestigious MarCom Gold Award as one of the most successful integrated marketing campaigns of the year. The partnerships platform launch in 2016 was a massive success, garnering industry recognition as a finalist for a PR News' Platinum Award.
Roush Fenway Racing is the winningest team in NASCAR history, fielding multiple teams in Monster Energy NASCAR Cup Series and NASCAR XFINITY Series competition. Moving into its 31st season, Roush Fenway is a leader in driver development, having launched the careers for many of the top drivers in the sport. Off-track, Roush Fenway is a leader in NASCAR marketing solutions, pioneering motorsport's first team-focused TV show and producing multiple award-winning Social Media, digital content and experiential marketing campaigns. Roush Fenway is co-owned by Jack Roush, the winningest team owner in NASCAR history and Fenway Sports Group, parent company of Major League Baseball's Boston Red Sox and English Premier League's Liverpool F.C. Visit RoushFenway.com, circle on Google+, become a fan on Facebook and Instagram and follow on Twitter at @roushfenway.
About Harvest Hill Beverage Co.
Harvest Hill Beverage Company, based in Stamford, CT, is a leading producer, distributor and marketer of juices, juice drinks and flavored waters in North America. In addition to SunnyD, the company markets beverages under the Juicy Juice, Little HUG, Veryfine, Fruit2O, Daily's, Big Burst, Guzzler, and Nutrament brands. The company operates seven manufacturing facilities across the U.S. that service both refrigerated and shelf stable distribution systems and supply a wide range of customers in the grocery, club, mass merchandise, convenience, dollar and drug channels. For more information, please visit www.harvesthill.com and www.sunnyd.com, and be sure to follow SunnyD Racing on Facebook and Instagram.