Austrian Rene Binder joins Juncos Racing for partial Verizon IndyCar season (Update)
Rene Binder
UPDATE Binder says he will now compete in six IndyCar races this year, bringing Juncos Racing's total participation in the series to 10.
Binder and reigning Indy Lights champion Kyle Kaiser are sharing the #32 Juncos Racing-Chevrolet, with Kaiser taking the wheel at Phoenix, Long Beach, the Indianapolis Grand Prix and the 102nd running of the Indianapolis 500.
01/05/18 Innsbruck-born Rene Binder will also run races with Juncos Racing at Barber Motorsports Park, the streets of Toronto and the Mid-Ohio Sports Car course.
"I am honored to be a part of the Verizon IndyCar Series for the 2018 season," said Binder. "I have been a huge fan of INDYCAR and what the series has to offer to me as a driver. I had a hard decision to make this year on which path I would take in my career, and I am confident that I made the right decision.
"Right now, we have signed for four races, but I hope to add more to our schedule as the season progresses. I would like to thank my sponsors, family and Juncos Racing for giving me this opportunity."
Binder joins the Verizon IndyCar Series after competing in the World Series Formula V8, where he captured four wins, five podiums and two poles. Binder was a title contender throughout the first half of the 2017 season, however multiple technical issues forced him to retire early or to start from the back multiple times throughout the year, causing him to finish fourth in the championship. Binder competed in the GP2 series from 2013 – 2015 where he earned five top-10 finishes including a sixth- and seventh-place finish at Monte Carlo.
"I am happy to welcome Rene (Binder) to our team and we are thrilled to be a part of his North American debut," said Team Owner Ricardo Juncos. "Rene has a successful background running in the World Series V8 and GP2, along with the testing he has done within Formula 1, and I know he will carry that momentum into the Verizon IndyCar Series this year.
"The timing is right for a talented driver like Rene to join, as everyone will be starting over with the new INDYCAR aero kits. I want to thank Rene for choosing Juncos Racing for his INDYCAR debut, along with his sponsors and family for this opportunity."
Binder, a third-generation driver, is the second driver to join Juncos Racing for the 2018 Verizon IndyCar Series season. He will make his first test in an Indy car at the end of February
Juncos Racing announced in October that the 2017 Indy Lights Champion Kyle Kaiser would move up within the team for his IndyCar debut.
The 2018 Verizon IndyCar season kicks off March 9th – 11th on the streets of St. Petersburg, Florida.
Q&A with Rene Binder: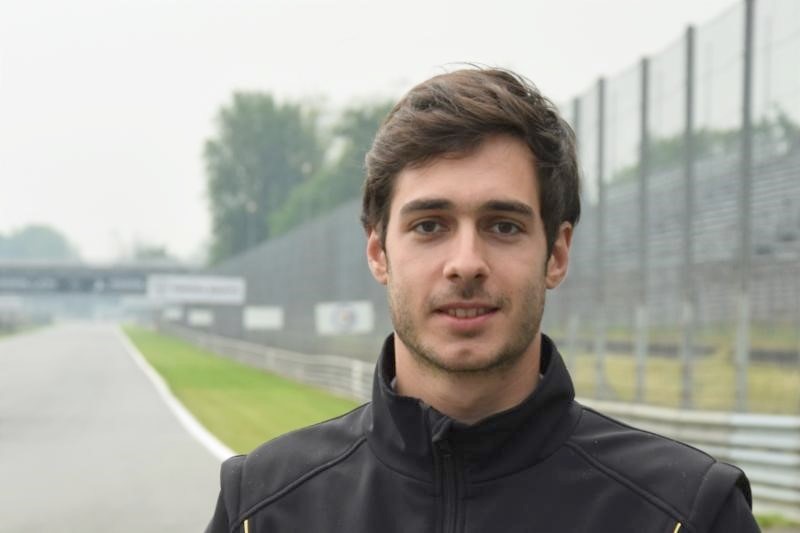 Binder in the famous Parabolica corner before his double win in Monza (Photo ENIK)
"It's an honor to represent Austria in the Verizon IndyCar Series!"
With racing in his blood Rene Binder, Austria's 5th IndyCar driver is aiming to prove his talent on the highest level of North American open wheel racing. After celebrating his 26th birthday on New Year's Day the amiable young man from the Austrian Mountains talked about his part-season deal with Juncos Racing…
Your deal with Juncos Racing is now all official and it must be a special feeling to have the contract all sewn up and signed. Has it finally sunk in that you are an IndyCar driver now?
"It's an honor for me to be on the grid of America's top open-wheel series and to race with world class drivers such as Scott Dixon, Josef Newgarden and Sebastian Bourdais. My path was taking me down the road to the Formula 1 series, but a great opportunity arose to join the Verizon IndyCar series. I feel that INDYCAR will be the right choice for me to take my career to the next level. A big thanks goes to Ricardo Juncos and his team, Juncos Racing, for this great opportunity."
You attended the 2017 season finale at Sonoma and have fallen in love with INDYCAR right away. How can you explain your natural passion for this race series?
"I am an IndyCar fan for the pure racing aspect. The close competition, the traditional race tracks with bumps and limited run-off areas and last but not least the challenging race cars without power steering make it something special."
You have confirmed a part season program for 2018. What's your racing program looking like with Juncos Racing next year?
"For the moment we have signed for St. Petersburg, Barber Motorsport Park, Toronto and Mid-Ohio but it is very likely that we will add one or two additional Grand Prix'. Apart from my IndyCar project we are also looking at the legendary 24 Hours race at Le Mans. I hope we can announce our full 2018 program very soon."
After claiming 4 wins and a historic final victory in the World Series Formula V8 you will more or less start from scratch again as a rookie in a very competitive IndyCar Series. Where do you expect the hardest challenges?
"That's a difficult question as I haven't even made the seat fitting yet, but my guess is, it will be rather the race tracks and the rules.. I have raced Dallara race cars for the last 8 years and tested a Renault F1 car. Therefore I am quite confident that I will do a good job, as soon as I have learned the tracks. I hope I can get a few hours on the simulator before each race. "
Can you talk us through your CV a bit. What do American race fans need to know about Rene Binder?
"I am Rene Binder from Austria, the number one ski nation and looking at our two former Formula 1 World Champions, Jochen Rindt and Niki Lauda, we should be also known as a successful motorsport nation. My uncle, Hans Binder, made his debut in Grand Prix racing in 1976, a legendary year and even my grandfather and my father were successful racers. So you could say that a passion for racing runs in our family's blood. I started karting at the age of eight and later competed in the very competitive German Championship finishing 2nd overall in their national Junior championship. I won a few races in F3 but my family put strong emphasis is on the importance of education given that I also have to shoulder responsibility in our family business."
A brief interposed question: Binderholz is one of the leading European companies for solid wood products and innovative building solutions. Are you also looking at the American market?
"Yes, that's the case but that has nothing to do with my decision to take a chance in North American motorsports. I had a pretty good year in the World Series so I had two options: To compete in Formula 2 again, the official feeder series of F1, or to go 'all-in' and try to make a fresh start in the USA. I am confident that we took the right decision."
So coming back to your CV your breakthrough year was definitely 2017. What are your goals after claiming the historic final win in World Series Formula V8 in Bahrain?
"As said before we are talking about America's top open wheel series. So given that I will get just one day of testing to prepare for the IndyCar season opener in St.
Petersburg. It would be even a fantastic result to finish somewhere in the middle of the pack. Predictions are always difficult so let's just work hard to be well prepared – physically and mentally."
Last question: The new Indy racers look similar to the fan-favorite turbocharged F1 cars of the late 1980s. How do you like the changes INDYCAR has made for 2018?
"The new cars look really great and they also sound a bit like the old F1 turbocharged cars. Drivers have claimed the handling will be completely different, that's going to mix it up and make it interesting. It might be the best moment for a rookie team and for a rookie driver to enter, however, we need to understand the new aero kit right from the beginning."