Reynolds wins, Whincup takes Larry Perkins trophy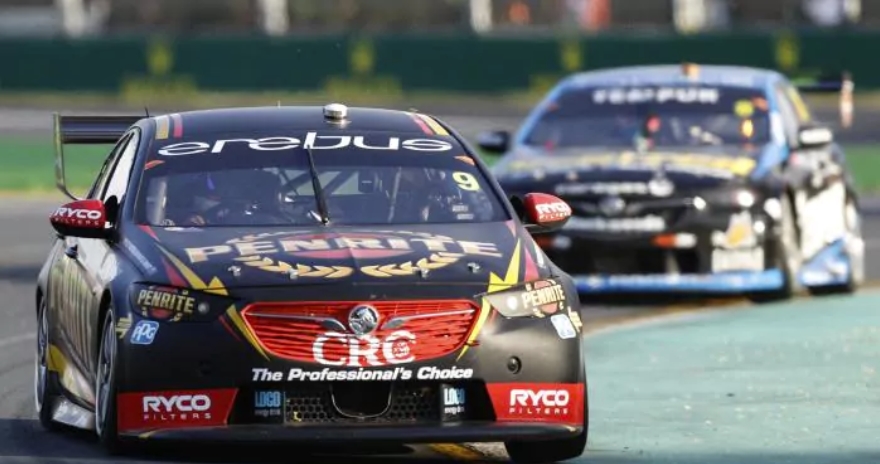 David Reynolds leads
Bathurst Champion David Reynolds made amends for what he described as blowing a golden opportunity to win a major with victory in the final race at the Coates Hire Melbourne 400.
Reynolds had let Shane van Gisbergen slip past him in the season opening Adelaide 500 when a victory was in sight, blaming himself for being 'too soft' and apologizing to his team.
There was no chance of a repeat in today's short sprint race when a late safety car made his job a little easier with a speedy Nick Percat and Jamie Whincup stalking from behind.
The Penrite Erebus Motorsport driver kept his cool to keep the rest at bay to the flag, becoming the fourth different winner for the weekend. Whincup was the most consistent with a third, second, win and third to win the Larry Perkins Trophy.
Reynolds got a great jump from the inside start line and despite Whincup trying to push him wide at turn one managed to sneak through underneath the seven-time Supercars Champion.
The trio ran line astern across the opening laps, with just 1.2 seconds between them when the Safety Car was called to retrieve James Golding's Holden on lap eight.
"It was a pretty good race," smiled Reynolds, who had criticized himself for giving away a win in Adelaide earlier this month but not driving aggressively enough.
"I got a good start and kind of just led the race from there. Everything went from there, there was no dramas. From the battle we had yesterday in the wet and dry conditions, it was a good way to finish."
While Reynolds finished just 14th in the dry-wet race yesterday evening, today's result marked Percat's second podium in 24 hours.
"The BJR guys have done a mega job since Adelaide," he said. "We knew we had a fast car from the test day, we had to rectify a few things. "Awesome few days, my best weekend with BJR by a long way, and in Supercars by a long way."
Chaz Mostert and Scott Pye ensured the top five finished as they started, while Scott McLaughlin improved from ninth to sixth – passing team-mate Fabian Coulthard in the process.
Coulthard appeared to let his faster team-mate through on lap seven before going on to finish seventh, while Michael Caruso, Garth Tander and Will Davison rounded out the top 10.
Championship leader Shane van Gisbergen was the hard charger, taking eight places on the opening lap as he sliced from last to an eventual 13th.
Wilson Security Racing GRM's Golding had a fiery finish to his race, literally. His Commodore caught fire on lap eight, forcing him to park it up and draw the safety car.
The next Supercars Championship event is the Tyrepower Tasmania SuperSprint at Symmons Plans Raceway in Launceston on April 6-8.
Results
| | | | | | |
| --- | --- | --- | --- | --- | --- |
| POS | # | DRIVER | TEAM | TIME | PTS |
| 1 | 9 | Reynolds | Erebus Motorsport | 25:58.677 | 50 |
| 2 | 8 | Percat | Brad Jones Racing | +1.008 | 46 |
| 3 | 1 | Whincup | Red Bull Holden Racing Australia | +1.911 | 43 |
| 4 | 55 | Mostert | Supercheap Auto Racing | +2.922 | 40 |
| 5 | 2 | S. Pye | Mobil 1 Boost Mobile Racing | +3.540 | 37 |
| 6 | 12 | Coulthard | Shell V-Power Racing Team | +4.263 | 34 |
| 7 | 17 | McLaughlin | Shell V-Power Racing Team | +4.758 | 32 |
| 8 | 23 | Caruso | Nissan Nismo | +5.149 | 30 |
| 9 | 33 | Tander | Wilson Security Racing GRM | +5.490 | 28 |
| 10 | 230 | Davison | Milwaukee Racing | +5.849 | 26 |
| 11 | 14 | Slade | Brad Jones Racing | +6.319 | 24 |
| 12 | 888 | Lowndes | Team Vortex | +6.664 | 23 |
| 13 | 97 | Van Gisbergen | Red Bull Holden Racing Australia | +6.985 | 22 |
| 14 | 7 | Heimgartner | Nissan Motorsport | +7.447 | 23 |
| 15 | 99 | A. de Pasquale | Erebus Motorsport | +8.486 | 18 |
| 16 | 78 | S. De Silvestro | Nissan Nismo | +9.673 | 19 |
| 17 | 5 | Winterbottom | The Bottle-O Racing Team | +9.741 | 18 |
| 18 | 56 | R. Stanaway | Tickford Racing | +10.648 | 17 |
| 19 | 35 | T. Hazelwood | Bigmate Racing | +11.474 | 16 |
| 20 | 21 | Blanchard | CoolDrive Racing | +11.482 | 15 |
| 21 | 19 | J. Le Brocq | TEKNO Woodstock Racing | +12.144 | 14 |
| 22 | 6 | C. Waters | Monster Energy Racing | +15.583 | 13 |
| 23 | 18 | Holdsworth | Preston Hire Racing | +2 Laps | 12 |
| NC | 34 | J. Golding | Wilson Security Racing GRM | +4 Laps | 0 |
| NC | 25 | Courtney | Mobil 1 Boost Mobile Racing | +10 Laps | 0 |
| NC | 15 | R. Kelly | Nissan Motorsport | +10 Laps | 0 |