Truex Jr. leads both Cup practice sessions at Martinsville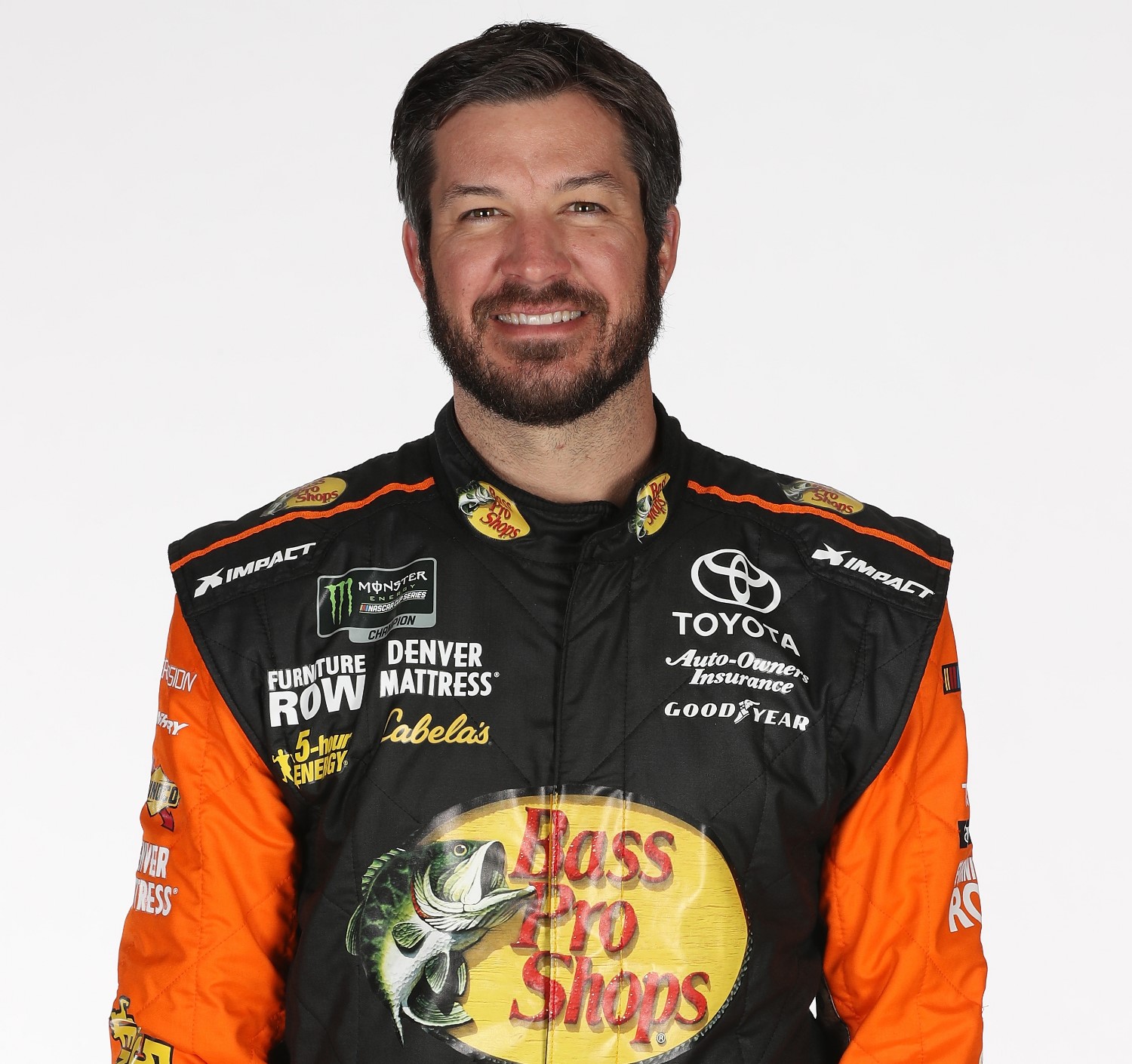 Truex Jr.
Martin Truex Jr. picked up where he left off last week at Auto Club Speedway, leading the first Cup Series practice at Martinsville in his Toyota with a speed of 95.752 MPH, topping Brad Keselowski's Ford by 0.022 seconds to lead the session. Toyota driver Kyle Busch was third, the Chevrolet of Ryan Newman fourth and Kurt Busch in a Ford fifth, meaning all three manufacturers were represented in the top 5.
Chase Elliott, returning to the scene of a near-win before he was spun by Denny Hamlin last fall, ran sixth. Kyle Larson was seventh, Hamlin eighth and teammates Joey Logano and Ryan Blaney rounded out the top 10 in the session.
Other notables include three-time 2018 winner Kevin Harvick in 15th and nine-time Martinsville winner Jimmie Johnson in 20th. Series Rookie of the Year candidates William Byron and Darrell Wallace, Jr. were 18th and 28th respectively.
Because Sunday's STP 500 is an impound race, most teams did not practice in qualifying trim in either session, preferring to qualify with the cars race-ready since no adjustments can be made. This follows a NASCAR mandate for a single inspection between qualifying and the start of the race, down from two separate trips through tech.
The second and final practice of the day went much the same as the first, with Truex's lap of 95.415 besting Keselowski's 95.280. Sophomore Daniel Suarez jumped to third on the board, followed by Kyle Busch and Newman in the top 5.
AJ Allmendinger, who's had some strong races at Martinsville, was sixth on the charts while Aric Almirola, another Martinsville specialist, slotted in in seventh. Also posting top 10 times were Jamie McMurray, Blaney and Clint Bowyer. Johnson continued to struggle, posting a speed of good for only 28th on the chart.
Tire wear looks to be a critical area to watch Sunday; Truex's lap times dropped by more than seven MPH over the course of the session. Amy Henderson reporting Live from Martinsville
Practice 1 Results
| | | | | | | |
| --- | --- | --- | --- | --- | --- | --- |
| Pos | Car | Driver | Team | Time | Speed | Behind |
| 1 | 78 | Martin Truex Jr. | 5-hour ENERGY/Bass Pro Shops Toyota | 19.776 | 95.752 | —.— |
| 2 | 2 | Brad Keselowski | Reese/DrawTite Ford | 19.798 | 95.646 | -0.022 |
| 3 | 18 | Kyle Busch | M&M's Caramel Toyota | 19.888 | 95.213 | -0.112 |
| 4 | 31 | Ryan Newman | eBay Motors Chevrolet | 19.891 | 95.199 | -0.115 |
| 5 | 41 | Kurt Busch | Haas Automation/Monster Energy Ford | 19.913 | 95.094 | -0.137 |
| 6 | 9 | Chase Elliott | NAPA Auto Parts Chevrolet | 19.915 | 95.084 | -0.139 |
| 7 | 42 | Kyle Larson | Credit One Bank/DC Solar Chevrolet | 19.919 | 95.065 | -0.143 |
| 8 | 11 | Denny Hamlin | FedEx Ground Toyota | 19.932 | 95.003 | -0.156 |
| 9 | 22 | Joey Logano | Shell Pennzoil Ford | 19.937 | 94.979 | -0.161 |
| 10 | 12 | Ryan Blaney | Menards/Libman Ford | 19.944 | 94.946 | -0.168 |
| 11 | 14 | Clint Bowyer | Haas Automation Demo Day Ford | 19.971 | 94.818 | -0.195 |
| 12 | 13 | Ty Dillon | GEICO Chevrolet | 19.973 | 94.808 | -0.197 |
| 13 | 47 | AJ Allmendinger | Kroger ClickList Chevrolet | 19.990 | 94.727 | -0.214 |
| 14 | 19 | Daniel Suarez | ARRIS Toyota | 20.002 | 94.671 | -0.226 |
| 15 | 4 | Kevin Harvick | Jimmy John's Ford | 20.020 | 94.585 | -0.244 |
| 16 | 1 | Jamie McMurray | First Data Chevrolet | 20.020 | 94.585 | -0.244 |
| 17 | 20 | Erik Jones | Circle K Toyota | 20.035 | 94.515 | -0.259 |
| 18 | 24 | William Byron # | Liberty University Chevrolet | 20.043 | 94.477 | -0.267 |
| 19 | 10 | Aric Almirola | Mobil 1 Ford | 20.046 | 94.463 | -0.270 |
| 20 | 48 | Jimmie Johnson | Lowe's for Pros Chevrolet | 20.067 | 94.364 | -0.291 |
| 21 | 3 | Austin Dillon | American Ethanol Chevrolet | 20.072 | 94.340 | -0.296 |
| 22 | 37 | Chris Buescher | Bush's Beans Chevrolet | 20.102 | 94.200 | -0.326 |
| 23 | 21 | Paul Menard | Motorcraft/Quick Lane Ford | 20.107 | 94.176 | -0.331 |
| 24 | 88 | Alex Bowman | Nationwide Chevrolet | 20.110 | 94.162 | -0.334 |
| 25 | 17 | Ricky Stenhouse Jr. | Fastenal Ford | 20.111 | 94.157 | -0.335 |
| 26 | 6 | Trevor Bayne | AdvoCare Ford | 20.113 | 94.148 | -0.337 |
| 27 | 38 | David Ragan | MDS Transport Ford | 20.114 | 94.143 | -0.338 |
| 28 | 43 | Darrell Wallace Jr. # | STP Chevrolet | 20.117 | 94.129 | -0.341 |
| 29 | 95 | Kasey Kahne | WRL General Contractors Chevrolet | 20.142 | 94.013 | -0.366 |
| 30 | 34 | Michael McDowell | A&W All American Food Ford | 20.171 | 93.877 | -0.395 |
| 31 | 23 | Gray Gaulding | Earthwater Toyota | 20.223 | 93.636 | -0.447 |
| 32 | 72 | Cole Whitt | TriStar Motorsports Chevrolet | 20.230 | 93.604 | -0.454 |
| 33 | 32 | Matt DiBenedetto | Can-Am/Wholey Ford | 20.265 | 93.442 | -0.489 |
| 34 | 15 | Ross Chastain(i) | ChampionMachinery.com Chevrolet | 20.330 | 93.143 | -0.554 |
| 35 | *55 | JJ Yeley(i) | Adirondack Tree Surgeons Chevrolet | 20.383 | 92.901 | -0.607 |
| 36 | 00 | Landon Cassill | USFRA.org/StarCom Fiber Chevrolet | 20.670 | 91.611 | -0.894 |
| 37 | *96 | DJ Kennington | Gordon Brothers Toyota | 20.699 | 91.483 | -0.923 |
| 38 | 51 | Harrison Rhodes | Custom Aircraft Cabinets Chevrolet | 20.711 | 91.430 | -0.935 |
Practice 2 Results
| | | | | | | |
| --- | --- | --- | --- | --- | --- | --- |
| Pos | Car | Driver | Team | Time | Speed | Behind |
| 1 | 78 | Martin Truex Jr. | 5-hour ENERGY/Bass Pro Shops Toyota | 19.846 | 95.415 | —.— |
| 2 | 2 | Brad Keselowski | Reese/DrawTite Ford | 19.874 | 95.280 | -0.028 |
| 3 | 19 | Daniel Suarez | ARRIS Toyota | 19.882 | 95.242 | -0.036 |
| 4 | 18 | Kyle Busch | M&M's Caramel Toyota | 19.907 | 95.122 | -0.061 |
| 5 | 31 | Ryan Newman | eBay Motors Chevrolet | 19.984 | 94.756 | -0.138 |
| 6 | 47 | AJ Allmendinger | Kroger ClickList Chevrolet | 19.986 | 94.746 | -0.140 |
| 7 | 10 | Aric Almirola | Mobil 1 Ford | 19.994 | 94.708 | -0.148 |
| 8 | 1 | Jamie McMurray | First Data Chevrolet | 20.008 | 94.642 | -0.162 |
| 9 | 12 | Ryan Blaney | Menards/Libman Ford | 20.012 | 94.623 | -0.166 |
| 10 | 14 | Clint Bowyer | Haas Automation Demo Day Ford | 20.018 | 94.595 | -0.172 |
| 11 | 22 | Joey Logano | Shell Pennzoil Ford | 20.018 | 94.595 | -0.172 |
| 12 | 42 | Kyle Larson | Credit One Bank/DC Solar Chevrolet | 20.047 | 94.458 | -0.201 |
| 13 | 41 | Kurt Busch | Haas Automation/Monster Energy Ford | 20.048 | 94.453 | -0.202 |
| 14 | 13 | Ty Dillon | GEICO Chevrolet | 20.050 | 94.444 | -0.204 |
| 15 | 9 | Chase Elliott | NAPA Auto Parts Chevrolet | 20.051 | 94.439 | -0.205 |
| 16 | 3 | Austin Dillon | American Ethanol Chevrolet | 20.065 | 94.373 | -0.219 |
| 17 | 21 | Paul Menard | Motorcraft/Quick Lane Ford | 20.077 | 94.317 | -0.231 |
| 18 | 11 | Denny Hamlin | FedEx Ground Toyota | 20.094 | 94.237 | -0.248 |
| 19 | 24 | William Byron # | Liberty University Chevrolet | 20.097 | 94.223 | -0.251 |
| 20 | 38 | David Ragan | MDS Transport Ford | 20.119 | 94.120 | -0.273 |
| 21 | 88 | Alex Bowman | Nationwide Chevrolet | 20.120 | 94.115 | -0.274 |
| 22 | 6 | Trevor Bayne | AdvoCare Ford | 20.125 | 94.092 | -0.279 |
| 23 | 20 | Erik Jones | Circle K Toyota | 20.127 | 94.083 | -0.281 |
| 24 | 43 | Darrell Wallace Jr. # | STP Chevrolet | 20.130 | 94.069 | -0.284 |
| 25 | 4 | Kevin Harvick | Jimmy John's Ford | 20.133 | 94.055 | -0.287 |
| 26 | 37 | Chris Buescher | Bush's Beans Chevrolet | 20.157 | 93.943 | -0.311 |
| 27 | 17 | Ricky Stenhouse Jr. | Fastenal Ford | 20.162 | 93.919 | -0.316 |
| 28 | 48 | Jimmie Johnson | Lowe's for Pros Chevrolet | 20.181 | 93.831 | -0.335 |
| 29 | 72 | Cole Whitt | TriStar Motorsports Chevrolet | 20.238 | 93.567 | -0.392 |
| 30 | 95 | Kasey Kahne | WRL General Contractors Chevrolet | 20.241 | 93.553 | -0.395 |
| 31 | 34 | Michael McDowell | A&W All American Food Ford | 20.299 | 93.285 | -0.453 |
| 32 | 32 | Matt DiBenedetto | Can-Am/Wholey Ford | 20.303 | 93.267 | -0.457 |
| 33 | 15 | Ross Chastain(i) | ChampionMachinery.com Chevrolet | 20.309 | 93.240 | -0.463 |
| 34 | 23 | Gray Gaulding | Earthwater Toyota | 20.364 | 92.988 | -0.518 |
| 35 | 00 | Landon Cassill | USFRA.org/StarCom Fiber Chevrolet | 20.400 | 92.824 | -0.554 |
| 36 | *96 | DJ Kennington | Gordon Brothers Toyota | 20.538 | 92.200 | -0.692 |
| 37 | *55 | JJ Yeley(i) | Adirondack Tree Surgeons Chevrolet | 20.632 | 91.780 | -0.786 |
| 38 | 51 | Harrison Rhodes | Custom Aircraft Cabinets Chevrolet | 20.743 | 91.289 | -0.897 |