Vettel tops third practice in wet/dry Australia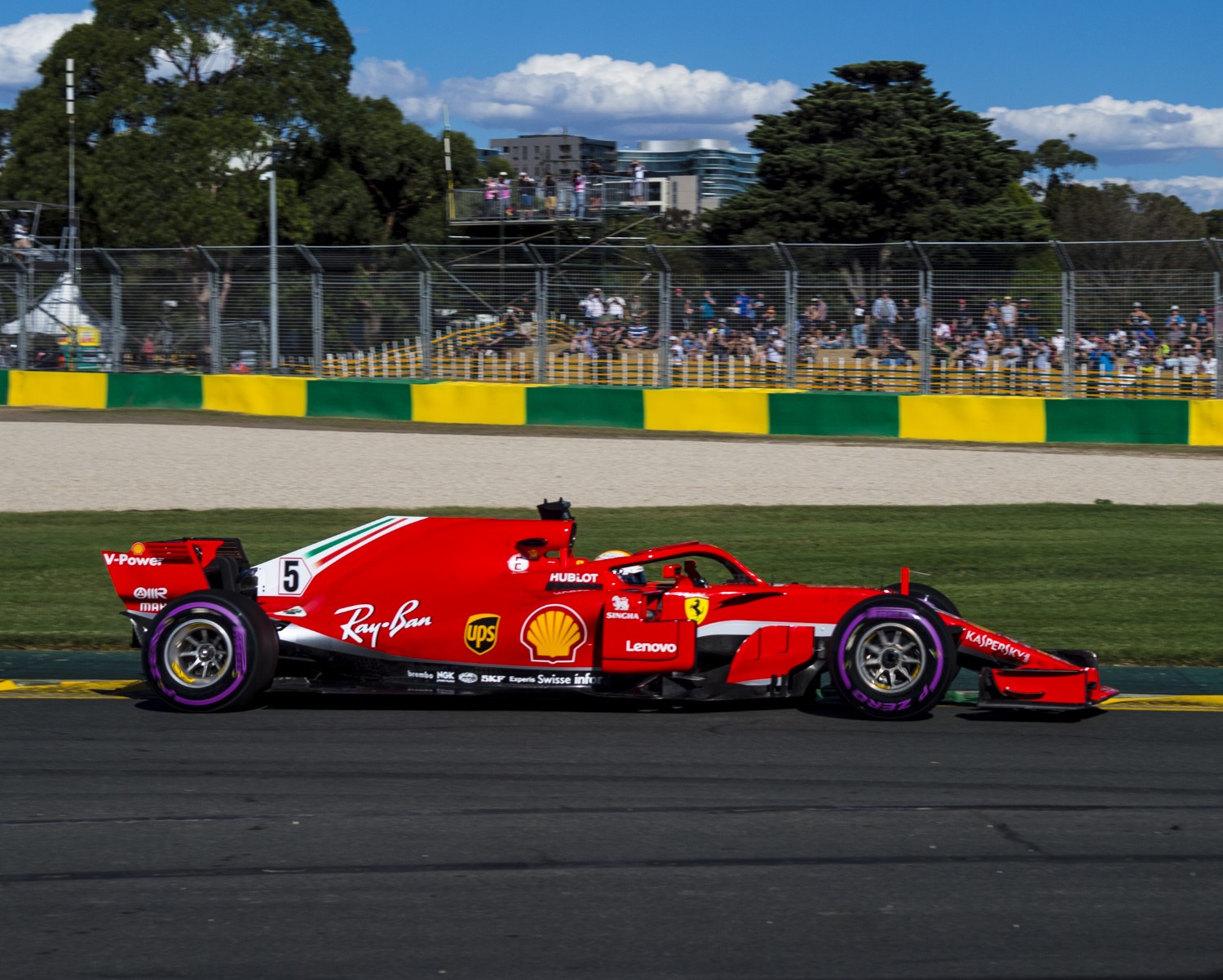 Vettel on Ultrasofts
In the end it will be meaningless but Sebastian Vettel timed his fastest lap perfectly on a drying track in Melbourne to lead a Ferrari one-two in final practice for the Formula 1 season-opening Australian Grand Prix.
The Ferrari driver slapped on the ultrasoft tire in the dying seconds of the hour-long session that resulted in him going fastest at the flag with a 1m26.067s – more than two seconds clear of the rest of the field.
Because of the rain, most of the running was on intermediates on Saturday morning.
Teammate Kimi Raikkonen and Sauber's Marcus Ericsson were second and third quickest, having also run the ultrasoft right at the end of the session, while Max Verstappen was the best of those to have run the grooved Intermediates.
Wet conditions thanks to the morning thunderstorms meant the first 10 minutes was mostly exploratory running on the full wets.
Lance Stroll's running was limited by a gearbox repair and the Force Indias set no time.
FP3 Times
| | | | | | |
| --- | --- | --- | --- | --- | --- |
| POS | DRIVER | CAR | TIME | BEHIND | LAPS |
| 1 | Sebastian Vettel | Ferrari | 1m26.067s | 0.000s | 15 |
| 2 | Kimi Raikkonen | Ferrari | 1m28.499s | 2.432s | 13 |
| 3 | Marcus Ericsson | Sauber/Ferrari | 1m28.890s | 2.823s | 14 |
| 4 | Max Verstappen | Red Bull/Renault | 1m31.680s | 5.613s | 8 |
| 5 | Carlos Sainz | Renault | 1m33.172s | 7.105s | 11 |
| 6 | Daniel Ricciardo | Red Bull/Renault | 1m34.043s | 7.976s | 14 |
| 7 | Valtteri Bottas | Mercedes | 1m34.174s | 8.107s | 14 |
| 8 | Lewis Hamilton | Mercedes | 1m34.225s | 8.158s | 7 |
| 9 | Stoffel Vandoorne | McLaren/Renault | 1m34.233s | 8.166s | 15 |
| 10 | Fernando Alonso | McLaren/Renault | 1m34.298s | 8.231s | 13 |
| 11 | Pierre Gasly | Toro Rosso/Honda | 1m34.990s | 8.923s | 16 |
| 12 | Brendon Hartley | Toro Rosso/Honda | 1m35.438s | 9.371s | 16 |
| 13 | Sergey Sirotkin | Williams/Mercedes | 1m35.589s | 9.522s | 16 |
| 14 | Lance Stroll | Williams/Mercedes | 1m35.828s | 9.761s | 8 |
| 15 | Romain Grosjean | Haas/Ferrari | 1m36.171s | 10.104s | 6 |
| 16 | Charles Leclerc | Sauber/Ferrari | 1m36.448s | 10.381s | 12 |
| 17 | Kevin Magnussen | Haas/Ferrari | 1m36.807s | 10.740s | 7 |
| 18 | Nico Hulkenberg | Renault | 1m38.482s | 12.415s | 8 |
| 19 | Esteban Ocon | Force India/Mercedes | – | – | 1 |
| 20 | Sergio Perez | Force India/Mercedes | – | – | 1 |