Hamilton tops Verstappen in 2nd practice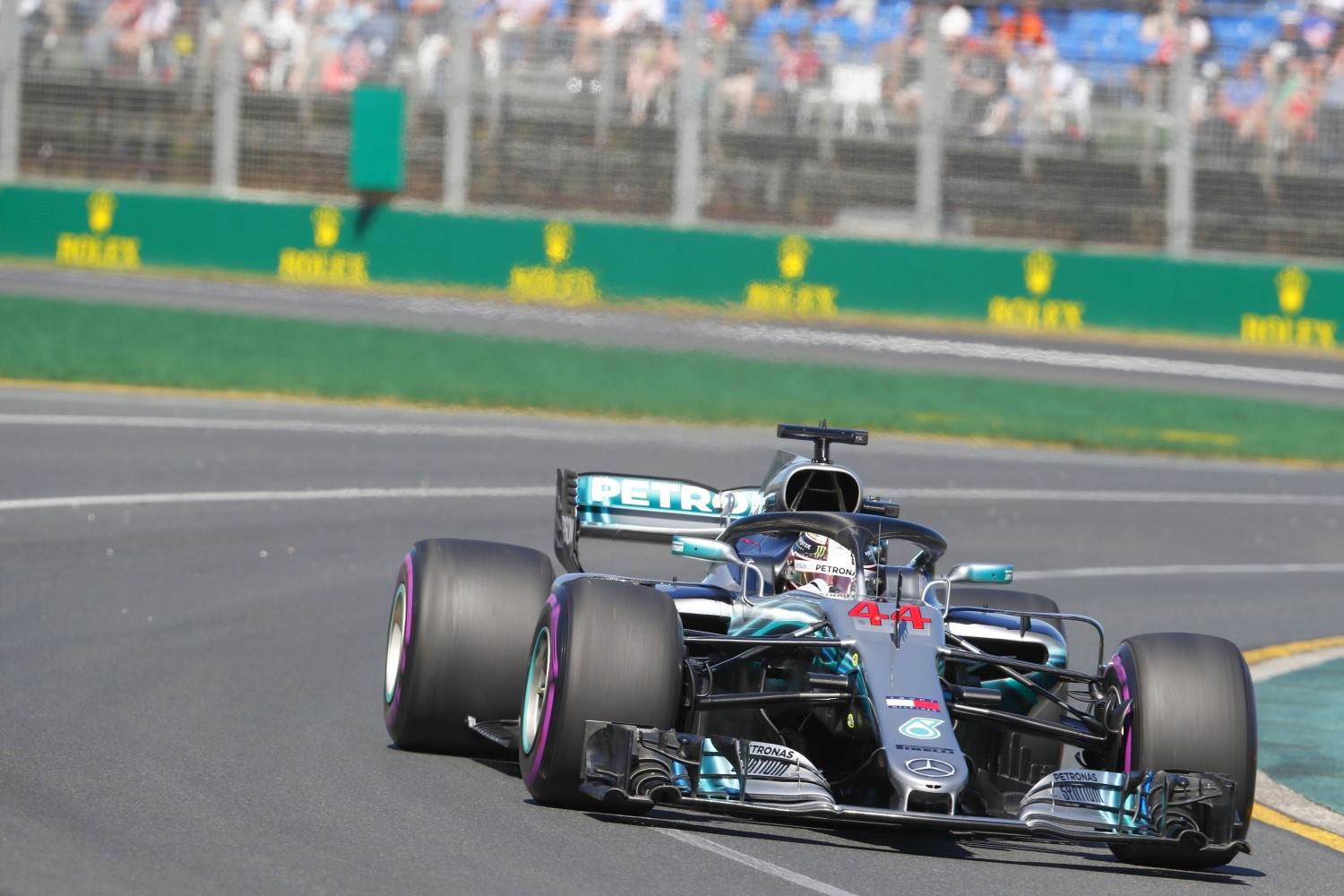 Lewis Hamilton
Lewis Hamilton topped Max Verstappen to lead both of Friday's practice sessions for the 2018 Formula 1 season's curtain-raising Australian Grand Prix.
Hamilton time of 1m23.931s was good enough to keep Mercedes ahead of Red Bull around Melbourne's Albert Park circuit.
Hamilton used the softest Pirellis available, the ultrasofts, to set his time of 1m23.931s.
Verstappen used a set of ultrasofts to end up 0.228s behind the Mercedes.
Kimi Raikkonen was fourth, 0.283s off the pace and a couple of tenths clear of Ferrari teammate Sebastian Vettel.
The Silvers Arrows set their best times on the ultrasofts, as did Verstappen and Raikkonen, while Vettel's was on the supersofts.
Romain Grosjean was a very impressive with 6th best time on opening day of the season just 0.717s slower than Hamilton and that put the American team comfortably clear of its midfield rivals.
McLaren was next in the best-of-the-rest scrap, with Fernando Alonso eighth-fastest ahead of the second Haas of Kevin Magnussen and second McLaren of Stoffel Vandoorne.
Kimi Raikkonen said he was "scared to move" in his near-miss incident with Valtteri Bottas.
The pair nearly collided early on in the session, as a fast-approaching Bottas met Raikkonen under braking at Turn 3 and was forced to take evasive action, running wide and through the gravel.
Raikkonen was summoned to the stewards over the incident for blocking the Mercedes driver, though he insists he had no way of knowing exactly where his fellow countryman was. The stewards later confirmed no further would action would be taken, after it was deemed Raikkonen had not "unnecessarily impeded" Bottas.
"I didn't see anything, that's the problem," Raikkonen explained. "I knew he was somewhere there but I could not see him at all. Obviously the team tried to tell me, but the call came quite late when they told me.
"I saw the smoke and I knew he was somewhere, but I couldn't see him at all, so I was scared to move either way. For sure it was not ideal for him but I couldn't move because I couldn't see him."
Reflecting on the incident, Bottas said he would have been surprised to see Raikkonen get a penalty: "He was on a cool down lap and I was expecting him to move out of the way. But he stayed on the line and when I got close to him I had a lock up."
Quotes
Lewis Hamilton
Coming to the first race, you really have no idea what it's going to be like. You don't how you're going to feel physically, you don't know how the tires are going to react to the circuit. But we started on the right foot today, we got through everything we needed. It closed up a little bit in FP2 in terms of the gap between us all, but that's exciting. It's more challenging for me to try and eke out a little more from the car. It's been such a nice day, Albert Park is a really beautiful place to be and work when the weather is like this. The tires definitely didn't seem to have the same issue that we had in Barcelona where they were blistering, so it felt a lot more normal. Obviously the car is quicker here than it was last year, so it feels better everywhere. Turns 11 and 12 are crazy, we're not even braking into that corner, it's insane. It's going to rain tomorrow and on Sunday as far as I'm aware. I've not driven in the rain yet on these tires, so that'll be interesting.
Valtteri Bottas
FP1 was tricky for me, we had a bit of an issue with the suspension and also with the fuel system, so it was difficult to get a good comparison. I don't think these issues are something to worry about, just something we discovered in the session. In second practice the car felt a lot better but there's still more to unlock. I have to say thank you to the team because we are looking strong at this point, so I think it's a good start. It's good to be back on track and go racing. It's looking really close between us, Ferrari and Red Bull but that was more or less expected. Let's see what tomorrow brings. We got some information for the long runs if it's a dry race, we got some tire data and we can see that a lot of things are behaving differently to testing in Barcelona because it's much warmer and it's a different tarmac. We've definitely learned a lot and we'll keep on learning.
James Allison
It was a good day. We had a program of finding out how the tires behaved and we've been able to work through that without any drama. It's brilliant as always after the winter testing to actually be racing again and to be finding out for real where our car stands. If we were in any doubt before, we're in no doubt now that it's going to be a tight weekend with both Ferrari and Red Bull. But we're looking forward to the fight tomorrow and again on Sunday.
FP2 Times
| | | | | | |
| --- | --- | --- | --- | --- | --- |
| POS | DRIVER | CAR | TIME | BEHIND | LAPS |
| 1 | Lewis Hamilton | Mercedes | 1m23.931s | 0.000s | 35 |
| 2 | Max Verstappen | Red Bull/Renault | 1m24.058s | 0.127s | 34 |
| 3 | Valtteri Bottas | Mercedes | 1m24.159s | 0.228s | 34 |
| 4 | Kimi Raikkonen | Ferrari | 1m24.214s | 0.283s | 39 |
| 5 | Sebastian Vettel | Ferrari | 1m24.451s | 0.520s | 38 |
| 6 | Romain Grosjean | Haas/Ferrari | 1m24.648s | 0.717s | 34 |
| 7 | Daniel Ricciardo | Red Bull/Renault | 1m24.721s | 0.790s | 28 |
| 8 | Fernando Alonso | McLaren/Renault | 1m25.200s | 1.269s | 28 |
| 9 | Kevin Magnussen | Haas/Ferrari | 1m25.246s | 1.315s | 30 |
| 10 | Stoffel Vandoorne | McLaren/Renault | 1m25.285s | 1.354s | 34 |
| 11 | Carlos Sainz | Renault | 1m25.390s | 1.459s | 35 |
| 12 | Sergio Perez | Force India/Mercedes | 1m25.413s | 1.482s | 30 |
| 13 | Nico Hulkenberg | Renault | 1m25.463s | 1.532s | 35 |
| 14 | Lance Stroll | Williams/Mercedes | 1m25.543s | 1.612s | 32 |
| 15 | Esteban Ocon | Force India/Mercedes | 1m25.888s | 1.957s | 33 |
| 16 | Brendon Hartley | Toro Rosso/Honda | 1m25.925s | 1.994s | 41 |
| 17 | Pierre Gasly | Toro Rosso/Honda | 1m25.945s | 2.014s | 39 |
| 18 | Sergey Sirotkin | Williams/Mercedes | 1m25.974s | 2.043s | 37 |
| 19 | Marcus Ericsson | Sauber/Ferrari | 1m26.814s | 2.883s | 31 |
| 20 | Charles Leclerc | Sauber/Ferrari | 1m26.815s | 2.884s | 35 |