Mercedes buries competition in opening Australia practice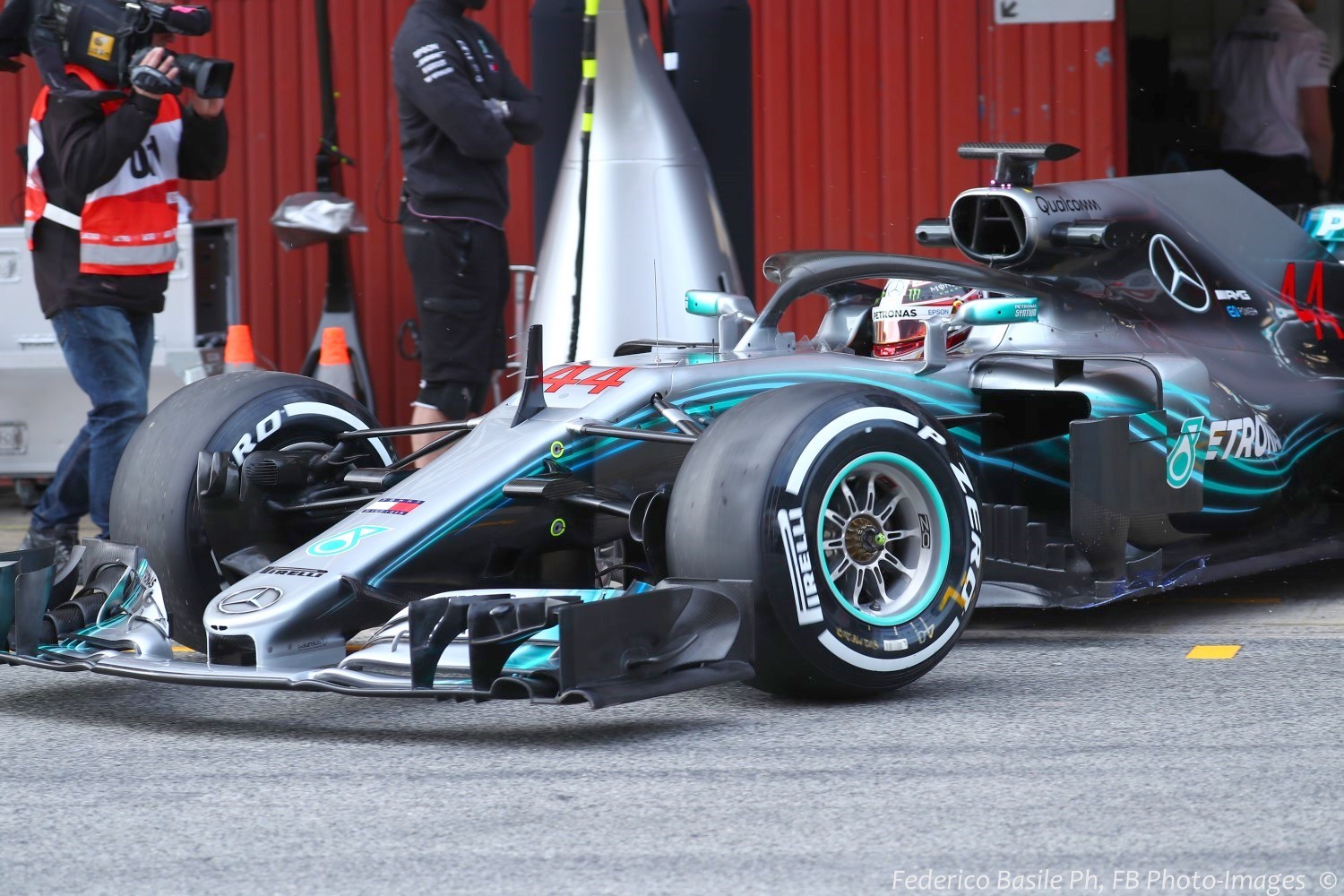 Hamilton easily tops Bottas
While it is still too early to tell who will be third on down on the F1 grid this year, there is little doubt who will be 1st and 2nd and that will be the Mercedes drivers. Three other teams run equal Mercedes engines (all customer engines in F1 must be equal to the factory team) but no one else has the Aldo Costa designed car.
Lewis Hamilton beat his teammate Valtteri Bottas by 0.551s to top opening practice for the Australian GP with a lap of 1m24.026s.
Hamilton's fastest lap of 1:24.026 was two-tenths faster than the best lap time from FP1 in 2017 at Albert Park, with the time done using the Ultrasoft compound tire.
Max Verstappen led Red Bull's charge in third place, finishing seven-tenths of a second back from Hamilton, while the Ferrari pair of Kimi Raikkonen and Sebastian Vettel took fourth and fifth place. All three drivers recorded their fastest laps on the Supersoft, with Ferrari completing no running at all on the Ultrasoft, which is worth 3 to 4 tenths.
Daniel Ricciardo finished sixth in the second Red Bull ahead of Romain Grosjean, who continued Haas' impressive form from testing to finish as the top midfield driver.
Rain is forecast for qualifying Saturday so practice times will be out the window should Saturday prove to be wet.
FP1 Results
| | | | | | |
| --- | --- | --- | --- | --- | --- |
| POS | DRIVER | CAR | TIME | BEHIND | LAPS |
| 1 | Lewis Hamilton | Mercedes | 1m24.026s | 0.000s | 27 |
| 2 | Valtteri Bottas | Mercedes | 1m24.577s | 0.551s | 29 |
| 3 | Max Verstappen | Red Bull/Renault | 1m24.771s | 0.745s | 26 |
| 4 | Kimi Raikkonen | Ferrari | 1m24.875s | 0.849s | 23 |
| 5 | Sebastian Vettel | Ferrari | 1m24.995s | 0.969s | 22 |
| 6 | Daniel Ricciardo | Red Bull/Renault | 1m25.063s | 1.037s | 25 |
| 7 | Romain Grosjean | Haas/Ferrari | 1m25.730s | 1.704s | 24 |
| 8 | Fernando Alonso | McLaren/Renault | 1m25.896s | 1.870s | 16 |
| 9 | Carlos Sainz | Renault | 1m25.922s | 1.896s | 23 |
| 10 | Stoffel Vandoorne | McLaren/Renault | 1m26.482s | 2.456s | 15 |
| 11 | Pierre Gasly | Toro Rosso/Honda | 1m26.494s | 2.468s | 25 |
| 12 | Sergey Sirotkin | Williams/Mercedes | 1m26.536s | 2.510s | 25 |
| 13 | Nico Hulkenberg | Renault | 1m26.583s | 2.557s | 25 |
| 14 | Esteban Ocon | Force India/Mercedes | 1m26.605s | 2.579s | 30 |
| 15 | Lance Stroll | Williams/Mercedes | 1m26.636s | 2.610s | 30 |
| 16 | Sergio Perez | Force India/Mercedes | 1m26.767s | 2.741s | 26 |
| 17 | Kevin Magnussen | Haas/Ferrari | 1m27.035s | 3.009s | 13 |
| 18 | Brendon Hartley | Toro Rosso/Honda | 1m27.745s | 3.719s | 16 |
| 19 | Marcus Ericsson | Sauber/Ferrari | 1m27.964s | 3.938s | 28 |
| 20 | Charles Leclerc | Sauber/Ferrari | 1m28.853s | 4.827s | 28 |