Penske team 1-2-3 in Barber test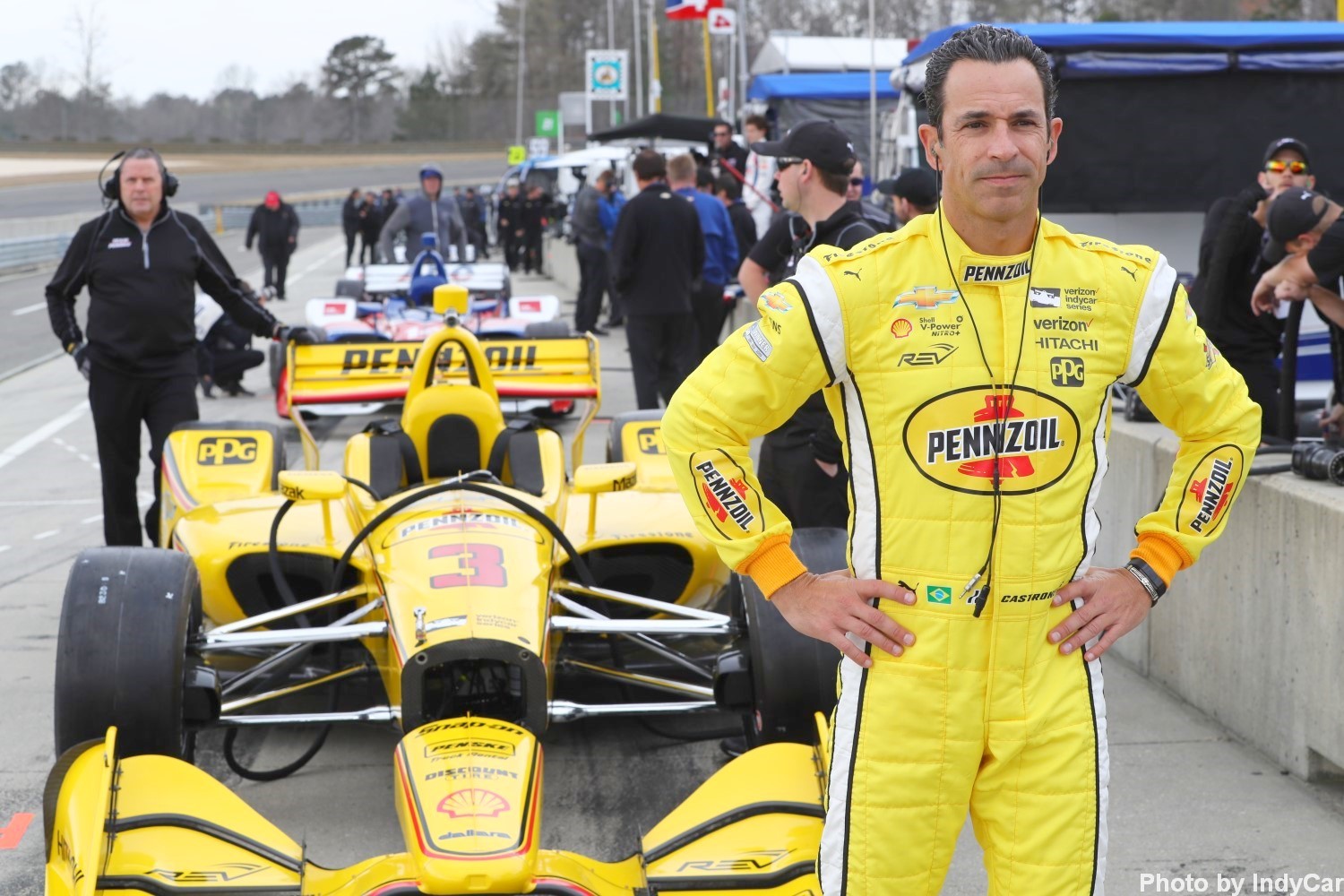 Helio Castroneves
Helio Castroneves was back as a Verizon IndyCar Series driver, if only for the day.
The three-time Indianapolis 500 winner was with Team Penske for an open test at Barber Motorsports Park today as he prepares to compete in the INDYCAR Grand Prix at Indianapolis Motor Speedway on May 12.
"It's awesome," said Castroneves, who is racing full time for Team Penske's sports car program this season. "I'm so thankful to Roger (Penske) for letting me have this test to learn about the new car. The new car is really edgy on entry to the corners, but at the end of day, it's faster, which makes it fun. Now I'm starting to sort it out and understand the tires but the whole scenario."
The one-day test on the 2.3-mile permanent road course was Castroneves' first chance to drive the 2018 Indy car, which with its new universal aero kit acts very differently from the car he last drove at Sonoma Raceway in September. The rust didn't show as the Brazilian posted the third-fastest lap of the morning session at 1 minute, 8.3155 seconds (121.022 mph).
Team Penske dominated the day that was abbreviated by strong winds and rain in the afternoon. Josef Newgarden, the defending Honda Indy Grand Prix of Alabama race winner and reigning Verizon IndyCar Series champion was fastest for the day with a lap of 1:07.9793 (121.802 mph) in the No. 1 Hitachi Team Penske Chevrolet. Will Power was second in the No. 12 Verizon Team Penske Chevrolet (1:08.1536, 121.490 mph).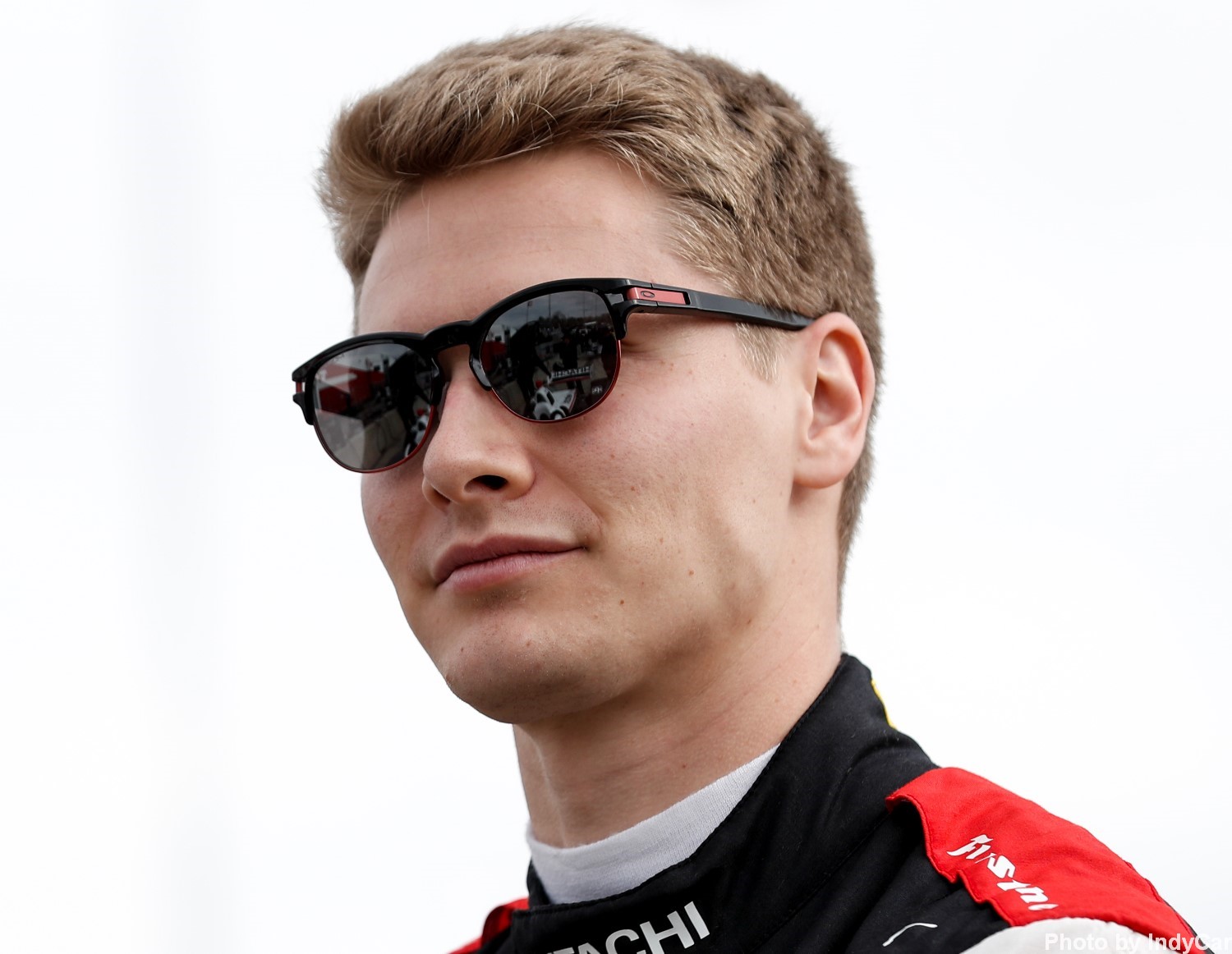 Newgarden fastest on this overcast then wet day
Tony Kanaan and Helio CastronevesAll 24 drivers on hand turned laps in the morning. Only Castroneves ran in the light rain in the afternoon for a paltry eight laps. While he loved the return to Barber, the day was bittersweet for the winner of the inaugural race at the track in 2010. The 42-year-old won't be competing in the race on April 27, focusing instead on the INDYCAR Grand Prix and 102nd Indianapolis 500 presented by PennGrade Motor Oil in May.
"It's hard to come here and know that when the team comes back you won't be racing," said Castroneves. "I accepted the challenge of this new chapter in my life, but it's great to get familiar with the car before the Indy 500. That's the big one."
Power, Castroneves' teammate since 2009, welcomed the return of his friend to the team drivers' lounge.
"He has the same sense of humor as me," Power said. "He and I always team up and give the other guys trouble. I forgot how much fun it is having Helio in the room. Can't wait for him to be around for the month of May."
Results
| | | | | | | | |
| --- | --- | --- | --- | --- | --- | --- | --- |
| Pos | Car | Driver Name | Engine | Session | Time | Speed | Laps |
| 1 | 1 | Newgarden, Josef | CHEVY | Session 1 | 01:07.9793 | 121.802 | 18 |
| 2 | 12 | Power, Will | CHEVY | Session 1 | 01:08.1536 | 121.490 | 19 |
| 3 | 3 | Castroneves, Helio | CHEVY | Session 1 | 01:08.3155 | 121.202 | 41 |
| 4 | 18 | Bourdais, Sebastien | HONDA | Session 1 | 01:08.3820 | 121.084 | 22 |
| 5 | 19 | Claman De Melo, Zachary (R) | HONDA | Session 1 | 01:08.5613 | 120.768 | 21 |
| 6 | 30 | Sato, Takuma | HONDA | Session 1 | 01:08.6335 | 120.641 | 11 |
| 7 | 28 | Hunter-Reay, Ryan | HONDA | Session 1 | 01:08.6367 | 120.635 | 13 |
| 8 | 9 | Dixon, Scott | HONDA | Session 1 | 01:08.6870 | 120.547 | 23 |
| 9 | 22 | Pagenaud, Simon | CHEVY | Session 1 | 01:08.7043 | 120.516 | 25 |
| 10 | 26 | Veach, Zach (R) | HONDA | Session 1 | 01:08.8388 | 120.281 | 25 |
| 11 | 15 | Rahal, Graham | HONDA | Session 1 | 01:08.9008 | 120.173 | 12 |
| 12 | 27 | Rossi, Alexander | HONDA | Session 1 | 01:08.9116 | 120.154 | 20 |
| 13 | 4 | Leist, Matheus (R) | CHEVY | Session 1 | 01:09.1066 | 119.815 | 25 |
| 14 | 59 | Chilton, Max | CHEVY | Session 1 | 01:09.2126 | 119.631 | 36 |
| 15 | 10 | Jones, Ed | HONDA | Session 1 | 01:09.2330 | 119.596 | 24 |
| 16 | 14 | Kanaan, Tony | CHEVY | Session 1 | 01:09.3859 | 119.333 | 13 |
| 17 | 98 | Andretti, Marco | HONDA | Session 1 | 01:09.4359 | 119.247 | 17 |
| 18 | 5 | Hinchcliffe, James | HONDA | Session 1 | 01:09.4366 | 119.245 | 29 |
| 19 | 6 | Wickens, Robert (R) | HONDA | Session 1 | 01:09.5237 | 119.096 | 27 |
| 20 | 23 | Kimball, Charlie | CHEVY | Session 1 | 01:09.6123 | 118.944 | 22 |
| 21 | 20 | King, Jordan (R) | CHEVY | Session 1 | 01:09.6901 | 118.812 | 20 |
| 22 | 21 | Pigot, Spencer | CHEVY | Session 1 | 01:10.0997 | 118.117 | 14 |
| 23 | 88 | Chaves, Gabby | CHEVY | Session 1 | 01:12.1430 | 114.772 | 4 |
| 24 | 32 | Binder, Rene (R) | CHEVY | Session 1 | 01:12.1778 | 114.717 | 29 |