MotoGP, like F1, has proper TV deals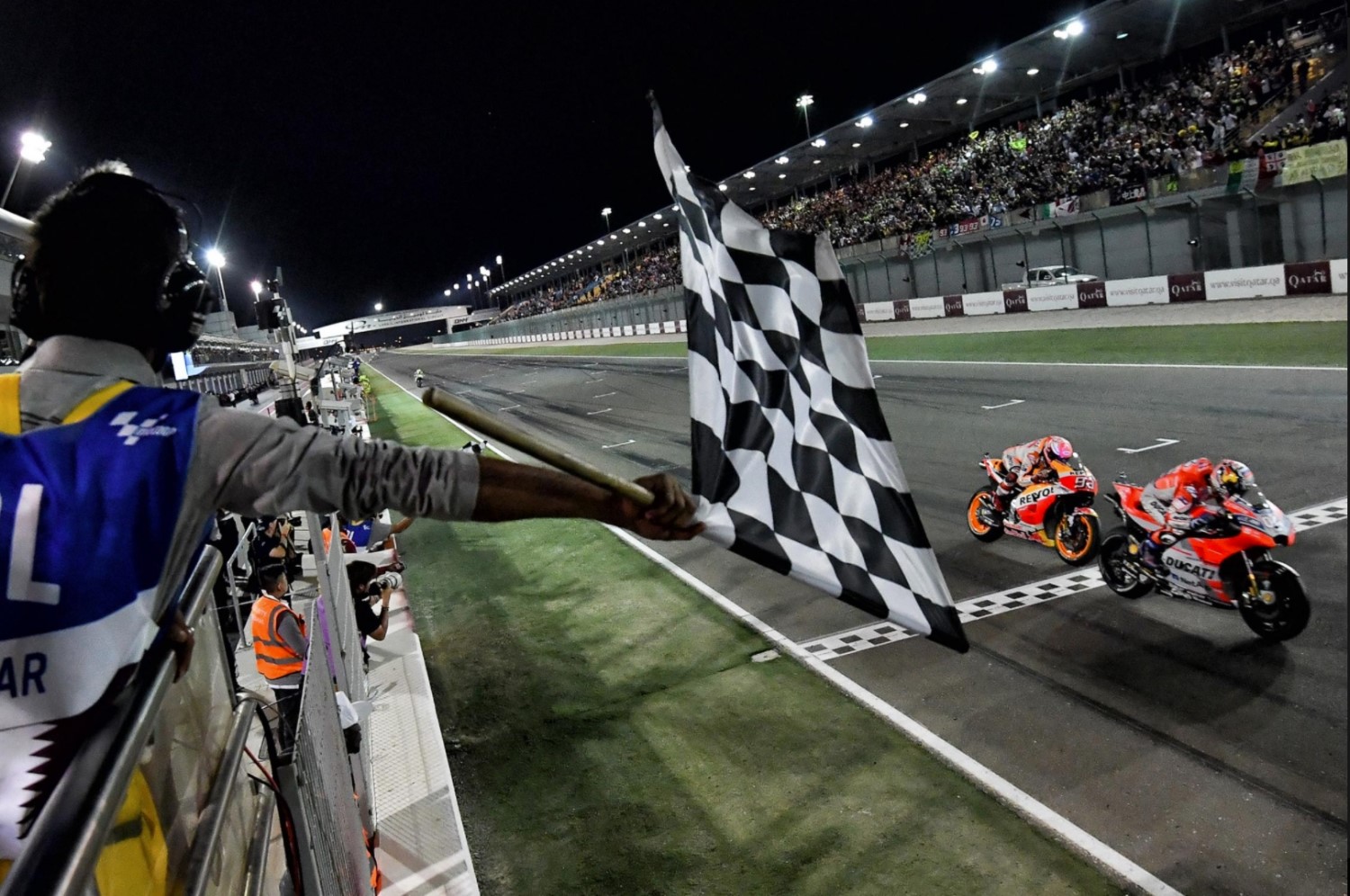 While MotoGP and F1 sign over 100 TV deals a year, IndyCar is lucky to have one or two
IndyCar is looking to sign one new TV deal with NBC. One. Talk about totally missing the boat.
Much like Liberty Media and Formula 1, Dorna, the motorcycle racing series' managing body, in 2018 sees an expansion from 91 to 101 broadcasters around the world, and you can bet that all of them liked what they saw on Sunday.
The final laps of the race featured several passes among the top six riders, with the action surrounding Dovizioso, Marquez, and Valentino Rossi heating up as the laps wound down. In the end, it came down to the final corner on the final lap, when cameras struggled to differentiate between the Honda and Ducati riders because they were so close to each other that they looked like one motorcycle.
This is the global TV empire that Bernie Ecclestone built for F1 while IndyCar was, and remains, asleep at the wheel
Country
TV Network
Language
Albania
Top Channel
Albanian
Andorra
Movistar F1
Spanish
Armenia
Setanta Sports +
Russian
Asia
STAR Sports Channels
English
Fox Sports Asia Channels
English
Australia
Network Ten
English
Fox Sports
English
Austria
ORF eins
German
Azerbaijan
Idman TV
Azerbaijani
Setanta Sports +
Russian
Belarus
Setanta Sports +
Russian
Belgium
Play Sports
Dutch
Sporza
Dutch
RTBF La Deux
French
Bosnia and Herzegovina
Sport Klub
Serbian
Bulgaria
Diema Sport
Bulgarian
Diema Sport 2
Bulgarian
Brazil
Globo
Portuguese
SporTV
Portuguese
Canada
RDS / RDS2 / RDS Info
French
TSN / TSN2 / TSN3 / TSN4 / TSN5
English
Central Asia
Setanta Sports +
Russian
China
Various regional broadcasters
Chinese
Croatia
Arena Sport
Croatian
Czech Republic
Sport 1
Czech/Slovak
Sport 2
Sport 3
Cyprus
CytaVision
Greek
Denmark
TV3+/TV3+ HD
Danish
Estonia
TV6
Estonian
Viasat Sport Baltic
Estonian, Latvian and Lithuanian
Finland
MTV3
Finnish
C More Max
Finnish
Sub
Finnish
France
Canal+[24]
French
Canal+ Sport
French
TF1
French
Georgia
Setanta Sports +
Russian
Germany
n-tv[25]
German
RTL Television
German
Greece
OTE Sport
Greek
ERT
Greek
Hungary
M4 Sport
Hungarian
Iceland
Stöð 2 Sport
Icelandic
Ireland
Eir Sport 1
English
Channel 4 UK
English
Sky Sports F1
English
Israel
Sport 5
Hebrew
Italy
Sky Sport F1
Italian
TV8
Italian
RAI
Italian
Japan
Fuji TV Next
Japanese
DAZN
Japanese
Latin America(except Brazil)
Fox Sports LatAm Channels
Spanish
Latvia
TV6
Latvian
Viasat Sport Baltic
Latvian, Estonian and Lithuanian
Liechtenstein
SRG SSR
German, French and Italian
Lithuania
TV6
Lithuanian
Viasat Sport Baltic
Lithuanian
Malta
GO
English
Middle East and North Africa
beIN Sports
Arabic / English
Macedonia
Sport Klub
Serbian
Moldova
Setanta Sports +
Russian
Montenegro
Sport Klub
Serbian
Netherlands
Ziggo Sport Totaal
Dutch
Ziggo Sport Go
Dutch
Ziggo Sport
Dutch
New Zealand
Sky Sport
English
Norway
Viasat Motor and Viasat Sport
Norwegian / Swedish
Viaplay
Norwegian / Swedish
Viasat 4
Norwegian
Papua New Guinea
Fox Sports Asia Channels
English
Poland
Eleven Sports
Polish
Puerto Rico
ABC
English
ESPN
ESPN2
Univision Deportes Network
Spanish
Portugal
SportTV[36]
Portuguese
Romania
Dolce Sport
Romanian
Digi Sport
Russia
Match TV
Russian
Match! Arena
San Marino
Sky Sport F1
Italian
RAI
Italian
Serbia
Sport Klub
Serbian
Slovakia
Sport 1
Czech/Slovak
Sport 2
South Korea
SBS Sports
Korean
Spain
Movistar F1
Spanish
Sub-Saharan Africa
Supersport
English and Portuguese
Canal+ Sport
French
Sweden
Viasat Motor
Swedish
Switzerland
SRG SSR
German, French and Italian
Canal+
French
Canal+ Sport
Turkey
S Sport
Turkish
United Kingdom
Channel 4
English
Sky Sports Mix
Sky Sports F1
Ukraine
Перший автомобÑ-льний[41]
Ukrainian
United States
ABC
English
ESPN
ESPN2
Univision Deportes Network
Spanish