Full 2018 ESPN F1 broadcast schedule (Update)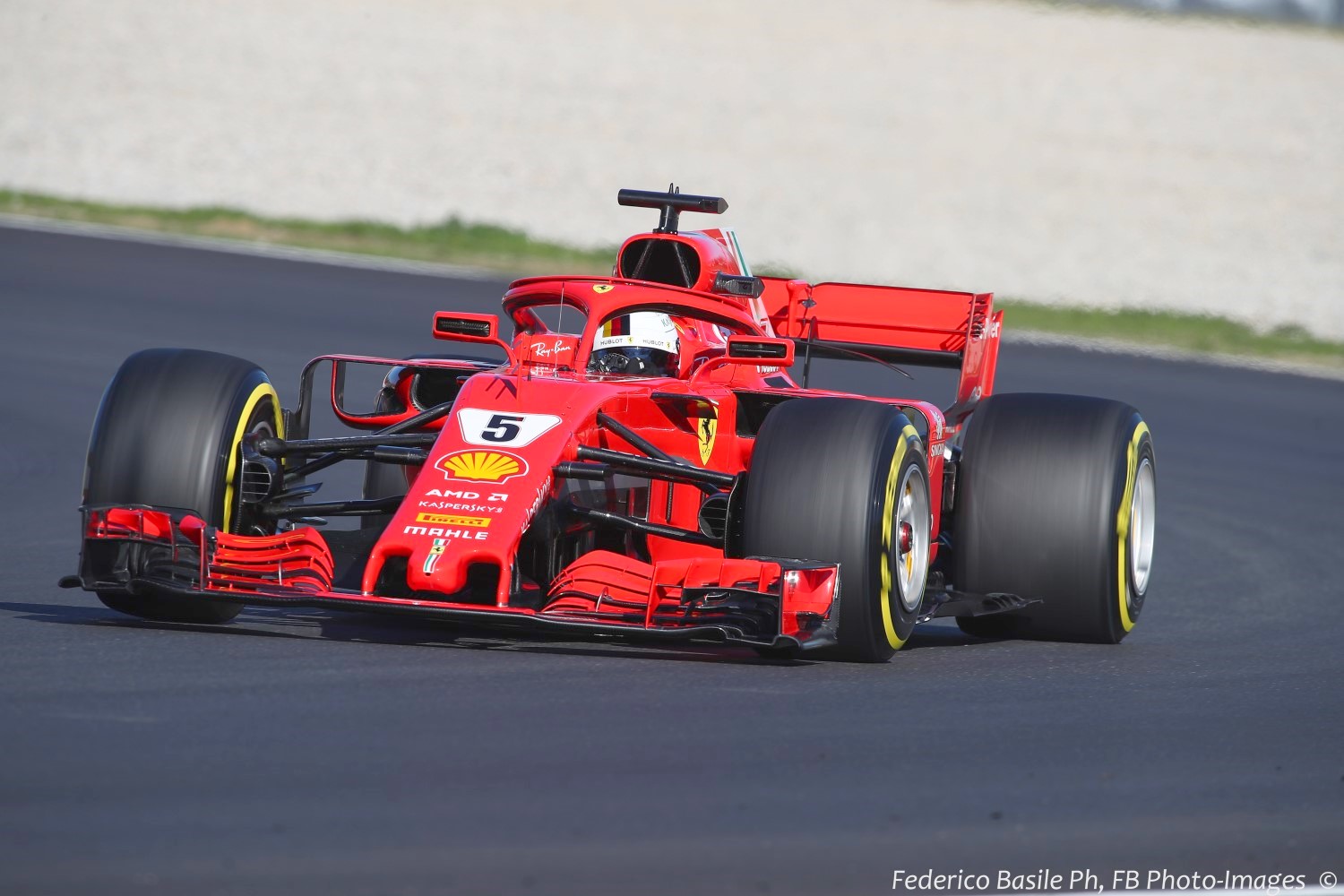 Will Sebastien Vettel and Ferrari win the Australian GP two years in a row?
UPDATE In case you missed it, we published this a week ago.
03/13/18 We previously published the race broadcast schedule in the USA on ESPN this year. Today ESPN released the broadcast schedule for all the practice and qualifying sessions as well.
ESPN will be using all their outlets – ABC, ESPN, ESPN2, ESPN3 (online) and ESPNews
| | | | | | |
| --- | --- | --- | --- | --- | --- |
| Race No. | Race | Session | Date | Start Time (ET) | Network |
| 1 | Rolex Australian Grand Prix | Practice 1 | Thursday, March 22 | 9:00 PM | ESPN3 |
| | | Practice 2 | Friday, March 23 | 1:00 AM | ESPN3 |
| | | Practice 3 | Friday, March 23 | 10:00 PM | ESPNEWS |
| | | Qualifying | Saturday, March 24 | 2:00 AM | ESPN2 |
| | | Race | Sunday, March 25 | 1:00 AM | ESPN2 |
| 2 | Gulf Bahrain Grand Prix | Practice 1 | Friday, April 6 | 7:00 AM | ESPN3 |
| | | Practice 2 | Friday, April 6 | 11:00 AM | ESPN3 |
| | | Practice 3 | Saturday, April 7 | 8:00 AM | ESPNEWS |
| | | Qualifying | Saturday, April 7 | 11:00 AM | ESPN2 |
| | | Race | Sunday, April 8 | 11:00 AM | ESPN2 |
| 3 | Heineken Chinese Grand Prix | Practice 1 | Thursday, April 12 | 10:00 PM | ESPN3 |
| | | Practice 2 | Friday, April 13 | 2:00 AM | ESPN3 |
| | | Practice 3 | Friday, April 13 | 11:00 PM | ESPNEWS |
| | | Qualifying | Saturday, April 14 | 2:00 AM | ESPN2 |
| | | Race | Sunday, April 15 | 2:00 AM | ESPN2 |
| 4 | Azerbaijan Grand Prix | Practice 1 | Friday, April 27 | 5:00 AM | ESPN3 |
| | | Practice 2 | Friday, April 27 | 9:00 AM | ESPN3 |
| | | Practice 3 | Saturday, April 28 | 6:00 AM | ESPNEWS |
| | | Qualifying | Saturday, April 28 | 9:00 AM | ESPNEWS |
| | | Race | Sunday, April 29 | 8:00 AM | ESPN2 |
| 5 | Spanish Grand Prix | Practice 1 | Friday, May 11 | 5:00 AM | ESPN3 |
| | | Practice 2 | Friday, May 11 | 9:00 AM | ESPN3 |
| | | Practice 3 | Saturday, May 12 | 6:00 AM | ESPNEWS |
| | | Qualifying | Saturday, May 12 | 9:00 AM | ESPN2 |
| | | Race | Sunday, May 13 | 9:00 AM | ESPN2 |
| 6 | Monaco Grand Prix | Practice 1 | Thursday, May 24 | 5:00 AM | ESPN2 |
| | | Practice 2 | Thursday, May 24 | 9:00 AM | ESPNEWS |
| | | Practice 3 | Saturday, May 26 | 6:00 AM | ESPNEWS |
| | | Qualifying | Saturday, May 26 | 9:00 AM | ESPN2 |
| | | Race | Sunday, May 27 | 9:00 AM | ESPN |
| | | Encore | Sunday, May 27 | 3:30 PM | ABC |
| 7 | Canadian Grand Prix | Practice 1 | Friday, June 8 | 10:00 AM | ESPN3 |
| | | Practice 2 | Friday, June 8 | 2:00 PM | ESPN3 |
| | | Practice 3 | Saturday, June 9 | 11:00 AM | ESPNEWS |
| | | Qualifying | Saturday, June 9 | 2:00 PM | ESPNEWS |
| | | Race | Sunday, June 10 | 2:00 PM | ABC |
| 8 | French Grand Prix | Practice 1 | Friday, June 22 | 6:00 AM | ESPN3 |
| | | Practice 2 | Friday, June 22 | 10:00 AM | ESPN3 |
| | | Practice 3 | Saturday, June 23 | 7:00 AM | ESPNEWS |
| | | Qualifying | Saturday, June 23 | 10:00 AM | ESPNEWS |
| | | Race | Sunday, June 24 | 10:00 AM | ESPN2 |
| 9 | Austrian Grand Prix | Practice 1 | Friday, June 29 | 5:00 AM | ESPN3 |
| | | Practice 2 | Friday, June 29 | 9:00 AM | ESPN3 |
| | | Practice 3 | Saturday, June 30 | 6:00 AM | ESPNEWS |
| | | Qualifying | Saturday, June 30 | 9:00 AM | ESPNEWS |
| | | Race | Sunday, July 1 | 9:00 AM | ESPN2 |
| 10 | Rolex British Grand Prix | Practice 1 | Friday, July 6 | 5:00 AM | ESPN3 |
| | | Practice 2 | Friday, July 6 | 9:00 AM | ESPN3 |
| | | Practice 3 | Saturday, July 7 | 6:00 AM | ESPNEWS |
| | | Qualifying | Saturday, July 7 | 9:00 AM | ESPNEWS |
| | | Race | Sunday, July 8 | 9:00 AM | ESPN |
| 11 | Emirates German Grand Prix | Practice 1 | Friday, July 20 | 5:00 AM | ESPN3 |
| | | Practice 2 | Friday, July 20 | 9:00 AM | ESPN3 |
| | | Practice 3 | Saturday, July 21 | 6:00 AM | ESPNEWS |
| | | Qualifying | Saturday, July 21 | 9:00 AM | ESPNEWS |
| | | Race | Sunday, July 22 | 9:00 AM | ESPN2 |
| 12 | Hungarian Grand Prix | Practice 1 | Friday, July 27 | 5:00 AM | ESPN3 |
| | | Practice 2 | Friday, July 27 | 9:00 AM | ESPN3 |
| | | Practice 3 | Saturday, July 28 | 6:00 AM | ESPNEWS |
| | | Qualifying | Saturday, July 28 | 9:00 AM | ESPNEWS |
| | | Race | Sunday, July 29 | 9:00 AM | ESPN2 |
| 13 | Belgian Grand Prix | Practice 1 | Friday, August 24 | 5:00 AM | ESPN3 |
| | | Practice 2 | Friday, August 24 | 9:00 AM | ESPN3 |
| | | Practice 3 | Saturday, August 25 | 6:00 AM | ESPNEWS |
| | | Qualifying | Saturday, August 25 | 9:00 AM | ESPN2 |
| | | Race | Sunday, August 26 | 9:00 AM | ESPN2 |
| 14 | Heineken Italian Grand Prix | Practice 1 | Friday, August 31 | 5:00 AM | ESPN3 |
| | | Practice 2 | Friday, August 31 | 9:00 AM | ESPN3 |
| | | Practice 3 | Saturday, Sept. 1 | 6:00 AM | ESPNEWS |
| | | Qualifying | Saturday, Sept. 1 | 9:00 AM | ESPNEWS |
| | | Race | Sunday, Sept. 2 | 9:00 AM | ESPN2 |
| 15 | Singapore Grand Prix | Practice 1 | Friday, Sept. 14 | 4:30 AM | ESPN3 |
| | | Practice 2 | Friday, Sept. 14 | 8:30 AM | ESPN3 |
| | | Practice 3 | Saturday, Sept. 15 | 6:00 AM | ESPNEWS |
| | | Qualifying | Saturday, Sept. 15 | 9:00 AM | ESPNEWS |
| | | Race | Sunday, Sept. 16 | 8:00 AM | ESPN2 |
| 16 | VTB Russian Grand Prix | Practice 1 | Friday, Sept. 28 | 4:00 AM | ESPN3 |
| | | Practice 2 | Friday, Sept. 28 | 8:00 AM | ESPN3 |
| | | Practice 3 | Saturday, Sept. 29 | 5:00 AM | ESPNEWS |
| | | Qualifying | Saturday, Sept. 29 | 8:00 AM | ESPNEWS |
| | | Race | Sunday, Sept. 30 | 7:00 AM | ESPN2 |
| 17 | Japanese Grand Prix | Practice 1 | Thursday, Oct. 4 | 9:00 PM | ESPN3 |
| | | Practice 2 | Friday, Oct. 5 | 1:00 AM | ESPN3 |
| | | Practice 3 | Friday, Oct. 5 | 11:00 PM | ESPNEWS |
| | | Qualifying | Saturday, Oct. 6 | 2:00 AM | ESPN2 |
| | | Race | Sunday, Oct. 7 | 1:00 AM | ESPN2 |
| 18 | United States Grand Prix | Practice 1 | Friday, Oct. 19 | 11:00 AM | ESPNEWS |
| | | Practice 2 | Friday, Oct. 19 | 3:00 PM | ESPN3 |
| | | Practice 3 | Saturday, Oct. 20 | 2:00 PM | ESPN3 |
| | | Qualifying | Saturday, Oct. 20 | TBD | ESPNEWS (delayed) |
| | | Race | Sunday, Oct. 21 | 2:00 PM | ABC |
| 19 | Mexican Grand Prix | Practice 1 | Friday, Oct. 26 | 11:00 AM | ESPN3 |
| | | Practice 2 | Friday, Oct. 26 | 3:00 PM | ESPNEWS |
| | | Practice 3 | Saturday, Oct. 27 | 11:00 AM | ESPN3 |
| | | Qualifying | Saturday, Oct. 27 | 2:00 PM | ESPNEWS |
| | | Race | Sunday, Oct. 28 | 3:00 PM | ABC |
| 20 | Heineken Brazilian Grand Prix | Practice 1 | Friday, Nov. 9 | 9:00 AM | ESPN3 |
| | | Practice 2 | Friday, Nov. 9 | 12:00 PM | ESPN3 |
| | | Practice 3 | Saturday, Nov. 10 | 9:00 AM | ESPNEWS |
| | | Qualifying | Saturday, Nov. 10 | TBD | ESPNEWS (delayed) |
| | | Race | Sunday, Nov. 11 | 12:00 PM | ABC |
| 21 | Ethiad Airways Abu Dhabi Grand Prix | Practice 1 | Friday, Nov. 23 | 5:00 AM | ESPN3 |
| | | Practice 2 | Friday, Nov. 23 | 8:00 AM | ESPN3 |
| | | Practice 3 | Saturday, Nov. 24 | 5:00 AM | ESPNEWS |
| | | Qualifying | Saturday, Nov. 24 | 8:00 AM | ESPNEWS |
| | | Race | Sunday, Nov. 25 | 8:00 AM | ESPN2 |
Tentative schedule – subject to change