Sebring Hour 6: Anyone's race at 1/2-mark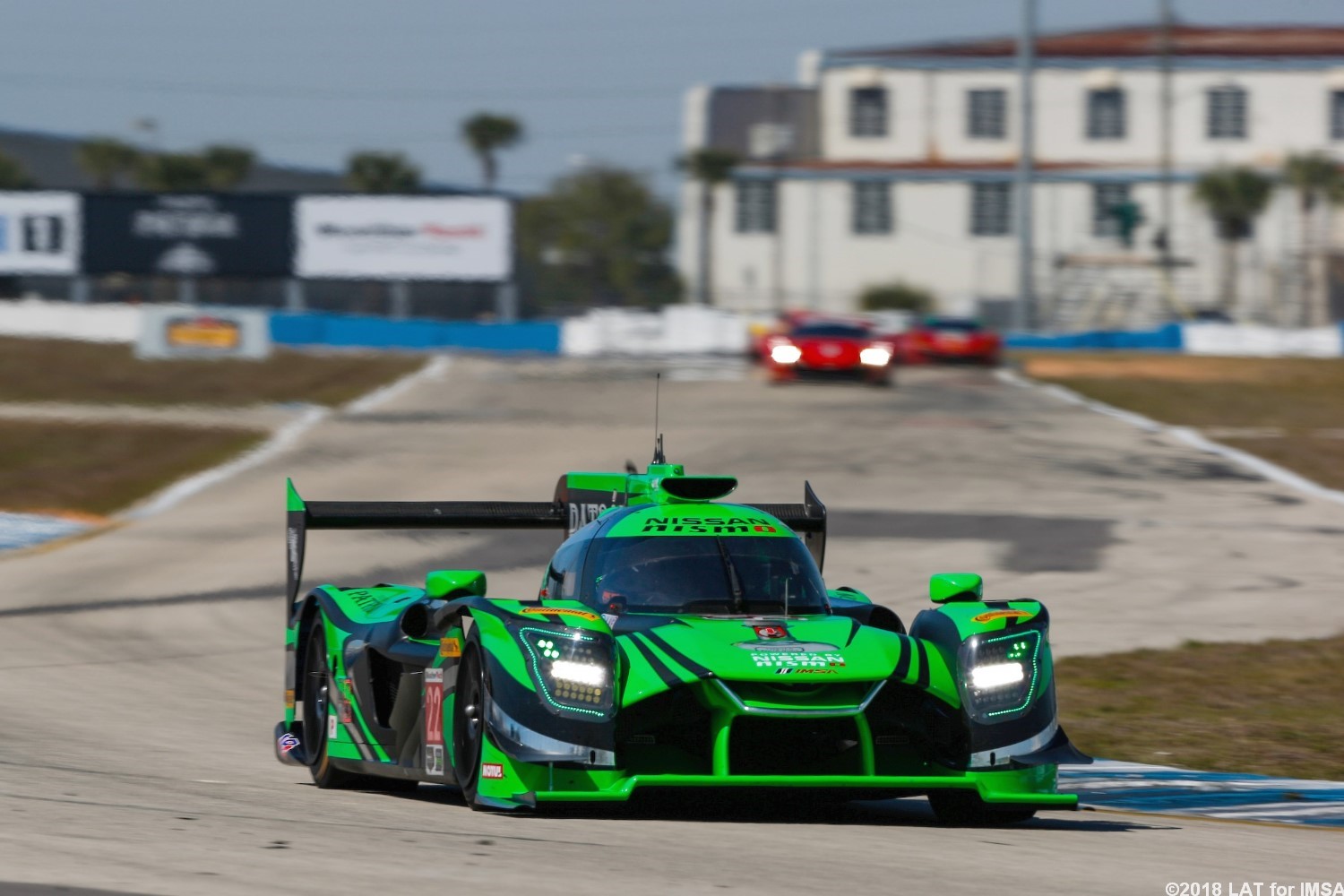 Pipo Derani
It's still anyone's race at the halfway mark of the Mobil 1 12 Hours of Sebring. Caution flags and pitstops keep the leaderboard thoroughly mixed up.
As the clock struck the 6-hour mark the green flew after another caution and the #22 Nissan with Pipo Derani at the wheel leading the #7 Penske Acura with Ricky Taylor driving,. But soon after the green flew the #7 Acura caught fire and pulled off on the side of the road.
Spencer Pigot ran third in the #55 Mazda.
The #25 BMW led in GTLM and the #33 Mercedes led in GTD
Hour Six Standings
| | | | | | | | | |
| --- | --- | --- | --- | --- | --- | --- | --- | --- |
| Pos | PiC | Current Driver | No./Mfg | Class | Laps | Behind | Cl Gap | Stops |
| 1 | 1 | Pipo Derani | #22 Nissan | DPI CP | 171 | –.— | –.— | 9 |
| 2 | 2 | Ricky Taylor | #7 Acura | DPI CP | 171 | 0.478 | 0.478 | 9 |
| 3 | 3 | Spencer Pigot | #55 Mazda | DPI CP | 171 | 1.164 | 1.164 | 10 |
| 4 | 4 | Juan Pablo Montoya | #6 Acura | DPI CP | 171 | 3.497 | 3.497 | 9 |
| 5 | 5 | Christian Fittipaldi | #5 Cadillac | DPI CP | 171 | 4.494 | 4.494 | 8 |
| 6 | 6 | Felipe Nasr | #31 Cadillac | DPI CP | 171 | 5.025 | 5.025 | 10 |
| 7 | 7 | Renger Van Der Zande | #10 Cadillac | DPI CP | 171 | 5.638 | 5.638 | 10 |
| 8 | 8 | Paul Di Resta | #32 Ligier | LMP2 CP | 171 | 7.291 | 7.291 | 8 |
| 9 | 9 | Edward Cheever | #90 Cadillac | DPI CP | 171 | 7.851 | 7.851 | 9 |
| 10 | 10 | Pato O Ward | #38 Oreca | LMP2 CP | 170 | 1 Lap | 1 Lap | 9 |
| 11 | 11 | Colin Braun | #54 Oreca | LMP2 CP | 170 | 1 Lap | 1 Lap | 10 |
| 12 | 12 | Stephen Simpson | #99 Oreca | LMP2 CP | 170 | 1 Lap | 1 Lap | 12 |
| 13 | 1 | Connor De Phillippi | #25 BMW M8 GTLMM | GTLM | 163 | 8 Laps | –.— | 8 |
| 14 | 2 | Toni Vilander | #62 Ferrari 488 GTEM | GTLM | 163 | 8 Laps | 3.254 | 8 |
| 15 | 3 | Nick Tandy | #911 Porsche 911 RSRM | GTLM | 163 | 8 Laps | 4.271 | 7 |
| 16 | 4 | Laurens Vanthoor | #912 PORSCHE 911 RSRM | GTLM | 163 | 8 Laps | 3:27.153 | 8 |
| 17 | 5 | Scott Dixon | #67 FORD GTM | GTLM | 163 | 8 Laps | 9.658 | 5 |
| 18 | 6 | Tommy Milner | #4 CHEVROLET CORVETTE | GTLM | 163 | 8 Laps | 13.406 | 7 |
| 19 | 13 | Robert Alon | #85 ORECA | LMP2 CP | 163 | 8 Laps | 8 Laps | 7 |
| 20 | 14 | Oliver Jarvis | #77 MAZDA | DPI CP | 163 | 8 Laps | 8 Laps | 9 |
| 21 | 1 | Luca Stolz | #33 MERCEDES-AMG GT3C | GTD | 159 | 12 Laps | –.— | 9 |
| 22 | 2 | Corey Lewis | #48 LAMBORGHINI HURACAN | GTD | 159 | 12 Laps | 0.836 | 8 |
| 23 | 3 | Gunnar Jeannette | #63 FERRARI 488 GT3C | GTD | 159 | 12 Laps | 2.644 | 8 |
| 24 | 4 | Katherine Legge | #86 ACURA NSX GT3C | GTD | 159 | 12 Laps | 3.981 | 7 |
| 25 | 5 | Mario Farnbacher | #93 ACURA NSX GT3C | GTD | 159 | 12 Laps | 4.550 | 8 |
| 26 | 6 | Thomas Jaeger | #75 MERCEDES-AMG GT3C | GTD | 159 | 12 Laps | 1:28.921 | 9 |
| 27 | 7 | Christopher Mies | #29 AUDI R8 LMS GT3C | GTD | 158 | 13 Laps | 1 Lap | 9 |
| 28 | 8 | Sean Rayhall | #15 LEXUS RC F GT3C | GTD | 158 | 13 Laps | 1 Lap | 9 |
| 29 | 9 | Ryan Eversley | #69 ACURA NSX GT3C | GTD | 158 | 13 Laps | 1 Lap | 7 |
| 30 | 10 | Dominik Baumann | #14 LEXUS RC F GT3C | GTD | 158 | 13 Laps | 1 Lap | 9 |
| 31 | 11 | Dillon Machavern | #96 BMW M6 GT3C | GTD | 158 | 13 Laps | 1 Lap | 7 |
| 32 | 12 | Andrew Davis | #44 AUDI R8 LMS GT3C | GTD | 158 | 13 Laps | 1 Lap | 8 |
| 33 | 13 | Robert Renauer | #58 PORSCHE 911 GT3 RC | GTD | 158 | 13 Laps | 1 Lap | 10 |
| 34 | 14 | Patrick Lindsey | #73 PORSCHE 911 GT3 RC | GTD | 158 | 13 Laps | 1 Lap | 9 |
| 35 | 15 | Pedro Lamy | #51 FERRARI 488 GT3C | GTD | 158 | 13 Laps | 1 Lap | 8 |
| 36 | 16 | Kenton Koch | #71 MERCEDES-AMG GT3C | GTD | 157 | 14 Laps | 2 Laps | 8 |
| 37 | 7 | John Edwards | #24 BMW M8 | GTLM | 155 | 16 Laps | – | – |
| 38 | 8 | Dirk Mueller | #66 FORD GTM | GTLM | 151 | 20 Laps | 12 Laps | 5 |
| 39 | 15 | Sebastian Saavedra | #52 LIGIER | LMP2 CP | 149 | 22 Laps | 22 Laps | 12 |
| 40 | 17 | Till Bechtolsheimer | #36 ACURA NSX GT3C | GTD | 149 | 22 Laps | 10 Laps | 9 |
| 41 | 9 | Mike Rockenfeller | #3 CHEVROLET CORVETTE | GTLM | 118 | 53 Laps | 45 Laps | 13 |
| 42 | 18 | Frank Montecalvo | #64 FERRARI 488 GT3C | GTD | 9 | 162 Laps | 150 Laps | 1 |
| 43 | 16 | Olivier Pla | #2 NISSAN | DPI CP | 0 | –.— | 171 LAPS | 0 |