Sebring Hour 3: #31 Cadillac leads at 1/4-mark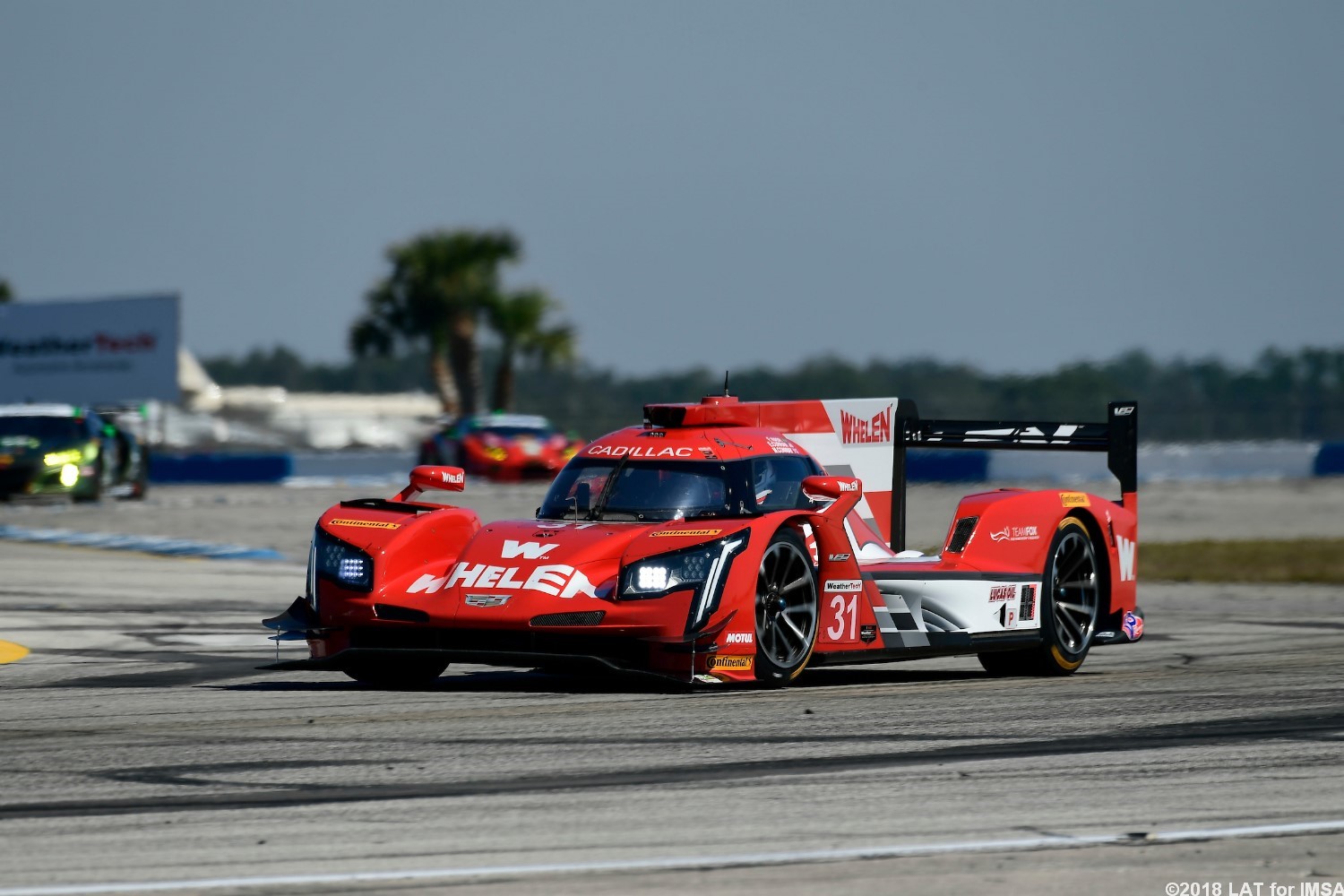 #31 Cadillac
The #31 Cadillac with Eric Curran at the wheel and the #22 ESM Nissan with Nicolas Lapierre driving were in a close battle at the front as the race crossed the 1/4-mark, but they really are not the leaders once pitstops cycle thru.
IAlessandro Pier Guidi led in GTLM in the No. 62 Risi Competizione Ferrari 488 GTE, followed by Ryan Briscoe in Gianmaria Bruni in the No. 912 Porsche GT Team 911 RSR and Frederic Makowiecki in the No. 911 RSR.
In GTD, Sheldon van der Linde leads in the No. 29 Montaplast Audi R8 LMS GT3, followed by Corey Lewis in the No. 48 Paul Miller Racing Lamborghini Huracan GT3 and Kyle Marcelli in the No. 14 Team 3GT Lexus RCF GT3.
Hour 3 Standings
| | | | | | | | |
| --- | --- | --- | --- | --- | --- | --- | --- |
| Pos | PiC | Current Driver | No./Make | Class | Laps | Behind | CL Gap |
| 1 | 1 | Eric Curran | #31 CADILLAC | DPI CP | 93 | –.— | –.— |
| 2 | 2 | Nicolas Lapierre | #22 NISSAN | DPI CP | 93 | 1.878 | 1.878 |
| 3 | 3 | Jordan Taylor | #10 CADILLAC | DPI CP | 93 | 1:50.934 | 1:50.934 |
| 4 | 4 | Graham Rahal | #7 ACURA | DPI CP | 92 | 1 Lap | 1 Lap |
| 5 | 5 | Matthew McMurry | #90 CADILLAC | DPI CP | 92 | 1 Lap | 1 Lap |
| 6 | 6 | Tristan Nunez | #77 MAZDA | DPI CP | 92 | 1 Lap | 1 Lap |
| 7 | 7 | Harry Tincknell | #55 MAZDA | DPI CP | 92 | 1 Lap | 1 Lap |
| 8 | 8 | Joao Barbosa | #5 CADILLAC | DPI CP | 92 | 1 Lap | 1 Lap |
| 9 | 9 | Simon Pagenaud | #6 ACURA | DPI CP | 92 | 1 Lap | 1 Lap |
| 10 | 10 | Alex Brundle | #32 LIGIER | LMP2 CP | 92 | 1 Lap | 1 Lap |
| 11 | 11 | James French | #38 ORECA | LMP2 CP | 91 | 2 Laps | 2 Laps |
| 12 | 12 | Gustavo Yacaman | #52 LIGIER | LMP2 CP | 91 | 2 Laps | 2 Laps |
| 13 | 13 | Misha Goikhberg | #99 ORECA | LMP2 CP | 90 | 3 Laps | 3 Laps |
| 14 | 14 | Romain Dumas | #54 ORECA | LMP2 CP | 89 | 4 Laps | 4 Laps |
| 15 | 15 | Nelson Panciatici | #85 ORECA | LMP2 CP | 89 | 4 Laps | 4 Laps |
| 16 | 1 | Alessandro Pier Guidi | #62 FERRARI 488 GTEM | GTLM | 88 | 5 Laps | –.— |
| 17 | 2 | Gianmaria Bruni | #912 PORSCHE 911 RSRM | GTLM | 88 | 5 Laps | 7.208 |
| 18 | 3 | Frederic Makowiecki | #911 PORSCHE 911 RSRM | GTLM | 88 | 5 Laps | 8.592 |
| 19 | 4 | Bill Auberlen | #25 BMW M8 GTLMM | GTLM | 88 | 5 Laps | 17.434 |
| 20 | 5 | Marcel Fassler | #4 CHEVROLET CORVETTE | GTLM | 88 | 5 Laps | 32.449 |
| 21 | 6 | Sebastien Bourdais | #66 FORD GTM | GTLM | 88 | 5 Laps | 1:15.811 |
| 22 | 7 | Nicky Catsburg | #24 BMW M8 GTLMM | GTLM | 88 | 5 Laps | 1:16.823 |
| 23 | 8 | Ryan Briscoe | #67 FORD GTM | GTLM | 88 | 5 Laps | 1:21.790 |
| 24 | 1 | Sheldon Van Der Linde | #29 AUDI R8 LMS GT3C | GTD | 85 | 8 Laps | –.— |
| 25 | 2 | Corey Lewis | #48 LAMBORGHINI HURACAN | GTD | 85 | 8 Laps | 6.351 |
| 26 | 3 | Kyle Marcelli | #14 LEXUS RC F GT3C | GTD | 85 | 8 Laps | 36.036 |
| 27 | 4 | Jeroen Bleekemolen | #33 MERCEDES-AMG GT3C | GTD | 85 | 8 Laps | 51.962 |
| 28 | 5 | Jack Hawksworth | #15 LEXUS RC F GT3C | GTD | 85 | 8 Laps | 1:03.303 |
| 29 | 6 | Cooper Macneil | #63 FERRARI 488 GT3C | GTD | 85 | 8 Laps | 1:18.393 |
| 30 | 7 | Lawson Aschenbach | #93 ACURA NSX GT3C | GTD | 85 | 8 Laps | 45.059 |
| 31 | 8 | Tom Dyer | #69 ACURA NSX GT3C | GTD | 84 | 9 Laps | 1 Lap |
| 32 | 9 | Trent Hindman | #86 ACURA NSX GT3C | GTD | 84 | 9 Laps | 1 Lap |
| 33 | 10 | Robert Renauer | #58 PORSCHE 911 GT3 RC | GTD | 84 | 9 Laps | 1 Lap |
| 34 | 11 | Andy Lally | #44 AUDI R8 LMS GT3C | GTD | 84 | 9 Laps | 1 Lap |
| 35 | 12 | Mikael Grenier | #75 MERCEDES-AMG GT3C | GTD | 84 | 9 Laps | 1 Lap |
| 36 | 13 | Dillon Machavern | #96 BMW M6 GT3C | GTD | 84 | 9 Laps | 1 Lap |
| 37 | 14 | Jc Perez | #71 MERCEDES-AMG GT3C | GTD | 84 | 9 Laps | 1 Lap |
| 38 | 15 | Joerg Bergmeister | #73 PORSCHE 911 GT3 RC | GTD | 83 | 10 Laps | 2 Laps |
| 40 | 17 | Kuno Wittmer | #36 ACURA NSX GT3C | GTD | 83 | 10 Laps | 2 Laps |
| 41 | 9 | Jan Magnussen | #3 CHEVROLET CORVETTE | GTLM | 71 | 22 Laps | 17 Laps |
| 42 | 18 | Frank Montecalvo | #64 FERRARI 488 GT3C | GTD | 9 | 84 Laps | 76 Laps |
| 43 | 16 | Olivier Pla | #2 NISSAN | DPI CP | 0 | –.— | 93 LAPS |