12 Hours of Sebring morning warm-up times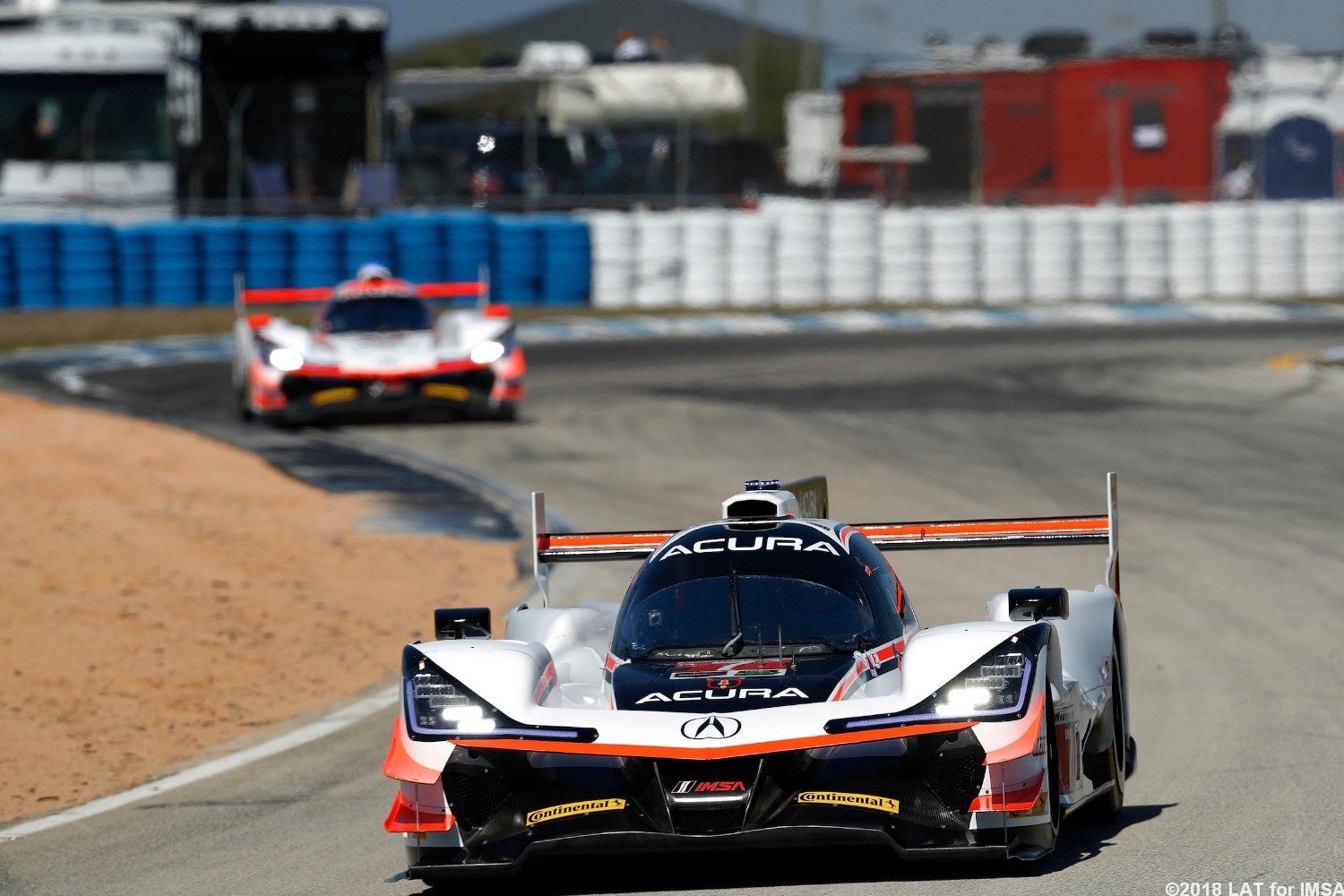 The two Penske Acuras
The #7 Penske Acura of Ricky Taylor, Helio Castroneves and Graham Rahal turned the fastest lap in warmups Saturday in Sebring. The 66th Annual Mobil 1 Twelve Hours of Sebring presented by Advance Auto Parts takes the green flag at 10:40 am.
The two sister Tequila Patron Nissan's were 2nd and third over 1-second behind while the #6 Penske Acura was 4th quick.
The forecast in Sebring, Florida today is sunny with a high of 84 degrees F and low humidity and light winds – a perfect day for racing.
Warmup Results
| | | | | | | |
| --- | --- | --- | --- | --- | --- | --- |
| Pos | No. | Class | CP | Drivers | Team/Car | Time |
| 1 | 7 | P | 1 | Ricky Taylor, Helio Castroneves, Graham Rahal | Acura Team Penske, Acura DPi | 01:48.375 |
| 2 | 22 | P | 2 | Pipo Derani, Johannes van Overbeek, Nicolas Lapierre | Tequila Patron ESM, Nissan DPi | 01:49.457 |
| 3 | 2 | P | 3 | Ryan Dalziel, Scott Sharp, Olivier Pla | Tequila Patron ESM, Nissan DPi | 01:49.694 |
| 4 | 6 | P | 4 | Juan Pablo Montoya, Dane Cameron, Simon Pagenaud | Acura Team Penske, Acura DPi | 01:49.802 |
| 5 | 5 | P | 5 | Filipe Albuquerque, Joao Barbosa, Christian Fittipaldi | Mustang Sampling Racing, Cadillac DPi | 01:49.966 |
| 6 | 10 | P | 6 | Renger Van Der Zande, Jordan Taylor, Ryan Hunter-Reay | Konica Minolta Cadillac DPi-V.R, Cadillac DPi | 01:50.588 |
| 7 | 90 | P | 7 | Matthew McMurry, Edward Cheever, Tristan Vautier | Spirit of Daytona Racing, Cadillac DPi | 01:50.824 |
| 8 | 32 | P | 8 | Paul Di Resta, Alex Brundle, Phil Hanson | United Autosports, Ligier LMP2 | 01:50.877 |
| 9 | 31 | P | 9 | Eric Curran, Felipe Nasr, Mike Conway | Whelen Engineering Racing, Cadillac DPi | 01:51.301 |
| 10 | 85 | P | 10 | Robert Alon, Nelson Panciatici, Simon Trummer | JDC-Miller Motorsports, ORECA LMP2 | 01:52.275 |
| 11 | 38 | P | 11 | Kyle Masson, James French, Pato O'Ward | Performance Tech Motorsports, ORECA LMP2 | 01:53.080 |
| 12 | 24 | GTLM | 1 | Jesse Krohn, Nicky Catsburg, John Edwards | BMW Team RLL, BMW M8 GTLM | 01:57.741 |
| 13 | 55 | P | 12 | Jonathan Bomarito, Spencer Pigot, Harry Tincknell | Mazda Team Joest, Mazda DPi | 01:57.967 |
| 14 | 25 | GTLM | 2 | Connor De Phillippi, Alexander Sims, Bill Auberlen | BMW Team RLL, BMW M8 GTLM | 01:58.476 |
| 15 | 911 | GTLM | 3 | Patrick Pilet, Frederic Makowiecki, Nick Tandy | Porsche GT Team, Porsche 911 RSR | 01:58.596 |
| 16 | 62 | GTLM | 4 | Toni Vilander, Alessandro Pier Guidi, James Calado | Risi Competizione, Ferrari 488 GTE | 01:58.782 |
| 17 | 66 | GTLM | 5 | Joey Hand, Sebastien Bourdais, Dirk Mueller | Ford Chip Ganassi Racing, Ford GT | 01:59.020 |
| 18 | 912 | GTLM | 6 | Laurens Vanthoor, Earl Bamber, Gianmaria Bruni | Porsche GT Team, Porsche 911 RSR | 01:59.060 |
| 19 | 67 | GTLM | 7 | Scott Dixon, Richard Westbrook, Ryan Briscoe | Ford Chip Ganassi Racing, Ford GT | 01:59.611 |
| 20 | 4 | GTLM | 8 | Marcel Fassler, Tommy Milner, Oliver Gavin | Corvette Racing, Chevrolet Corvette C7.R | 01:59.934 |
| 21 | 93 | GTD | 1 | Lawson Aschenbach, Justin Marks, Mario Farnbacher | Michael Shank Racing w/ Curb-Agajanian, Acura NSX GT3 | 02:00.784 |
| 22 | 44 | GTD | 2 | Andrew Davis, John Potter, Andy Lally | Magnus Racing, Audi R8 LMS GT3 | 02:00.888 |
| 23 | 14 | GTD | 3 | Dominik Baumann, Kyle Marcelli, Philipp Frommenwiler | 3GT Racing, Lexus RC F GT3 | 02:01.025 |
| 24 | 73 | GTD | 4 | Joerg Bergmeister, Patrick Lindsey, Timothy Pappas | Park Place Motorsports, Porsche 911 GT3 R | 02:01.190 |
| 25 | 75 | GTD | 5 | Mikael Grenier, Thomas Jaeger, Kenny Habul | SunEnergy1 Racing, Mercedes-AMG GT3 | 02:01.226 |
| 26 | 86 | GTD | 6 | Trent Hindman, Katherine Legge, Alvaro Parente | Michael Shank Racing w/ Curb-Agajanian, Acura NSX GT3 | 02:01.293 |
| 27 | 3 | GTLM | 9 | Jan Magnussen, Mike Rockenfeller, Antonio Garcia | Corvette Racing, Chevrolet Corvette C7.R | 02:01.423 |
| 28 | 96 | GTD | 7 | Markus Palttala, Dillon Machavern, Don Yount | Turner Motorsport, BMW M6 GT3 | 02:01.499 |
| 29 | 36 | GTD | 8 | Kuno Wittmer, Till Bechtolsheimer, Marc Miller | CJ Wilson Racing, Acura NSX GT3 | 02:01.523 |
| 30 | 51 | GTD | 9 | Pedro Lamy, Paul Dalla Lana, Daniel Serra, Mathias Lauda | Spirit of Race, Ferrari 488 GT3 | 02:01.753 |
| 31 | 58 | GTD | 10 | Robert Renauer, Christina Nielsen, Mathieu Jaminet, Patrick Long | Wright Motorsports, Porsche 911 GT3 R | 02:02.811 |
| 32 | 69 | GTD | 11 | Chad Gilsinger, Ryan Eversley, Tom Dyer | HART, Acura NSX GT3 | 02:03.293 |
| 33 | 71 | GTD | 12 | JC Perez, Loris Spinelli, Kenton Koch | P1 Motorsports, Mercedes-AMG GT3 | 02:03.596 |
| 34 | 33 | GTD | 13 | Jeroen Bleekemolen, Ben Keating, Luca Stolz | Mercedes-AMG Team Riley Motorsports, Mercedes-AMG GT3 | 02:07.567 |
| 35 | 48 | GTD | 14 | Corey Lewis, Bryan Sellers, Madison Snow | Paul Miller Racing, Lamborghini Huracan GT3 | 02:08.880 |
| 36 | 15 | GTD | 15 | Sean Rayhall, David Heinemeier Hansson, Jack Hawksworth | 3GT Racing, Lexus RC F GT3 | 00:00.000 |
| 37 | 29 | GTD | 16 | Christopher Mies, Alessio Clemente Picariello, Sheldon van der Linde | Montaplast by Land Motorsport, Audi R8 LMS GT3 | 00:00.000 |
| 38 | 52 | P | 13 | Sebastian Saavedra, Gustavo Yacaman, Roberto Gonzalez | AFS/PR1 Mathiasen Motorsports, Ligier LMP2 | 00:00.000 |
| 39 | 54 | P | 14 | Romain Dumas, Colin Braun, Jonathan Bennett | CORE autosport, ORECA LMP2 | 00:00.000 |
| 40 | 63 | GTD | 17 | Gunnar Jeannette, Cooper MacNeil, Alessandro Balzan | Scuderia Corsa, Ferrari 488 GT3 | 00:00.000 |
| 41 | 64 | GTD | 18 | Frank Montecalvo, Townsend Bell, Bill Sweedler | Scuderia Corsa, Ferrari 488 GT3 | 00:00.000 |
| 42 | 77 | P | 15 | Rene Rast, Tristan Nunez, Oliver Jarvis | Mazda Team Joest, Mazda DPi | 00:00.000 |
| 43 | 99 | P | 16 | Misha Goikhberg, Stephen Simpson, Chris Miller | JDC-Miller Motorsports, ORECA LMP2 | 00:00.000 |