Krawiec, Millican, Beckman, Anderson top Friday Gatornational poles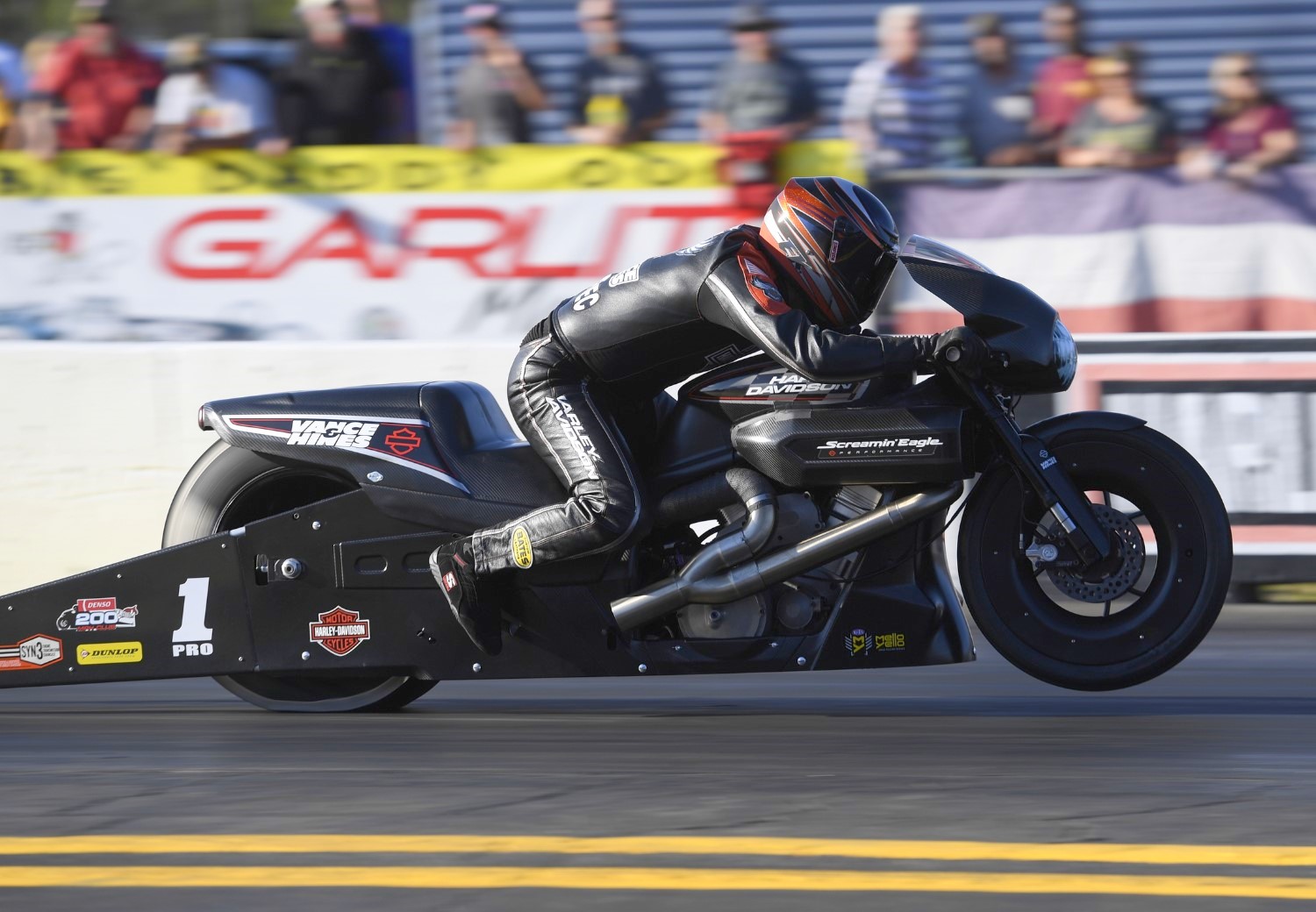 Eddie Krawiec
Defending Pro Stock Motorcycle world champion Eddie Krawiec took the provisional No. 1 qualifier position at the 49th annual Amalie Motor Oil NHRA Gatornationals at Gainesville Raceway in Gainesville, Fla. His pass of 6.785 at 199.67 on his Harley-Davidson Street Rod took him to the top while his teammate Andrew Hines qualified No. 3.
Hector Arana Jr. made history Friday evening breaking the 200-mph barrier on his Pro Stock Motorcycle became the first rider to enter the Denso Spark Plugs 200 MPH Club and received a $10,000 prize. The national speed record was set at the event with a 200.23 blast by the Lucas Oil TV rider. His pass during the second qualifying session eclipsed his record of 199.88 set at Charlotte 1 in 2015.
"I would've never thought that was a run to go 200 (mph)," Arana Jr. stated. "At the beginning of today, we didn't have our front fairings, front exhaust pipes, and we weren't ready at all. I don't even know what the tune-up is on the bike. It's honestly really incredible we did that."
In other racing events, Clay Millican (Top Fuel), Jack Beckman (Funny Car) and Greg Anderson (Pro Stock) are provisional qualifying leaders at the third of 24 events on the 2018 NHRA Mello Yello Drag Racing Series schedule.
Millican's pass of 3.708 at 324.98 in his Parts Plus / Great Clips dragster during the second round of qualifying put him at the top of the Top Fuel category. He is striving for his first No. 1 qualifier of the season and 11th of his career.
"I was getting giddy because I saw David Grubnic (crew chief) twisting knobs and he was just changing all kinds of things," Millican stated. "He later came over to tell me that he actually slowed it down. To be up here as the No. 1 qualifier is surprising. I had the mindset we were going to slow the car down."
Coming off his win at the NHRA Arizona Nationals, Steve Torrence piloted his Capco Contractors dragster to the No. 2 spot and defending Top Fuel champion Brittany Force currently sits 10th.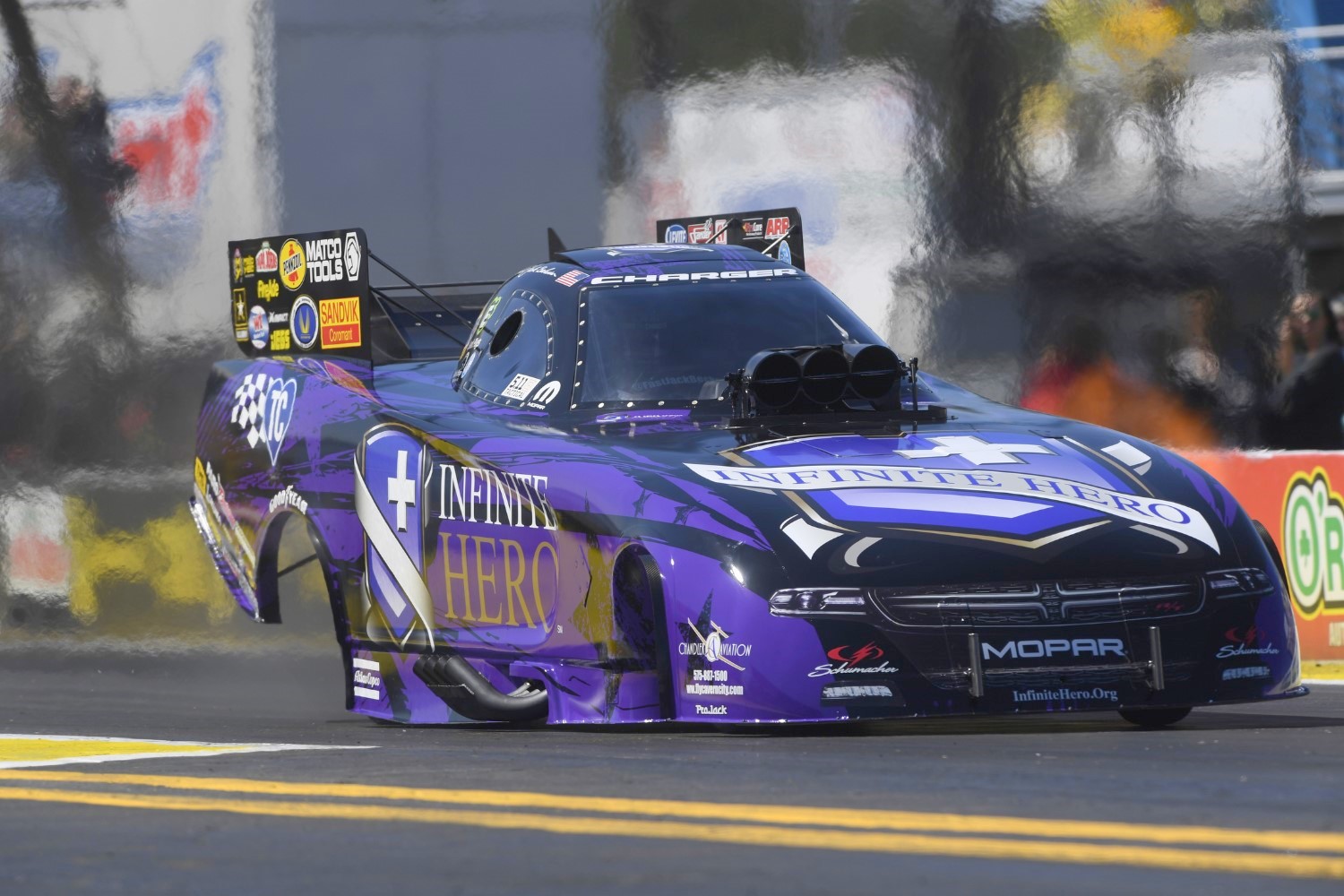 Jack Beckman
Beckman powered his way to the top of the Funny Car field during the first qualifying session, but his pass of 3.911 at 332.18 in his Infinite Hero Foundation Dodge Charger R/T during the second qualifying session secured his spot. He seeks his first No. 1 qualifier of the season and 24th of his career.
"We were just tiptoeing to make sure we didn't over power the race track," Beckman said. "I'm frankly just surprised that Funny Cars didn't run quicker today."
Phoenix event winner, Courtney Force, is currently in the No. 2 spot with her pass of 3.914 at 327.66 in her Advance Auto Parts Chevrolet Camaro SS.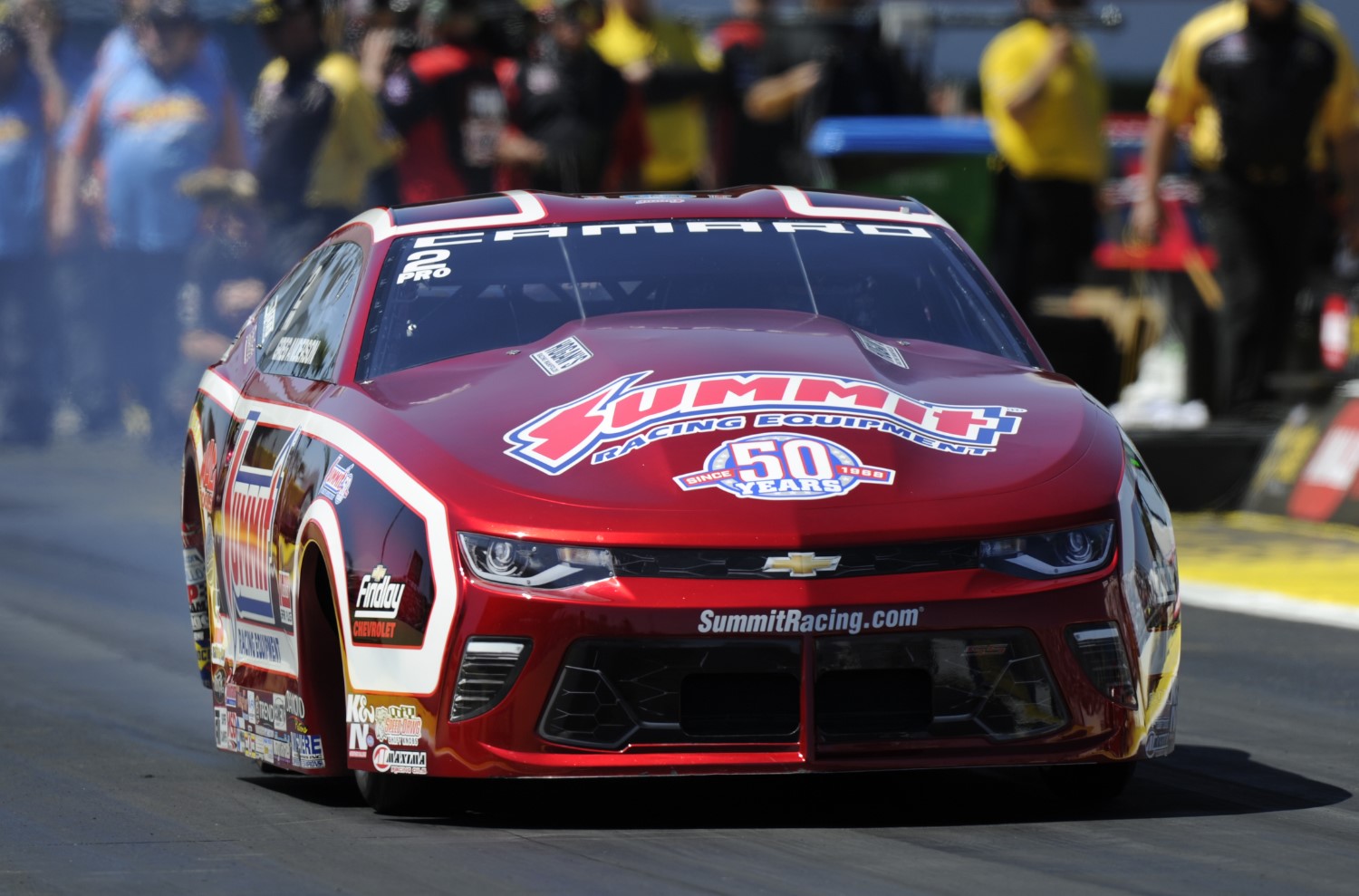 Greg Anderson
Pro Stock veteran Anderson currently holds the top spot after driving to a 6.552 at 212.29 run in his Summit Racing Chevrolet Camaro during his second qualifying pass of the day. He is seeking his fifth career No. 1 qualifier at Gainesville and 94th overall.
"There's a lot of fast cars out there this year," Anderson said. "We've gone home early the last two Sunday's and I need to make amends for that. I need to make up some lost ground and I can't think of a better place to do it than here."
Reigning Pro Stock world champion Bo Butner is currently seeded fourth overall, as he looks to extend his No. 1 points position over the class.
Qualifying continues at the Amalie Motor Oil NHRA Gatornationals at 12 p.m. on Saturday.