Dovizioso tops both Qatar Friday practice sessions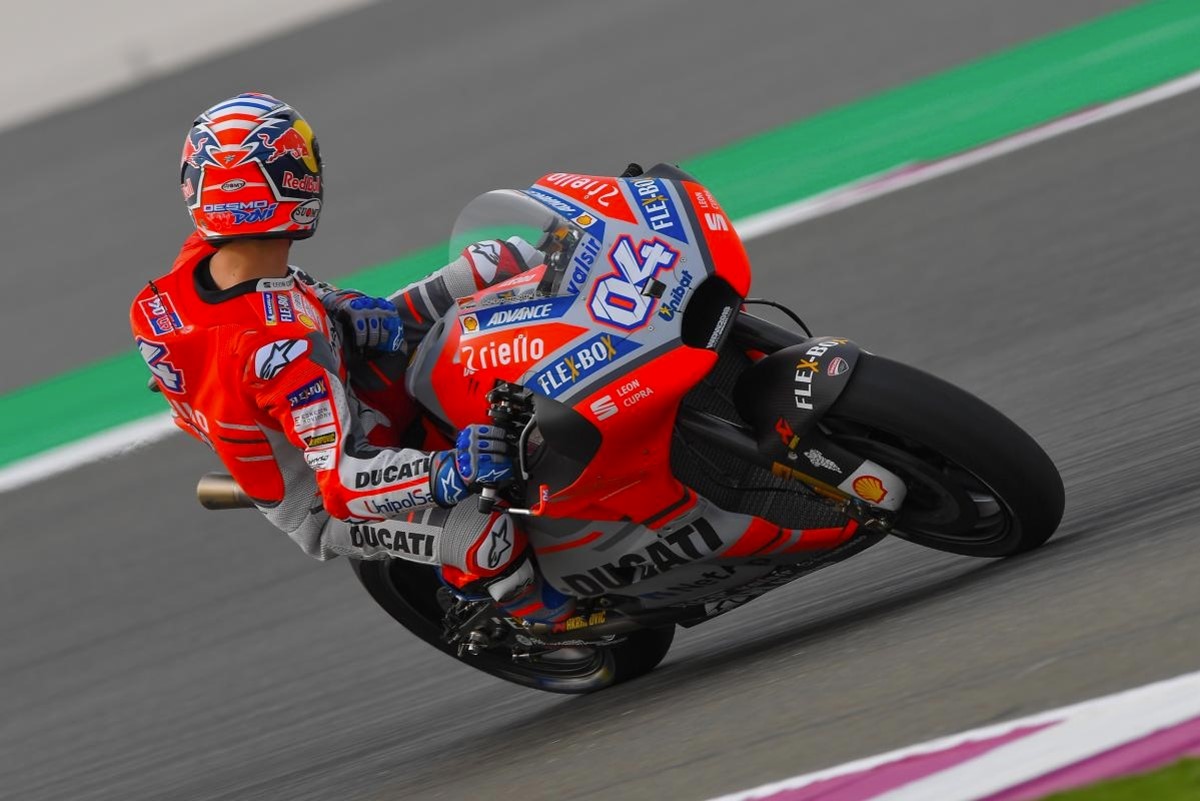 Dovizioso looks back at 100 mph
Andrea Dovizioso (Ducati Team) started his Grand Prix of Qatar in the best possible way, as the Italian ended Friday at the top of the timing screens, stunning his rivals with a lap time of 1.54.361 to put him just 0.006s ahead. It was the perfect test for race pace in the second session of 2018 for MotoGP, as bikes take to the track at the same time as the lights will go out for the race, putting the track conditions to the most realistic test.
Fellow Ducati rider Danilo Petrucci (Alma Pramac Racing) completed the day as top independent rider in second position, as he set his time with three minutes remaining only to be beaten by his compatriot. Alex Rins (Team Suzuki Ecstar) was the first non-Ducati of the day, sitting 0.097s behind Dovizioso after a strong session for the Spanish rider, who led the way in the final ten minutes, as well as being the first rider to break into the 1.54 lap times.
Jorge Lorenzo (Ducati Team) secured fourth position overall around the Losail International Circuit, his time of 1.54.831 was set following a busy start to his session with his Ducati machine causing sparks to fly on the home straight. Italian Andrea Iannone (Team Suzuki Ecstar) wasn't far behind his team-mate in fifth with a lap of 1.54.841, whilst reigning world champion Marc Marquez (Repsol Honda Team) ended the day in sixth position.
Honda's Cal Crutchlow (LCR Honda Castrol) sits in eighth, and the second of the independents ahead of ninth placed Valentino Rossi (Movistar Yamaha MotoGP) who was unable to secure a fast lap time at the end of the session. Frenchman Johann Zarco (Monster Yamaha Tech 3) rounds out the top ten on Friday in Qatar, with half a second splitting the men provisionally into Q2 on Saturday.
Maverick Vinales (Movistar Yamaha MotoGP) had a difficult end to Friday in 11th position, ahead of compatriot Aleix Espargaro (Aprilia Racing Team Gresini). Tito Rabat (Reale Avintia Racing) secured a top 13 finish on board his Ducati, with Australian Jack Miller (Alma Pramac Racing) debuting in 14th position with his new team. Completing the top 15 is rookie Takaaki Nakagami (LCR Honda Idemitsu), 1.333s off the fastest man of the day.
Practice 2 Times
| POS | RIDER | BIKE | TIME | GAP | LAPS |
| --- | --- | --- | --- | --- | --- |
| 1 | Andrea Dovizioso | Ducati | 1m54.361s | 0.000s | 17 |
| 2 | Danilo Petrucci | Ducati | 1m54.367s | 0.006s | 16 |
| 3 | Alex Rins | Suzuki | 1m54.458s | 0.097s | 19 |
| 4 | Jorge Lorenzo | Ducati | 1m54.831s | 0.470s | 16 |
| 5 | Andrea Iannone | Suzuki | 1m54.841s | 0.480s | 20 |
| 6 | Marc Marquez | Honda | 1m54.850s | 0.489s | 17 |
| 7 | Dani Pedrosa | Honda | 1m54.851s | 0.490s | 18 |
| 8 | Cal Crutchlow | Honda | 1m54.852s | 0.491s | 16 |
| 9 | Valentino Rossi | Yamaha | 1m54.853s | 0.492s | 17 |
| 10 | Johann Zarco | Yamaha | 1m54.912s | 0.551s | 18 |
| 11 | Maverick Vinales | Yamaha | 1m55.195s | 0.834s | 16 |
| 12 | Aleix Espargaro | Aprilia | 1m55.236s | 0.875s | 16 |
| 13 | Tito Rabat | Ducati | 1m55.308s | 0.947s | 18 |
| 14 | Jack Miller | Ducati | 1m55.360s | 0.999s | 16 |
| 15 | Takaaki Nakagami | Honda | 1m55.694s | 1.333s | 19 |
| 16 | Scott Redding | Aprilia | 1m55.718s | 1.357s | 14 |
| 17 | Pol Espargaro | KTM | 1m55.919s | 1.558s | 14 |
| 18 | Franco Morbidelli | Honda | 1m55.965s | 1.604s | 17 |
| 19 | Thomas Luthi | Honda | 1m56.242s | 1.881s | 16 |
| 20 | Bradley Smith | KTM | 1m56.260s | 1.899s | 16 |
| 21 | Karel Abraham | Ducati | 1m56.394s | 2.033s | 17 |
| 22 | Hafizh Syahrin | Yamaha | 1m56.454s | 2.093s | 17 |
| 23 | Alvaro Bautista | Ducati | 1m56.990s | 2.629s | 14 |
| 24 | Xavier Simeon | Ducati | 1m57.765s | 3.404s | 15 |
Practice 1 Times
| POS | RIDER | BIKE | TIME | GAP | LAPS |
| --- | --- | --- | --- | --- | --- |
| 1 | Andrea Dovizioso | Ducati | 1m55.366s | 0.000s | 14 |
| 2 | Valentino Rossi | Yamaha | 1m55.427s | 0.061s | 18 |
| 3 | Marc Marquez | Honda | 1m55.743s | 0.377s | 18 |
| 4 | Andrea Iannone | Suzuki | 1m55.816s | 0.450s | 17 |
| 5 | Jorge Lorenzo | Ducati | 1m55.888s | 0.522s | 16 |
| 6 | Johann Zarco | Yamaha | 1m55.943s | 0.577s | 16 |
| 7 | Cal Crutchlow | Honda | 1m55.989s | 0.623s | 16 |
| 8 | Alex Rins | Suzuki | 1m55.997s | 0.631s | 17 |
| 9 | Danilo Petrucci | Ducati | 1m56.076s | 0.710s | 16 |
| 10 | Tito Rabat | Ducati | 1m56.111s | 0.745s | 17 |
| 11 | Maverick Vinales | Yamaha | 1m56.130s | 0.764s | 19 |
| 12 | Dani Pedrosa | Honda | 1m56.265s | 0.899s | 17 |
| 13 | Aleix Espargaro | Aprilia | 1m56.313s | 0.947s | 14 |
| 14 | Alvaro Bautista | Ducati | 1m56.528s | 1.162s | 14 |
| 15 | Hafizh Syahrin | Yamaha | 1m56.544s | 1.178s | 17 |
| 16 | Jack Miller | Ducati | 1m56.680s | 1.314s | 17 |
| 17 | Pol Espargaro | KTM | 1m56.999s | 1.633s | 16 |
| 18 | Scott Redding | Aprilia | 1m57.115s | 1.749s | 15 |
| 19 | Takaaki Nakagami | Honda | 1m57.183s | 1.817s | 18 |
| 20 | Thomas Luthi | Honda | 1m57.211s | 1.845s | 14 |
| 21 | Franco Morbidelli | Honda | 1m57.273s | 1.907s | 15 |
| 22 | Bradley Smith | KTM | 1m57.389s | 2.023s | 18 |
| 23 | Xavier Simeon | Ducati | 1m59.151s | 3.785s | 16 |
| 24 | Karel Abraham | Ducati | 1m59.462s | 4.096s | 9 |