Latest F1 news in brief – Tuesday
Alain Prost knows no one is going to beat the Aldo Costa designed Mercedes once again.

Renault not targeting 2018 race win – Prost

McLaren 'not pessimistic' about 2018 – Alonso
Haas changes Friday driver policy for 2018
Pirelli reveals tire choices for Melbourne
Mercedes-AMG Petronas Motorsport and TIBCO Extend Partnership
Alonso almost quit at end of 2017
Renault not targeting 2018 race win – Prost
(GMM) Alain Prost says Renault is not setting goals for 2018, but he will not rule out a podium for the French team.
After winter testing, the general consensus is that Renault and Haas will battle to lead the midfield behind top teams Mercedes, Red Bull and Ferrari.
But team advisor Prost says Renault's goal is only to improve.
"In 2018 we will progress and gradually become stronger," he told Nice Matin newspaper at a F1 demonstration in Nice.
"Theoretically, the top three teams retain a great advantage and it will be difficult to catch them.
"But by the middle of the season we will have new parts and you can never exclude the possibility of being on the podium," the quadruple world champion added.
However, Prost said targeting victories is not yet on Renault's agenda.
"I think it's pointless to name specific goals, because in motor racing it doesn't work like that," he said.
"The team is continuing to restructure, many new employees are appearing and the Enstone factory is improved. Soon the same will happen in Viry.
"When will our efforts be rewarded — tomorrow or the day after? It's still too early to say. First, let's see what progress we make this year."
So when it comes to the likely winner of the 2018 world championship, Prost admits that his personal tally of four titles will probably be beaten by either Lewis Hamilton or Sebastian Vettel.
"Judging by the winter tests, Lewis has a slight advantage. Very small," he said.
"But it's a long season — 21 races! Anything can happen and surprises are possible. In my opinion, Red Bull is very competitive as well."
McLaren 'not pessimistic' about 2018 – Alonso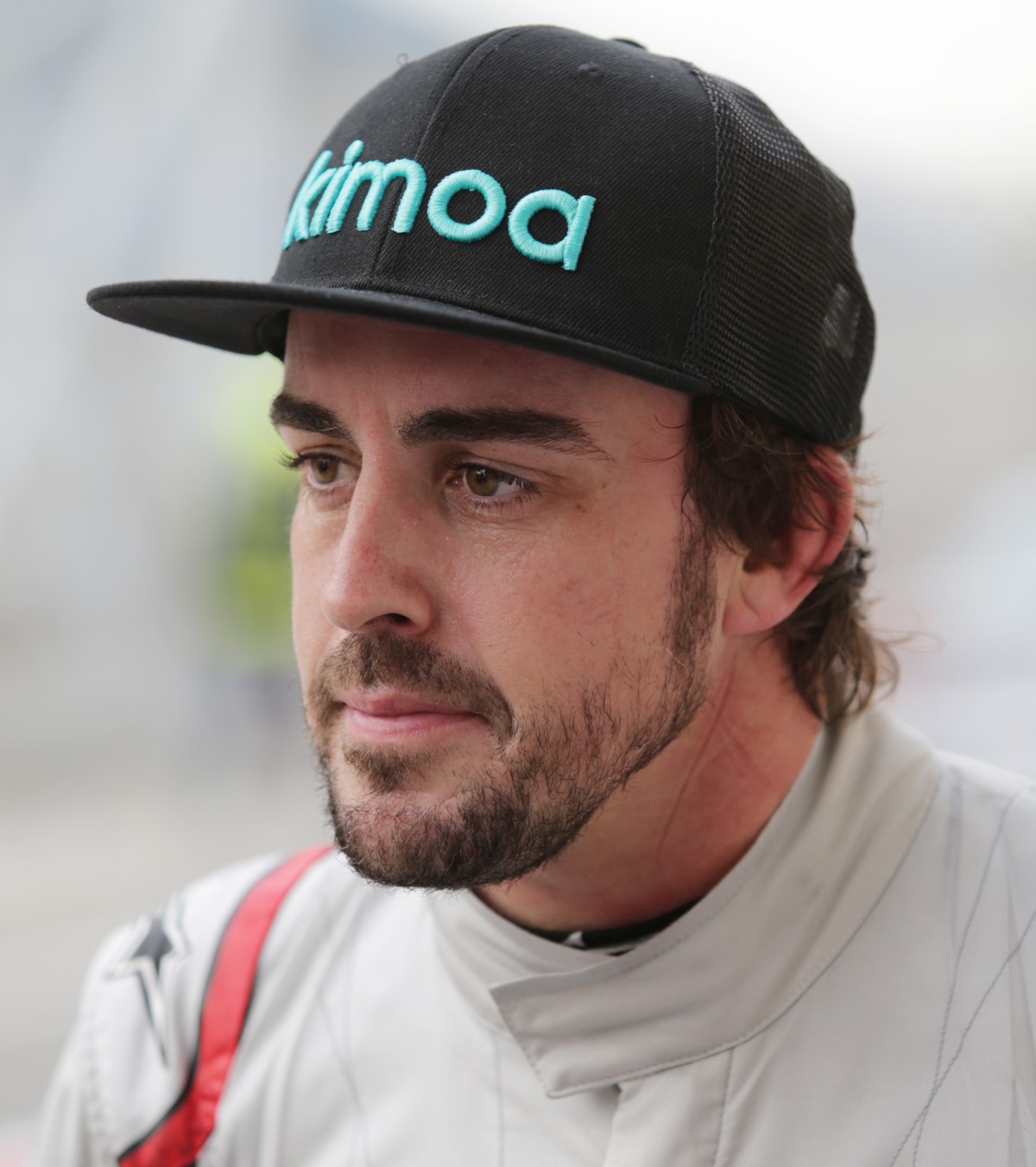 Poor Fernando, stuck with a car that has zero chance of winning once again
(GMM) Fernando Alonso insists he is "not pessimistic" after a fourth consecutive troubled winter for McLaren.
After three bad years with Honda, the British team has finally dropped the Japanese manufacturer and switched to Renault power.
But McLaren still had winter testing trouble.
Alonso told Spanish radio Onda Cero: "I do not see any reason to be pessimistic.
"McLaren is the second best team in history, Renault is one of the best engine makers ever and we are full of ambition. I do not see why it will not turn out well."
However, the team had higher hopes at the launch of the new orange car, refusing even to rule out wins.
But Alonso insisted: "Things have not changed much since the presentation or the plans we had for the winter.
"We wanted to improve on the last three years and try to get as close as possible to the three best teams. We are on the way to doing that."
He admitted that McLaren will not join the fight with Mercedes, Red Bull and Ferrari in 2018, though.
"McLaren can jump from being ninth to being close to them and fighting in the race," said Alonso.
"When we changed to Renault we all agreed that it would be good if McLaren was close to the top three, in the top five in every race possible, always in Q3 and fighting for a podium when we can," he added.
He denied that McLaren dumped Honda at the worst possible moment, with Toro Rosso apparently performing well with the Japanese engine in the winter.
"I have no problem with Honda," said the Spaniard. "It never crossed my mind to leave.
"But we will see how the Honda is in Australia," said the Spaniard. "They did a good winter test and if they are in the first five I will applaud. But I don't think so. One test is not the same as 21 races with three engines.
"I think they can be in the last three or four positions and we at McLaren will try to be in the first five, six," he added.
"We are very happy with the change to Renault — we have improved four seconds compared to last year."
Alonso said he never considered leaving McLaren, but he admits that 2015-2017 were "difficult to cope with".
"My life is based on competition and winning," he said.
"When I lack victory it is hard but I also learned other things. In these years my sights were opened up to other legendary competitions like Indy and the WEC. Everything happens for a reason.
"Those years had some frustration but now I'm happy because I have become a more complete driver."
As for the likely 2018 champion, Alonso agrees that Mercedes "seems to be in total domination mode".
"Normally there are six cars in the first three grid rows, so then there is the question: McLaren, Haas, Renault or Force India? The first thing we have to do is to win that battle."
Haas changes Friday driver policy for 2018
Antonio Giovinazzi gets the royal screw from Gunther Steiner
(GMM) Haas says the door to Antonio Giovinazzi will remain basically closed in 2018.
Since last July, the Ferrari junior driver replaced Kevin Magnussen on Friday morning at seven grand prix weekends.
Haas boss Gunther Steiner said in December: "I cannot say how negative it was, but it was not positive."
At the time, he would not say what exactly Haas' Friday driver policy would be for 2018.
Steiner now says: "There are no plans at this time.
"Maybe a one-off later in the season, but nothing like last year is planned," he told Ekstra Bladet newspaper.
Pirelli reveals tire choices for Melbourne
Pirelli has revealed what tires each driver chose for the opening F1 race of 2018 in Australia. While Mercedes, in particular, have gone aggressive for the opening race of the season, taking nine sets of the ultrasoft tires, Ferrari and Renault are only taking seven.
Though McLaren and Williams are following the world champions example, Red Bull, Force India, Toro Rosso, Haas and Sauber are all taking eight sets of the purple-banded rubber. It will be no contest because in Barcelona testing on race simulations the Mercedes was 0.5 sec per lap faster than the Ferrari and 0.8 sec. faster per lap than the Red Bull.
Mercedes-AMG Petronas Motorsport and TIBCO Extend Partnership
Mercedes-AMG Petronas Motorsport is delighted to confirm that the team has extended its partnership with TIBCO Software Inc., a global leader in integration, API management, and analytics.
The expanded partnership will continue to equip the team with advanced TIBCO® solutions throughout the 2018 Formula One season, supporting strategic decisions based on data collected from the team's new car, the Mercedes-AMG F1 W09 EQ Power+. This year's car is improved in every area over its predecessor and is the product of an advanced digital development ecosystem, created with the help of TIBCO.
TIBCO technology allows the team to access and visualise gigabytes of live and historical data, which are crucial in making live-time strategic decisions. Mercedes-AMG Petronas Motorsport is collaborating with TIBCO on advanced analytics to glean insights from TIBCO's visualisations, helping them make informed decisions, both at the factory and during the race. The TIBCO Connected Intelligence Cloud platform provides the foundation for this analysis, with the help of a team of TIBCO data scientists, through its Systems of Insight solutions.
"Winning a Formula One race takes more than a fast car; it is man and machine working together," said Toto Wolff, Team Principal and Chief Executive Officer, Mercedes-AMG Petronas Motorsport. "We continuously find ourselves driven by each other as a team, whether that's the motivation of the drivers to win on track, our engineers working in the factory to test every possible race scenario, or innovative partners like TIBCO who take our work to the next level with advanced technology. TIBCO's sophisticated solutions provide our team with visual data about the car's performance that clearly distinguishes relevant information from the rest. We're excited to expand our partnership and are motivated to keep winning in 2018, on and off the track."
"Formula One as a sport is a combination of the highest performance, sharpest technology, and most collaborative teamwork. As such, it is similar to what many of our customers need to embrace for a successful digital transformation," said Thomas Been, Chief Marketing Officer, TIBCO. "The nature of data and digital are continuing to change Formula One, from design and collaboration, to strategy and real-time decisions. This sets a great example for any company looking to transform and lead with digital technology. We're very proud to empower the Mercedes-AMG Petronas Motorsport team with our TIBCO Connected Intelligence Cloud platform, helping them leverage unique insights to make critical decisions that improve all aspects of their operation."
Alonso almost quit at end of 2017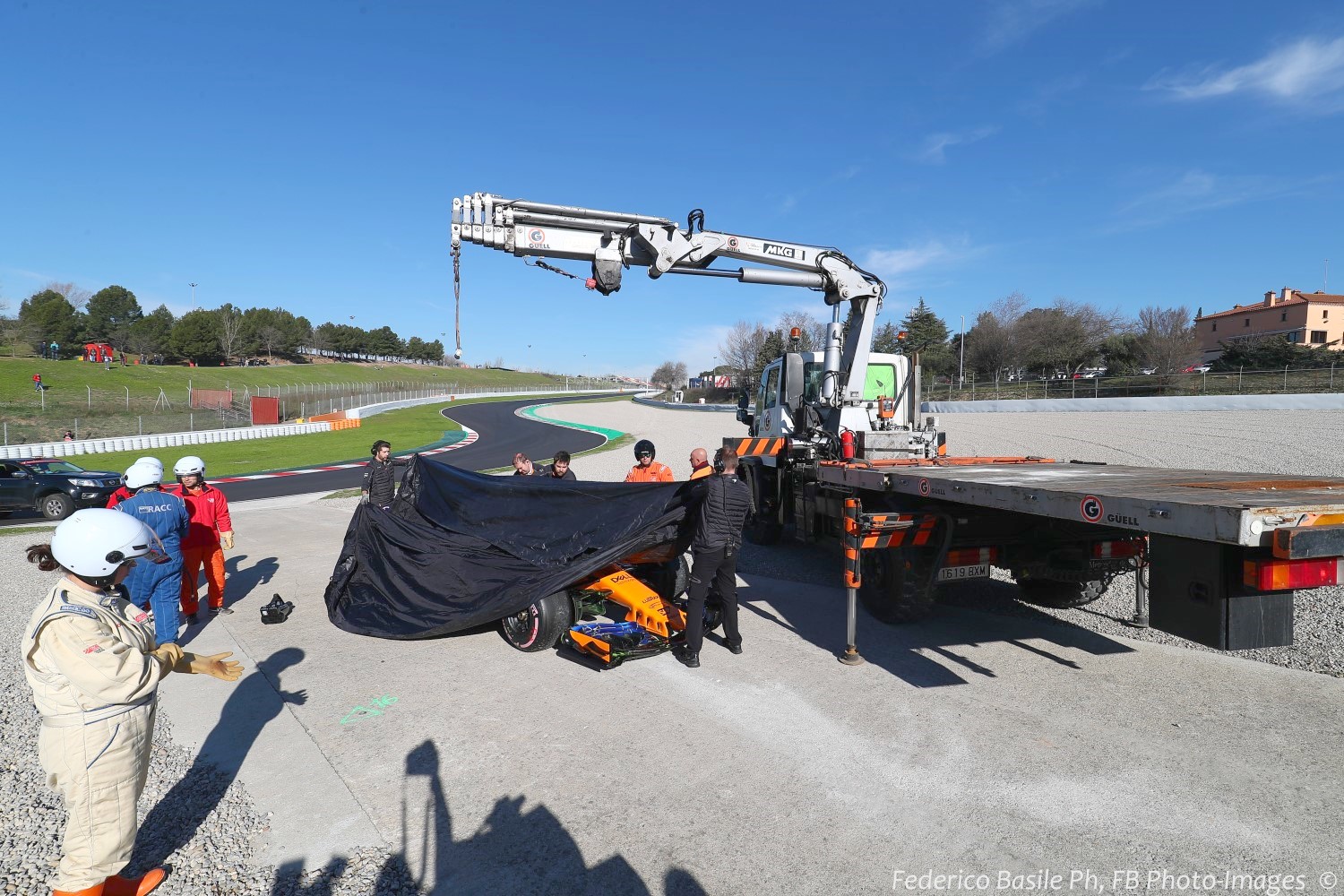 If the McLaren comes back on the flatbed much more Alonso will quit
2017 marked the third year since McLaren re-partnered with Honda, the pair attempting to recreate the legendary dream team of the late 80s and early 90s but instead resembling a remake even more woeful than Nicholas Cage's take on The Wicker Man.
Having taken a step forward in 2016, certainly compared to a disastrous debut season in 2015, things actually got worse in 2017, the first signs coming as early as pre-season testing.
Signs of Alonso's pre-season desperation are clearly seen in the recent Netflix documentary Grand Prix Driver, but now the Spaniard has admitted that at season end, despite the promise of a new engine partner – Renault which took him to his two titles – he was seriously contemplating quitting.
"Yes, I did think about the possibility of changing series and stopping Formula 1," he told F1 Racing. "After I did the Indy 500, when I came back there were a couple of races in Austria, Silverstone, when I thought, 'Maybe next year I could try a different series; I could do full commitment to the triple crown and do Indy and Le Mans and maybe that's the best thing'. But I felt it was not the time for me to step out, not right now, not after these results, not with this feeling.
"I knew I would regret it for the rest of my life and that I would have this bad taste for the rest of my racing career," he admits. "So definitely I still want to succeed.
"There is unfinished business for me and McLaren together," he insists. "And I think this year is the time all these things will change. I feel pretty sure about that."
Asked if, following the nightmare of 2017 which saw him rack up record engine penalties, complete only 77% of the season's race laps, fail to make the start in Russia and finish the season outside the Top 15 for the second time in three seasons, he hopes 2018 will be more 'normal', he replies: "Yes… back to normality, back to this normal feeling of getting to every grand prix and preparing through practice and qualifying and knowing that you should be in the top five, and if you do well you could be on the podium. And if you do something really special, you could even be a winner. That motivation and that preparation have been the things I've missed. These are things that I hope to have this year. That's the biggest expectation."
Despite the nightmare that was McLaren-Honda, Alonso still rarely gave less than 100%, and while admitting to losing the 'buzz' last year, the Spaniard admits that a competitive package this year will likely see it return.
"I hadn't felt it for a while," he admits, "but now I feel i could do a very good season if we have a good package this year because I am sure I will be able to put in the 'extra' that I have put in all my career. That has been the most difficult thing to give to the team over the past three years: the commitment, the work, simulator feedback.
"That's something that comes naturally to a racer but to give extra when you're in Mexico and you have a power-unit penalty and starting last because of a 35-place engine penalty, things like the extra two-tenths or moves in the race – or maybe a magic start – don't come out. It's not conscious. It's just how you feel on the day." Pitpass