Rossi tops morning IndyCar warmups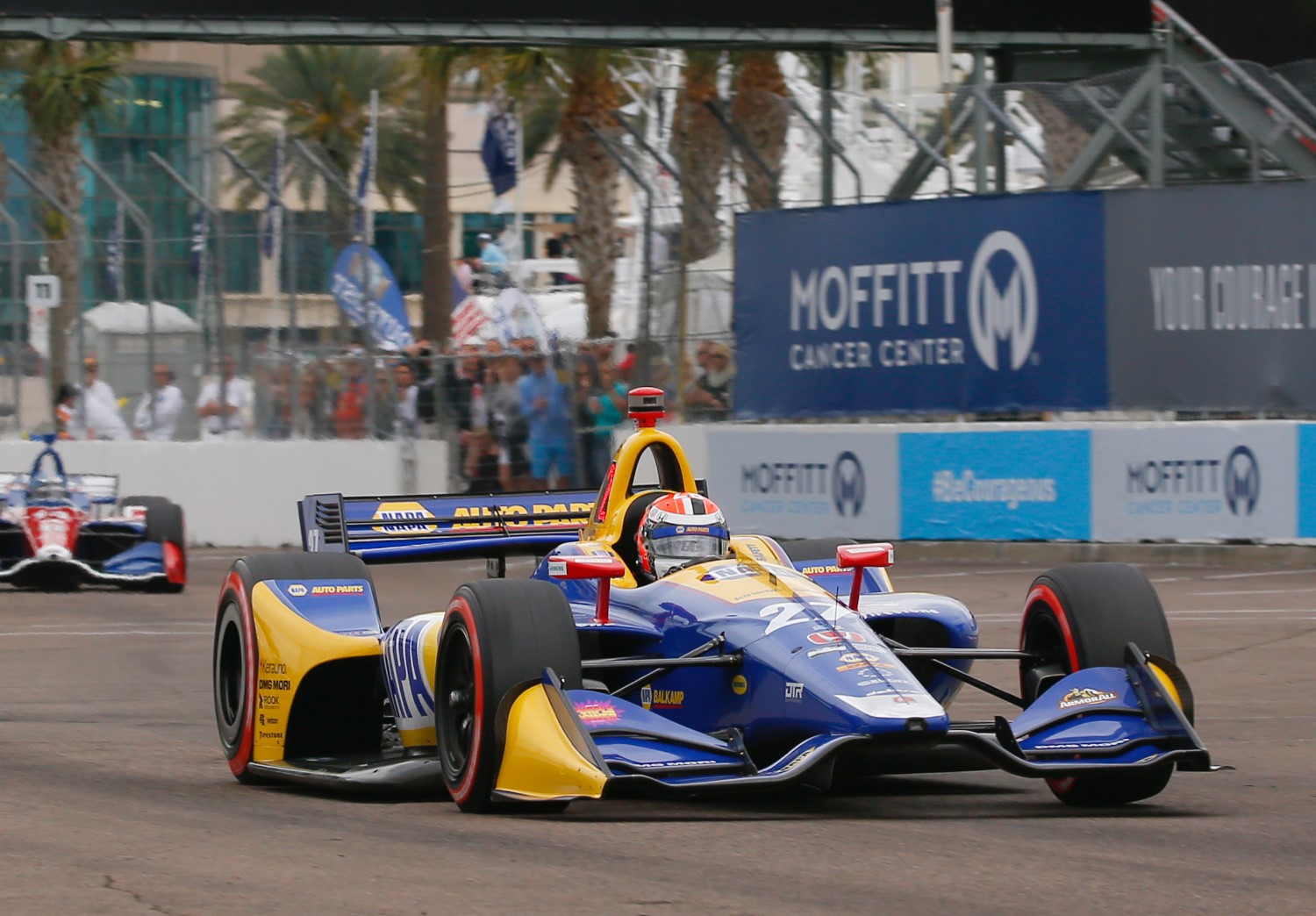 Alexander Rossi burns up the streets of St. Petersburg
He probably would have put the car on pole Saturday if not for some bad officiating by IndyCar, but Andretti Autosport's Alexander Rossi turned the fastest lap in morning warm-ups ahead of today's Firestone GP of St. Petersburg, the opening race of the 2018 IndyCar season. Rossi did his time on the harder Firestone blacks while the next three fastest drivers were on the softer reds.
Rossi was accused of holding up another driver in qualifying Saturday, something the team argued with IndyCar officials for over an hour yesterday. Rossi was easily in the Fast Six and had saved a red set of Firestones for a run at pole. Instead of losing your fastest lap, you lose your two fastest laps with this penalty, which means your weekend is screwed.
So instead of starting up front, with what is likely the fastest car and driver combination, Rossi is looking at just collecting points in the race. He is mired down in 12th place at the start on a track nearly impossible to pass on and in a place where losing a wing at the start is very possible.
Tony Kanaan was 2nd quick in the #14 Chevy, underscoring how good the AJ Foyt team is this year – they have been the fastest Chevy team all weekend.
Ryan Hunter-Reay was third quick in the #28 Andretti Honda.
Warm-up Results
| | | | | | | | | |
| --- | --- | --- | --- | --- | --- | --- | --- | --- |
| Pos | No | Name | FTime | Diff | Gap | Tire | Engine | Team |
| 1 | 27 | Alexander Rossi | 1:01.618 | –.—- | –.—- | Hard | Honda | Andretti Autosport |
| 2 | 14 | Tony Kanaan | 1:01.665 | 0.0468 | 0.0468 | Soft | Chevy | AJ Foyt Enterprises |
| 3 | 28 | Ryan Hunter-Reay | 1:01.734 | 0.1156 | 0.0688 | Soft | Honda | Andretti Autosport |
| 4 | 88 | Gabby Chaves | 1:02.003 | 0.3848 | 0.2692 | Soft | Chevy | Harding Racing |
| 5 | 1 | Josef Newgarden | 1:02.044 | 0.4256 | 0.0408 | Hard | Chevy | Team Penske |
| 6 | 9 | Scott Dixon | 1:02.081 | 0.4624 | 0.0368 | Hard | Honda | Chip Ganassi Racing Teams |
| 7 | 18 | Sebastien Bourdais | 1:02.151 | 0.5329 | 0.0705 | Hard | Honda | Dale Coyne/Vasser-Sullivan |
| 8 | 5 | James Hinchcliffe | 1:02.368 | 0.7499 | 0.2170 | Hard | Honda | Schmidt Peterson Motorsports |
| 9 | 12 | Will Power | 1:02.392 | 0.7735 | 0.0236 | Hard | Chevy | Team Penske |
| 10 | 21 | Spencer Pigot | 1:02.526 | 0.9080 | 0.1345 | Hard | Chevy | Ed Carpenter Racing |
| 11 | 22 | Simon Pagenaud | 1:02.553 | 0.9352 | 0.0272 | Hard | Chevy | Team Penske |
| 12 | 26 | Zach Veach | 1:02.611 | 0.9931 | 0.0579 | Soft | Honda | Andretti Autosport |
| 13 | 20 | Jordan King | 1:02.628 | 1.0097 | 0.0166 | Hard | Chevy | Ed Carpenter Racing |
| 14 | 4 | Matheus Leist | 1:02.629 | 1.0104 | 0.0007 | Soft | Chevy | AJ Foyt Enterprises |
| 15 | 98 | Marco Andretti | 1:02.637 | 1.0184 | 0.0080 | Hard | Honda | Andretti Autosport |
| 16 | 10 | Ed Jones | 1:02.663 | 1.0451 | 0.0267 | Hard | Honda | Chip Ganassi Racing Teams |
| 17 | 59 | Max Chilton | 1:02.673 | 1.0548 | 0.0097 | Hard | Chevy | Carlin |
| 18 | 30 | Takuma Sato | 1:02.753 | 1.1345 | 0.0797 | Hard | Honda | Rahal Letterman Lanigan |
| 19 | 15 | Graham Rahal | 1:02.929 | 1.3108 | 0.1763 | Hard | Honda | Rahal Letterman Lanigan |
| 20 | 6 | Robert Wickens | 1:02.957 | 1.3386 | 0.0278 | Soft | Honda | Schmidt Peterson Motorsports |
| 21 | 60 | Jack Harvey | 1:03.267 | 1.6492 | 0.3106 | Hard | Honda | Michael Shank Racing |
| 22 | 23 | Charlie Kimball | 1:03.585 | 1.9665 | 0.3173 | Hard | Chevy | Carlin |
| 23 | 19 | Zachary Claman De Melo | 1:03.953 | 2.3351 | 0.3686 | Soft | Honda | Dale Coyne Racing |
| 24 | 32 | Rene Binder | 1:04.407 | 2.7889 | 0.4538 | Soft | Chevy | Juncos Racing |
Starting Lineup
| | | | | |
| --- | --- | --- | --- | --- |
| SP | Car | Driver Name | Engine | Tire |
| 1 | 6 | Wickens, Robert (R) | HONDA | Alternate |
| 2 | 12 | Power, Will | CHEVY | Alternate |
| 3 | 4 | Leist, Matheus (R) | CHEVY | Alternate |
| 4 | 20 | King, Jordan (R) | CHEVY | Alternate |
| 5 | 30 | Sato, Takuma | HONDA | Alternate |
| 6 | 28 | Hunter-Reay, Ryan | HONDA | Alternate |
| 7 | 5 | Hinchcliffe, James | HONDA | Alternate |
| 8 | 88 | Chaves, Gabby | CHEVY | Alternate |
| 9 | 9 | Dixon, Scott | HONDA | Alternate |
| 10 | 14 | Kanaan, Tony | CHEVY | Alternate |
| 11 | 22 | Pagenaud, Simon | CHEVY | Alternate |
| 12 | 27 | Rossi, Alexander | HONDA | Alternate |
| 13 | 1 | Newgarden, Josef | CHEVY | Alternate |
| 14 | 18 | Bourdais, Sebastien | HONDA | Alternate |
| 15 | 26 | Veach, Zach (R) | HONDA | Primary |
| 16 | 21 | Pigot, Spencer | CHEVY | Alternate |
| 17 | 10 | Jones, Ed | HONDA | Alternate |
| 18 | 98 | Andretti, Marco | HONDA | Alternate |
| 19 | 60 | Harvey, Jack (R) | HONDA | Alternate |
| 20 | 59 | Chilton, Max | CHEVY | Alternate |
| 21 | 23 | Kimball, Charlie | CHEVY | Primary |
| 22 | 19 | Claman De Melo, Zachary (R) | HONDA | Primary |
| 23 | 32 | Binder, Rene (R) | CHEVY | Alternate |
| 24 | 15 | Rahal, Graham | HONDA | Alternate |