Chevrolet's New Racing Program Manager Looks To Keep Momentum Going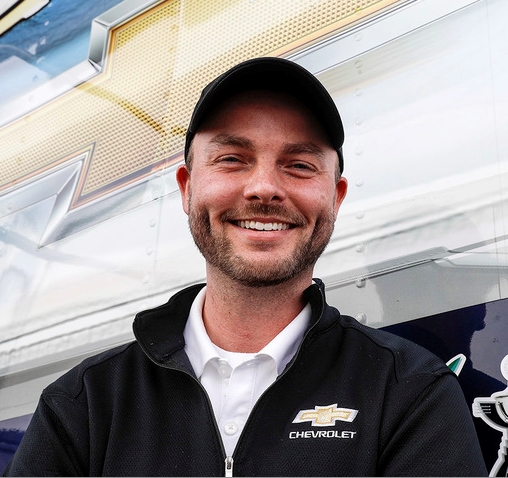 Chevy's new program director Rob Buckner
ST. PETERSBURG, Florida – Rob Buckner's mandate as Chevrolet's new racing program manager for the Verizon IndyCar Series is simple, but not necessarily easy: continue the performance level that has earned the company six consecutive manufacturer titles under Chevrolet director of motorsports competition Mark Kent.
"Mark did a really nice job, he handed off a packet to me," said Buckner, who filled a position vacant since Chris Berube was moved to another job within the company following the 2015 season. "In January, I kind of was able to pick up a lot of the stuff that he and Chris Berube had done. We just had some final things to take care of before going testing.
"We've gone through the (engine) homologation process through this year. We've ran a lot of miles test-wise with a lot of our teams. We've been to Phoenix, Barber, Sebring. We put a fair amount of miles on our race package this year, just starting to build that confidence, get ready for this first race."
That first race for Buckner (on left in photo at right) in his new position comes with Sunday's season opener, the Firestone Grand Prix of St. Petersburg. A day ahead of that, Buckner was introduced by Kent to media in a news conference. He knows the foundation that his predecessors have put in place.
Chevrolet has 67 victories in 201 Verizon IndyCar Series starts and five driver championships – four by Team Penske drivers – since rejoining the series in 2012.
Buckner, 30, most recently served as a NASCAR design release engineer for General Motors Propulsion System Performance and worked as a Chevrolet engineer with Sebastien Bourdais' Dragon Racing and KVSH Racing teams from 2013-15. Kent said Buckner was chosen to be racing program manager for his engine-building background, which is now prioritized with the series manufacturers no longer responsible for developing aero kits since INDYCAR has moved to a universal body kits produced by Dallara for all cars this season.
Part of Buckner's purview this season will be overseeing what Kent predicted would be approximately a 17-car contingent in the 102nd Indianapolis 500 presented by PennGrade Motor Oil in May. Art St. Cyr, president of Honda Performance Development, said on Friday that Chevy's rival competitor in the Verizon IndyCar Series would likely be able to support upward of 16 teams at Indy, some of which have yet to be announced. Possible additional entries could push the field to as many as 36 cars by some counts and necessitate bumping, resuming a popular tradition in INDYCAR's prestige race.
"I would imagine probably a 17-17 split (of cars supplied by each manufacturer)," Kent theorized. "If there's more cars that want to try to qualify, we're definitely in a position to support some more cars."
Honda's main advantage during the competitive aero kit era of 2015-17 was in the Indianapolis 500, which it has won twice consecutively. Kent said he doesn't believe that any overall advantage held by Chevrolet will be negated by a universal kit.
"I think near the end of the aero kit era, they were very similar in performance," he told IndyCar.com. "I know when we started off with the aero kit, we definitely had a performance advantage. I think we were more prepared than Honda was at the introduction of the kits, but over time, through the process, I think you saw that their kits started to look a lot like our kit. There were some things on their kit that our kit started to look alike. Aerodynamically there's only so many optimal solutions, so we learn from each other just from observing and they got pretty close to each other."
Chevrolet is supplying engines to 11 cars in the 24-car field this weekend at St. Petersburg, across six teams – AJ Foyt Racing, Carlin, Ed Carpenter Racing, Harding Racing, Juncos Racing and Team Penske. Among the Chevy contingent are four past season champions: Tony Kanaan, Simon Pagenaud, Will Power and reigning champ Josef Newgarden. Brant James/IndyCar