Chasin' desert skies: Keselowski wins in Phoenix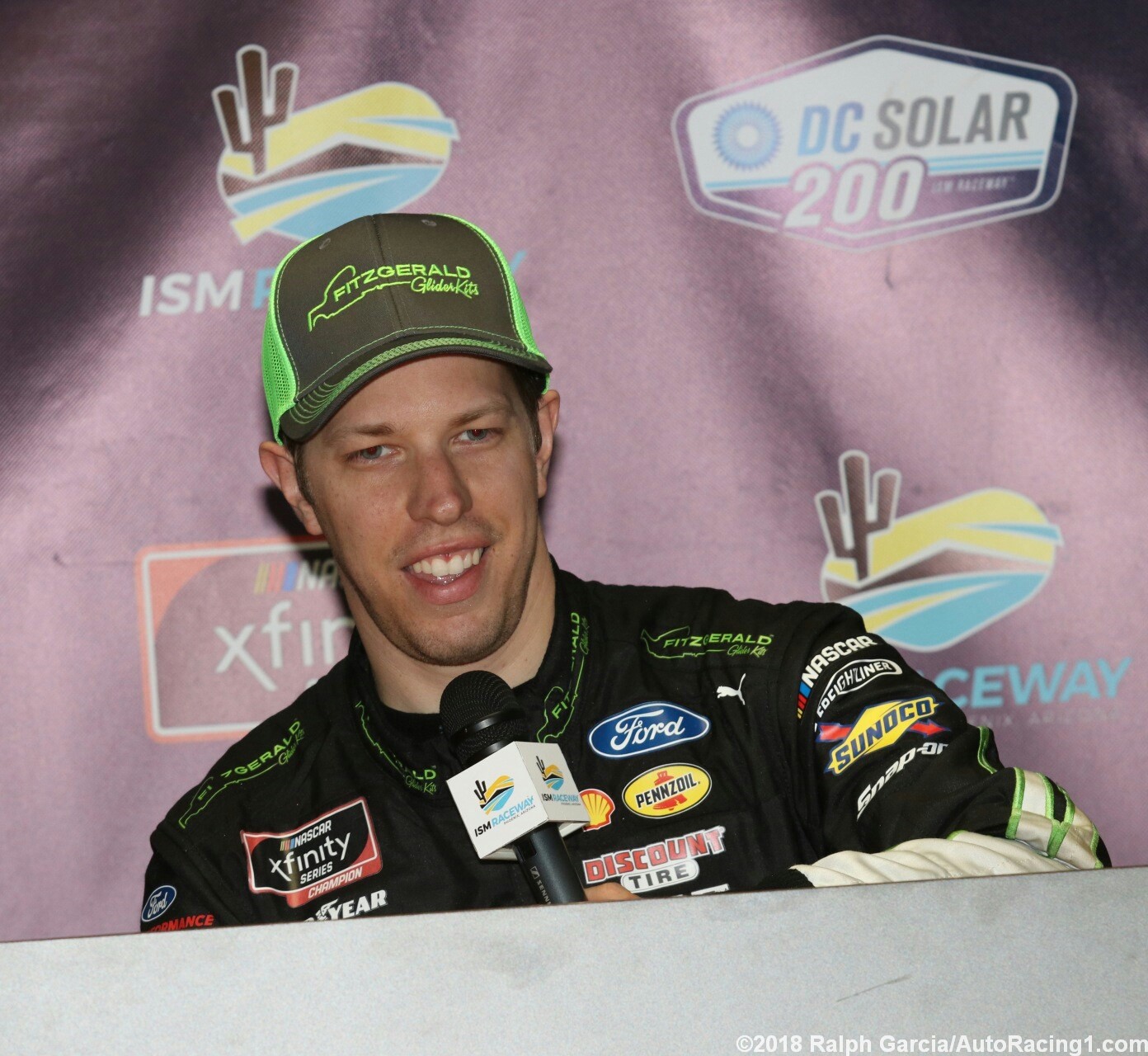 Brad Keselowski
Ralph Garcia/AR1.com
Watch video below as Brad Keselowski powers past the competition in a rain-delayed Xfinity Series DC Solar 200 at ISM Raceway.
Neither a speeding penalty nor uncharacteristic rain in the Sonoran Desert could keep Brad Keselowski out of Victory Lane on Saturday at ISM Raceway.
In winning the DC Solar 200 in his first NASCAR Xfinity Series start of the season, Keselowski picked up his second victory at the one-mile track and the 37th of his career, fifth most all-time.
The driver of the No. 22 Team Penske Ford beat Justin Allgaier to the finish line by .530 second in a battle that saw Keselowski, Allgaier, third-place Kyle Busch and fourth-place Christopher Bell all take turns with the upper hand.
"It was a solid team effort," said Keselowski, who led 66 laps, second only to Allgaier's 76. "I wasn't perfect today by any stretch of the imagination, but the car was really strong.
"Really, really good for about 50-60 laps. The last 20 laps it would fall off pretty good but the guys made it count. I am really proud of them."
The end of the first 45-lap stage, won by Allgaier, brought a red flag for rain lasting 1 hour, 34 minutes, 57 seconds. When racing resumed under caution, Keselowski drew a penalty for speeding on pit road and restarted on Lap 53 at the back of the field.
That paved the way for Busch to win Stage 2—which ended in a one-lap shootout after a rain delay of 25 minutes, 21 seconds — as Keselowski worked his way back to third position. The final stage ran caution-free for 104 laps, with plenty of ebb and flow between the contending drivers.
Staggered pit strategies put Allgaier in the lead for the final restart on Lap 97, but Keselowski overtook him on Lap 143. With an excellent long-run car, Bell fought his way into the lead on Lap 164, passing Keselowski in a side-by-side drag race to the stripe.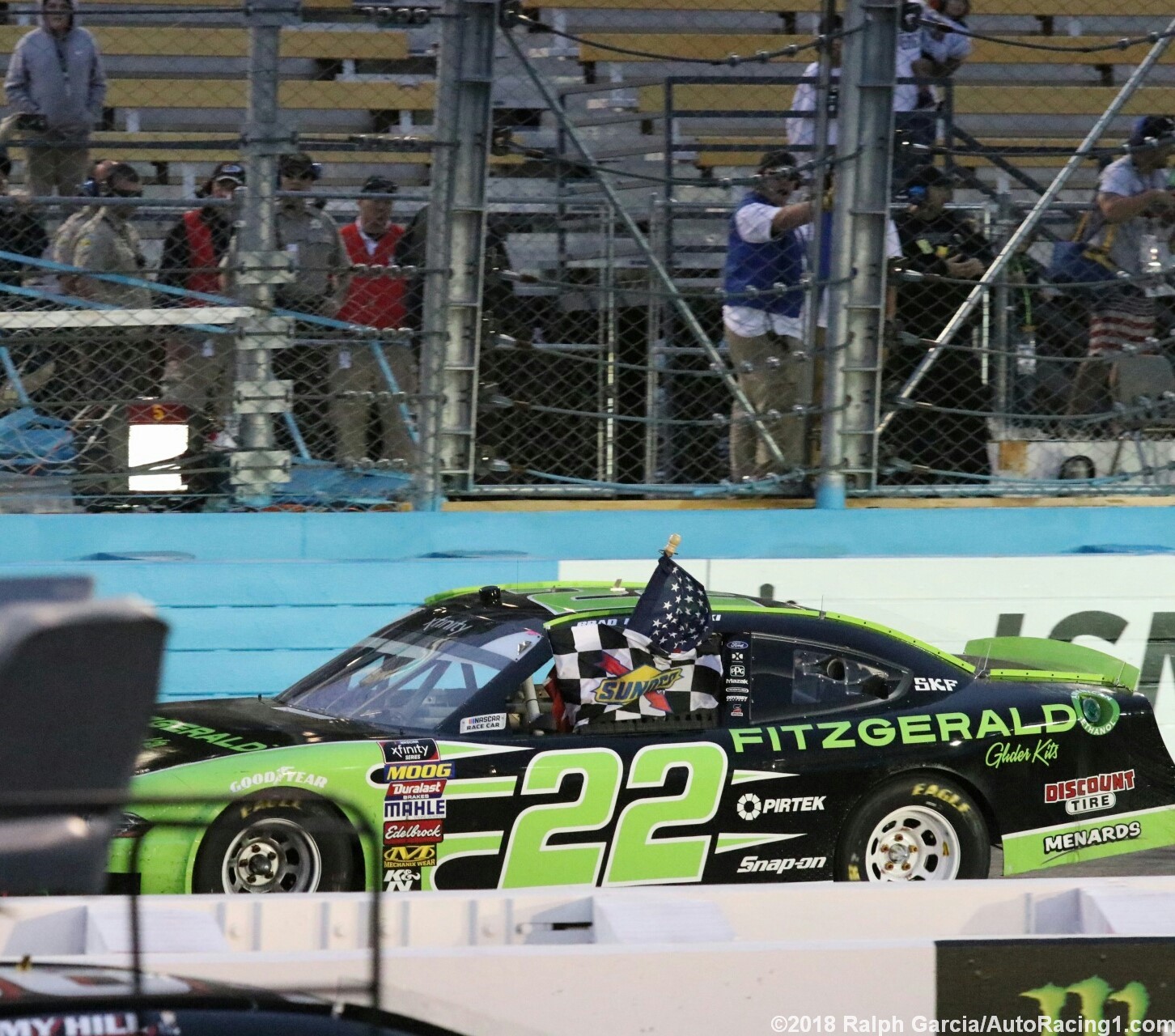 Keselowski takes the win
But Keselowski regained the top spot on Lap 179 near the end of a long cycle of green flag pit stops and stayed comfortably ahead of Allgaier the rest of the way.
"It was disheartening to take the lead and fall back after the pit stop," said Bell, whose car couldn't keep up with those of his rivals on fresh tires. "I struggled on the short run getting up to speed, and those guys drove away from me."
Allgaier found a silver lining in his second-place finish.
"I learned something from Brad running behind him," said Allgaier, who chipped away at Keselowski's lead before time ran out. "I was able to run him back down from what I learned."
Allgaier also gained ground on JR Motorsports teammates Elliott Sadler and Tyler Reddick, who entered the race tied for the series lead. Sadler and Reddick started the event from the back of the field, Sadler because of an engine change and Reddick in a backup car after damaging his primary No. 9 Chevrolet during the first round of qualifying on Saturday.
Sadler, who ran ninth as the first driver one lap down, retained the series lead by one point over Reddick, who finished 10th. Allgaier is third in the standings, seven points back, and Bell trails the leader by eight points in fourth.
Note: The No. 22 (Keselowski, race winner) and No. 18 (Busch, third-place finisher) teams each had one lug nut not secured after post-race inspection.
RELATED: Race results