Dutchman VeeKay Comes From Behind to Claim Pro Mazda Victory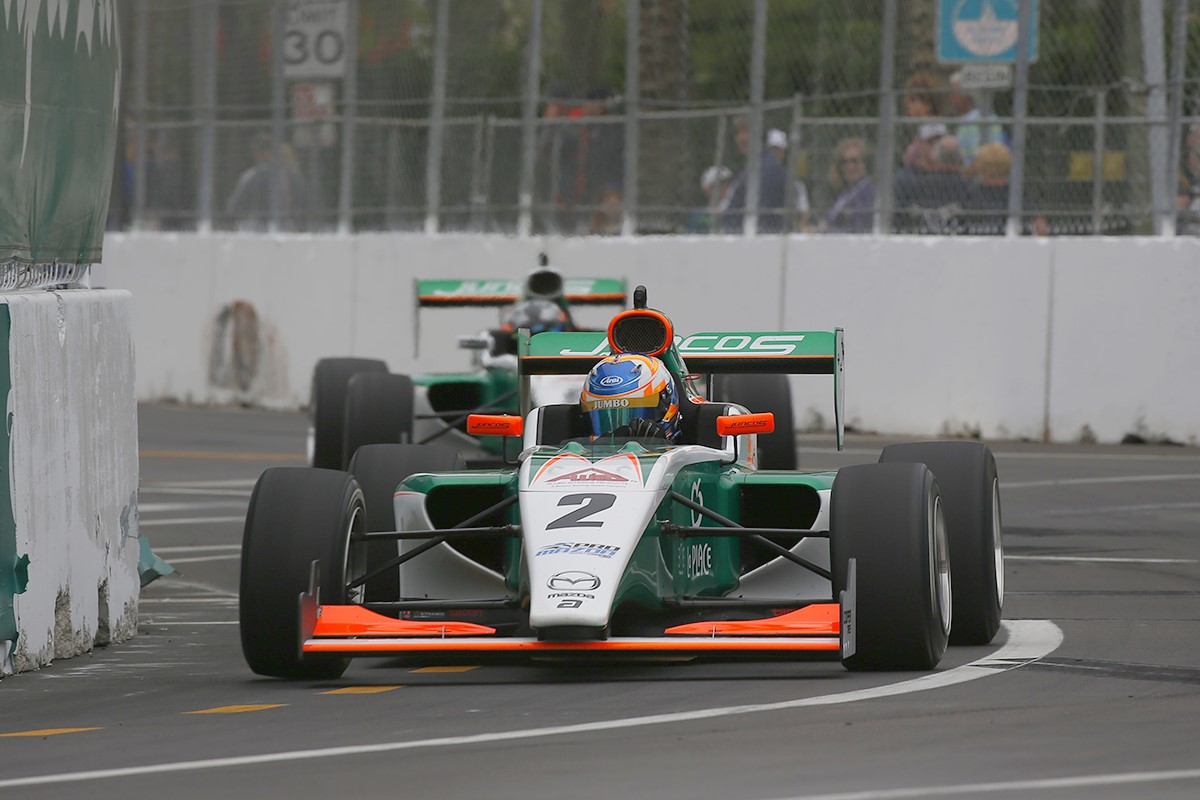 Rinus VeeKay
Teenager Rinus VeeKay faced plenty of challenges prior to the opening round of the new Pro Mazda Championship Presented by Cooper Tires, but he put all that behind him this afternoon as he swept to an impressive victory for Juncos Racing in the first of two races which will comprise the Pro Mazda Grand Prix of St. Petersburg Presented by Allied Building Products.
Fellow Pro Mazda debutant Parker Thompson finished a close second after leading for much of the 25-lap race for the Exclusive Autosport team. Robert Megennis, from New York, N.Y., backed up his victory in last year's Cooper Tires USF2000 Championship Powered by Mazda race at St. Petersburg by finishing third for Juncos Racing.
Last year's USF2000 champion, Oliver Askew, started on the pole for the St. Petersburg-based Cape Motorsports team but lost his advantage after being forced into an out-braking duel into the first corner by second-place qualifier Harrison Scott (RP Motorsport Racing). As the two rivals ran too deep into the turn and missed the apex by a country mile, second-place qualifier Thompson gratefully nipped into the gap and assumed the race lead ahead of teammates Megennis, who had started fifth, and VeeKay, who qualified a disappointed eighth.
An incident farther around the first lap in Turn Five between Brazilians Rafael Martins (Team Pelfrey) and Carlos Cunha (Juncos Racing) brought out the Safety Car after Martin's debut ended against the wall.
While Thompson made an exemplary restart to hold onto his lead, VeeKay continued his charge toward the front by scything past Megennis into second place at Turn One.
Thompson had extended his lead over VeeKay to over three seconds after 14 laps, only for that margin to disappear in an instant when the yellow flags flew again after English ex-Formula Ford racer James Raven's first-ever race with slicks and wings ended with an incident for his DEForce Racing Tatuus-Mazda PM-18 in Turn Eight.
The Safety Car gave one more opportunity for VeeKay. Thompson staunchly defended the inside line into Turn One following the restart but VeeKay was able to carry more momentum through the corner, then bravely drove clear around the outside of the Canadian in the flat-out Turn Two. It was an impressive maneuver. Thompson never gave up hope of regaining the point but had to settle for second.
Megennis maintained third despite a strong charge from Cunha, who worked his way back from ninth place after his opening lap incident. Polesitter Askew, from Jupiter, Fla., Sting Ray Robb (Team Pelfrey), from Payette, Idaho, and David Malukas (BN Racing), from Chicago, Ill., all finished in a train, followed by Nikita Lastochkin (Cape Motorsports) and Scott, who clearly had a fast car but was simply unable to find a way past.
VeeKay's victory capped a glorious day for the youngster, who earlier in the morning secured the pole position for Race Two, which is scheduled to start at 4:30 p.m. tomorrow.
Coverage can be found on a series of platforms including Road to Indy TV, the Road to Indy TV App and dedicated broadcast channels on demand via Apple TV, Amazon Fire and Roku and, most recently, the Xbox One Official App as well as live streaming and live timing on promazda.com and racecontrol.indycar.com.
Rinus VeeKay (#2 Jumbo Supermarkets/La Place Restaurants/KNAF Talent First-Juncos Racing Tatuus-Mazda PM-18): "I watched the USF2000 race and I saw a lot of guys going straight in Turn One because they were trying to go through the dust on the inside. It happened to us as well, but I was prepared and took advantage to get up to fourth. I knew Parker was fast and that I could not pass him in dirty air, so I knew my only chance was on the restart under braking. I set it up well and he was in the dust on the inside, and he kept it safe and let me go. I don't know what it is about St. Pete – I think the racing gods want me to have bad qualifying sessions so that I have less expectations and then do well in the races."
Parker Thompson (#90 Exclusive Autosport Tatuus-Mazda PM-18): "Rinus may have won the battle, but there's plenty of war left. It's been a difficult weekend for us but the entire Exclusive Autosport team has battled hard. They gave me such a great car today, I'm sorry not to bring it home for them. But we have tomorrow and we'll focus on that. Points are the most important part so this is a good start – it can't be that bad of a day when you're angry about finishing second!"
Robert Megennis (#9 Palo Alto Networks-Juncos Racing Tatuus-Mazda PM-18): "The start was pretty sketchy for me. I just wanted to get through cleanly with all the cars moving to the inside. But Rinus was on a charge today, there was just no stopping him. He came by me on the restart and that was that. But I am really happy – I can't thank the team enough for the awesome race car I had, and everyone at Palo Alto Networks for helping me get here. The car is so much fun to drive, it's so fast. The racing is different (than USF2000) because of the downforce but that's just teaching me how to drive faster, more downforce cars. That's what the Mazda Road to Indy is – podiums are great, but we're all here to learn and become better drivers."