Patricio O'Ward Drives to Victory at St. Pete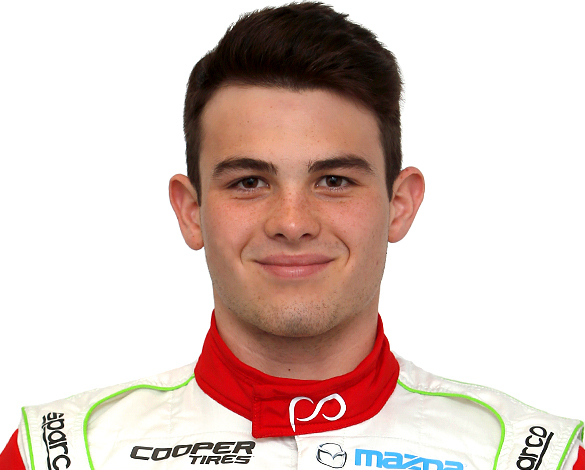 Patricio O'Ward
Rookie Pato O'Ward was gifted an opportunity to start from the pole position for today's Indy Lights Presented by Cooper Tires season opener after fastest qualifier Aaron Telitz's Belardi Auto Racing Dallara-Mazda was withdrawn following an incident during qualifying for Race Two this morning. The Mexican teenager took full advantage by storming into the lead at the start of the Mazda Grand Prix of St. Petersburg Presented by Cooper Tires and was never seriously challenged on his way to a comfortable victory for the Andretti Autosport team.
Uruguay's Santiago "Santi" Urrutia (Belardi Auto Racing), who has finished second in the championship in each of the last two seasons, and Colton Herta (Andretti Steinbrenner Racing), a winner last year on the unforgiving 1.8-mile street circuit adjacent to downtown St. Petersburg, completed the podium.
Telitz, from Birchwood, Wis., looked to have started the 2018 campaign in exactly the same manner in which he began his rookie season in 2017, by taking pole position yesterday afternoon with a new track record of 1:05.1279 (99.497 mph). Unfortunately, his hopes of claiming a repeat victory were scuppered when he crashed heavily toward the end of the second qualifying session this morning. His Dallara was grievously damaged, leaving a disappointed Telitz on the sidelines.
Promoted to the pole, O'Ward, who finished third in one of the 2017 St. Petersburg races – and previously won here in the Pro Mazda Championship Presented by Cooper Tires – made an exemplary start and immediately began to stretch his legs and build an appreciable advantage over Urrutia, who had managed to sneak past Herta for second place in the usual first-corner scramble
Urrutia chased as hard as he could but was no match this day for the young Mexican, whose lead grew steadily. O'Ward eventually took the checkered flag a full 6.6014 seconds clear.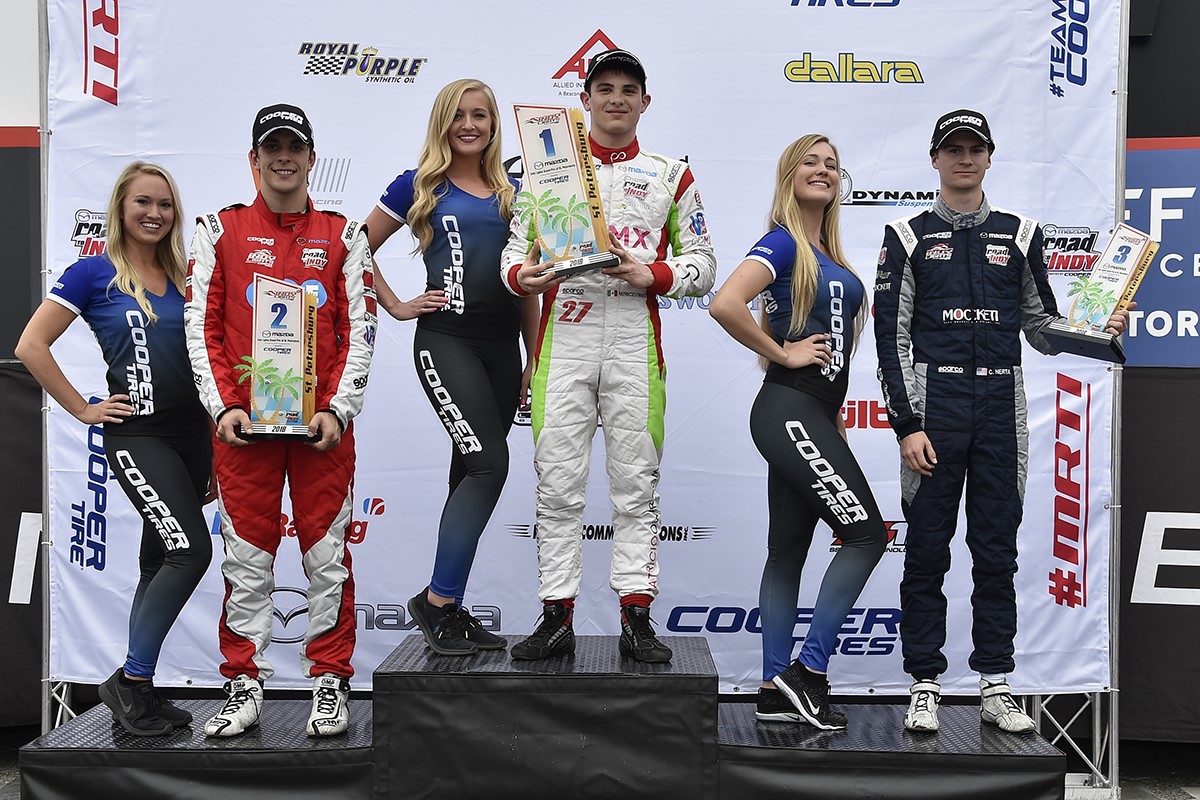 Indy Lights top-3 celebrate
Last year's Pro Mazda champion, Brazilian Victor Franzoni, ran a close third in the early stages for Juncos Racing but began to experience increasing oversteer on his Indy Lights debut and gradually slipped away from the two leaders.
Herta, who had found himself shuffled from second to fifth on the opening lap, quickly displaced Shelby Blackstock (Team Pelfrey), then began to whittle away at the deficit to Franzoni. The young Californian appeared to have made the pass for third place on Lap 15 following a feint to the outside and then an impressive late dive to the inside under braking for Turn One, only to find himself carrying too much speed at the apex, which allowed Franzoni to regain the position. It was but a minor setback for Herta, who made the pass stick four laps later and then immediately pulled clear. Herta clearly had the best car in the closing stages – witness him posting the fastest race lap at a new record 1:05.4946 (98.939 mph) – but he remained more than three seconds shy of Urrutia at the finish.
Franzoni capped an impressive debut by holding onto fourth, well clear of Blackstock, who lost his previously constant shadow Dalton Kellett (Andretti Autosport) when the Canadian was inadvertently tipped into a spin at Turn One by Neil Alberico in a second Team Pelfrey Dallara.
Ryan Norman completed the top six for Andretti Autosport.
Patricio "Pato" O'Ward (#27 CDMX Mexico City Mazda-Andretti Autosport Dallara-Mazda IL-15): "I'm so happy for everyone who has helped me, who have believed me and helped me get here. I want people to see that if you have the right factors in the right moment, you can do it. The Andretti guys and girls gave me an awesome car, my CDX Mazda was great. I just kept it on the black stuff, didn't tag any walls. It's never boring around here. This track is always on the limit, on the verge of being either super quick or being in the wall and that line is barely anything. Getting 'that lap' in qualifying is so hard and that is very unique. I'm looking forward to starting tomorrow on pole."
Santiago Urrutia (#5 Belardi Auto Racing Dallara-Mazda IL-15): "It was a good race. It hasn't been a strong weekend for us so far, with a problem in practice when I crashed and then qualifying wasn't that good. But we found more speed today. I have had trouble here in the past, because my driving style, which is aggressive, doesn't work so well on a track like this where you don't have a lot of grip. So finishing second is good for us and good for the points. It's a good way to start the championship."
Colton Herta (#98 Andretti Steinbrenner Racing Curb Mazda Dallara-Mazda): "I thought that starting on the outside, which was the cleaner line, would enable me to put the throttle down quicker, but it didn't. I had a ton of wheel spin. Santi got to the inside of me under braking then Victor got next to me. I thought I left him enough room but apparently, he wanted more room so he knocked me out of the way. That knocked the wheel out of my hand and by the time I got going, I was way back and I had to battle back. But that was fun, and getting fastest race lap and finishing third is good. My goal is to get podium in every race: that's what you have to do to win the championship, especially in such a competitive field."
Results
| | | | | | | |
| --- | --- | --- | --- | --- | --- | --- |
| Pos | ST | Car | Driver | Lap | Behind | Status |
| 1 | 2 | 27 | O'Ward, Pato (R) | 35 | –.—- | Running |
| 2 | 4 | 5 | Urrutia, Santi | 35 | 6.6014 | Running |
| 3 | 3 | 98 | Herta, Colton | 35 | 10.4205 | Running |
| 4 | 5 | 23 | Franzoni, Victor (R) | 35 | 28.9609 | Running |
| 5 | 7 | 3 | Blackstock, Shelby | 35 | 36.1168 | Running |
| 6 | 6 | 48 | Norman, Ryan | 35 | 39.4887 | Running |
| 7 | 8 | 2 | Alberico, Neil | 35 | 1:02.4569 | Running |
| 8 | 9 | 28 | Kellett, Dalton | 34 | – | Running |
| 9 | 1 | 9 | Telitz, Aaron | 0 | – | DNS |