What does Barcelona tires tell us about who is fastest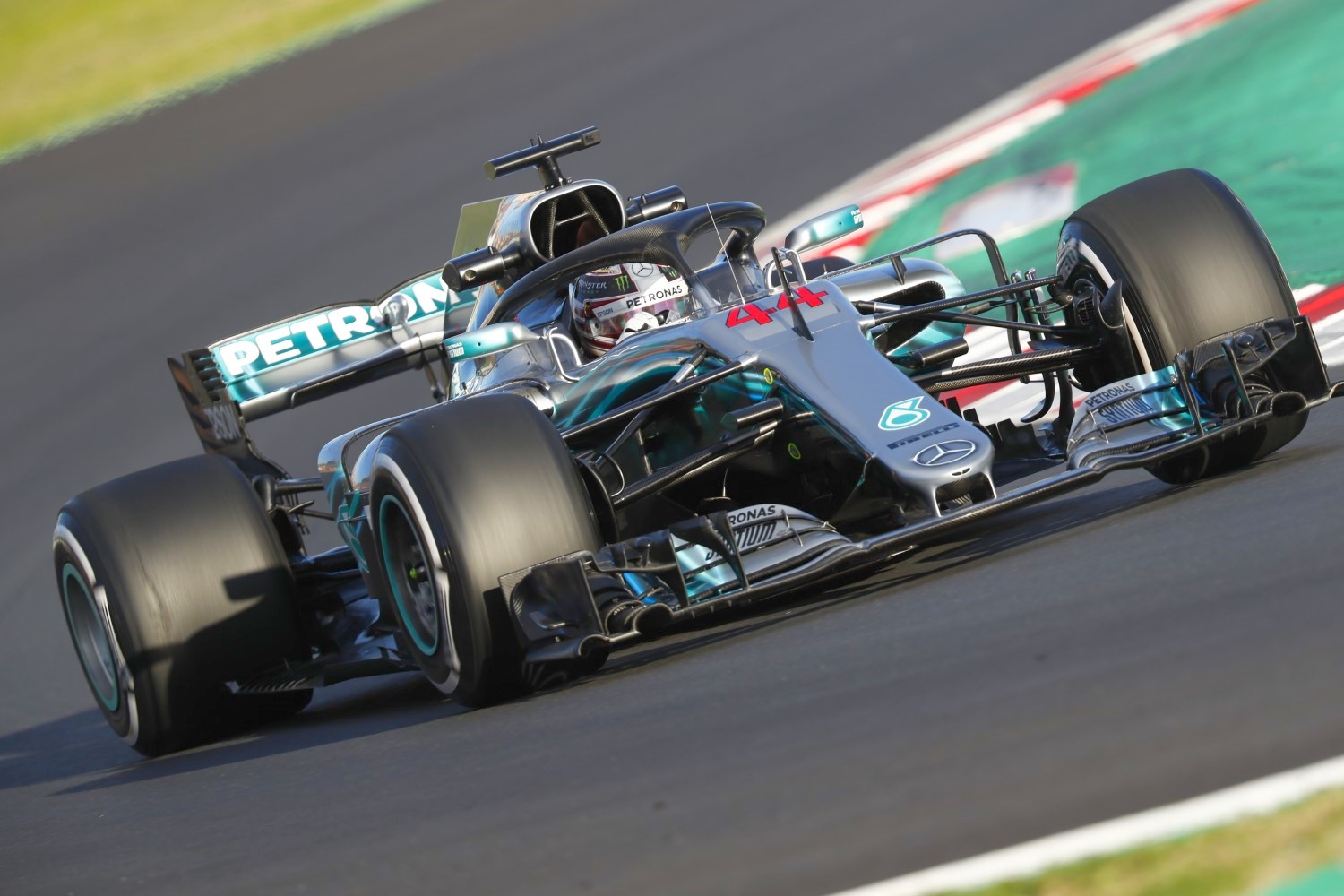 It's pretty clear that Aldo Costa has produced another dominating car
Pirelli said there is around 0.7 seconds between the ultrasoft and the hypersoft F1 tires. It is understood the delta between the medium and soft is around 0.85s, the soft to supersoft around 0.4s and supersoft to ultrasoft around 0.6s.
So let's see if we can tell which car is fastest using each drivers fastest time of the day and what tire they were on. We then use the above differences between the tire type and compute the theoretical lap time the driver would have turned if he was on hyper-soft tires at the time. From this analysis the Mercedes car is about 3/4 sec. per lap faster than the Red Bull and 9/10ths sec per lap faster than the Ferrari.
Of course we do not know what fuel load the drivers were running, or whether their engines were turned up to maximum power, but from this analysis it appears the Aldo Costa designed Mercedes will dominate once again in 2018.
Medium – Base
Soft -0.85s
Supersoft – 1.25s
Ultrasoft – 1.85s
Hypersoft – 2.55s
Theoretical Fastest possible Times if on Hyper-Soft Tires
Pos
Driver
Car
Tires
Lap
Time (Sec.)
Theoretical time
on hypers
1
Bottas
Mercedes
Medium
78.825
76.275
2
Bottas
Mercedes
Medium
79.532
76.982
3
Ricciardo
Red Bull
Super-Soft
78.327
77.027
4
Magnussen
Haas
Super-Soft
78.360
77.060
5
Vettel
Ferrari
Hyper-Soft
77.182
77.182
6
Raikkonen
Ferrari
Hyper-Soft
77.221
77.221
7
Sirotkin
Williams
Soft
79.189
77.489
8
Sainz
Renault
Medium
80.042
77.492
9
Hamilton
Mercedes
Ultra-Soft
78.400
77.700
10
Grosjean
Haas
Ultra-Soft
78.412
77.712
11
Alonso
McLaren
Hyper-Soft
77.784
77.784
12
Vettel
Ferrari
Soft
79.541
77.841
13
Vettel
Ferrari
Medium
80.396
77.846
14
Bottas
Mercedes
Ultra-Soft
78.560
77.860
15
Ricciardo
Red Bull
Hyper-Soft
78.047
78.047
16
Sainz
Renault
Hyper-Soft
78.092
78.092
17
Verstappen
Red Bull
Medium
80.649
78.099
18
Verstappen
Red Bull
Soft
79.842
78.142
19
Hamilton
Mercedes
Super-Soft
79.464
78.164
20
Stroll
Williams
Soft
79.954
78.254
21
Kubica
Williams
Super-Soft
79.629
78.329
22
Gasly
Toro Rosso
Hyper-Soft
78.363
78.363
23
Grosjean
Haas
Soft
80.237
78.537
24
Raikkonen
Ferrari
Soft
80.242
78.542
25
Hamilton
Mercedes
Ultra-Soft
79.296
78.596
26
Stroll
Williams
Soft
80.349
78.649
27
Hulkenberg
Renault
Hyper-Soft
78.675
78.675
28
Sainz
Renault
Hyper-Soft
78.725
78.725
29
Vandoorne
McLaren
Hyper-Soft
78.855
78.855
30
Bottas
Mercedes
Soft
80.596
78.896
31
Hartley
Toro Rosso
Hyper-Soft
78.949
78.949
32
Ocon
Force India
Hyper-Soft
78.967
78.967
33
Ocon
Force India
Soft
80.805
79.105
34
Hamilton
Mercedes
Soft
80.808
79.108
35
Leclerc
Sauber
Hyper-Soft
79.118
79.118
36
Ericsson
Sauber
Hyper-Soft
79.244
79.244
37
Gasly
Toro Rosso
Soft
80.973
79.273
38
Hulkenberg
Renault
Super-Soft
80.758
79.458
39
Stroll
Williams
Ultra-Soft
80.262
79.562
40
Magnussen
Haas/Ferrari
Soft
81.298
79.598
41
Leclerc
Sauber
Super-Soft
80.919
79.619
42
Perez
Force India
Hyper-Soft
79.634
79.634
43
Hulkenberg
Renault
Soft
81.432
79.732
44
Sainz
Renault
Soft
81.455
79.755
45
Alonso
McLaren
Hyper-Soft
79.856
79.856
46
Sirotkin
Williams
Soft
81.588
79.888
47
Perez
Force India
Soft
81.643
79.943
48
Ericsson
Sauber
Super-Soft
81.706
80.406
49
Vandoorne
McLaren
Super-Soft
81.946
80.646
50
Sirotkin
Williams
Soft
82.350
80.650
51
Hartley
Toro Rosso
Hyper-Soft
80.834
80.834
52
Stroll
Williams
Hyper-Soft
82.937
82.937