Dixon tops final practice in St. Petersburg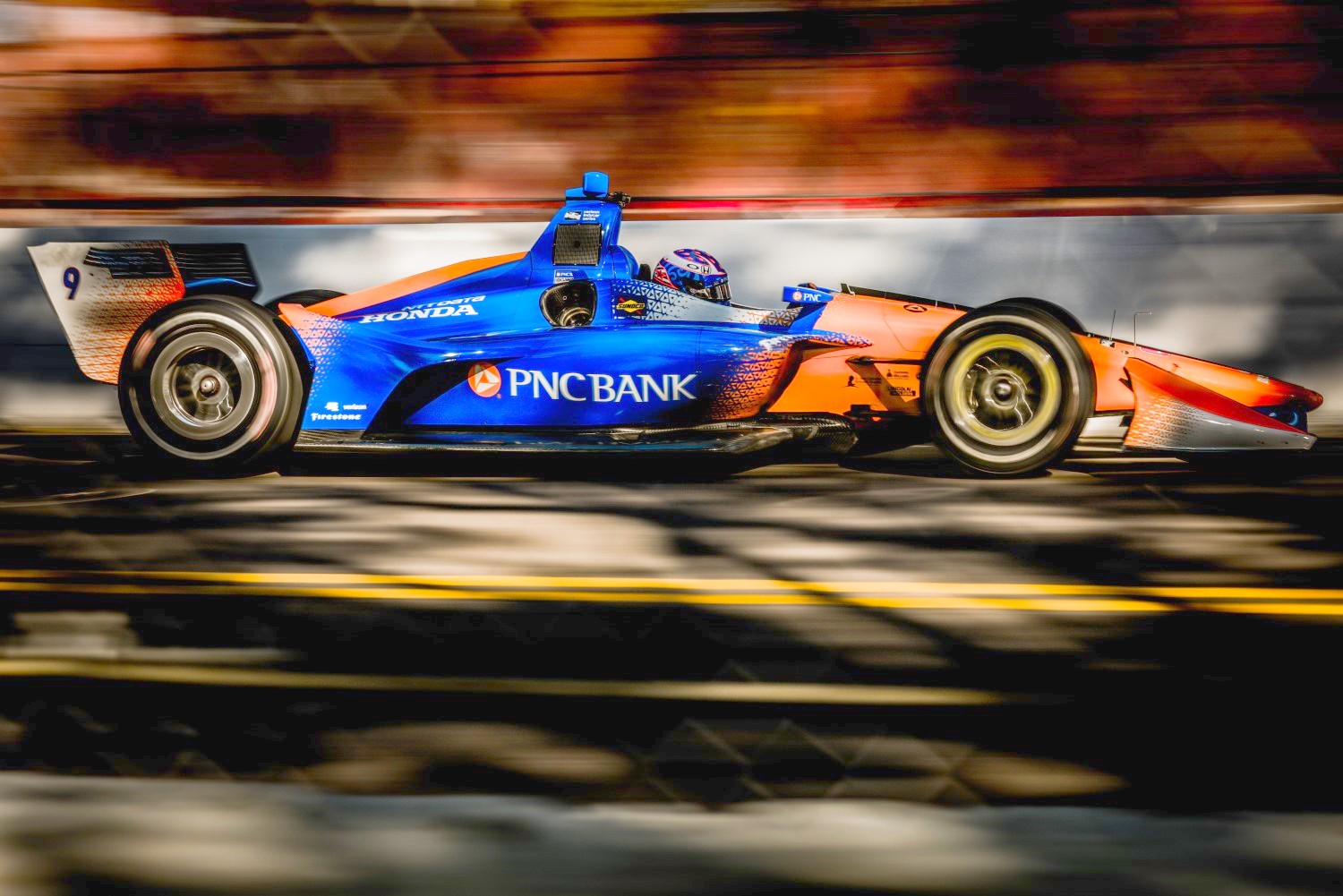 Scott Dixon
Scott Dixon turned the fastest lap in final IndyCar practice on the streets of St. Petersburg, Florida in his Ganassi Honda.
Dixon was followed by a bevy of Chevy powered cars led by Josef Newgarden in the #1 Penske Chevy.
Will Power, Jordan King (who put it in the final turn barrier to end the session), Matt Leist, Simon Pagenaud and Spencer Pigot in 7th.
All times were set on the harder Firestone black tires under sunny skies and a temperature of a perfect 68 degrees F.
Practice 3 Results
| | | | | | | | | |
| --- | --- | --- | --- | --- | --- | --- | --- | --- |
| Pos | No | Name | FTime | Diff | Gap | FSpeed | Engine | Team |
| 1 | 9 | Scott Dixon | 1:00.757 | –.—- | –.—- | 106.654 | Honda | Chip Ganassi Racing Teams |
| 2 | 1 | Josef Newgarden | 1:00.865 | 0.1083 | 0.1083 | 106.464 | Chevy | Team Penske |
| 3 | 12 | Will Power | 1:00.872 | 0.1147 | 0.0064 | 106.453 | Chevy | Team Penske |
| 4 | 20 | Jordan King | 1:01.032 | 0.2750 | 0.1603 | 106.174 | Chevy | Ed Carpenter Racing |
| 5 | 4 | Matheus Leist | 1:01.033 | 0.2756 | 0.0006 | 106.173 | Chevy | AJ Foyt Enterprises |
| 6 | 22 | Simon Pagenaud | 1:01.065 | 0.3083 | 0.0327 | 106.116 | Chevy | Team Penske |
| 7 | 21 | Spencer Pigot | 1:01.094 | 0.3369 | 0.0286 | 106.066 | Chevy | Ed Carpenter Racing |
| 8 | 27 | Alexander Rossi | 1:01.113 | 0.3561 | 0.0192 | 106.033 | Honda | Andretti Autosport |
| 9 | 30 | Takuma Sato | 1:01.150 | 0.3930 | 0.0369 | 105.969 | Honda | Rahal Letterman Lanigan Racing |
| 10 | 14 | Tony Kanaan | 1:01.321 | 0.5634 | 0.1704 | 105.674 | Chevy | AJ Foyt Enterprises |
| 11 | 98 | Marco Andretti | 1:01.353 | 0.5961 | 0.0327 | 105.618 | Honda | Andretti Autosport with Curb-Agajanian |
| 12 | 28 | Ryan Hunter-Reay | 1:01.355 | 0.5977 | 0.0016 | 105.615 | Honda | Andretti Autosport |
| 13 | 5 | James Hinchcliffe | 1:01.359 | 0.6021 | 0.0044 | 105.608 | Honda | Schmidt Peterson Motorsports |
| 14 | 26 | Zach Veach | 1:01.368 | 0.6107 | 0.0086 | 105.593 | Honda | Andretti Autosport |
| 15 | 18 | Sebastien Bourdais | 1:01.405 | 0.6482 | 0.0375 | 105.528 | Honda | Dale Coyne Racing/Vasser-Sullivan |
| 16 | 6 | Robert Wickens | 1:01.464 | 0.7073 | 0.0591 | 105.427 | Honda | Schmidt Peterson Motorsports |
| 17 | 88 | Gabby Chaves | 1:01.513 | 0.7554 | 0.0481 | 105.344 | Chevy | Harding Racing |
| 18 | 10 | Ed Jones | 1:01.534 | 0.7766 | 0.0212 | 105.308 | Honda | Chip Ganassi Racing Teams |
| 19 | 15 | Graham Rahal | 1:01.671 | 0.9137 | 0.1371 | 105.074 | Honda | Rahal Letterman Lanigan Racing |
| 20 | 60 | Jack Harvey | 1:01.709 | 0.9523 | 0.0386 | 105.008 | Honda | Michael Shank Racing |
| 21 | 59 | Max Chilton | 1:01.855 | 1.0974 | 0.1451 | 104.762 | Chevy | Carlin |
| 22 | 23 | Charlie Kimball | 1:01.919 | 1.1622 | 0.0648 | 104.652 | Chevy | Carlin |
| 23 | 19 | Zachary Claman De Melo | 1:01.919 | 1.1622 | 0.0000 | 104.652 | Honda | Dale Coyne Racing |
| 24 | 32 | Rene Binder | 1:02.962 | 2.2044 | 1.0422 | 102.920 | Chevy | Juncos Racing |