Vilander Paces Pirelli World Challenge GT Practice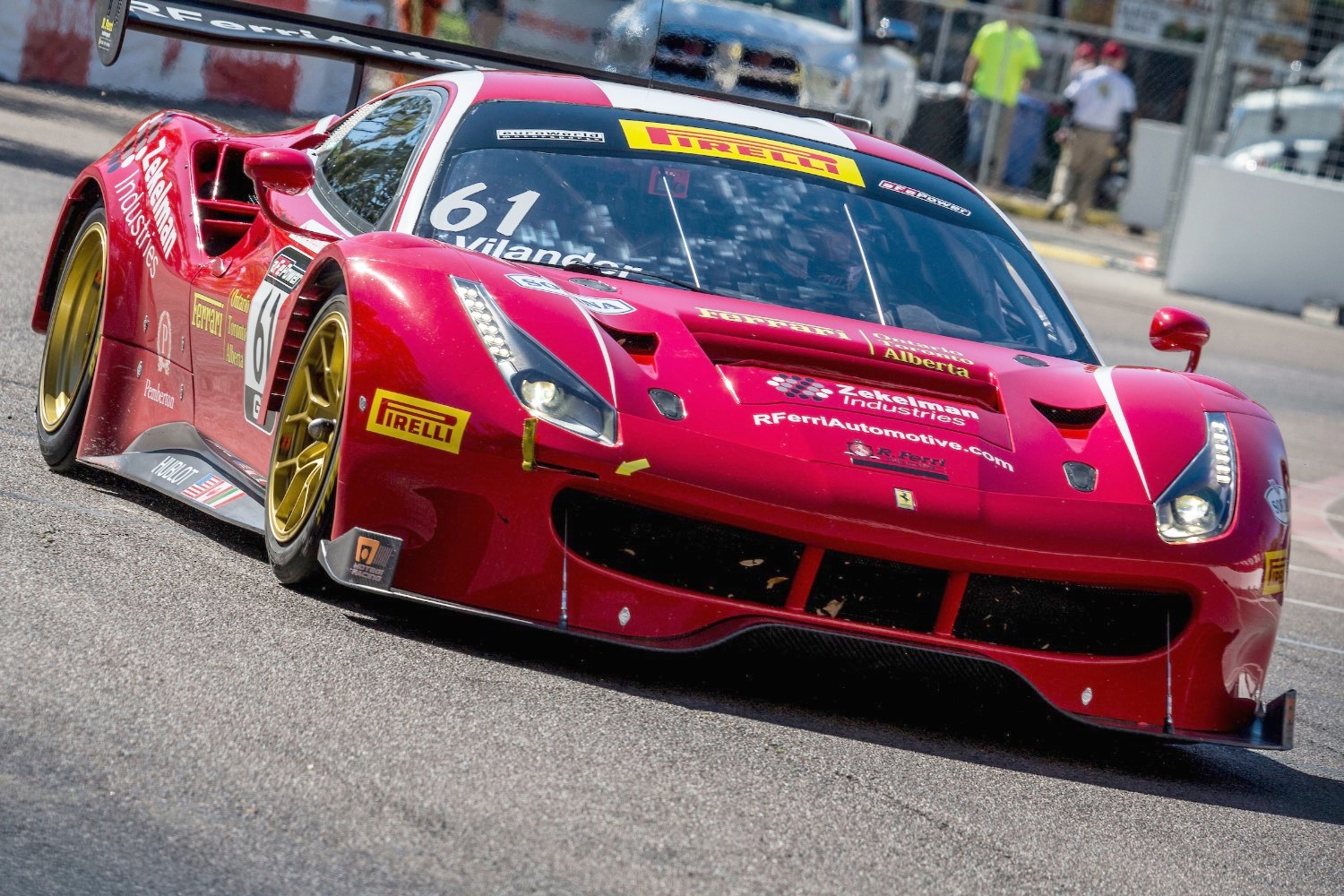 Toni Vilander
Finland's Toni Vilander started strongly Friday in the No. 61 RFerri Motorsports Ferrari 488 GT3 by leading both GT practice rounds in the 2018 Pirelli World Challenge season openers in the streets of St. Petersburg, a portion of the Firestone Grand Prix of St. Petersburg.
Making his debut in the St. Pete streets, the veteran sports car racer just nipped Canadian Scott Hargrove in the Friday afternoon GT practice round 2 with a time of one minute, 11.601 seconds (90.5 miles per hour) to lead the 12-car field at the 1.8-mile, 14-turn temporary street circuit along the harborside of St. Petersburg. Vilander's Friday time was much quicker than the current qualifying track record set by Michael Lewis in 2016 of 1:13.07. GT qualifying is scheduled for 9:15 a.m Saturday.
"On Thursday after the track walk, I had a really good feeling about this place," said Vilander. "The team had good data and today was an excellent day for us. We kept changing the setups in the car and it seem to improve the handling. We had a good plan for both practices today and we went through the entire plan. Not a big split in times from the morning to the afternoon. Seems like every time those Indy Cars get on the track, the traction improved for our cars. We'll go over everything for Saturday morning's qualifying and Saturday's race. I think we have a good car for both. The competition is very tight at the top of the grid."
Hargrove, the former open-wheel star, clocked a close 1:11.636 lap (90.4 m.ph.) in the No. 96 Pfaff Motorsports/Castrol Porsche 911 GT3 R in his debut in the Pirelli World Challenge followed by another PWC newcomer Daniel Keilwitz of Germany in the popular Callaway Competition USA Corvette C7 GT3-R at 1:11.704.
Rounding out the top five in the afternoon 30-minute practice in GT were Denmark's Michael Christensen in the Tampa-based Alegra Motorsports Porsche 911 GT3 R at 1:11.910 and last year's St. Pete pole winner Daniel Mancinelli of Italy in the No. 31 TR3 Racing Ferrari 488 GT3 at 1:12.007.
Another Canadian and past GT race winner Daniel Morad placed sixth Friday in the No. 2 CRP Racing Mercedes AMG GT3 at 1:12.080.
In the GTA division, former GTS race winner Rodrigo Baptista paced the field in his new No. 3 K-PAX Racing Bentley Continental GT3 machine with a 1:12.584 followed by former GTA class champion Martin Fuentes of Mexico City in the No. 07 Squadra Corsa Garage Italia Ferrari 488 GT3 at 1:13.161 and high schooler Parker Chase of New Braunsfels, Tex., in the No. 19 TruSpeed Motorsports Audi R8 LMS at 1:13.262.
Qualifying for the GT/GTA division will take place Saturday at 9:15 a.m. EST with Round 1 GT 50-minute sprint race set for 3:50 p.m. Sunday's GT Round 2 sprint race will begin at 3:15 p.m. EDT.
Practice Times
| | | | | | | | |
| --- | --- | --- | --- | --- | --- | --- | --- |
| Pos | PIC | Class | Name | Hometown | Car | Laps | Fastest Lap Time |
| 1 | 1 | Pro | Toni VILANDER | Kankaanpaa | Ferrari 488 GT3 | 22 | 1:11.601 |
| 2 | 2 | Pro | Scott HARGROVE | Tsawwassen BC | Porsche 911 GT3 R (991) | 20 | 1:11.636 |
| 3 | 3 | Pro | Daniel KEILWITZ | Villingen-Schwenningen | Callaway Corvette C7 GT3-R | 23 | 1:11.704 |
| 4 | 4 | Pro | Michael CHRISTENSEN | Karlslunde | Porsche 911 GT3 R (991) | 16 | 1:11.910 |
| 5 | 5 | Pro | Daniel MANCINELLI | | Ferrari 488 GT3 | 18 | 1:12.007 |
| 6 | 6 | Pro | Daniel MORAD | Toronto ON | Mercedes-AMG GT3 | 20 | 1:12.080 |
| 7 | 1 | Am | Rodrigo BAPTISTA | Sao Paulo | Bentley Continental GT3 | 18 | 1:12.584 |
| 8 | 7 | Pro | Alvaro PARENTE | Porto | Bentley Continental GT3 | 20 | 1:12.814 |
| 9 | 8 | Pro | Spencer PUMPELLY | Atlanta GA | Aston Martin V12 Vantage GT3 | 15 | 1:13.085 |
| 10 | 2 | Am | Martin FUENTES | Mexico City MX | Ferrari 488 GT3 | 13 | 1:13.161 |
| 11 | 3 | Am | Parker CHASE | New Braunfels TX | Audi R8 LMS | 19 | 1:13.262 |
| 12 | | | Yuki HARATA | Narita | Lamborghini Huracan GT3 | 22 | 1:14.548 |