Drivers work on new car's demands at St. Pete opening practice day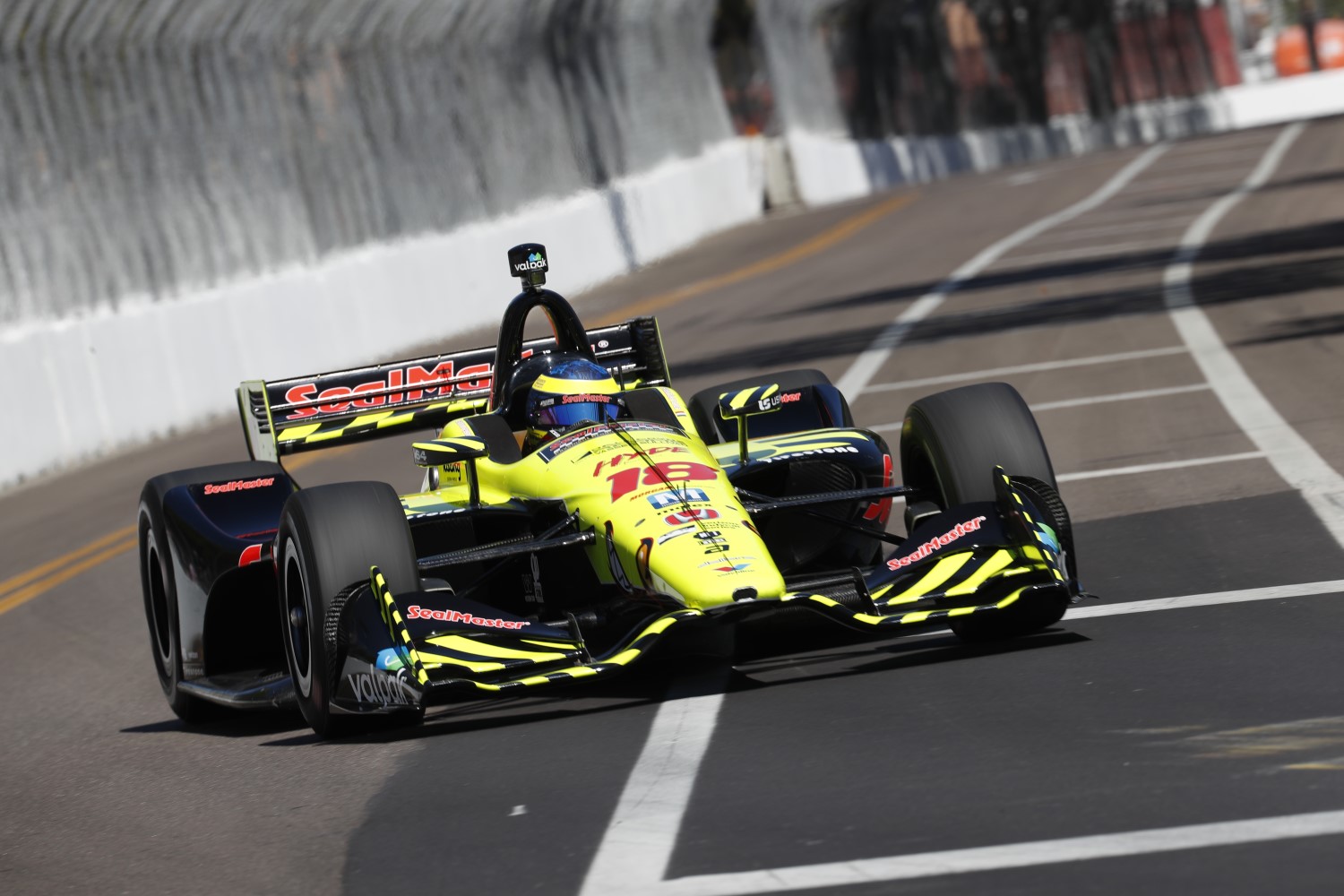 Can Sebastien Bourdais make it two-in-a-row?
The new Indy car lived up to the hype on the first official day of practice ahead of the Verizon IndyCar Series season opener.
Twenty-four drivers found their cars – each equipped with the new universal aero kit for the first time this year – challenging and exciting to drive as they prepared for Sunday's Firestone Grand Prix of St. Petersburg. It is the first of 17 races on the 2018 schedule.
At the end of a pair of 45-minute sessions, Ryan Hunter-Reay of Andretti Autosport sat atop the leaderboard with a lap of 1 minute, 0.8295 seconds (106.527 mph) in the No. 28 DHL Honda on the 1.8-mile, 14-turn temporary course encompassing downtown city streets and a runway of Albert Whitted Airport.
"In the past with more downforce, we actually had to go a little bit beyond our comfort level to get the lap time out of the car because there was so much downforce on it," explained Hunter-Reay, who has twice finished second in the event. "That was the most awkward thing about today, trying to rein that back a little bit, try not to ask so much of the thing.
"That's where it's difficult," he added. "It's just sliding around. It's overall lack of grip. … It's good, though. It's a new challenge. Got everybody on their toes. We'll see who makes the most of it in the shortest amount of time."
The universal kit was introduced this year following three years of aero kit competition between manufacturers Chevrolet and Honda. The universal kit is designed with a significant reduction in the downforce level that helps cars adhere to the track and corner better. Now, drivers are required to brake earlier and work harder to carry speed through the corners.
James Hinchcliffe, in the No. 5 Arrow Electronics Honda for Schmidt Peterson Motorsports, was second fastest for the day with a lap of 1:00.8724 (106.452 mph). The 2013 St. Petersburg race winner echoed Hunter-Reay's thoughts on the difficulty and challenge of the new car.
"It's a very different beast," Hinchcliffe said. "Having to reprogram your brain as to what normal is with this car has been a huge challenge everywhere we've gone (in preseason testing). Doing it for a street circuit for the first time has been a bit of an eye opener."
Will Power, a two-time race winner and seven-time pole winner at St. Petersburg, was third on the overall practice chart with a lap of 1:00.9933 (106.241 mph) in the No. 12 Verizon Team Penske Chevrolet. Scott Dixon, who ranks fourth all time in Indy cars with 41 wins but has zero St. Pete victories, was fourth in the No. 9 PNC Bank Chip Ganassi Racing Honda (1:01.1004, 106.055 mph).
Josef Newgarden, in his first race weekend as the defending Verizon IndyCar Series champion, was fifth on the combined timesheet at 1:01.1012 (106.054 mph) in the No. 1 Hitachi Team Penske Chevrolet. The top 17 drivers were separated by less than a second.
A third practice is set for Saturday morning, ahead of three rounds of Verizon P1 Award knockout qualifying starting at 2:20 p.m. ET (streaming live on RaceControl.IndyCar.com). The streets of St. Petersburg will be the site of the Verizon IndyCar Series opener for the eighth straight year on Sunday, with live coverage starting at 12:30 p.m. on ABC and the Advance Auto Parts INDYCAR Radio Network.
Scuderia Corsa, Rahal Letterman Lanigan partner to enter Servia for Indy 500
Scuderia Corsa, owner of victories at the 24 Hours of Le Mans and 12 Hours of Sebring as well as three consecutive championships in IMSA's GT Daytona class, announced today it is partnering with Rahal Letterman Lanigan Racing to enter veteran driver Oriol Servia in the 102nd Indianapolis 500 presented by PennGrade Motor Oil this May.
Servia, with 201 career Indy car starts including nine in the Indianapolis 500, will drive the No. 64 Honda as a teammate to RLL's full-season drivers, Graham Rahal and reigning Indy 500 champion Takuma Sato.
"It is an honor to compete at 'The Greatest Spectacle in Racing,'" Giacomo Mattioli, owner of Scuderia Corsa, said in a released statement. "To be a part of this great racing heritage and tradition is something I always envisioned for Scuderia Corsa and running across the yard of the bricks this year is a thrill."
Servia's best Indy 500 finish to date was fourth place for Panther/Dreyer & Reinbold Racing in 2012. He finished 21st in last year's race, his fourth with RLL. He is confident the pairing of successful teams will bode well for him this year.
"Obviously both teams are very successful, winning teams," Servia said. "I couldn't be happier that they agreed. When you put two teams together, you never know how it's going to come out. They both saw the advantage of taking this shot together, with our friends at Honda supporting, too. I couldn't be happier."
Bobby Rahal, the 1986 Indy 500 winner and co-owner of Rahal Letterman Lanigan Racing, sees the partnership as a win-win-win situation – that hopefully results in a win on May 27.
"I think it's really kind of a great coming together of three very powerful forces," Rahal said. "I look at Oriol being a part of the team as his really being able to contribute to refining the car, really creating a great setup.
"Now this year with Takuma and Graham, we have three very, very strong entries in the 500, three strong chances to win. That certainly is exciting."
INDYCAR community ushers in 2018 season, honors 2017 champion
As the 2018 Verizon IndyCar Series season prepared to launch, INDYCAR took a final warm look back at a thrilling 2017 campaign.
The racing community gathered Thursday night at the Birchwood, a few blocks from the Firestone Grand Prix of St. Petersburg street course, to welcome in the highly anticipated season featuring a new-look car, new teams and new challengers for the championship. It also provided the opportunity to honor last year's champion, Josef Newgarden.
Mark Miles, president and CEO of Hulman & Company which owns INDYCAR and Indianapolis Motor Speedway, served as host for the event.
"People are stoked to be in St. Petersburg, Florida, and get to the 2018 Verizon IndyCar Series championship," Miles said. "There's so much anticipation and excitement about this year and this series that it's palpable."
Miles celebrated the championship that Newgarden won in 2017, in his first season driving for Team Penske. Newgarden is already focused on 2018, with the competition debut of the universal aero kit on all cars taking place this weekend.
"In looking forward to 2018, I think we've got a pretty incredible opportunity as a series and a platform going forward," Newgarden said. "I'm really excited about the new car. I think if you ask anyone in here, they're pretty excited about what we have."
Firestone extends St. Petersburg race title sponsorship agreement through 2020
Bridgestone Americas, Inc. announced on Thursday a two-year extension of its Firestone brand's title sponsorship of the St. Petersburg race. This year marks the fifth year of Firestone as the race's title sponsor.
"We are proud to continue our title sponsorship of the Firestone Grand Prix of St. Petersburg through 2020," said Lisa Boggs, director, Bridgestone Americas Motorsports. "The streets of St. Petersburg are an ideal proving ground to showcase the durable, dependable technology built into Firestone tires. The support from the city and its residents, along with the team at Green Savoree Racing Promotions, has made this one of the marquee events on the Verizon IndyCar Series circuit."
TAG Heuer renews as official timekeeper of Verizon IndyCar Series, Indy 500
TAG Heuer, the premier watch brand in the world of motor racing, announced a renewal of its contract as the official timekeeper of the Verizon IndyCar Series and Indianapolis 500 race for the next three years.
"Motor racing is at the very core of TAG Heuer's DNA," said Kilian Muller, president and CEO of TAG Heuer North America. "It is vital that the brand continues its legacy of supporting the sport and what better way than partnering with the Verizon IndyCar Series, one of the most innovative and beloved open-wheel racing leagues."