Leist tops opening IndyCar practice in St. Pete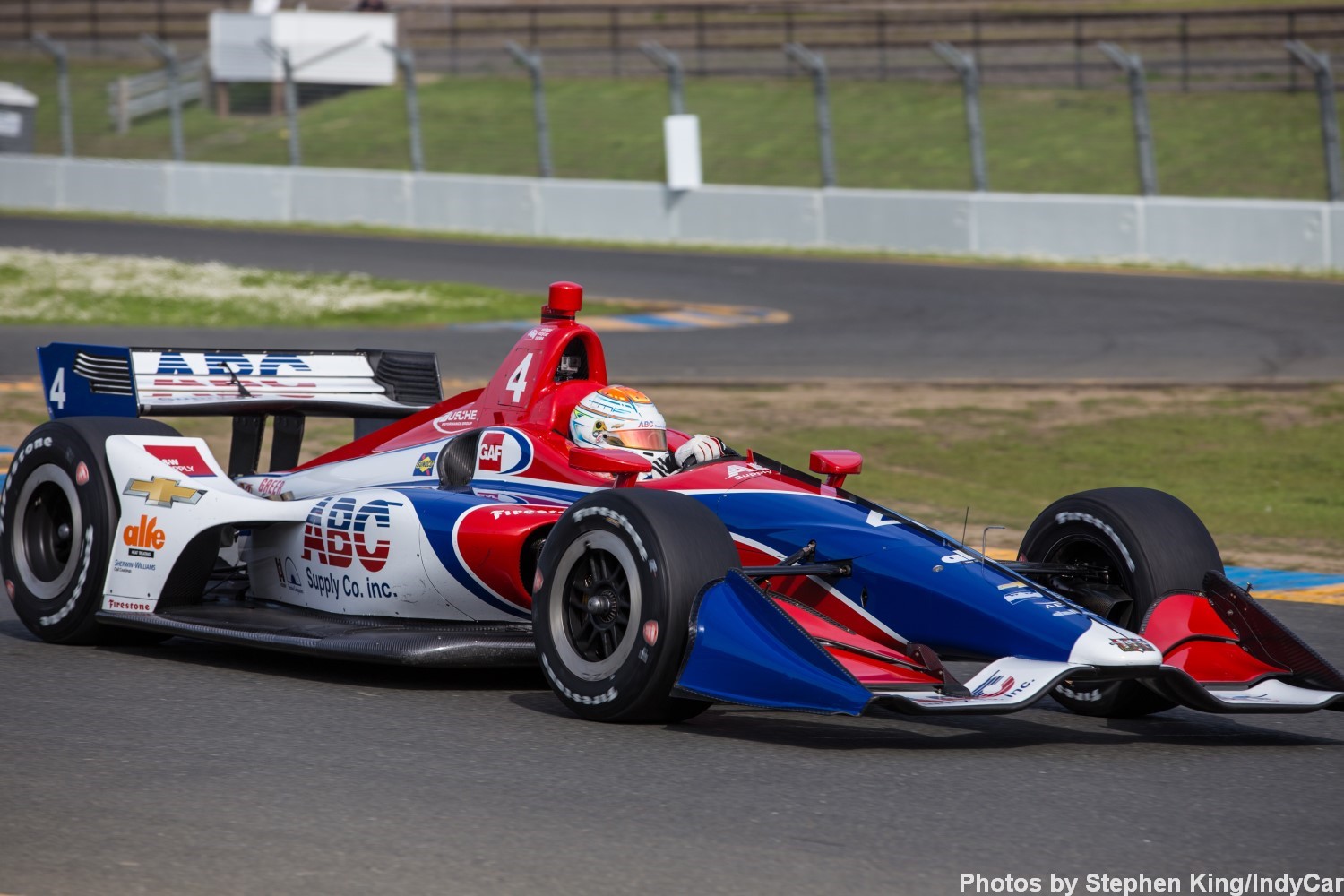 Matt Leist
Brazilian rookie Matt Leist turned the fastest lap in opening practice for the Firestone GP in St. Petersburg and let it be known in the paddock that he and the AJ Foyt Chevy Racing team could be a force to reckon with in 2018.
Honda powered cars were 2nd thru 6th led by local favorite and defending race champion Sebastien Bourdais driving for Dale Coyne/Vasser-Sullivan 0.0488s behind Leist.
Andretti Honda drivers Ryan Hunter-Reay and Alexander Rossi were 3rd and 4th while Scott Dixon rounded out the top-5.
Friday Practice 1 times
| | | | | | | | | |
| --- | --- | --- | --- | --- | --- | --- | --- | --- |
| Pos | No | Name | FTime | Diff | Gap | FSpeed | Engine | Team |
| 1 | 4 | Matheus Leist | 1:01.723 | –.—- | –.—- | 104.985 | Chevy | AJ Foyt Enterprises |
| 2 | 18 | Sebastien Bourdais | 1:01.772 | 0.0488 | 0.0488 | 104.902 | Honda | Dale Coyne/Vasser-Sullivan |
| 3 | 28 | Ryan Hunter-Reay | 1:01.881 | 0.1581 | 0.1093 | 104.717 | Honda | Andretti Autosport |
| 4 | 27 | Alexander Rossi | 1:02.041 | 0.3184 | 0.1603 | 104.446 | Honda | Andretti Autosport |
| 5 | 9 | Scott Dixon | 1:02.056 | 0.3329 | 0.0145 | 104.422 | Honda | Chip Ganassi Racing Teams |
| 6 | 6 | Robert Wickens | 1:02.183 | 0.4602 | 0.1273 | 104.208 | Honda | Schmidt Peterson Motorsports |
| 7 | 22 | Simon Pagenaud | 1:02.216 | 0.4931 | 0.0329 | 104.153 | Chevy | Team Penske |
| 8 | 12 | Will Power | 1:02.307 | 0.5838 | 0.0907 | 104.001 | Chevy | Team Penske |
| 9 | 14 | Tony Kanaan | 1:02.337 | 0.6139 | 0.0301 | 103.951 | Chevy | AJ Foyt Enterprises |
| 10 | 21 | Spencer Pigot | 1:02.356 | 0.6334 | 0.0195 | 103.919 | Chevy | Ed Carpenter Racing |
| 11 | 20 | Jordan King | 1:02.411 | 0.6881 | 0.0547 | 103.828 | Chevy | Ed Carpenter Racing |
| 12 | 15 | Graham Rahal | 1:02.466 | 0.7428 | 0.0547 | 103.737 | Honda | Rahal Letterman Lanigan |
| 13 | 10 | Ed Jones | 1:02.615 | 0.8917 | 0.1489 | 103.490 | Honda | Chip Ganassi Racing Teams |
| 14 | 19 | Zachary De Melo | 1:02.738 | 1.0145 | 0.1228 | 103.287 | Honda | Dale Coyne Racing |
| 15 | 1 | Josef Newgarden | 1:02.767 | 1.0436 | 0.0291 | 103.239 | Chevy | Team Penske |
| 16 | 26 | Zach Veach | 1:02.790 | 1.0671 | 0.0235 | 103.201 | Honda | Andretti Autosport |
| 17 | 60 | Jack Harvey | 1:02.842 | 1.1185 | 0.0514 | 103.116 | Honda | Michael Shank Racing |
| 18 | 98 | Marco Andretti | 1:02.884 | 1.1612 | 0.0427 | 103.046 | Honda | Andretti Autosport |
| 19 | 5 | James Hinchcliffe | 1:03.051 | 1.3284 | 0.1672 | 102.773 | Honda | Schmidt Peterson Motorsports |
| 20 | 59 | Max Chilton | 1:03.374 | 1.6511 | 0.3227 | 102.250 | Chevy | Carlin |
| 21 | 23 | Charlie Kimball | 1:03.621 | 1.8979 | 0.2468 | 101.853 | Chevy | Carlin |
| 22 | 30 | Takuma Sato | 1:03.624 | 1.9012 | 0.0033 | 101.848 | Honda | Rahal Letterman Lanigan Racing |
| 23 | 88 | Gabby Chaves | 1:04.184 | 2.4614 | 0.5602 | 100.959 | Chevy | Harding Racing |
| 24 | 32 | Rene Binder | 1:04.886 | 3.1628 | 0.7014 | 99.868 | Chevy | Juncos Racing |