Raikkonen tops final preseason test day in Barcelona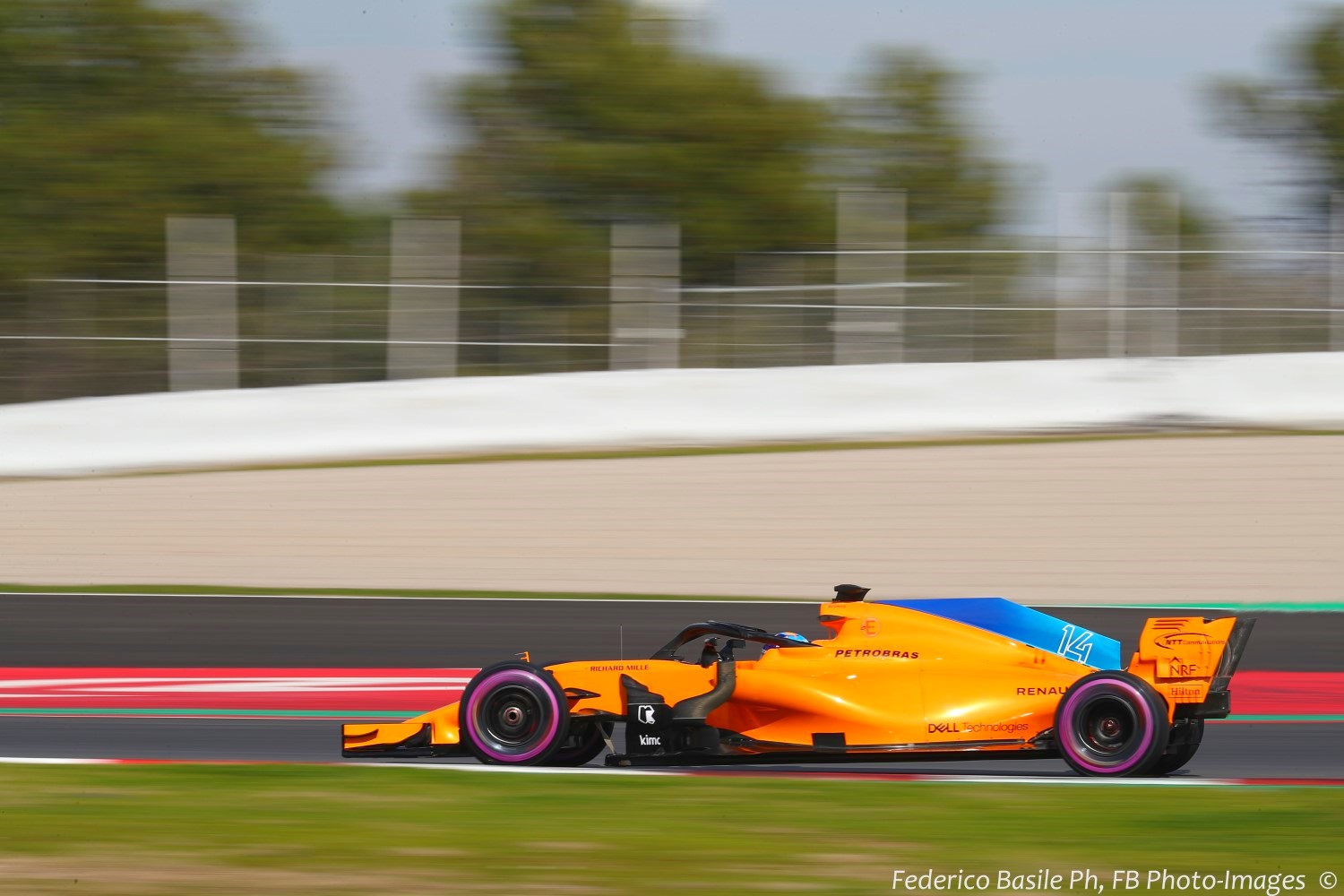 Fernando put up a fast time 5 min. from end of session
On the final day of F1 preseason testing, Fernando Alonso strapped on a set of hypersoft tires during 'happy hour', his McLaren did not break down again, and the Spaniard put up the 3rd fastest time of the week behind the Ferraris of Sebastian Vettel (Thursday) and Kimi Raikkonen (today) 6/10ths behind Vettel, and 5/10ths behind Raikkonen.
Raikkonen recovered from illness earlier this week to complete 157 laps for Ferrari on Friday, recording a best lap time of 1:17.221 to end the day half a second clear of the field.
The lap left Raikkonen one-tenths of a second shy of teammate Sebastian Vettel's new track record set on Thursday, which stands at the best time across all eight day of pre-season testing.
"Overall, I feel we have a good package," was Kimi's assessment. "For sure the weather at the start of testing wasn't ideal, but we have finished with a couple of pretty good days. The car gives me a good feeling and, even if there are still a lot of things to improve, its reasonably easy to drive and it reacts to the various set-up changes. However, no one can say where we really are, compared to our rivals. We'll have a better idea in a couple of weeks in Melbourne and then, in general, after the first few races of the season. I like racing and I can't wait to start."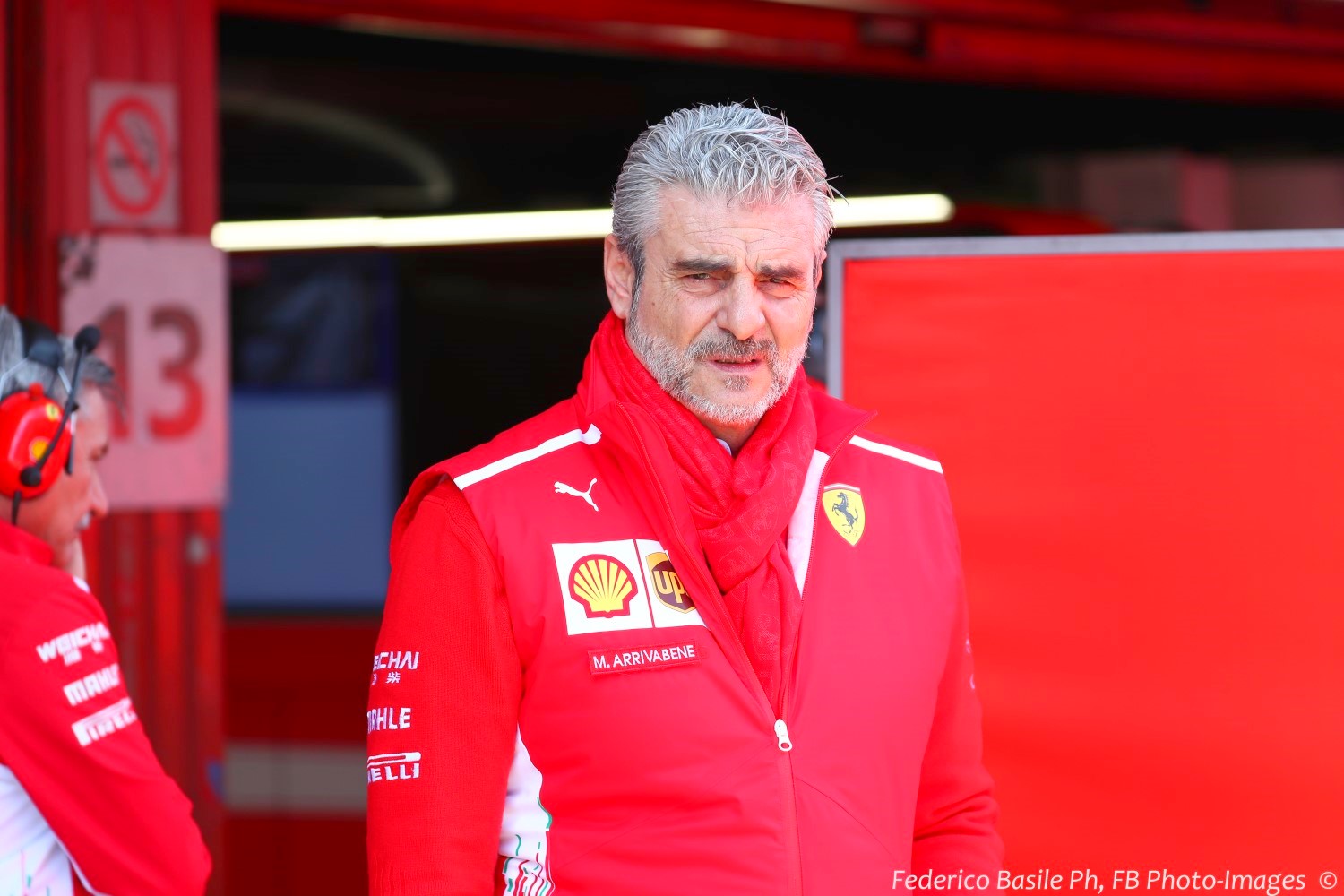 Will Arrivabene ever smile?
Over the two test sessions, the Scuderia Ferrari drivers covered a total of 929 laps (286 for Kimi and 643 for Sebastian) equivalent to 4324 kilometer's.
Raikkonen and his teammate Sebastian Vettel set the fastest two times of the week, with a margin of over 0.5s to the next fastest driver, McLaren's Fernando Alonso. But comparisons with Ferrari's main rivals Mercedes and Red Bull are harder to make as neither of the latter two teams tested the hyper-soft compound used by Raikkonen and Vettel for their fastest laps.
Based on Pirelli's calculations for the differences in performance between its compounds and the fastest times during the final day, Mercedes could have set a theoretical lap time of 1:16.2 on the hyper-softs, which would have been roughly 0.8s quicker than Ferrari. But Raikkonen, a veteran of 15 years in F1, says there is no point in reading too much into the times until the opening round of the season in Australia.
"We will see in two weeks [who is fastest]," Raikkonen said. "I am sure if we want to go faster we can go faster, but it doesn't mean anything here.
"In two weeks where everybody knows where everyone is, but until that we are only guessing like we were before the testing started, so let's wait and see."
Despite losing track time to poor weather conditions last week and falling ill at the start of this week, Raikkonen said he was satisfied with his fortnight in Spain.
"I guess you always wishing a bit more here and there, laps and trying things," he said. "It doesn't matter how many laps you do, you are always kind of wondering.
"There's endless possibilities to try things, but it doesn't mean it's a good thing to try a million things. For sure far from perfect with the weather last week. I was ill but I think in the end we had a decent day, pretty OK feeling it's not too bad. We are fine with it.
"We will see obviously in the next two weeks where we are in the end. But yeah, a pretty positive day."
Sandbagging Mercedes split its running between Lewis Hamilton and Valtteri Bottas once again, with the pair doing the morning and afternoon sessions respectively. Bottas led on the timesheets, taking P6, with Hamilton a lowly 11th as both focused entirely on long-run pace.
Charles Leclerc recovered from an early spin that caused a red flag to take P9, while Sergey Sirotkin completed the top 10 for Williams. Teammate Lance Stroll propped up the running order in P12, having only been given a brief window late in the day to get out on-track to focus on short-run pace.
MORE QUOTES
Lewis Hamilton:
It's been a really positive test. We got through everything, reliability has been great. Everyone has been working their backsides off and doing a tremendous job, I'm really proud of the team. We're happy with the information that we've got.
Both the car and the track are a lot faster compared to last year's race here. In my last run during the race simulation today I was doing 1:19s – that's my qualifying lap time from 2017 every lap.
It's still difficult to know exactly where we are in comparison to Red Bull and Ferrari and we won't fully know that until we get to the first race. But I feel like we've got as much information as we could in order to equip us with the best data to go to the season opener. The preparation has been really good in the time that we had.
Valtteri Bottas:
Today was a very good ending to testing. As a team we completed more than 200 laps and I put in more than 100 laps in the afternoon. So that's very positive and I'm very happy with the progress. Now we need to keep working for the week and a half before we travel to Melbourne. It will be interesting to find out where we will be.
We got the Medium and the Hard tyres to work quite well. I think we still have issues with blistering on the softer compounds. Hopefully it will be different in Melbourne, but on the new track surface here in Barcelona we had some difficulties.
The team has done a great job over the past two weeks. I really enjoy working with the team and I can't wait to get racing.
James Allison:
Eight days of winter testing is a punishing schedule. All of us out here at the track and those who have supported it back at the factories are feeling the cumulative loss of sleep. But I think we can look back on these two winter tests with some satisfaction, having designed, planned and then executed a very complex series of tests with some competence.
The loss of time caused by the inclement weather during the first test is something that Andrew Shovlin and his team were able to nimbly work around and come back with a good programme. We finish winter testing feeling like we've explored the car and the tyres. We know that we put a good amount of kilometer's onto it without any significant reliability difficulties and feel that we have in the car a good, strong foundation on which to build our 2018 campaign.
Both drivers seem to like the car, it responds well to set-up changes and has shown a good turn of speed. I say that with caution because even with all the mileage we've done it's chastening to note that we have not yet come close to completing the full life cycle of core components such as the engine and the control electronics.
Although we make our best efforts to try and figure out our competitive position, we don't know what the other teams are going to do between now and Melbourne and we don't really know with full accuracy what they've been doing here. So there's all sorts of reasons to be cautious – but this has been a good winter test. For now we can be content that we've managed to deliver that, and we look forward to Melbourne.
Romain Grosjean
It's been a long day, but it's been brilliant. We did a lot of work with the car, which is really good. I managed to get a lot of laps in on the last day, which we missed earlier on in the test. The team did a great job. We've got a lot of knowledge now for Melbourne. I'm looking forward to being there.
Daniel Ricciardo
We had some strong pace in testing at times, but then you see what others are doing and then you're not sure anymore, but I think we're looking OK. I think we still have to find a bit of time, we still have things to improve, but I think we are close enough to be in the hunt," said Daniel. "It's been a good winter, we did a lot of laps and we're definitely feeling better about ourselves than we did 12 months ago. For me, I'm glad testing is over, it's not that exciting, especially when you're in the middle of a long run on a good bit of fuel! I'm looking forward to Melbourne now, that's what my sights are set on. I'd love a good result there. We'll try to come out with strong intentions. I think we can be close and I'm looking forward to a battle
Fastest Friday Times
| | | | | | |
| --- | --- | --- | --- | --- | --- |
| Pos | Driver | Car | Tires | Time | Best/Total Laps |
| 1 | Raikkonen | Ferrari | Hyper-Soft | 1m17.221s | 60 / 157 |
| 2 | Alonso | McLaren | Hyper-Soft | 1m17.784s | 87 / 93 |
| 3 | Sainz | Renault | Hyper-Soft | 1m18.092s | 36 / 45 |
| 4 | Ricciardo | Red Bull | Super-Soft | 1m18.327s | 79 / 92 |
| 5 | Grosjean | Haas | Ultra-Soft | 1m18.412s | 87 / 181 |
| 6 | Bottas | Mercedes | Medium | 1m18.825s | 79 / 104 |
| 7 | Hartley | Toro Rosso | Hyper-Soft | 1m18.949s | 78 / 156 |
| 8 | Ocon | Force India | Hyper-Soft | 1m18.967s | 63 / 163 |
| 9 | Leclerc | Sauber | Hyper-Soft | 1m19.118s | 60 / 75 |
| 10 | Sirotkin | Williams | Soft | 1m19.189s | 86 / 105 |
| 11 | Hamilton | Mercedes | Super-Soft | 1m19.464s | 24 / 97 |
| 12 | Stroll | Williams | Soft | 1m19.954s | 25 / 27 |