Latest F1 news in brief – Friday
Hamilton has no worries in the world. The team has been sandbagging the latest Aldo Costa creation

Vettel's record pace does not worry Hamilton

Sainz Jr. backs Renault's 'four engine' plan
No 'physical barrier' for women in F1 – Calderon
Happy Honda 'calm' after McLaren split
Sainz Jr. 'not surprised' about Hulkenberg worry
Pirelli confirms Hypersoft F1 tires for Canadian Grand Prix
Vettel's record pace does not worry Hamilton
(GMM) Lewis Hamilton on Thursday said he is not worried about the laptime put in by Ferrari's Sebastian Vettel at the final Barcelona test.
Vettel smashed the circuit record, but it is believed the German was in a qualifying simulation with the very softest Pirelli 'hypersoft' tire.
In contrast, Mercedes did not even order a single set of the softest tires for testing.
Engineer Andy Shovlin said: "We wouldn't learn much about it in these temperatures."
World champion Hamilton said: "I don't know if that's a good time or not and I don't really care. It's testing.
"For us we've not been on low fuel yet so I have no idea where the car can go. I hope it (Vettel's time) is good which means we have a race on our hands."
When asked if Mercedes has cured the car's 'diva' traits of last year, Hamilton answered: "Toto (Wolff) said that, not me. But he never drove the car!"
Vettel's time may actually have raised alarm bells at Maranello. Team boss Maurizio Arrivabene, for instance, reportedly looked stern as he walked into the Haas garage straight after.
That's because Kevin Magnussen's time, set on a harder tire, wasn't far off and it is believed Arrivabene was inquiring about what fuel load he was on.
A GPS analysis done by Renault reportedly shows Mercedes with a clear, three-tenths advantage over Red Bull, with Ferrari trailing in third place.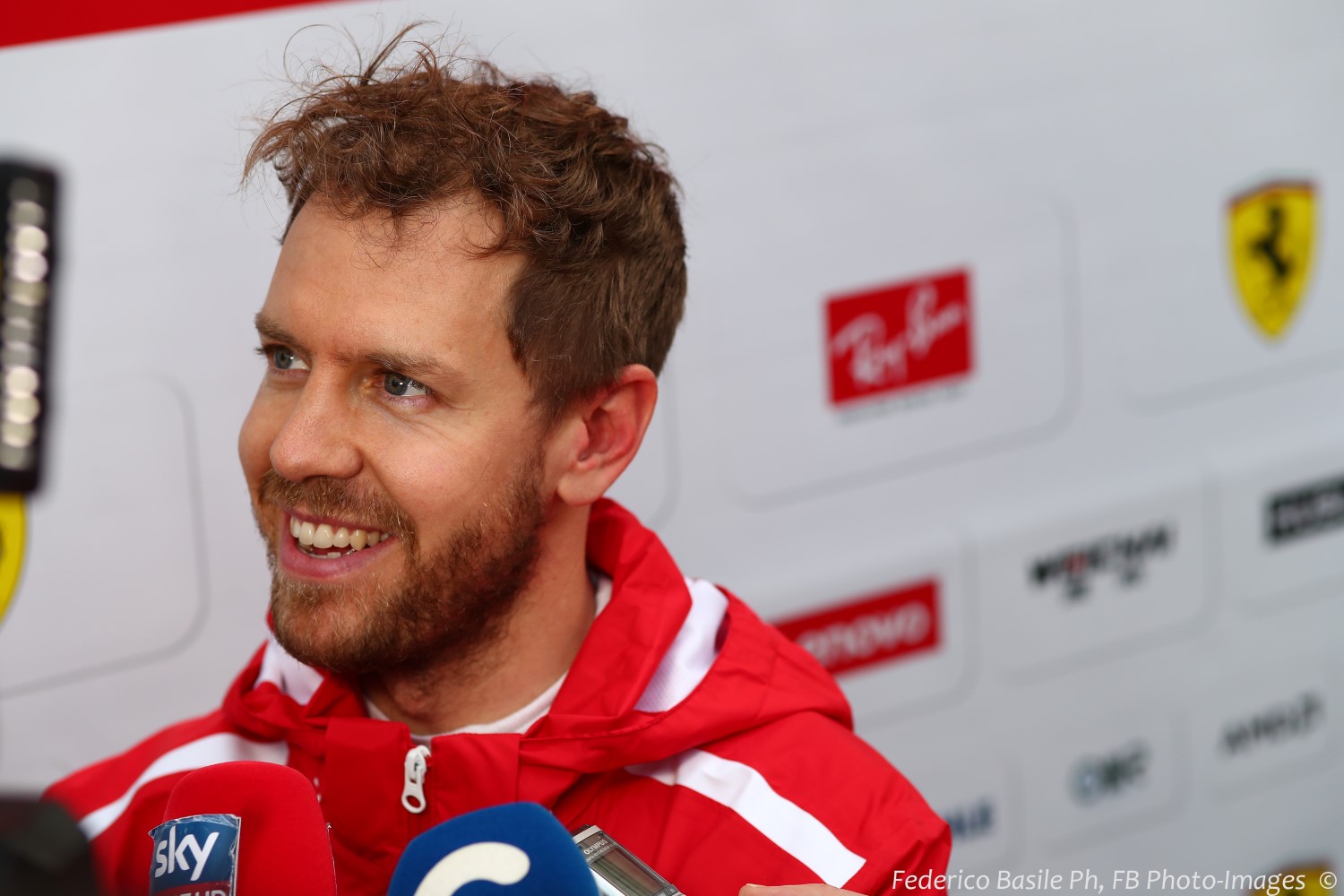 Vettel knows Mercedes is sandbagging
When asked if he will be on pole in Australia, Vettel said on Thursday: "I don't know!
"Of course that's what we strive for, but it's not the time to decide that.
"Mercedes looked very strong last week and this week as well. They are in front. But you never know exactly what the others are doing."
He did at least play down fears about engine trouble at Ferrari, after smoke was seen emerging from the red racer.
"We know about it and it's not a problem," Vettel said, "even though the photos are spectacular."
Also not willing to talk about potentially taking on Mercedes this year is Red Bull's Max Verstappen, although the Dutchman did say he is "optimistic".
"The car is clearly better than last year," he said.
As for Vettel's laptime, Verstappen answered: "For sure it was a good time, but we expected that — just as we expect Mercedes to lead. We just hope to be as close as possible."
Sainz Jr. backs Renault's 'four engine' plan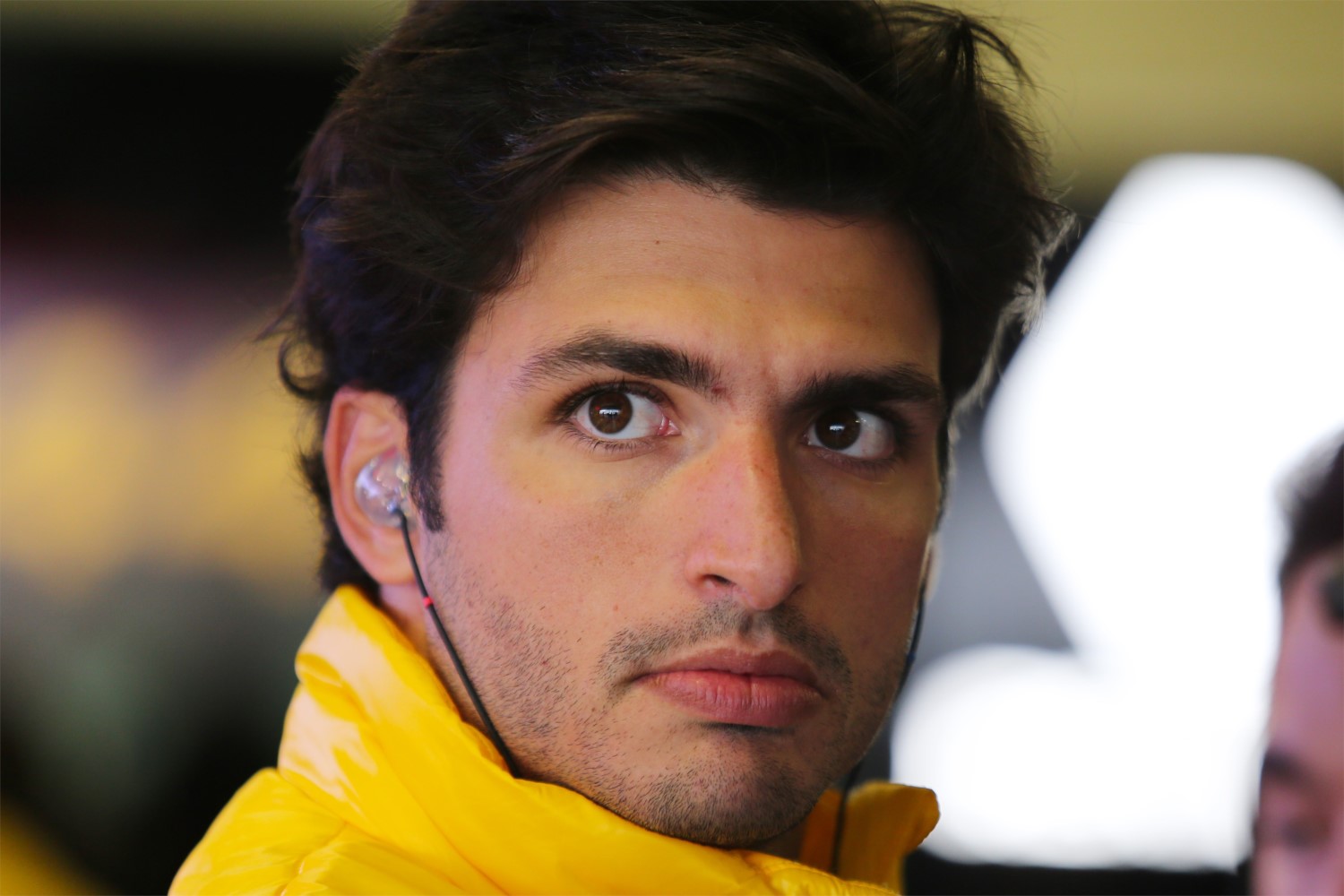 Carlos Sainz Jr. know the Renaults fail a lot so best to plan on four
(GMM) Carlos Sainz Jr. has backed Renault's deliberations over taking a strategic approach to the long-life engine rules of 2018.
Over the winter, the rules have changed so that each driver may now use just three power units all season rather than the four that were allowed in 2017.
But Renault boss Cyril Abiteboul, as well as figures for engine customers Red Bull and McLaren, have said they might actually take voluntarily engine change penalties this year.
Abiteboul explained that using four engines per season means a driver will benefit from more Renault engine development.
"Because the engine life is longer, it slows down the development," he said.
Works Renault driver Carlos Sainz backs the idea.
"We do not fight for the world championship so we can use as many engines as we want," he is quoted by Finland's MTV.
"We just have to make sure that each engine is an improvement over the previous one. We are in the development phase of our project, so if we take more engines, we move forwards."
Renault may not be fighting for the title in 2018, but the team is targeting fourth behind Mercedes, Ferrari and Red Bull.
"The three top teams are still ahead, but I would hope that we are right behind them," Renault's other driver, Nico Hulkenberg, said.
"The body may not look a lot different to last year, but under the covers there is a lot of new stuff, little tricks and much more sophisticated engineering work.
"We have taken a good step forward," added the German.
No 'physical barrier' for women in F1 – Calderon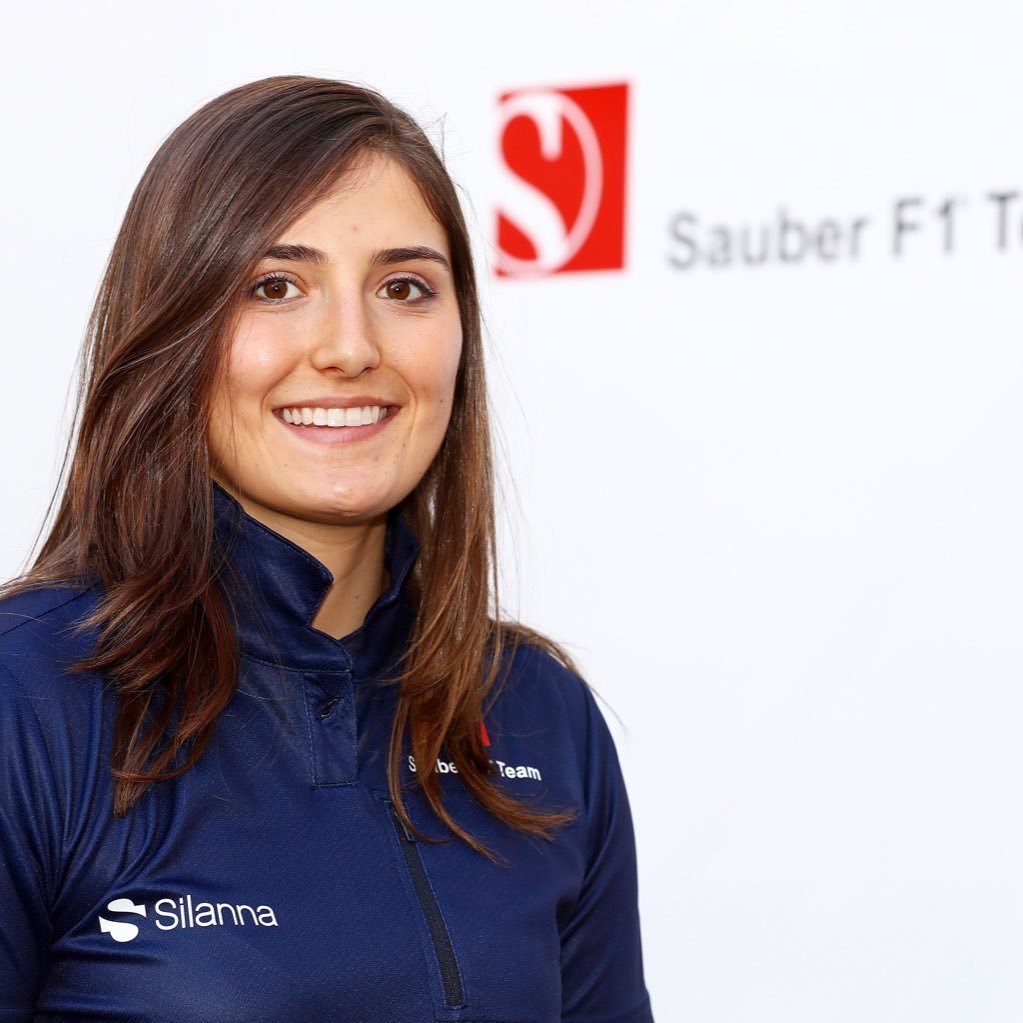 Tatiana Calderon
(GMM) A female F1 test driver says physical strength does not prevent women from racing at the pinnacle of motor sport.
This week, Spanish driver and FIA 'women in motor sport commission' member Carmen Jorda triggered a controversy when she suggested women might want to focus on an easier series like Formula E.
But then Tatiana Calderon was appointed as a Sauber test driver for 2018, even though team boss Frederic Vasseur said the 24-year-old Colombian will not get any Friday practice outings.
She was however asked by El Mundo Deportivo newspaper to comment on Jorda's suggestion that Formula E is a better target than F1 for female drivers.
"The truth is that I have never driven a Formula E car to know if it is difficult or easy to drive," Calderon answered.
"But I have not personally felt that there is a physical barrier, although obviously women and men are different and women have a little less muscle mass. But I have worked hard with training to make up for that.
"Susie Wolff has already shown that there is no physical barrier and now I hope to be able to show that we can compete as well," she added.
Calderon also said she doesn't like Jorda and Bernie Ecclestone's idea that a separate women's F1 championship should be started.
"I want to be the next woman to compete in F1," she declared. "I really do not need a women's championship because there is no physical limitation. I think women really can do a good job."
"On Saturday, after testing a Formula E car before Mexico City E-Prix, I spoke to several journalists about the experience," Jorda said.
"During one interview I was asked to compare driving a Formula E car to a Formula 1 car, and then specifically, whether Formula E is easier for women to compete in than Formula 1.
"Having some experience of both cars, I gave my personal opinion that driving a Formula E car presents less of a physical challenge than Formula 1, because of the lower downforce.
"I also referred to there being a 'physical issue' for women in Formula 1, something which has created considerable debate over the last few days – including from many prominent women within our sport.
"I would like to thank fellow drivers for sharing their opinions, and respect their views greatly. I am sorry if my comments appeared to speak for all women and created all confusion – as I was reflecting merely my own personal experience.
"I never intended to discourage other women from competing at the pinnacle of our sport, or say that they physically cannot."
Jorda also sent her best wishes to Sauber's new test driver Tatiana Calderon and hoped she would make history by becoming the first female Formula 1 driver in over four decades.
Happy Honda 'calm' after McLaren split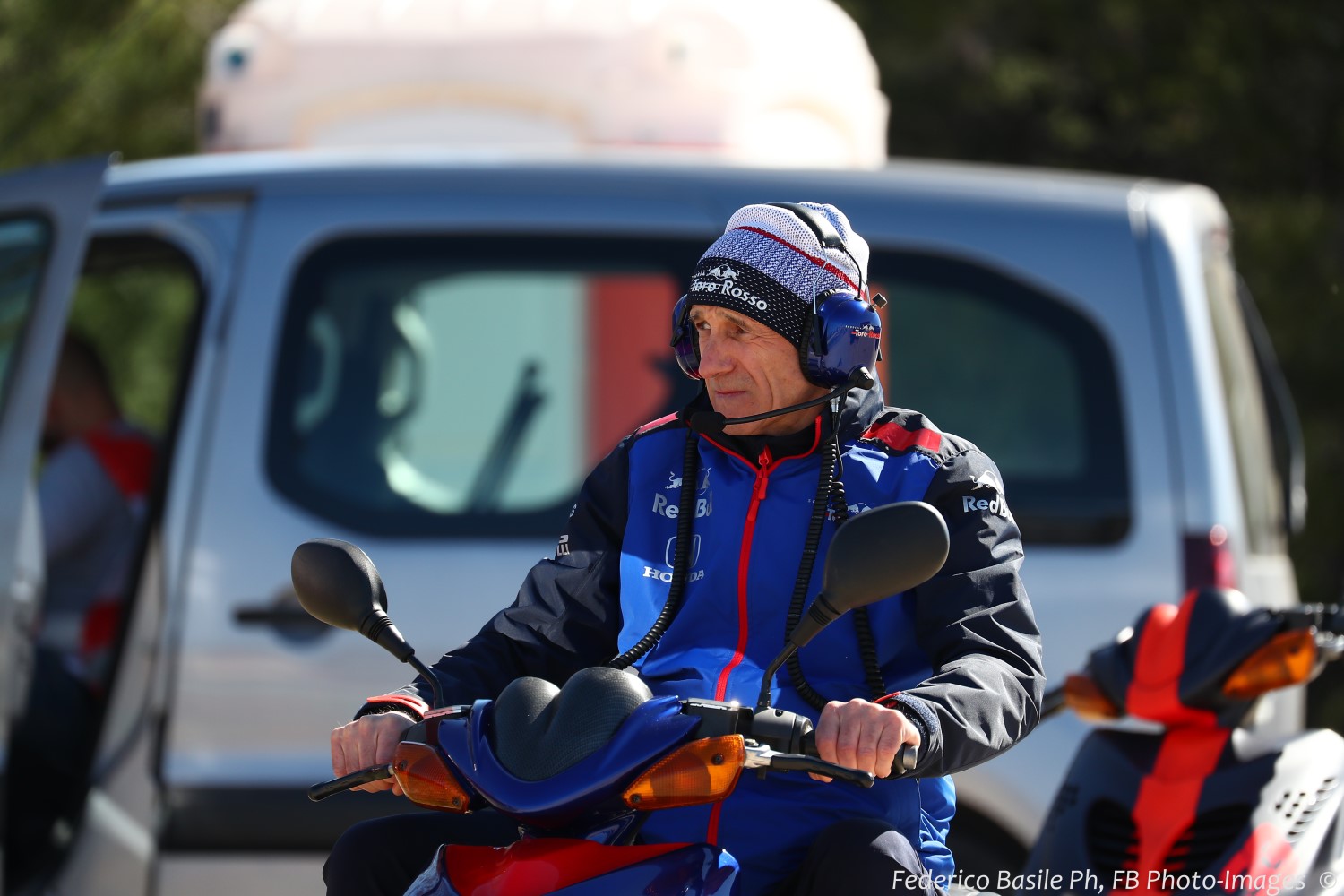 Tost happy with Honda reliability and power
(GMM) Honda is feeling more "calm" after leaving McLaren.
That is the claim of sources close to the Japanese manufacturer, as Honda appears to thrive at Toro Rosso and McLaren now struggles with Renault power.
Asked if Honda is happy with its flawless winter testing performance with Toro Rosso, Japanese journalist Kaz Kawai told Marca sports newspaper: "Of course they are happy.
"But it's not about seeing McLaren with problems but because they are going faster with a very similar engine. So the power unit is good and its reliable, which is why they're happy," he said.
"Honda did not like breaking with McLaren, who have continued to criticize them, but it is how it is. Now they are more calm and satisfied that their engine is good and it will improve more," Kawai added.
Another Japanese journalist, Tsuyoshi Fukue, continued: "They (Honda) say it's easier to work with Toro Rosso."
That may be due in part to team boss Franz Tost, who knows Honda well after working closely with Ralf Schumacher during his Japanese racing career in the 90s.
Tost is quoted by AS newspaper: "We are very happy with Honda.
"I am sure they will offer us a very competitive package, that during the season we will advance a lot and for the final part we will have a very competitive car.
"Our goal is to be at the front of the middle zone. I don't care about McLaren, but I am sure that, in the end, we will have a more competitive package than theirs," Tost added.
Sainz Jr. 'not surprised' about Hulkenberg worry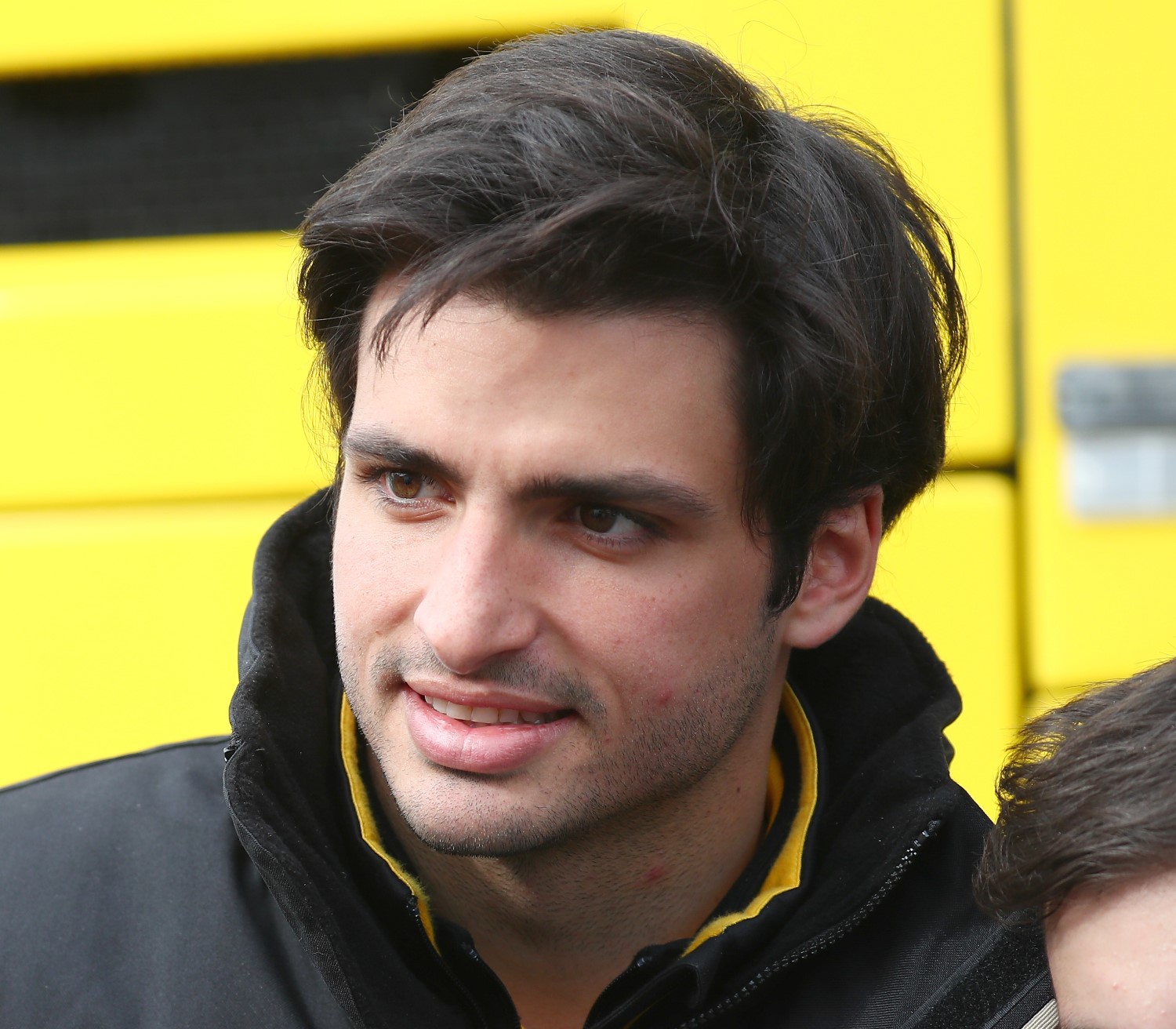 Sainz Jr. thinks he's great
(GMM) Carlos Sainz Jr. says he is "not surprised at all" with recent comments made by Renault boss Cyril Abiteboul.
Days ago, Abiteboul said in Barcelona that after Jolyon Palmer was ousted, Sainz's arrival at Renault was a sort of wake-up call for Nico Hulkenberg.
"It did not wake him up," the Frenchman said, "because he's a competitor who never falls asleep, but it did worry him. And I think that's what drives him to excel."
When asked about his boss's comments, Spaniard Sainz told El Mundo Deportivo: "Does it motivate me?
"I already knew that a teammate always looks at who is next to him.
"And so I knew that with being fairly close to him in the first race then obviously Nico would have that concern," Sainz said.
"So I'm not surprised at all. I think it's normal that Cyril said that," he added.
Pirelli confirms Hypersoft F1 tires for Canadian Grand Prix
2018 Pirelli Tires
Pirelli has confirmed its new-for-2018 Hypersoft compound tire will be made available to Formula 1 teams for the Canadian Grand Prix in June.
Pirelli announced last November it would be introducing two new tires to its range of dry compounds for 2018 – the Hypersoft and the Superhard – with both being made available to teams through pre-season testing in Barcelona over the past two weeks.
The Hypersoft compound is the new softest tire in Pirelli's range, specifically designed for low-grip street circuits, and is expected to make its race debut at the Monaco Grand Prix in May.
As Pirelli needs to give teams more notice for flyaway races, the Hypersoft has been confirmed for the Canadian Grand Prix on June 10, with the Ultrasoft and Supersoft tires also being made available to teams.
Pirelli also announced its tire choices for the Spanish Grand Prix in May, with the Medium, Soft and Supersoft compounds set to be on offer at the Circuit de Barcelona-Catalunya.
Most teams have completed their race simulations on the Medium compound tire in Barcelona through pre-season testing, with Pierre Gasly explaining that it was holding up well on the resurfaced track.
"It will be interesting because honestly with the new tarmac it's difficult to really have a reference because the tires are holding in a strange way," Gasly said.
"We saw a lot of teams using the Mediums for the long runs and to be fair the performance was pretty good. The Soft you get more graining and blistering, it's really quite strange. You can get lost a bit with the balance, and that's the same with the Supersoft."
F1 2018: Confirmed Tire Selections
| | | | |
| --- | --- | --- | --- |
| Australia | Soft | Supersoft | Ultrasoft |
| Bahrain | Medium | Soft | Supersoft |
| China | Medium | Soft | Ultrasoft |
| Azerbaijan | Soft | Supersoft | Ultrasoft |
| Spain | Medium | Soft | Supersoft |
| Canada | Supersoft | Ultrasoft | Hypersoft |