Green Flag Brunch starts St Petersburg Race Weekend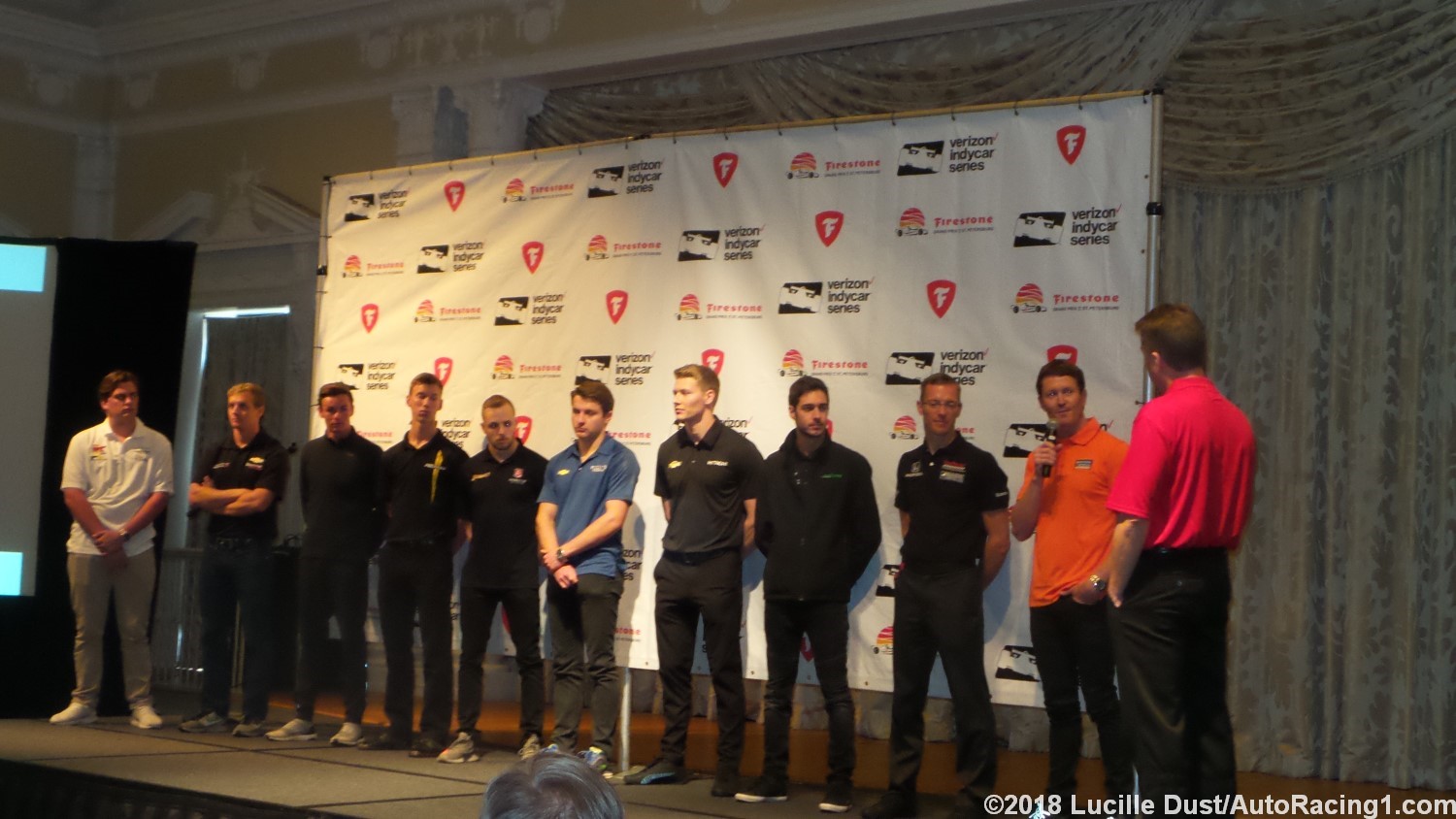 Drivers at the Green Flag Brunch
Lucille Dust/AR1.com
Hello from St Petersburg, Florida. The weather is only 60 degrees here today but the sun is shining and Tampa Bay will serve as a beautiful backdrop for the first IndyCar race of the 2018 season. The brunch this morning was sponsored by the St Petersburg Chamber of Commerce and the Vinoy Renaissance Hotel. The mayor of St. Petersburg, Rick Kriseman, praised the way the businesses in the downtown area have embraced the race over the past 14 events.
Several IndyCar drivers were there, talking up how great the streets of St Pete are to start the season on. Sebastien Bourdais, last year's winner, St Petersburg resident and driver for Dale Coyne Racing, Rene Binder, rookie driving this season for Juncos Racing, Scott Dixon, from Chip Ganassi Racing, Jack Harvey, from Michael Shank Racing, Jordan King,another one of this season's rookies driving for Ed Carpenter Racing and Josef Newgarden, the series 2017 champion and driver for Team Penske. Also in attendance, Helio Castroneves, , former IndyCar driver who now represents Team Penske in sports cars and the IndyCar driver with the most wins at St Pete, is the Grand Marshall this weekend.
AR1 talked with Jordan King, the rookie for Ed Carpenter Racing, who will be driving the street and road courses in the number 20 car. I asked the young British driver for his impressions of IndyCar. King replied, 'I am really excited, a little bit apprehensive because it will be my first race. Everything so far has gone fine, all well within my strides. I have done two days of testing at Sebring. They have all been fine, as much as I have been anticipating. I am trying not to worry, but there is a lot more to learn. And testing versus racing is massively different."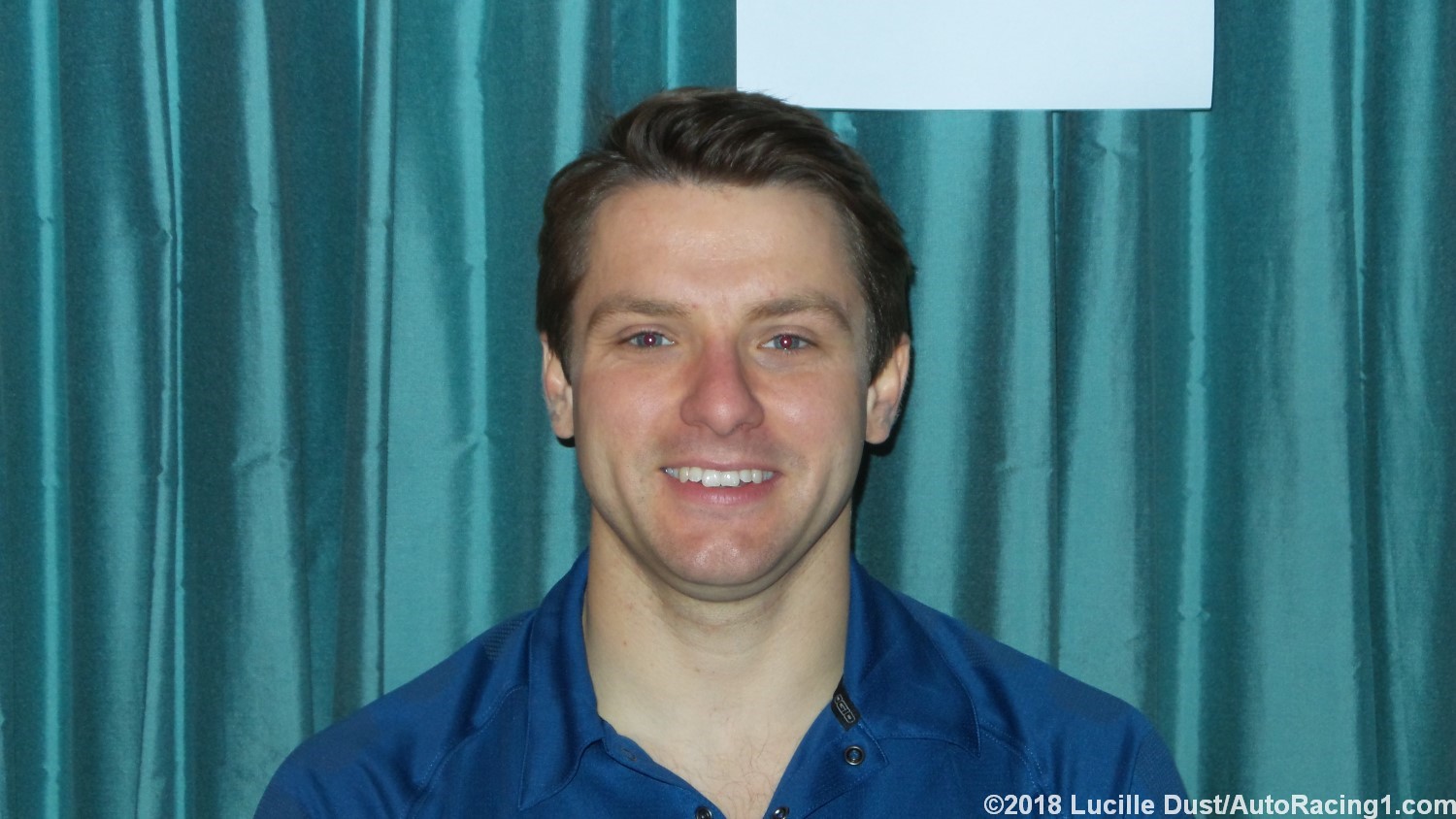 Jordan King, ECR rookie
'I have never run 110 laps for a race distance. The longest race in Formula 2 is only an hour. It won't be too bad but the whole process is different. My first impression of the new car is very similar in a lot of areas but very different in other areas compared to other cars I have driven. Actually in Sebring, there were no real issues or dramas. In Sonoma, we made changes. My main goal this year is to be a sponge and learn as much as possible. Winning races is a goal but I want to be realistic. But as a general goal, finishing the year learning the most I can."
AR1 talked with another rookie, Rene Binder, who will be driving 6 or 7 races this season for one of the new IndyCar teams, Juncos Racing. The 26 year old Austrian driver is the nephew of former Formula One driver, Hans Binder. I asked him what his goals were for this season. Binder replied, "My goal is to do my best. We did not have a lot of test days. So it will be quite difficult in the beginning. The goal for the first race is to finish the race and collect as much data and experience as we can. I have driven the new car but only one day. All the other drivers did a lot more testing. The new car is great looking, much better than the previous one. It looks absolutely great."
We also spoke with Jack Harvey, who drove in 3 IndyCar races last season but is still considered a rookie. Teamed up with Michael Shank Racing and Schmidt Petersen Racing, Harvey is ready to race with a limited schedule. Harvey talked about his upcoming season. "We know we are only running six races, St Pete, Long Beach, the Indy 500, Mid-Ohio, Portland and Sonoma. There might be a couple more in the middle that have not been locked down yet. Whatever works for the team and the sponsors would be good for me. It is better than what I had last year. Ultimately the deal with Michael (Shank) and with Schmidt Petersen is that what we are doing is preparing the best we can with less testing than the other teams. We have practically done my testing allowance already. Hopefully we can still do something good on the weekends we do race."
I asked Harvey why he was only slated to race on one oval, the Indy 500 and he explained, "Obviously Indy is the biggest one of the year and it made sense to be at that one. I think the way the schedule fell for Michael (Shank) with his sports car team and what we are doing, the races we targeted for this year are the ones that are in big markets for our sponsors. I am not saying that there are no big markets for the other oval races because more races could be added to my schedule. I like the ovals and had my experience with them in Indy Lights. I would like to return to race at Gateway."
The big announcement from the event was that Bridgestone Americas, Inc announced a two-year extension of its Firestone brand's title sponsorship of the Firestone Grand Prix of St. Petersburg. The announcement gives the Firestone brand naming rights through 2020.
Stay turned this weekend as the performance of the new IndyCar is reveled on the streets of St Pete.
Lucille Dust reporting live from the Firestone Grand Prix of St Petersburg.