Vettel stays on top Thursday in Barcelona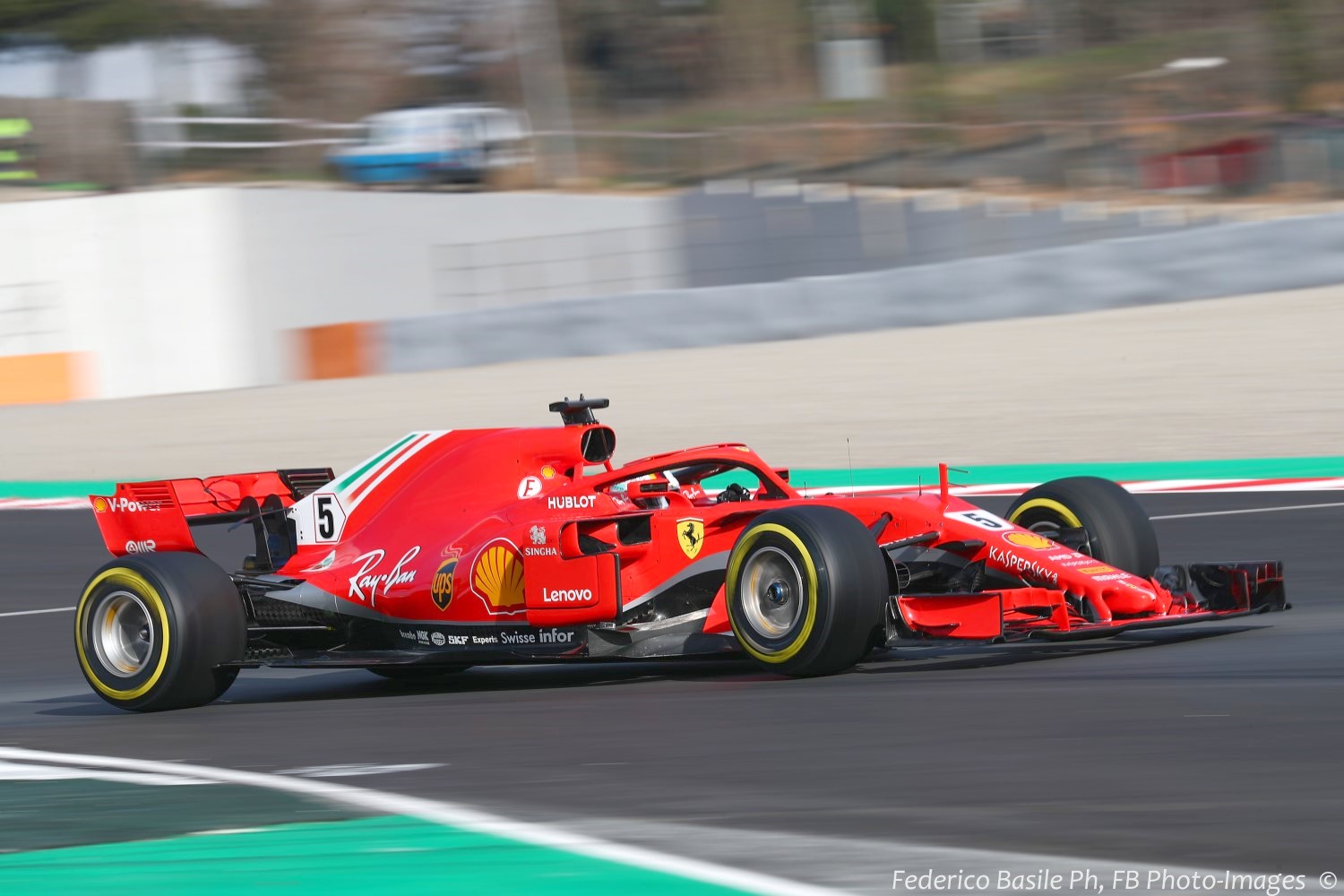 Sebastian Vettel with one day to run
Sebastian Vettel stole the show the penultimate day of Formula 1 pre-season testing in Barcelona, blitzing the Circuit de Barcelona-Catalunya track record as Ferrari turned up the wick.
Vettel completed a number of fast hypersoft tire runs towards the end of the morning session, recording a fastest lap time of 1:17.182 to comfortably record the best time of pre-season testing so far and finish over one second clear of the field.
Sandbagging Mercedes did not opt to match Ferrari's program, with Valtteri Bottas instead focusing on long runs en route to seventh place, racking up 97 laps in total. He handed over to teammate Lewis Hamilton for the afternoon who also did full tank runs.
Kevin Magnussen led Haas to second place overall, finishing 1.1 seconds down on Vettel at the front of the field on supersofts, with Pierre Gasly in the Toro Rosso Honda third on Hypersofts and Nico Hulkenberg slotted into 4th for Renault on hypersofts.
It is interesting that the Honda McLaren complained about last year has not missed a beat and on the same tires today was 1/2-sec faster.
Thursday Times
| | | | | |
| --- | --- | --- | --- | --- |
| Pos | Driver | Car | Tires | Time |
| 1 | Vettel | Ferrari | Hyper-Soft | 1m17.182s |
| 2 | Magnussen | Haas | Super-Soft | 1m18.360s |
| 3 | Gasly | Toro Rosso | Hyper-Soft | 1m18.363s |
| 4 | Hulkenberg | Renault | Hyper-Soft | 1m18.675s |
| 5 | Sainz | Renault | Hyper-Soft | 1m18.725s |
| 6 | Vandoorne | McLaren | Hyper-Soft | 1m18.855s |
| 7 | Ericsson | Sauber | Hyper-Soft | 1m19.244s |
| 8 | Hamilton | Mercedes | Ultra-Soft | 1m19.296s |
| 9 | Bottas | Mercedes | Medium | 1m19.532s |
| 10 | Kubica | Williams | Super-Soft | 1m19.629s |
| 11 | Perez | Force India | Hyper-Soft | 1m19.634s |
| 12 | Verstappen | Red Bull | Soft | 1m19.842s |
| 13 | Stroll | Williams | Ultra-Soft | 1m20.262s |