Riccardo stays on top as Day 2 comes to end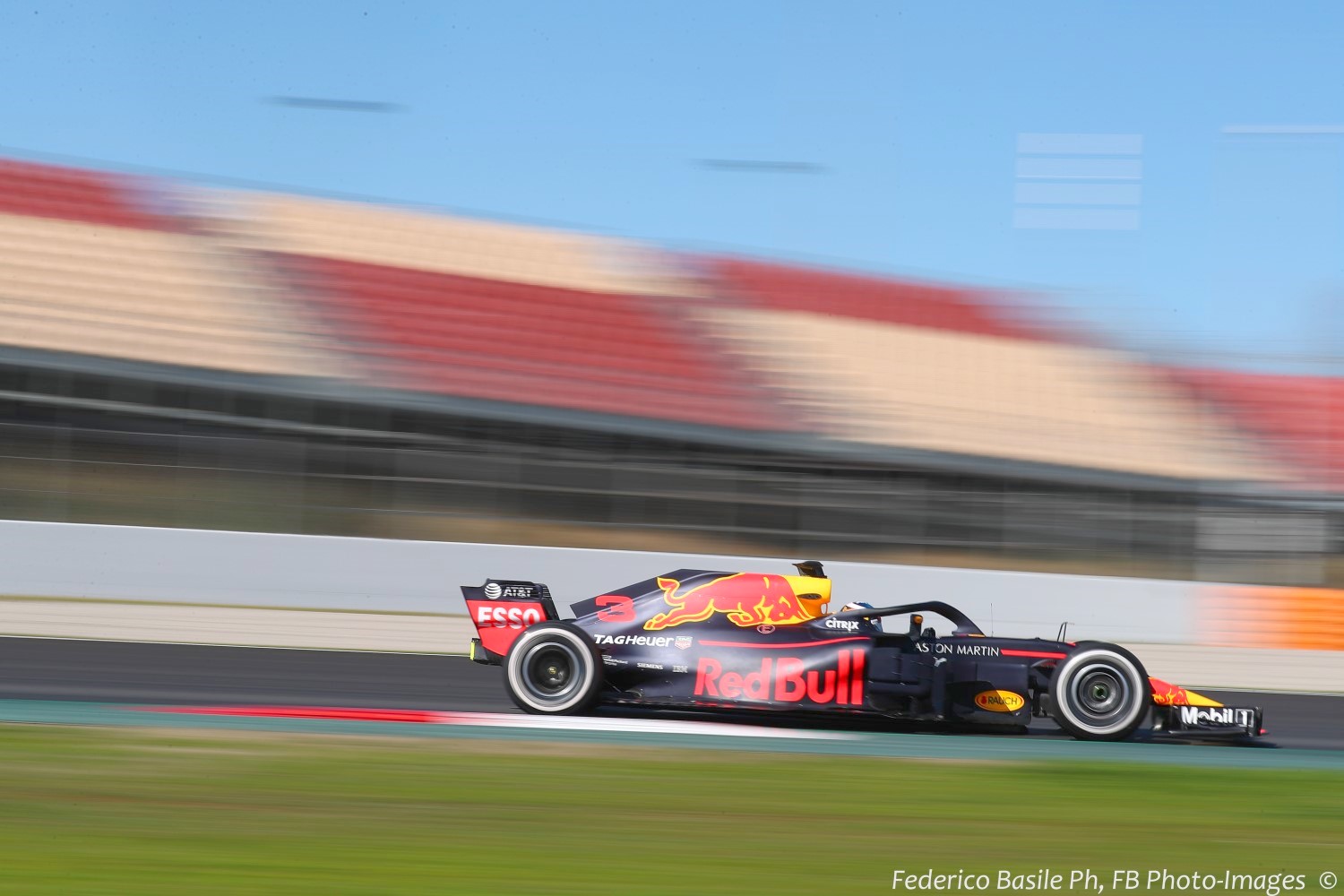 Daniel Ricciardo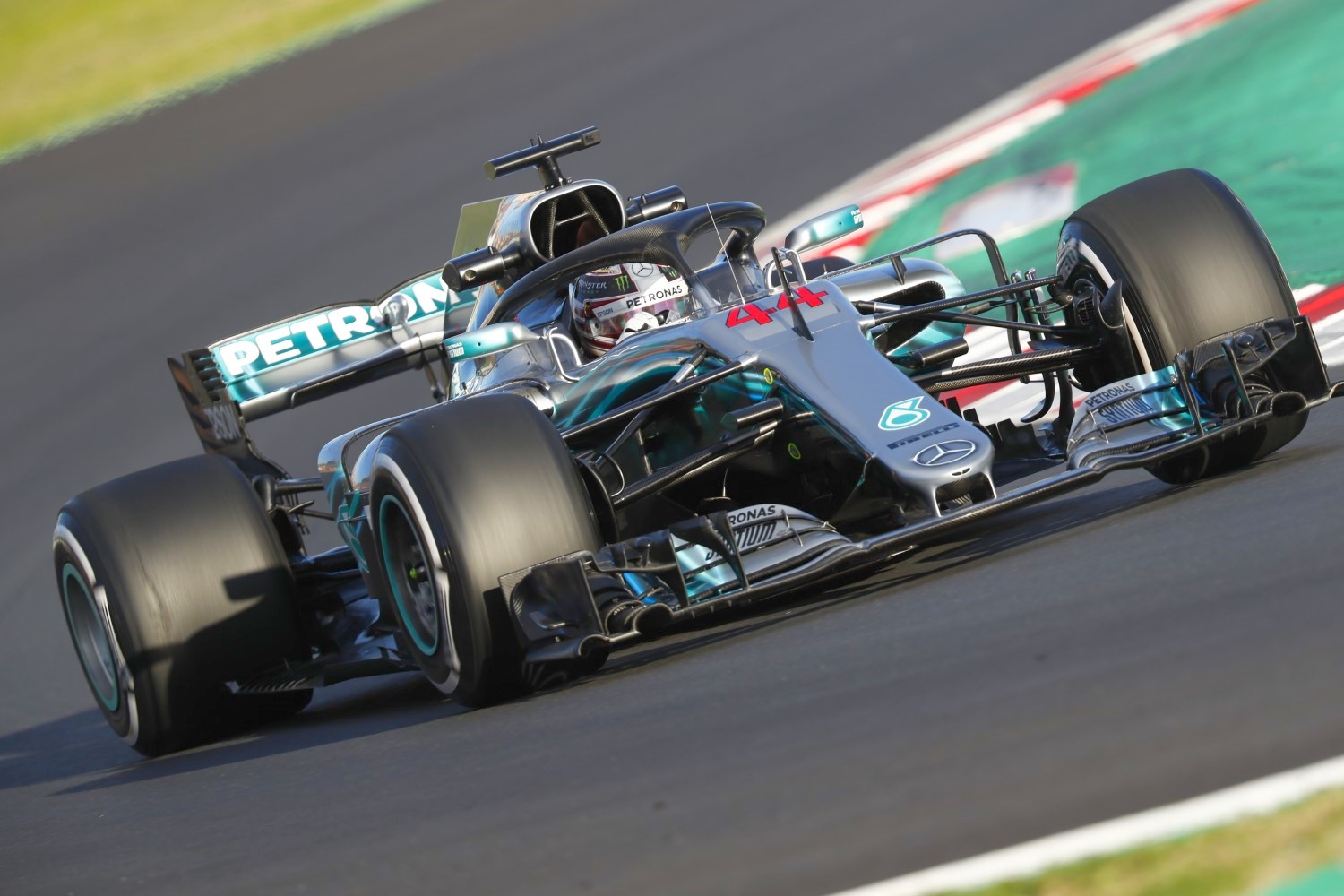 Lewis Hamilton
Daniel Ricciardo broke the 10-year track record at Circuit de Catalunya for Red Bull to top the times on the second day of the second Formula 1 pre-season test while McLaren missed almost seven hours of track time.
The Red Bull driver beat Lewis Hamilton's provisional fast time with a 1m 18.047s set on Pirelli's new hypersoft tires to beat Felipe Massa's previous lap record of 1m 18.339s from 2008 set with Ferrari.
Hamilton, who initially broke the record first before seeing his lap disallowed for cutting the Turn 14 chicane, was second spot on the timesheet with his best lap of 1m 18.400s set on ultrasofts having completed 90 laps for Mercedes before handing over to Valtteri Bottas for the afternoon session.
Ferrari changed its plan and only ran Kimi Raikkonen in the afternoon because the Finn was sick, so Sebastian Vettel had an unexpected extra morning in the SF71H.
He posted the fourth-best time, 1.494s off the pace on soft tires, and concentrated mainly on long runs and never made a qualifying run.
Quotes
Daniel Ricciardo
It was a good day today. I survived!" said Daniel, who was scheduled to drive yesterday but was forced to sit out the session due a mild illness. "Today's was an optimistic run plan and I didn't think we'd get that much done but we got through all of it, so that was good. I think I'll sleep well tonight! It was a good bunch of laps today and I got a few quick ones in there, which was nice. The hypersoft tyre helped of course but we made some changes early this morning and after some medium runs then we went to the softer tyres and the changes we made seemed to help the car so there was just a bit more confidence and the track was a good temperature today so we could start to get some real testing in. It was OK; I would have liked to get into the 17s, but we'll save that for the racing. In terms of the shape we're in, I think we're getting there, we're in a decent place.
Valtteri Bottas:
The car felt OK. We did some shorter runs in the beginning, and then longer runs afterwards. We definitely made some improvements once again. We've made good progress since last year, but some other cars look quick as well. We had decent temperatures so we could do some proper testing and learned a lot from today. We have some work to do to get more out of the soft compounds. I always enjoy trying to extract everything out of the car. But we still haven't unlocked the full potential of the package we have, so there's more to come.
Lewis Hamilton:
Today has been positive. The car is feeling good and the tyres are working. It's nice to have some good weather so we can really try and get in the mileage. The reliability has been good so far, which is a sign of all the great, hard work that the team has put in over the winter. It's still a work in progress, but it's definitely going in the right direction. The team's working hard – both here and back at the factory – to continue to climb the upwards gradient which we're currently on. I'm just so proud that I'm driving a creation that these guys have all worked to the bone to create. I'm proud to be the one who gets to go out there and try to exploit this car and bring them the results they deserve.
Lance Stroll: There is not an awful lot to say about today except, like yesterday, it has been another good day. I was just in the car this morning, got plenty of running and felt good in the car. We have certainly made another step, so now it is just a matter of continuing that good rhythm and seeing where we are at the end of the week.
Sergey Sirotkin: We had a good day in total, despite a couple of small issues. We covered a lot of laps during the afternoon, including my first race simulation, so that felt good. We boxed for a small problem but we managed to sort it quite quickly, so overall, I think we can be happy with how today went.
Esteban Ocon:
I'm really happy with today. 130 laps is a great effort and we've learned a huge amount. The long runs went well and our pace looks promising at this stage. It's going to help us take some steps forward as we prepare for Melbourne. It will be interesting to see how Checo feels after his day in the car tomorrow, but I feel optimistic after the work we've done today. There are plenty of things to analyse and more questions to answer, but we still have two days of testing. I think we are in a good place at the moment.
Brendon Hartley
"Today was a really good day, we had just some little issues in the afternoon which cost us a little bit of time, but we made up for it in the end with a couple of long runs on high fuel. I'm getting to know the STR13 more and more – I hadn't driven since day one of the first test – so that was a really productive day for me and it was nice to see how the car has progressed. Everything has been quite reliable so far, we had a couple of hiccups the last two days which have been resolved and all understood, so overall it's been very good. We tried some different setups this morning which made the car quite tricky to drive, but I'm happy to have a couple of spins in testing …it's better to have them here than in the race! In the afternoon I was really comfortable with the car and the long runs, and satisfied to bang in a reasonable time in the end."
Wednesday Times
| | | | | |
| --- | --- | --- | --- | --- |
| POS | DRIVER | TEAM | TIRE | TIME |
| 1 | Ricciardo | Red Bull | Hyper-Soft | 1m18.047s |
| 2 | Hamilton | Mercedes | Ultra-Soft | 1m18.400s |
| 3 | Bottas | Mercedes | Ultra-Soft | 1m18.560s |
| 4 | Vettel | Ferrari | Soft | 1m19.541s |
| 5 | Hartley | Toro Rosso | Hyper-Soft | 1m20.834s |
| 6 | Alonso | McLaren | Hyper-Soft | 1m19.856s |
| 7 | Sainz | Renault | Medium | 1m20.042s |
| 8 | Grosjean | Haas | Soft | 1m20.237s |
| 9 | Raikkonen | Ferrari | Soft | 1m20.242s |
| 10 | Stroll | Williams | Soft | 1m20.349s |
| 11 | Hulkenberg | Renault | Super-Soft | 1m20.758s |
| 12 | Ocon | Force India | Soft | 1m20.805s |
| 13 | Leclerc | Sauber | Super-Soft | 1m20.919s |
| 14 | Sirotkin | Williams | Soft | 1m22.350s |