Honda teams ready for 2018 IndyCar season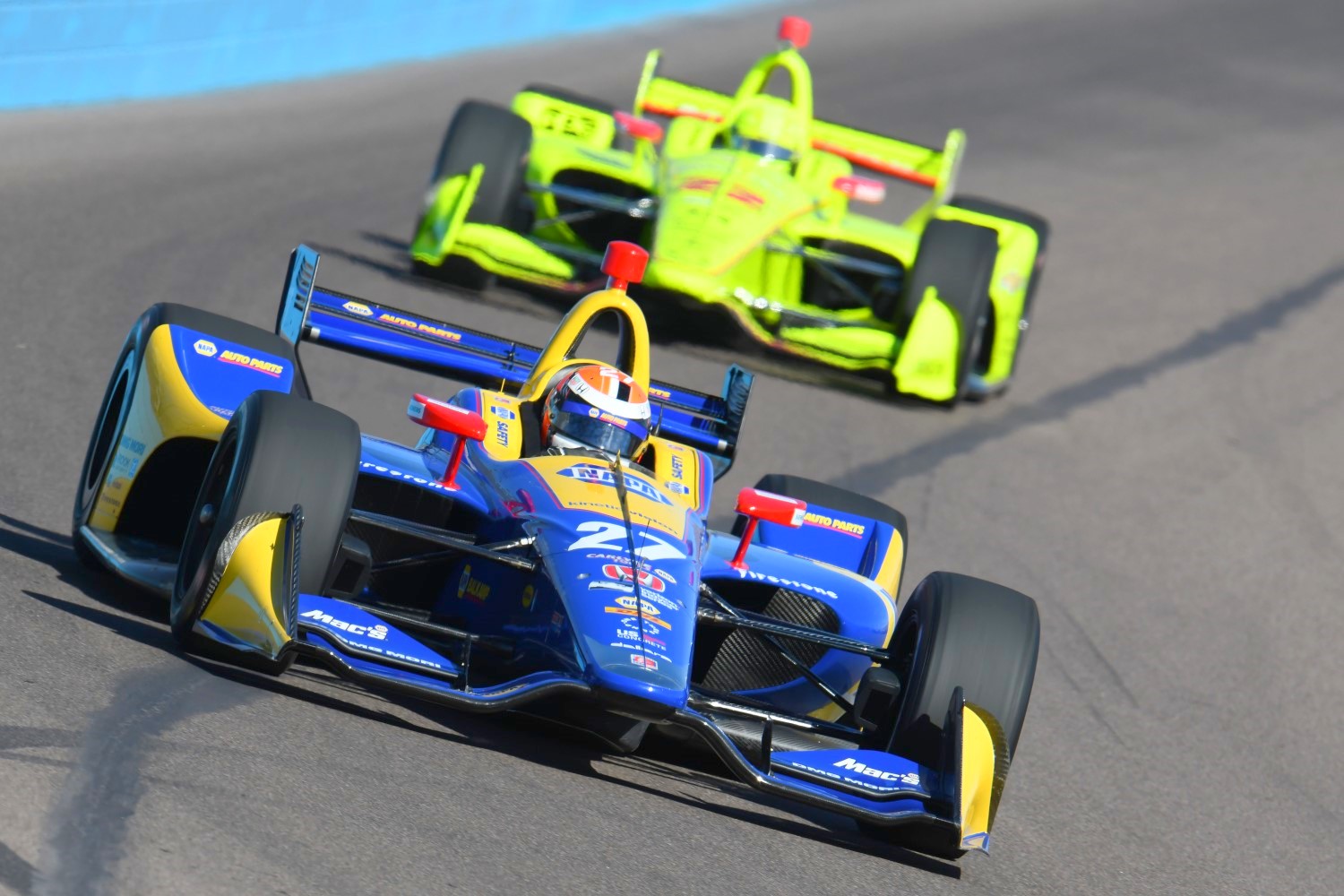 Alexander Rossi
Eight race winners, four Indianapolis 500 champions and three former series title holders – with a combined nine series championships – make up the talented Honda-powered lineup for the 2018 Verizon IndyCar Series, opening this weekend at the Firestone Grand Prix of St. Petersburg.
Five Honda teams will field 12 full-season entries at Sunday's season opener on the Florida Gulf Coast, all utilizing the Honda HI18TT engine and new Dallara IR15 chassis, which features a universal aero kit for all competitors in 2018.
Honda opens the 2018 Verizon IndyCar Series seeking its seventh competitive manufacturers' championship and 13th Indianapolis 500 victory – and third in a row – in the last 16 years.
"You always go into every season with optimism," said Art St. Cyr, president of Honda Performance Development, the racing arm for American Honda in North America.
"It's early days, but it looks like we're going to be very competitive this year. Both HPD and our teams have taken action in the off-season to improve our performance and results in 2018. We're looking forward to the start of the season on the streets of St. Petersburg, to taking on the challenge presented by our competition in the battle for the Manufacturers' Championship, and to making it three in a row at the Indianapolis 500 in May."
Honda and HPD will present an impressive lineup at Sunday's season-opening Firestone Grand Prix of St. Petersburg. It begins with four-time IndyCar series champion and 2008 Indianapolis 500 victor Scott Dixon, and includes defending Indianapolis 500 winner Takuma Sato; 2012 series and 2014 Indianapolis 500 champion Ryan Hunter-Reay; four-time consecutive Champ Car champion Sebastien Bourdais; 2016 Indianapolis 500 winner Alexander Rossi; and multi-race winner Graham Rahal.
All will utilize the twin-turbocharged Honda Indy V6 engine, designed, manufactured, developed and maintained by HPD. Designated the HI18TT, the engine will be used throughout the 2018 season.
Honda has been a fixture in North American open-wheel racing since 1994, and has played an active role in the growth of the Verizon IndyCar Series as both a Manufacturers' Championship competitor and single engine supplier, with a record that includes 226 individual race wins and six manufacturers' championships.
The company scored its first Indianapolis 500 victory in 2004 with Buddy Rice; Manufacturers' Championships in 2004 and '05; and became engine supplier to the entire IndyCar Series in 2006. Honda supplied racing engines to the full, 33-car Indianapolis 500 field every year from 2006-2011, and for six consecutive years — and the only six times in event history – the '500' ran without a single engine failure.
Since the return of multi-manufacturer competition in 2012, Honda has scored four more Indy 500 triumphs, by Dario Franchitti in 2012, Hunter-Reay in 2014, Rossi's historic victory in 2016's historic 100th race and Sato's popular victory last year. The 12 wins by Honda at the famed Indianapolis Motor Speedway lead all other major automobile manufacturers.
2018 Honda Verizon IndyCar Series Lineup
Andretti Autosport
#26 Zach Veach (R)
#27 Alexander Rossi (W)
#28 Ryan Hunter-Reay (C) (W)
Andretti-Herta Autosport
#98 Marco Andretti (W)
Chip Ganassi Racing
# 9 Scott Dixon (C) (W)
#10 Ed Jones
Dale Coyne Racing
#18 Sebastien Bourdais (C) (W)
#19 Zachary Claman DeMelo (R) – 10 races
#19 Pietro Fittipaldi (R) – 7 races
Rahal Letterman
Lanigan Racing
#15 Graham Rahal (W)
#30 Takuma Sato (W)
Schmidt Peterson
# 5 James Hinchcliffe (W)
Motorsports
# 6 Robert Wickens (R)
Michael Shank Racing
#60 Jack Harvey (R) – 6 races
C – IndyCar Series Champion|W – Race Winner|R – Series Rookie