Vettel's Ferrari tops the times on Day 1 in Barcelona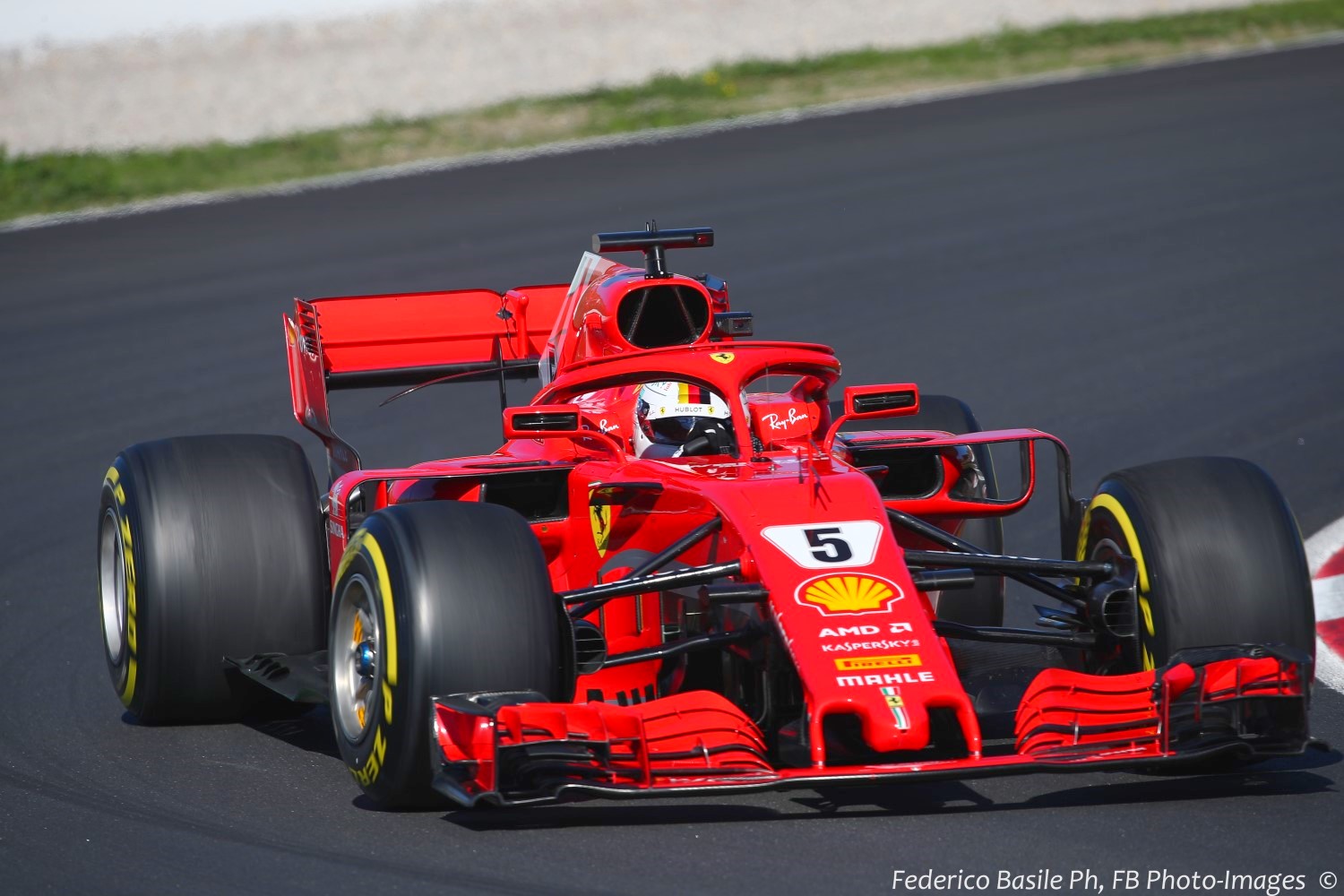 Sebastian Vettel not really trying hard
Sebastian Vettel set the fastest time on the opening day of the second Formula 1 pre-season test at Barcelona Tuesday.
Meanwhile McLaren gave the flat-bed tow truck a real workout on three occasions.
Vettel set his time of 1m20.396s on medium tires and he put in 171 laps on a day where everyone was running to get miles on their new cars.
This time, the weather behaved itself with air temperature reaching 15 degrees and the track hitting 26. Only wind in the afternoon affected the session.
Scuderia Ferrari set to work on the dot of 9, the car doing some laps fitted with sensors to acquire data linked to the aerodynamics. After that came some relatively long runs, switching between the Soft and Medium compound tires. It was on the latter that Seb set his fastest time in 1'20"396, on his 66th lap.
"It was a good day's work," commented the driver at the end of the session. "We managed to get through our program, even if the conditions weren't always ideal, because of the wind."
Sandbagging Valtteri Bottas, on softs, was two-tenths slower than the Ferrari driver before handing over the Mercedes W09 to Lewis Hamilton for the afternoon.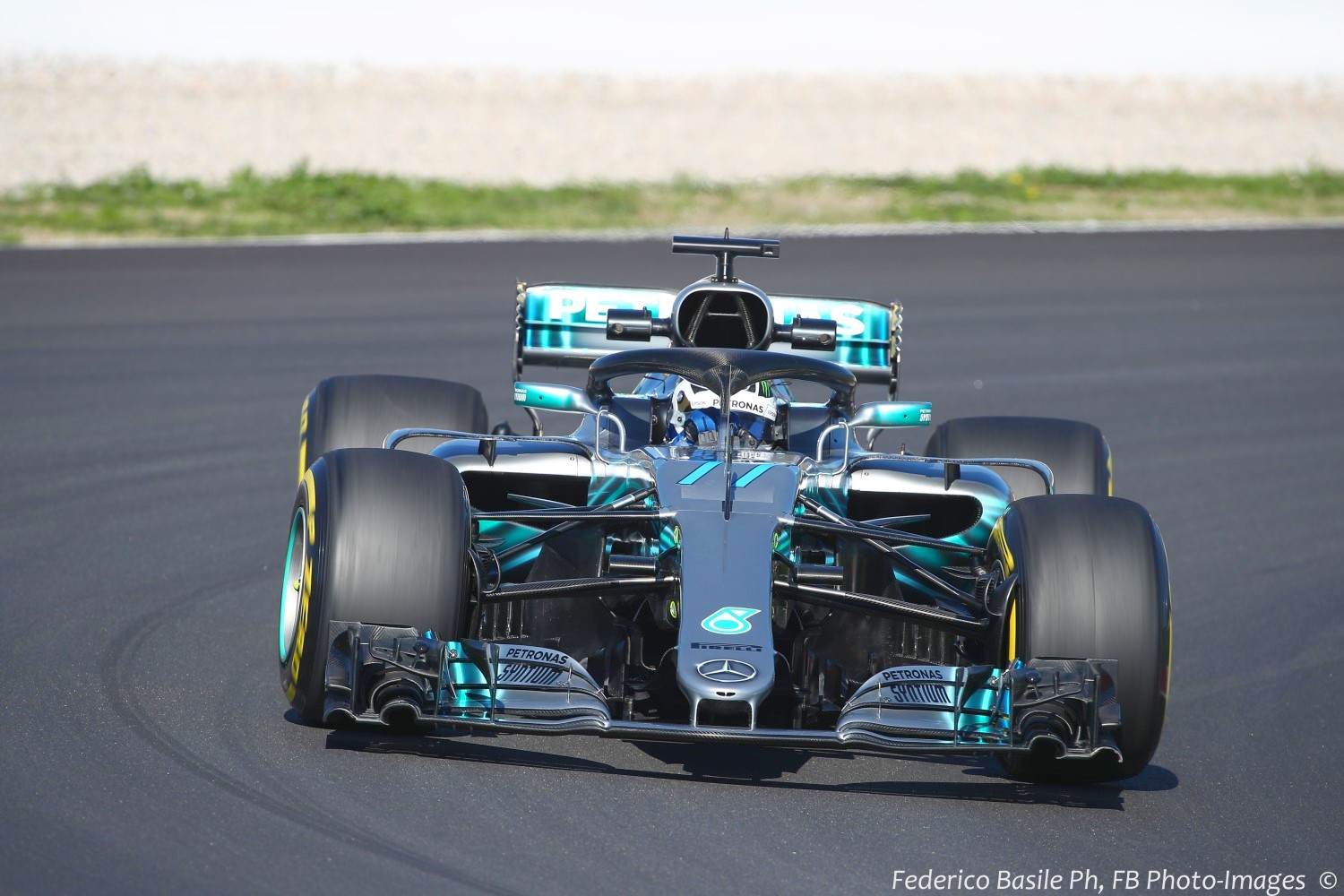 Bottas was 2nd quick for Mercedes, but he was sandbagging
The sandbagging world champion had a best lap of 1m20.808s on softs with the engine turned way down.
Max Verstappen's Red Bull split the two Mercedes drivers in third but he missed most of the afternoon with Renault engine issues.
Stoffel Vandoorne suffered a power shutdown at the end of his installation lap at the beginning of the day, then an hour later came to a halt exiting the final corner with a similar problem.
McLaren got him out in time for three laps at the end of the morning, but his afternoon running was cut short by a hydraulics problem with just 38 laps to the MCL33's name.
Pierre Gasly finished fifth for Toro Rosso, but the team spent the last few hours in the pit lane, with no further details as to whether the absence of the STR13 on track was planned.
Kevin Magnussen finished sixth for Haas, ahead of Renault pair Nico Hulkenberg (who ran in the morning) and Carlos Sainz Jr. (afternoon).
Williams split running between Sergey Sirotkin and Lance Stroll, the pair finishing ninth and 13th respectively, as Sergio Perez rounded out the top 10, in front of Marcus Ericsson.
Mercedes clocked 177 laps between Hamilton and Bottas, while Vettel racked up 171 on his own for Ferrari.
Quotes
Valtteri Bottas:
The conditions today were much better than last week and we're all really happy about that. We got lots of valuable data today. This morning we focused on medium to long runs, trying different mechanical setups of the car.
In these weather conditions we start to really work the tires and we had a few issues to manage. So we had a few more challenges with the tires than we had last week, but at least now they can warm up.
We keep discovering more about the new car, learning how it reacts to different settings. We did more than 80 laps – so more than a race distance, a really good mileage. The car was very reliable, I really enjoyed being back in the car and I'm looking forward to continuing tomorrow.
Lewis Hamilton:
It's been a good day. We've got through everything we needed and put good mileage on the car – it's been productive.
The biggest challenge we faced today was to get the tires working properly on this new track surface. The medium tire was difficult to get working; the soft tire is better for warm-up, but suffered with degradation. But we are learning all the time.
Overall it's been a good start to the second test although there is not a whole lot to say at this moment. We have not worked too much on fine-tuning the set-up as we're mostly still gathering information. In the next couple of days, once we get into the long-runs and some shorter qualifying-style runs, we will get a better idea of where the car is.
Max Verstappen
"It was a good day today. We did a lot of laps and that's really important, just to put mileage up on the car," said Max. "We had a small problem with the battery late in the day, so we had to change that and it takes a bit of time, but afterwards it was all good. The car feels good. Everyone of course wants to know where we think we are in relation to our opposition but honestly it's impossible to tell until we get to Australia, as you don't know what everyone else is doing. In terms of where this car is improved over last year, again it's very difficult to say as the new surface here changes how you drive and that, together with the new tires, makes it difficult to pinpoint any particular area. Also, with the first week not being that successful in terms of temperatures and so on, it's still all to be discovered. I know it feels faster though!"
Sergio Perez
"It's been a good day of running. We tried several different tire compounds and understood a lot more about our new car. I only have one more day in the car before Melbourne but today gave me a lot more confidence about where we are now, with both the car and the set-up. We still have a lot of work before we are where we want to be, but hopefully we'll be in a good shape by the time we arrive in Melbourne. It's difficult to say how we compare to the other teams because we are all on different programs and fuel loads, but I am excited about this year; it's going to be very interesting. Pirelli have been quite aggressive with the compounds and that should give a lot more strategic options, which should hopefully make for some exciting racing."
Marcus Ericsson (car number 9):
"Overall, it was a positive day for us. I completed a good number of laps, and the weather conditions were more representative in comparison to last week. We are continuing to understand the car and can see its potential. We have a lot of work ahead of us and are moving in the right direction. I look forward to getting back in the car on Day 3."
Pierre Gasly (Car 10):
"It was a really positive day overall from the performance side, we had a small issue this afternoon with the brake system which took longer than expected to fix, so we didn't run as much as I would have liked – that's part of testing though! So far everything has run perfectly, the car was pretty nice and we made some improvements compared to last week, so we are headed in the right direction."
Kevin Magnussen
"It was a good day. We got a lot of laps done. We started working properly with the car, and not just doing systems checks, installation laps and aero runs. I'd say it was our first proper day, also with the weather being a bit warmer and representative of what we're probably going to have in the season. It's still not quite there, but it's getting closer. I'm happy and positive after the day."
Sergey Sirotkin
We had warmer temperatures today but they were tricky conditions. It looked like a nice day but it was not so easy testing-wise. We had a couple of little issues throughout the morning so it was not ideal, but for sure it was still better than last week and I still learnt something from it. We also got some data which will help us tomorrow with the stuff we're doing. Today was not ideal, but it is how it is.
Lance Stroll
It was just good to do some kilometers in the car. I have the first race distance of the year under my belt now and it was positive. I believe we have made a step forward compared to where we were last year with just the general feeling and grip level. I don't know where we will be compared to everyone else, but compared to last year's car, it definitely feels quite a bit better. So far, so good and we just need more seat time, quali sims, race sims and I believe we will be in a good place when we get our program done and are heading into Melbourne. I believe we can still improve a little bit everywhere. There is still so much we haven't tried on the car yet. In a Formula One car you have so many set ups and it takes two weeks to get everything out of the way. I believe there are still little things we can do and again, it was a race sim so I can't compare that to what we were doing last week on lower fuel. There is still a lot to learn but race simulation-wise, I believe we are in a good place. But also, definitely these conditions are not ideal, as this smooth surface in Barcelona doesn't give much graining to the tires, so I am sure it will be very different when we show up in Australia.
Test two, Tuesday times
| | | | | | | |
| --- | --- | --- | --- | --- | --- | --- |
| POS | DRIVER | CAR | TIME | BEHIND | TIRES | LAPS |
| 1 | Sebastian Vettel | Ferrari | 1m20.396s | 0.000s | Medium | 171 |
| 2 | Valtteri Bottas | Mercedes | 1m20.596s | 0.200s | Soft | 86 |
| 3 | Max Verstappen | Red Bull/Renault | 1m20.649s | 0.253s | Medium | 130 |
| 4 | Lewis Hamilton | Mercedes | 1m20.808s | 0.412s | Soft | 91 |
| 5 | Pierre Gasly | Toro Rosso/Honda | 1m20.973s | 0.577s | Soft | 54 |
| 6 | Kevin Magnussen | Haas/Ferrari | 1m21.298s | 0.902s | Soft | 96 |
| 7 | Nico Hulkenberg | Renault | 1m21.432s | 1.036s | Soft | 48 |
| 8 | Carlos Sainz | Renault | 1m21.455s | 1.059s | Soft | 91 |
| 9 | Sergey Sirotkin | Williams/Mercedes | 1m21.588s | 1.192s | Soft | 42 |
| 10 | Sergio Perez | Force India/Mercedes | 1m21.643s | 1.247s | Soft | 93 |
| 11 | Marcus Ericsson | Sauber/Ferrari | 1m21.706s | 1.310s | Super-Soft | 120 |
| 12 | Stoffel Vandoorne | McLaren/Renault | 1m21.946s | 1.550s | Super-Soft | 38 |
| 13 | Lance Stroll | Williams/Mercedes | 1m22.937s | 2.541s | Hyper-Soft | 86 |