Former Pirelli World Challenge GT Champion Alvaro Parente Makes Big Switch in 2018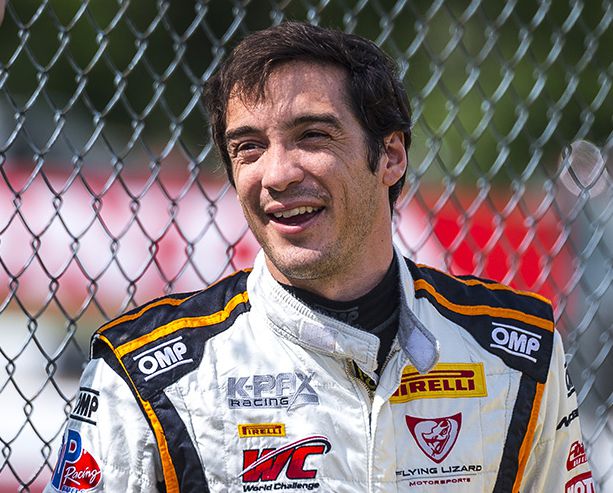 Alvaro Parente
Former Pirelli World Challenge GT champion Alvaro Parente can get used to a change very quickly.
After a brilliant open-wheel career as a youngster, Parente jumped into the GT sports car world and made a name for himself throughout Europe, even winning the SRO Bathurst 12 Hours in Australia.
Two years ago, the personable Portuguese driver came to North America with K-PAX Racing in the Pirelli World Challenge.
And, having only raced on one PWC track previously (Mazda Raceway Laguna Seca), he took his K-PAX Racing GT sports car to six race wins and a driver point championship in 2016, his 'rookie' North American season. Last year, Parente just missed out on the PWC GT Sprint title but still managed four wins including one in the PWC GT season opener in the streets of St. Petersburg.
Now, Parente returns to the St. Pete bay street circuit and is dealing with another change in his career. After six years driving a McLaren, the 33-year-old racer looks for another harborside win and a second GT championship title in a new GT machine when the Pirelli World Challenge GT season opens this Saturday (March 10) and Sunday (March 11) at the 14-turn, 1.8-mile temporary track.
Parente (in the No. 9) and his K-PAX Racing teammate Rodrigo Baptista (No. 3) of Brazil will be driving new K-PAX Racing Bentley Continental GT3 sports cars in the twin 50-minute PWC sprint races.
"I really enjoy the street tracks we are going to this season," said Parente, also a two-time street course winner in Long Beach, Calif., "We have a new challenge with the Bentley this year, and we are working hard to start the year off well. Some of the tracks on the schedule will be more difficult than others, but we already know some of the challenges ahead for St. Pete. We will give it all we have this year."
Last year, Parente was sensational in his St. Pete victory, coming from fourth to first by the second lap in the 50-minute sprint contest. Using lapped traffic to his advantage, Alvaro posted a 10.135-second win at the checkered flag.
"It was so much fun to return to St. Petersburg last year for my second event there," said Parente. "The start was a little difficult as I didn't really see the green flag; not exactly the best start. But, on the second lap, I was able to slide under Pierre Kaffer in the No. 4 car in turn one. Then Daniel (Mancinelli, the pole winner) in the Ferrari guarded the inside line entering turn four and I made the outside move. The track surface was a little slippery, but I got to the corner and made the pass. After that, the K-PAX felt very good to the checkered flag."
Parente has been a master on street circuits since joining the Pirelli World Challenge, as he understands the difficult street directions and the bumper-to-bumper, wheel-to-wheel racing usually associated with the temporary courses.
"Last year, I knew that there was some wild stuff happening behind me (on the track) but I focused on the track and keeping my pace," he explained. "Racing on a street circuit is always tough. You can't make a single mistake at a place like St. Pete or you will be in the wall. So, you must drive hard but at a secure pace. Overall, I was very happy with the win in the opening race of the season. I couldn't ask for a better start to the season than with a victory."
Now, with his new Bentley machine, Parente will have a tough chore to maneuver the tight walls in St. Petersburg with the larger vehicle. But don't count out this European star after scoring ten wins in the past two Pirelli World Challenge campaigns.
"The GT class is always a tough battle," said Parente. "I expect another hard-fought race in each of the two St. Pete sprints. There are some tough drivers in the field too. Should be an exciting weekend."
Battling Parente in the GT division at St. Petersburg will be the likes of Mancinelli of Italy, a three-time GT winner in 2017, in the No. 31 TR3 Ferrari 488 GT3, past LeMans winner Toni Vilander in the No. 61 R. Ferri Motorsports Ferrari 488 GT3, Michael Christensen of Denmark in the Tampa-based Alegra Motorsports Porsche 911 GT3 R, Scott Hargrove of Canada in the Pfaff Motorsports Porsche 911 GT3 R and 17-year-old Parker Chase of New Braunfels, Tex., in the No. 19 TruSpeed Motorsports Audi R8 LMS.
Action gets underway on Friday (March 9) with the first GT practice at 9:50 a.m. EST, while the GT race on Saturday is set for 3:50 p.m. EST and Sunday's event is scheduled for 3:15 p.m. EDT. The two GTS features will run Saturday at 5:05 p.m. EST and 9:30 a.m. EDT. Daytime savings time occurs on March 11 at 2 a.m.